For a place that's rich with good looking people, the pickings are slim when it comes to finding great gyms around the OC. Thankfully you have us on hand to have braved the trip to the OC and discover the best bodybuilding gym in Newport Beach for you.
Bodybuilding Gyms and Orange County
If you grew up in the early noughties, there's a good chance your TV diet included the drama around Marissa and Ryan in the OC. For me and probably Lee, there is some pull to this part of California that likely exerts the same impact on millions more like us. If the sat nav says you're only 45 minutes away from Newport Beach, I'd imagine most 30 or 40somethings, are going to make a beeline for the place. This is what we did, with the mission to find the best bodybuilding gym in the OC.
I think we found it.
Jump to: Winner – ERND
Orange County,  namely the Anaheim Convention Center has been the home to many a bodybuilding competition over the decades, from the NPC events such as the Musclecontest California State and the Mr California competition. Given the vibrant statewide scene of bodybuilding, the fact that Anaheim hosts key domestic competitions shows the historic importance of the region. While Newport Beach is more likely to find IFBB Pros taking time out than future champions being birthed here, this part of the world, its beautiful beaches and detox vibe will always be closely aligned to bodybuilder's hearts.
If you've got nice beaches, it's a shoe-in you're going to see some perfect physiques around, and while Orange County isn't exactly swamped with hardcore bodybuilding gyms some big names have called the OC their home over the years. From Rich Gaspari, local girl and former Iron Maiden Lauren Powers, and more recent years has seen the likes of Marc Lobliner racking the plates up around Newport Beach. You're probably more likely to find people surfing or riding the boardwalk than heading to the gym and hitting 1RMs, but there are still some good workout centres around to discover.
How we picked the best gyms around Newport Beach?
As always, let's explain how we picked the best bodybuilding gyms in Newport Beach and Orange County more widely. We don't take payment to be listed as a best gym unless we tell you so. So if you see no featured listings or paid promotion markers, you can be assured that we picked these bodybuilding gyms in the OC because we had a banging workout there.
We love bodybuilding, although we are approaching the back 9 of life, we also like working out for our own sanity. So we take it to the extreme and fly halfway around the world to write blog posts that no one's ever going to read, to tell a tiny audience of fellow gym nerds, what we loved about these places. We don't include big chains and we base our talking points on our own training and PT experiences. 
We look for range of gym machines and free weights, completeness of equipment eg: no missing glute kit and we look out for brands that IYKYK. Extra props go to gyms that carry Lee's local brand Watson Gym Equipment.
Winner - Best Gym For Bodybuilders In Orange County

Orange County, home of endless beaches and sun that burns you to bits if you fall asleep with no lotion for just an hour. Literally, it's insane, one hour is all it took and we both looked ridiculous for the next 3 or 4 days. We checked out of our AirBnB and shattered from a late night, laid our heads down under a partially cloudy sky, and woke up an hour later regretting our choices.
Anyway, enough of our grief story, we were in Newport Beach working remotely and thought we should hunt out where to train locally (and across the OC more widely). We had a tip off of a good gym from an IFBB Pro we follow on insta, @marclobliner – so we packed our mini travel towel, downed a Grape Gatorade Zero and headed to see what all the fuss was about at ERND.
ERND Performance Center - Costa Mesa, CA, USA
You might be forgiven for thinking you're about to walk into a day brunch bar around West Hollywood judging by the outside aesthetic, but when you step inside you meet a very clean, modern bodybuilding environment. ERND has a bespoke vibe which carries through into the chosen gym brand on site – Arsenal Strength and their multi-adjustable plate loaded machinery. It all feels a little luxury, and as much as we love a spit and sawdust joint, it's nice to treat yourself too.
Music, Machines and Muscles – three things I need in a gym to make me think it's top tier. So many gyms play awful uninspiring music and don't think for a second how that impacts their clientele's experience. Good music here? Check.

When we're trying to gauge the best bodybuilding gyms in a place like Newport Beach and the OC, you want a venue that speaks your language. Life Fitness, Panatta and Technogym are nice but Arsenal Strength….now, that's real nuance. It's not the biggest gym in the world, but it's perfectly sized for their customer demand I suspect and there are multiples for all major movements. I'm not going to struggle to do a leg extension or a bench press. Machines? Check.
It might seem shallow but the place has a lot of people in great shape and they take their training seriously. I don't judge gym users, no real fan of lifting does, we respect anyone trying to improve their health, but being around elite physiques and good looking people is 100% motivating. Muscles? Check.
Beyond these elements, the gym is in a great location, it's easy to park and has equipment you've not seen before, which is always fun, the reception team are friendly and the changing rooms are 6-star spotless. It's the best place to train down in this part of the OC, nothing much else to say. 
One more thing – it's about two blocks away from a cheap Mexican eatery 'El Toro Bravo Tortilleria' that does chicken bowls. Think – independent Pollo Loco. Great post workout food. Give them some love and support a small family run restaurant.
How to find ERND in the OC
Where-ever you're based around Newport Beach or Costa Mesa, getting to Ernd is pretty easy. It's also well served to the rest of the OC being a mile and half from State Route 55. If you're coming in from Newport Beach, you can hire a bike as it's only a 10 minute cycle. Ride along Newport Blvd for about 2 minutes and turn off on to Placentia Ave. Then it's a straight track to Westside Costa Mesa and you are at Ernd. By car it's about 7 minutes. 
If you want to bang some steps in and you can tolerate the boredom of US roads, it's about 50 minutes each way. 
Address: 850 W 18th St Suite B, Costa Mesa, CA 92627, United States
Opening Hours
Price To Train
Reviews
Facility Info
Any Downsides?
Opening Hours
Staffed Hours:
Monday – Friday: 5 am – 8 pm
Saturday: 6 am – 12 pm (Noon)
Sunday: 8 am – 12 pm (Noon)
24 Hour access for subscription members – fist pump to that.
Price To Train
Reviews
Facility Info
Any Downsides?
Other Great Bodybuilder Gyms In The OC, CA
If you get away from Huntingdon Beach and Newport Beach and move a little inland into Orange County you can find a few gems well worth visiting. We attacked Axioms in Anaheim, on a pre Fullerton Party Weekend pump, and it's hands down the best gym in Anaheim. While Flex Fitness up in Laguna Hills won us with its unilateral bodybuilder approved leg press. We actually spent a shed load of time trying to work out how to use the split leg press, but it's a great All American style gym. 
But, out of all the gyms we saw in the OC, our nod to the best old school gym in Orange County goes to House of Power. It's not that old, but it has a nice hardcore feel to it, something we hadn't seen much of in Cali and it's well kitted out. Read more about them below.
Axioms Fitness, E La Palma Ave, 92807: 'Best In Anaheim'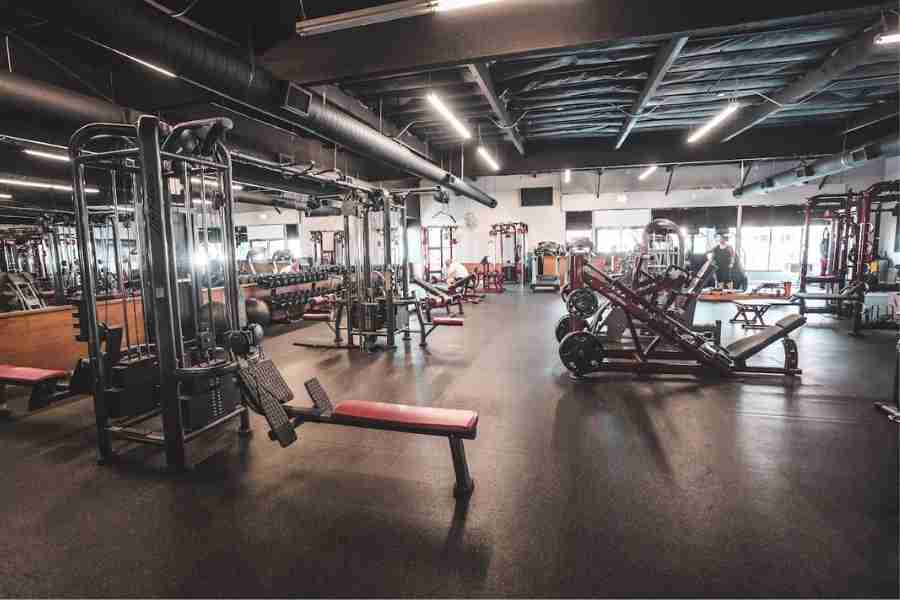 Anaheim is a bit of a hub for statewide bodybuilding events, that means we had to track down the best bodybuilding gym in Anaheim while we were in the area. Axioms is a bit of an arena and has something for everyone. It's got space for powerlifters, punch bags, outdoor prowler and tire space, but importantly for fans of the pump, they are decked out with Life Fitness plate loaded machines as well as half a dozen cable stations. I counted about 8 racks and was pleased to see a military press station too. We ran a GVT chest workout here – click to check it out.
Pricing: 1 Day Pass = $15: 1 Week $25
Flex Fitness, Ridge Rte Dr, 92653: 'Best In Laguna'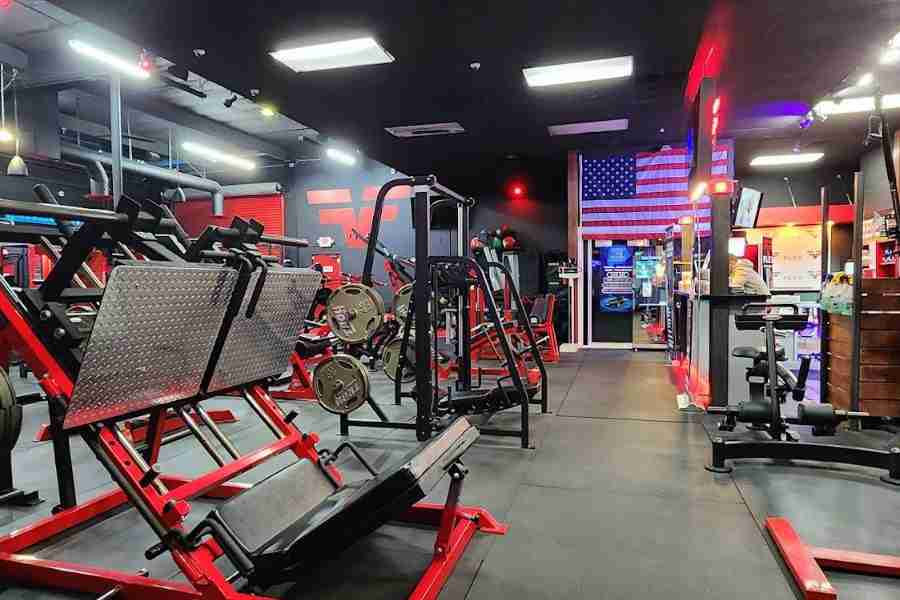 24 hour gyms always get love from us and Flex Fitness was a bit of a life saver as we had left our leg day till last minute. So, we pretty much stumbled across this place where the other local option closed early. Well, that was a touch as we discovered Laguna's finest. 
An angry red powder coat set up, kitted out with EliteFTS plate loaded machines and nicely garnished with Troy plates, this a real gym for bodybuilders. They even offer competition and meal prep services.
Pricing: 1 Day = $25 per day: 1 week $90
House of Power, Westminster, CA: 'Best Hardcore Gym In OC'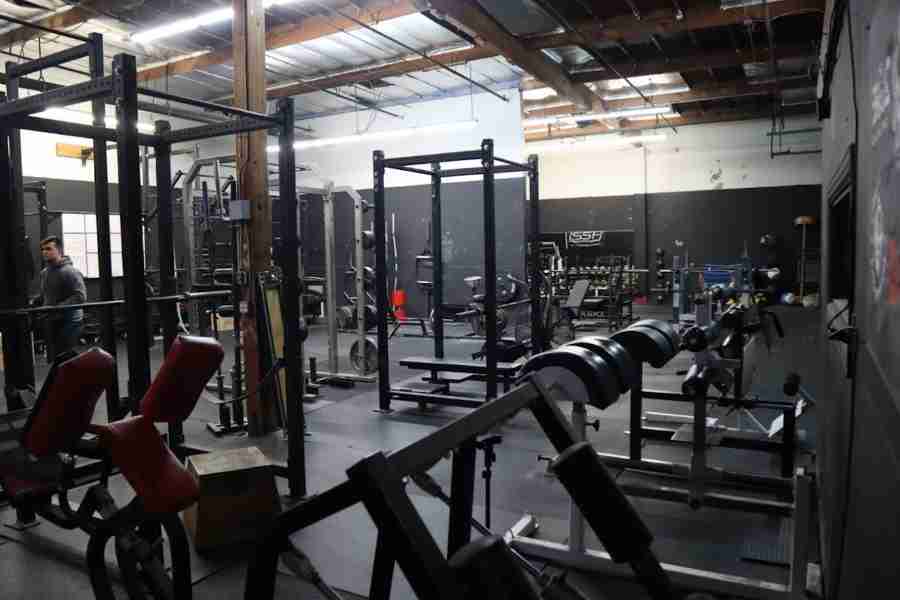 What could make you more old school than an incredibly friendly policy of a one week free trial? This gym in Westminster, OC, is well stocked with plates, racks, benches and leg kit, they also offers 24/7 access to monthly members. So not something you could use on a one off.
The trainers here are legit and have some incredibly reasonable personal packages. If you want a hardcore gym in the OC that gives you Texas's Best Bodybuilding Gym "Metroflex" vibes – House of Power is it. 
Pricing: Day Pass = FREE For Newbies.