Only an idiot dreams of spending NYE in Daytona Beach and then road-tripping across the US with a permanent hangover. I'm that idiot, but I also made sure I spent the time finding the best bodybuilding gyms in Florida while I was at it. This is my gift to you.
Bodybuilding Gyms and Florida
Florida holds a dear place in the hearts of many Brits, partly because it's warm and the UK isn't, and because it's closer to us than other US States. I've had some great times here, from spring break in Miami to cruising down to the Keys in an open top Mustang. It's a funny state because it can feel like 50 states inside one. It's the Deep South but it also has Miami which is as forward looking as any place on Earth. It was our starting point before we ended up on the West Coast and we spent the time hopping between cities to discover some of the best places to workout in Tampa, Orlando, Sarasota and Miami.
We would have done Panama Beach but Lee had a mouth infection and became a short term addict to Nytol. Anyway – what's the best bodybuilding gym in Florida? Jump straight to it, if you like:
Jump to: Winner
There is a deep connection to bodybuilding in the Florida. The city of Orlando hosted the 1991 Mr Olympia, a collection of bodybuilders have called the state home and to this day the NPC Miami Grand Prix is still a major global bodybuilding event. Rich Piana and Mike Mentzer both moved here, while Dextor 'The Blade' Jackson and Erin Stern were born in the state. 
Jacksonville native Caleb Walker is an active IFBB Pro who has been competing since 2014, so bodybuilding continues to remain relevant in Florida and looks likely to carry on being so. If you've got beaches, and shirts are coming off, people are going to care about their condition. Is there a better marketing channel to boost the sports popularity locally?
The state has a handful of the best bodybuilding gyms in the US so top talent continues to come to train here. You might get lucky and brush delts with them.
How we picked the best gyms in Florida?
With a bit of a struggle…that's how we picked the best bodybuilding gyms in Florida. Why? Because there are some absolute bangers of places to train. In this guide, we're going to try to avoid repeating gyms that made it into our other guide – Best Bodybuilding Gyms in America – and unearth some independent gems.
We pick gyms based on several criteria:
Is it an independent/local chain gym business or is it a nationwide franchise.
Bodybuilder credible equipment brands. Hammer Strength, Eleiko, Panatta etc
Bells & Whistles – Posing rooms, old school bodybuilding posters, mirrors in front of squat racks
Pump Vibe – Does the place get you psyched for a session. Can you imagine doing a 1RM here and not be judged for any noises you emit?
It's not an exhaustive list but it gives you some idea of what we are looking for. Any space can have gym equipment but not everyone gets it right. We have trained in some of the best gyms in the world, spent time training others and it is just a big hobby of ours. That helps us pick the best bodybuilding gyms in Florida and anywhere in a way we think you might value.
Winner - Best Gym For Bodybuilders In Florida

So what is the best bodybuilding gym in Florida? Well for this guide we won't be crowning Iron Religion Gym in Orlando, Flex Appeal in Miami, or Powerhouse Athletic Club (and their sister venue) in Tampa? Why? Because we've already given them love – they are wonderful places to train and we wrote about them already, so, let's shine some light on another champion.
MI40 has a massive social following, a Youtube channel with an F*ton of subscribers and membership roster that includes NPC and IFBB Pro Competitors. We first heard about this place after watching a video of Nick Walker and Derek Lunsford training back and thought the background looked pretty sick. Well, fast forward to this week and we've still got the DOMs from a visit there and a tasty GVT Arms day. (Click the text to see that workout for yourself)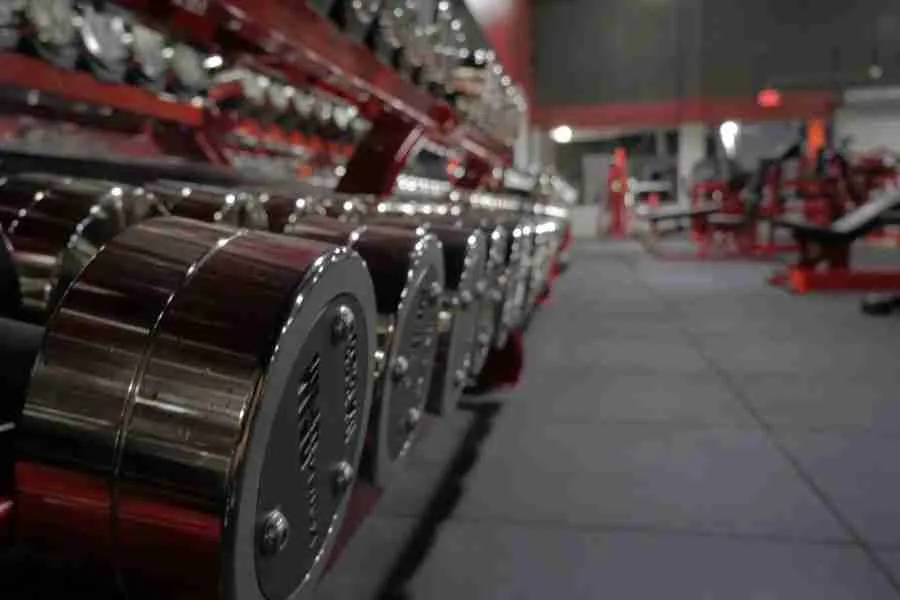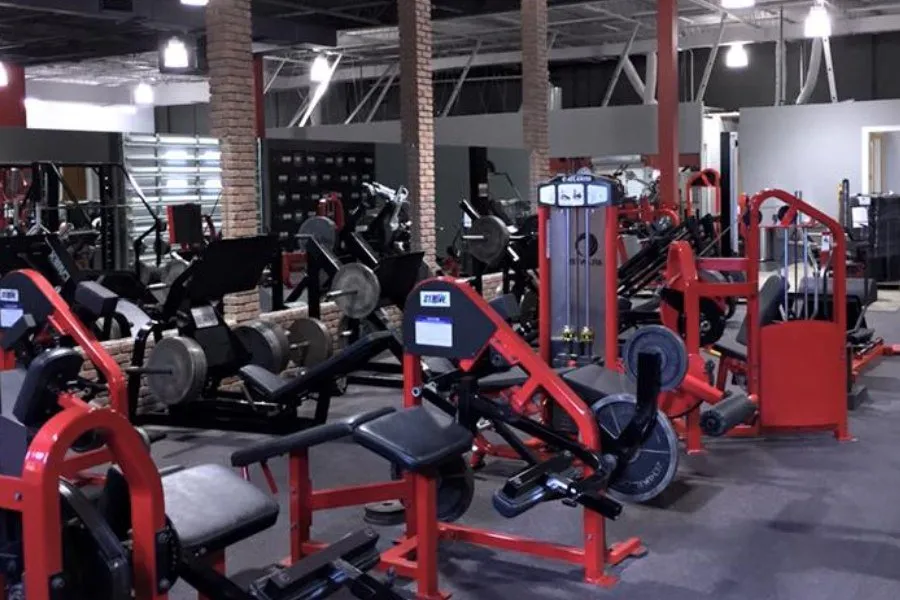 Any gym in Florida that has their dumbbells marked in kg is always going to grab my attention, which is odd as we use lbs in the UK too. Still, they caught my eye and then I realised why they stood out to me – they were Watson. Calibrated, customised and fresh from home. Anyway, this is Mi40, a fast growing gym brand in the bodybuilding space. Led by Ben Pakulski, coach and competitor, Mi40 in Tampa is not just training the Mr and Ms Olympias of tomorrow, they sponsor current participants too.
Muscle clinics, lifting classes, meal prep, posing rooms, even a wall signed by the Hulkster, this place has to be on any bodybuilding roadtrip itinerary. We came here on a hamstring and glute workout day and milked every minute of our day pass.
Personality and authenticity are two of the stand out reasons why we think Mi40 is an awesome place to train. I could waffle on about – they have a pendulum squat, or atlas stones etc, (which they do have) but it's the detail to the life we love the most. They've colourway matched a range of different brand gym pieces, which includes anything from Atlantis, Watson, Nautilus, Hammer Strength, Prime and Life Fitness. They've got the right kit for the job, but made sure the whole place looks visually consistent. 
Now, match the equipment style with a kind of warehouse, industrial feel, such as the polished concrete floor and you still haven't lost a sense of warmth. The fit-out is well poised. The place has personality and it's led by one too. 
But, then you start seeing posters for muscle clinics  and you see authenticity also. Let me explain these muscle clinics. 
Back home, you can train with a PT who shows you some glute exercises, but you're on a clock and you're being rushed around a workout, and they may or may not give AF. Instead, MI40 offer group sessions, focused on how to train a single muscle group, including how to feel the movement. This kind of class will cut down on member injuries (nice) and improve hypertrophy results (gains). If something could show a gym being 'about that life', this is it. 
I've seen big names training here on Reels and YT, and although my selfie hunger wasn't quenched when visiting, nothing about the place let me down. If you could imagine a college of bodybuilding, with classes, coaches, tutors even food mentors on hand – this is it. This is hands-down Florida's best bodybuilding gym and when it's only 10 minutes from Tampa International Airport, there's no reason not to visit it. I'm off to check out SkyScanner again for flights.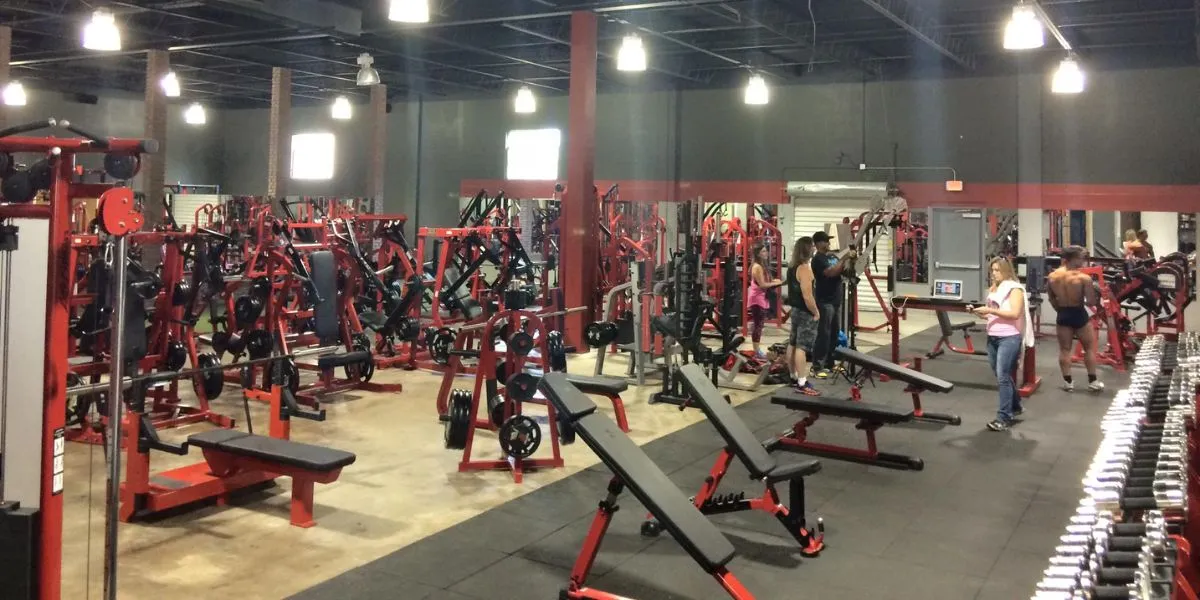 How to find MI40 in Tampa, Florida
Located in North Hyde Park but only 5 minutes across the Hillsborough River from the Franklin Historic District, you can get here in under 5 minutes from the tourist district by an Uber, or a 25 minute walk. If you jump on the transit from Tampa Union Station, estimate about 15 minutes. It's just a very central location and whether you're coming in from the Tampa Convention Centre, Davis Islands or Palmetto Beach you will find it's a pretty quick journey.
Head in along W Kennedy BLVD or W Cass St and after your workout you're about 4-5 blocks north of Walmart along N Oregon Ave for a quick protein hit. 
Address: 1355 West Gray Street, Tampa, FL 33606, United States
Opening Hours
Price To Train
Reviews
Facility Info
Any Downsides?
Opening Hours
Staffed Hours:
Monday – Friday: 5:30 am – 9 pm
Saturday: 7 am – 7 pm
Sunday: 7 am – 7 pm
Price To Train
Reviews
Facility Info
Any Downsides?

2nd Pick - Best Gyms In FL
There's a lot of good places for bodybuilding fans to train in the Sunshine State so we want to call out a few more, starting with a very creditable 2nd Pick. This is the best bodybuilding gym in Jacksonville and if it's good enough for 'The Blade' then it's good enough for any of us. With Jax being the biggest city in Florida we can't write a review on the state's best gyms without covering the place.
Before we get onto it, I want to highlight one more gym in Tampa – it's like a mini Dragon's Lair – Alpha Omega – check them out if you're in the area too. They missed out on this list simply down to size. We had a mint chest session there, loved the look of the place, I could just imagine it may struggle to cope with bigger demand, which is likely to hit them if more people see what we saw. 
The Gym Jax - Best Gym In Jacksonville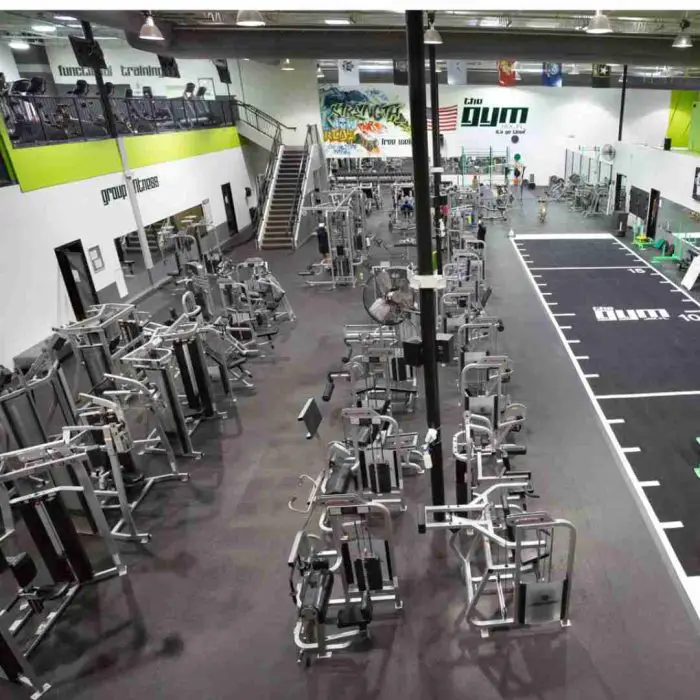 Home gym of former Mr Olympia Dexter Jackson with a reserved parking space for the man too. It's big and loaded with both selector and plate loaded machines, as well as a separate space for free weights and lifting platforms. It's a bit of a rabbit warren and admittedly I was hungover from a Sunday night in Jax Beach, so I may not be doing justice to them. But, it's brimming with Rogue, Life Fitness and Matrix. Where a lot of bodybuilding gyms have people hit single body parts on a given day, you need to have multiples of stations, which they have in spades. Easy to get to, free parking, well priced and as I said, if it's good enough for Dexter. It may not be my 'MVP' gym, it's my No.1, in the biggest city in Florida – so has to get a shout. Oh one key nugget – they've got child care! Genius move. 
Pricing: 1 Day Pass = $25: 1 Month $50
Other Great Bodybuilder Gyms In Florida
Florida is a big old place and we definitely saw a ton of it, mostly shared between gyms and bars. Our experience in the Sunshine state taught us that Floridians don't think much of Texans, and Irish Car Bomb cocktails are both insensitively named and revolting to drink. As is often the case, Brits meet Americans on a night out before they proceed to talk to us about their Irish ancestry. In this case an 'Irishman' blew up Lee's bar tab instead. The next day we (I) decided to never drink spirits again. 
That led to 15 bottles of beer and resolving to never drink again the next day. We walked 40,000 steps or something stupid, got back to our hotel, looked at the itinerary and fell asleep. Next morning feeling safe(r) to drive, we hopped into the comically sized rental and carried on searching for the best bodybuilding gyms in Florida.
Best Bodybuilding Gym In Pensacola
We stopped in PCola on the way to Mobile, Alabama and lucked out with this discovery.
Bar Strength & Fitness, 5436 Dogwood Dr, Milton, FL 32570:
'Best Veteran Led'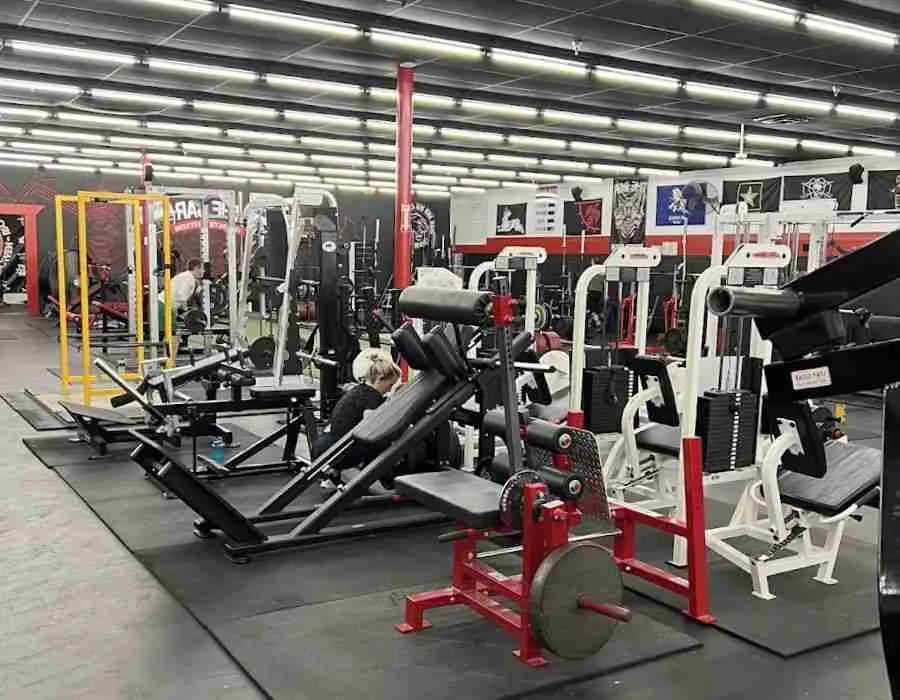 24 hour access and very reasonably priced, you've got in Pensacola a friendly, accessibility focused, veteran led bodybuilding gym to be proud of. This is Bar Strength & Fitness and it has a lot to love about it. From the pick'n'mix approach to gym equipment based on user needs and not based on the salesman's bundle, the posing rooms, the military pennants and the quality wall art, this place blends hardcore with old school and community. So friendly, and the last workout we had in Florida.
Pricing: 1 Day Pass = $15: 1 Week $40
Best Bodybuilding Gym In Miami
Miami is full of high-end gyms, the type people go to for a sauna and zero gains. Miami Iron is the perfect tonic to this.
Miami Iron, 9660 Coral Wy, Miami, FL 33165:
'Miami's Most Hardcore'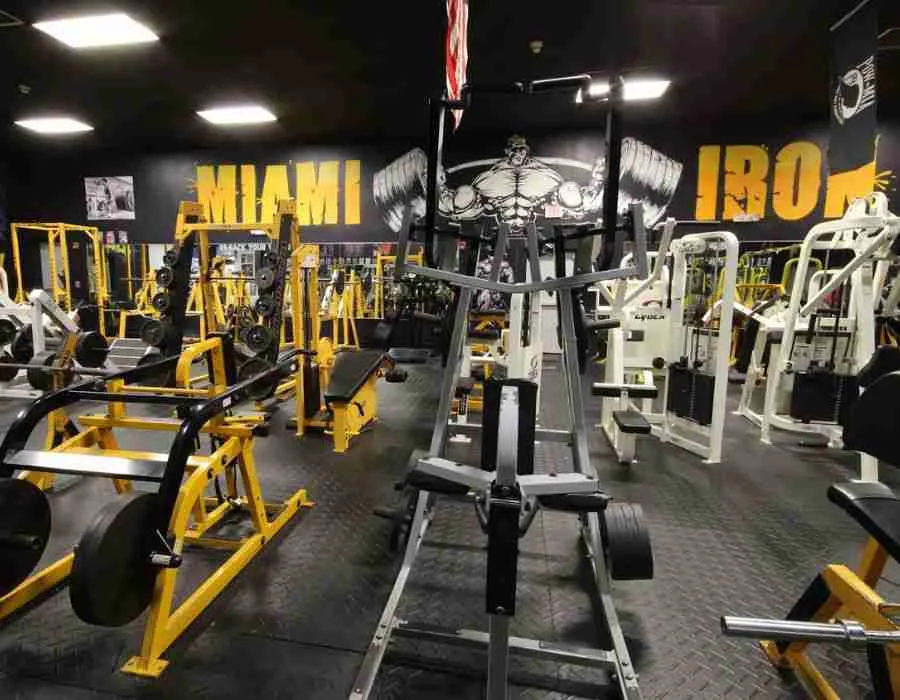 24hr access and insanely priced. You can get a year here for $300 which means $24 a month. That's less than some gyms charge for a day pass. It's not the biggest gym you're going to find in Florida but it's perfectly formed. A few more racks may help them out for when everyone is doing leg day, but the plate loaded Bodymaster equipment is first rate and I loved the little touch of a framed Arnie picture on the walk to the changing rooms. One more thing – grunting is allowed! IFBB and NPC Pros train here, got to be a reason for that.
Pricing: 1 Day = $18 per day: 1 month $40
Best Bodybuilding Gym In Orlando
You know we love one bodybuilder's gym in Orlando already – here's our other favourite.  
Power Strength, 730 W Sand Lake Rd, Orlando, FL 32809:
'Best Of The Rest'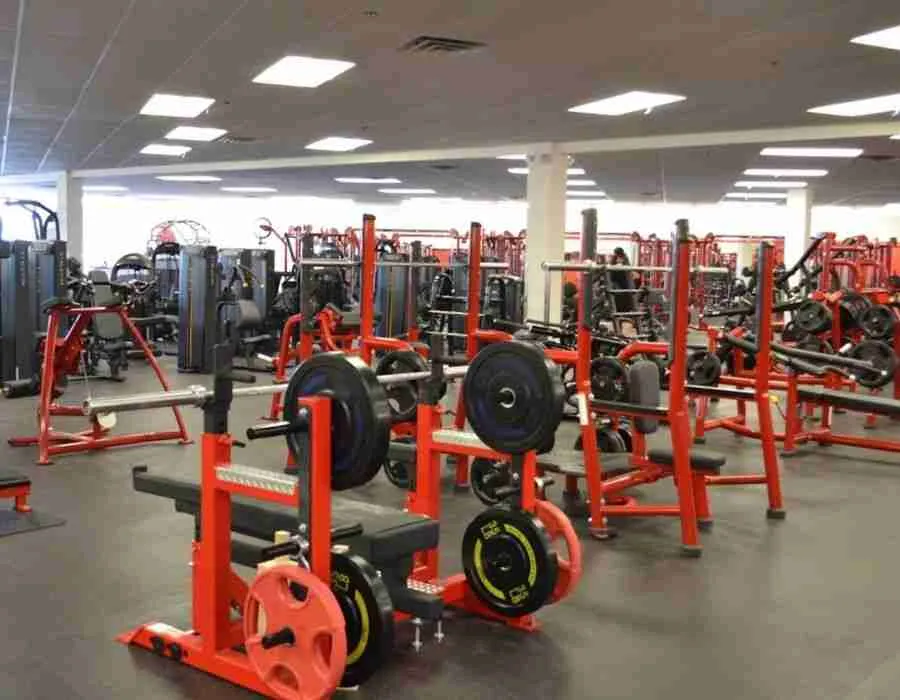 We smashed out a quad workout here before suffering terrible mobility the next day in the Magic Kingdom. Probably not the smartest move to try Reg Park's 5×5 and then squeeze our legs onto rollercoasters, but let's focus on Power Strength Gym for a moment. 
The customer base seem dedicated and the equipment doubles, triples and quadruples up so you're never left waiting. Lifting platforms, chains, reinforced benches and open till late – this place speaks our language. 
Pricing: 1 Day = $20: 1 Week $40