Beyond the beaches of California lay scores of great places to train, often overlooked in reviews. We want to pay homage to the bodybuilders and the fans of lifting, in our guide to the best bodybuilding gyms in the USA. Could this be the ultimate bodybuilder's Road Trip?
Bodybuilding Gyms In The USA
TLDR: In this guide we travel Coast to Coast and through the flyover states to find you the greatest list of the best bodybuilding gyms in USA. We have tried to find you some gems outside of the usual places, so whether you're going to Colorado, Arizona, Phillie or Nebraska we have a recommendation for you.
Quick Answer
What's our favourite bodybuilding gym in America? I think Brickhouse in South Carolina is a real dark horse.
But it's not fair to pick one, we have dozens for you to decide yourself.
The history of bodybuilding in the United States dates back to the 1800s. It was initially popularised by strongmen like Eugen Sandow and the legendary John Grimek, who won multiple titles during his bodybuilding career. While some athletes focused on lifting weights and developing muscle mass, others focused on building muscle through exercise and dieting — a concept that many of us now take for granted!
The modern era of bodybuilding kicked off in the 1950s with Joe Weider and his magazines, Weider Nutrition and Muscle & Fitness. He created an empire of supplements, equipment, and even training centres that changed the way people looked at fitness forever. In addition to Weider's influence, organisations like Mr. Olympia (in 1965) and the IFBB (in 1946) helped legitimise bodybuilding competition in the US.

It was around this time that the first bodybuilding gyms in America began to open such as Joe Gold's gym in LA, before word spread that the US was the place to be for bodybuilding. 
Today, there's no shortage of old school bodybuilding gyms alongside the big box brands and more sleek independent fitness centres reminding us that the path trodden by the Joe Golds, Arnold Schwarzeneggers and Ronnie Colemans of this world, doesn't show much sign of disappearing just yet
Maybe it's because of the weather and how that encourages people to stay in shape, perhaps it's the film industry, or maybe the water – but California is the top location for bodybuilding interest in the USA if you take it on the basis of how many gyms the state has. 
As of 2019 – California had 30-40% more gyms (5123) than the second place state Florida (3285). In fact, California, Florida, Texas and NY all have entries appearing in this list of the best bodybuilding gyms in the US and it's understandable why. They have more attempts at getting it right!
How we picked the best bodybuilding gyms in America?
Why should you trust us for our bodybuilding gyms in USA guide? Well, a handful of reasons. 1, we visit the gyms; 2, we both have a background in Personal Training, so we know what is missing; 3, we have spent a combined 40 years lifting weights and 4, we just love it. This is our passion. 
We aren't paid writers, although we won't turn down a few quid if offered, we do this as our alternative to watching Netflix. I'll come in from a back session and sit down to write an article like this. Finally one further reason that should give this guide a little trust in your eyes – we don't take payment for ranking. No one is in this list because they paid for it. I think that's important. 
We wanted to make a list that featured bodybuilding gym names other big brand websites ignore, or fail to consider. And that means lots of smaller brands who just aren't going to pay two random gym-bros to write about them, in the hope that might help them. The gyms we picked here are organic and genuinely cool in their own right. 
Winners - Best Gym For Bodybuilders In US
So here it is, as of 2023, our current list of what we think are the best bodybuilding gyms in the US, not including some gyms we have already covered in other guides, just to make it fair. We will probably expand this out to at least one per state eventually, so bookmark it or drop your email below to get a heads up when we have found some more zingers you may want to know about.
Also, this list is in no particular order. Enjoy.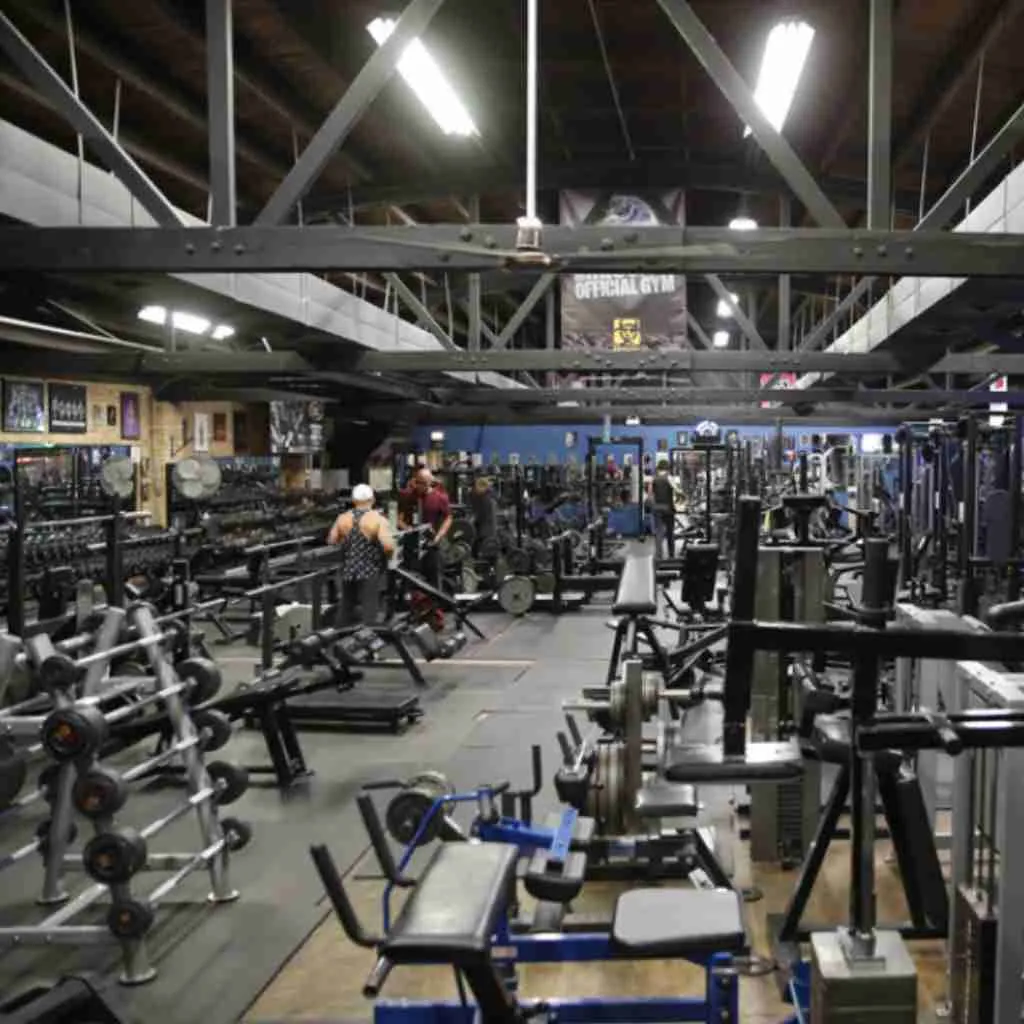 From a pendulum squat machine to daycare, this place features a lot of what many gyms don't. Quads gym in Chicago doesn't just look great, it is great. 
Used by a handful of current IFBB pros such as Mike Liberatore and past legends including Chris Cormier, Milos Sarcev and even NFL stars. Quads Gym comes into our top list of the best bodybuilding gyms in America as a multiple award winning Muscle & Fitness gym of the year. 
Located in Illinois, we wanted to pick a great place for bodybuilders to put on a potential road trip. If you're taking the route 66 down to Muscle Beach, then what better place to start than Chicago. 
The gym is open from 5 am to midnight, making it perfect for early birds and night owls alike. So while it's not a full 24 hour gym, you can train at pretty much any hour of the day. 
One of the most notable features of Quads Gym is its impressive selection of weights. The dumbbells go up to 200 lbs, and they have a wide range of weightlifting equipment, including machines from top brands such as Hammer Strength, Atlantis, and Nautilus.
The dumbbells have that old school look to them, the big round discs but nothing in the gym is anything you have to nostalgically tolerate. By which I mean, the plates aren't spinning around on the handles, or uncomfortable. Sometimes, we tolerate kit in a bad way as it's 'old school'. This isn't the case, everything has been kept well. 
For those in cutting mode, or just need to fight back the excesses of US holidaying, they have an extensive selection of cardio equipment, including treadmills, stair climbers, and stationary bikes.
So that's Quads Gym in Chicago, it looks like a cool dive bar and just as fun. Go check it out.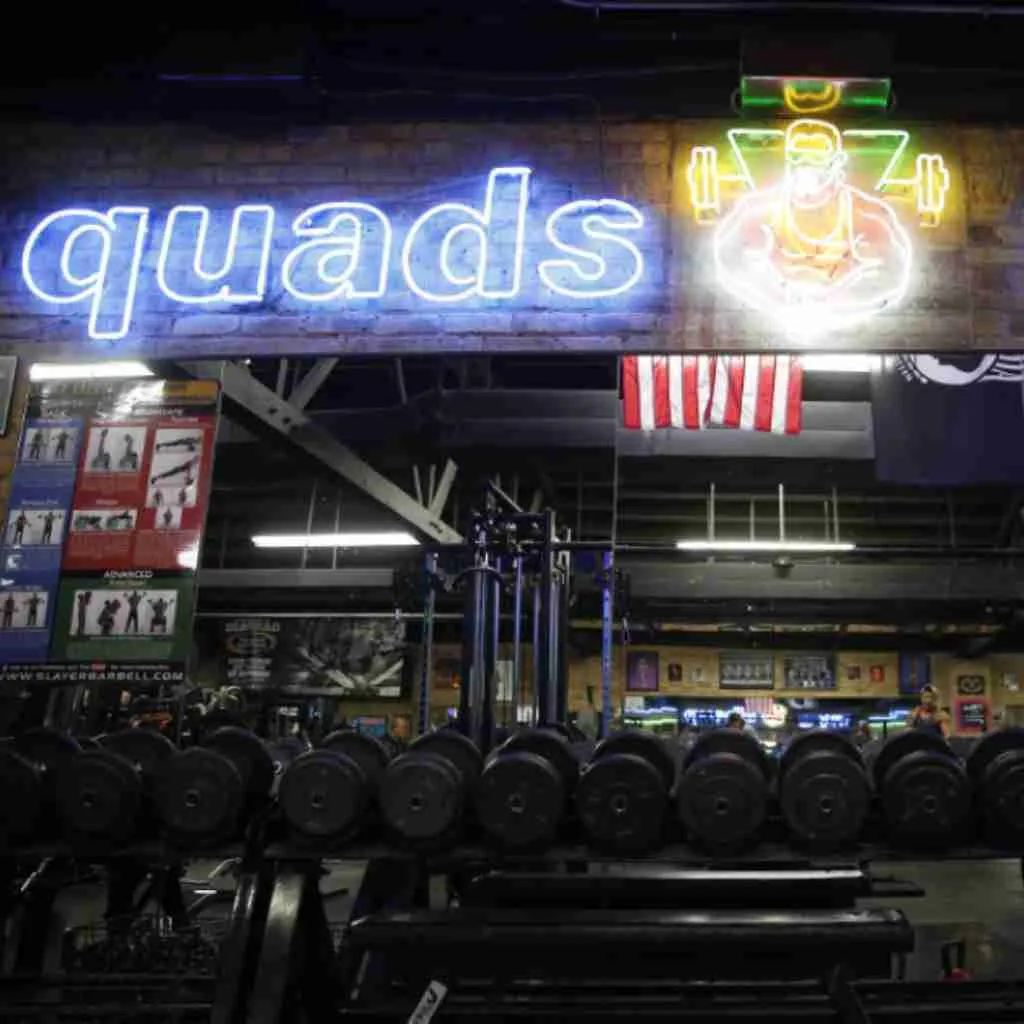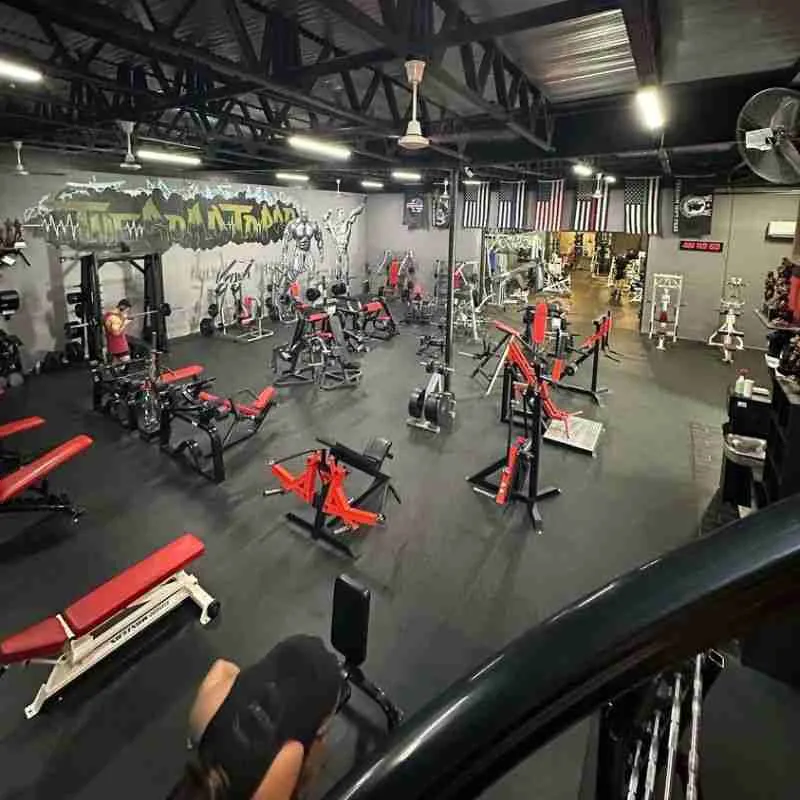 Butler Pro Gym in Utah is a bodybuilder's dream come true. Located in South Salt Lake, Utah, this gym is owned and operated by Prep Coach and fitness icon, Bronson Butler. We heard about this place from an instagram post and made the most intense detour to make sure we could see for ourselves if it really is one of the best bodybuilding gyms in America. Spoiler alert – it is.
Butler Pro Gym's opening hours are 24/7, making it accessible to anyone who wants to get a workout in at any time of the day. If you are there longer than a day, they offer a variety of membership options, including daily, weekly, and monthly rates.
The gym has attracted hundreds of famous bodybuilders and fitness enthusiasts over the years, such as IFBB Pro 4x Olympia Jay Cutler, IFBB Pro 7x Olympia 212 Flex Lewis and 2x Olympia Shaun Clarida to name a few amongst various other types of fame such as Dana White "UFC Owner" and Tech N9ne "Wrapper".  


They have even hosted events like the Darc Sport Photoshoot with over 90 of the most famous bodybuilders and fitness enthusiasts in the world which has drawn in competitors and other athletes to make Butler Pro their destination gym while in Utah. This place is legit.
Featuring Strive, Flex Fitness, Nautilus Gen1, Bodymasters, Paramount and so much more old school equipment, there are no commercial bits of filler kit here. The entire gym is built one piece at at time for bodybuilders, by bodybuilders.
One of the reasons why I personally hunt out gyms run or used by IFBB Pros is if it's good enough for them, it's about 7 times good enough for me.
Butler Pro has a massive dumbbell rack running to 200lbs, and an entire leg room full of rare leg machines so there is no waiting around when it's leg Day. The feedback from others repeats this too. So, while it looks ultra hardcore, the sense of good feeling and support is anything but. 
Utah probably isn't on most people's bucket list, but there are some hidden gems in this state, none more so than Butler Pro Gym. Utah submits its entry to the list of best bodybuilding gyms in the US.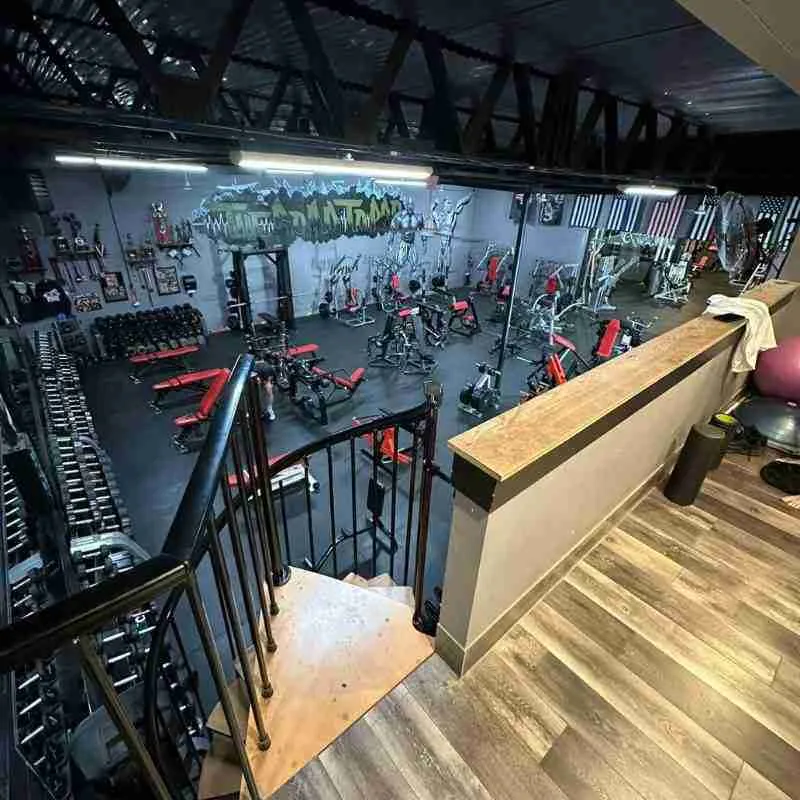 Address: 2616 S 1030 W, West Valley City, UT 84119, United States
Day Pass: $14.99
Instagram: @butlerprogym
24/7 Hours? Yes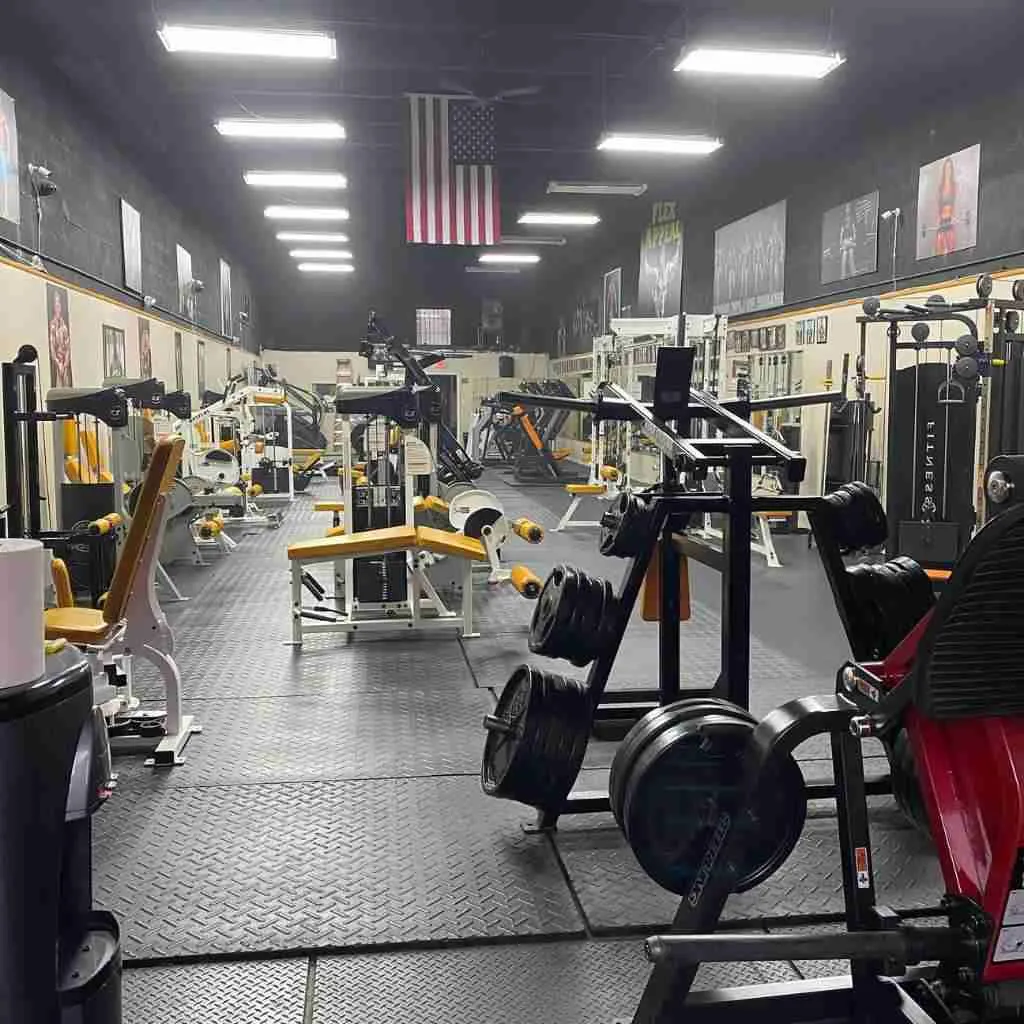 Situated a little bit outside of Miami in Kendall, this gym which occupies 4 large warehouse bays is filled to the brim with iron, a great supplement shop and a lot of people who care about working out. 
Flex Appeal in Miami has been the backdrop for a great number of pro bodybuilding workout instructionals, including the current mass monster Big Ramy. The high walls are adorned with competing legends from past and present Mr and Ms Olympias, and the gym floor is littered with heavy duty training kit from credible brands you'd expect, such as Rogue, Eleiko, Cybex, Standard and more.
Alongside the bodybuilding focus they have competition grade powerlifting gear and a room dedicated to it. 
So, you might think with all this pure focus on hardcore training it's a touch intimidating? Wrong, Flex Appeal is warm, welcoming and draws in every type of gym-goer. 
From our own experience here, we found a few things stood out, the real mixture of visitor and the fact that while it was busy, there was no wait time to use anything. This speaks volumes about two things. 1. They are clearly well equipped, and 2, the vibe must be hitting the right notes if you can have a quad monster grinding out 200kg squats for reps in front of you and a retiree on the leg extension to the right. I love this family feel you get from independent gyms and Flex Appeal has that in spades. 
If you're heading down to the South of Florida, make this place a 'must see'. They have 24/7 access for members using a fob, but for mere casual tourists like us, you need to visit during staffed hours. Best still, the day pass price is a steal. 
Address: 12814 SW 122nd Ave, Miami, FL 33186, United States
Day Pass: $5 
Instagram: @flexappealmiami
24/7 Hours? Yes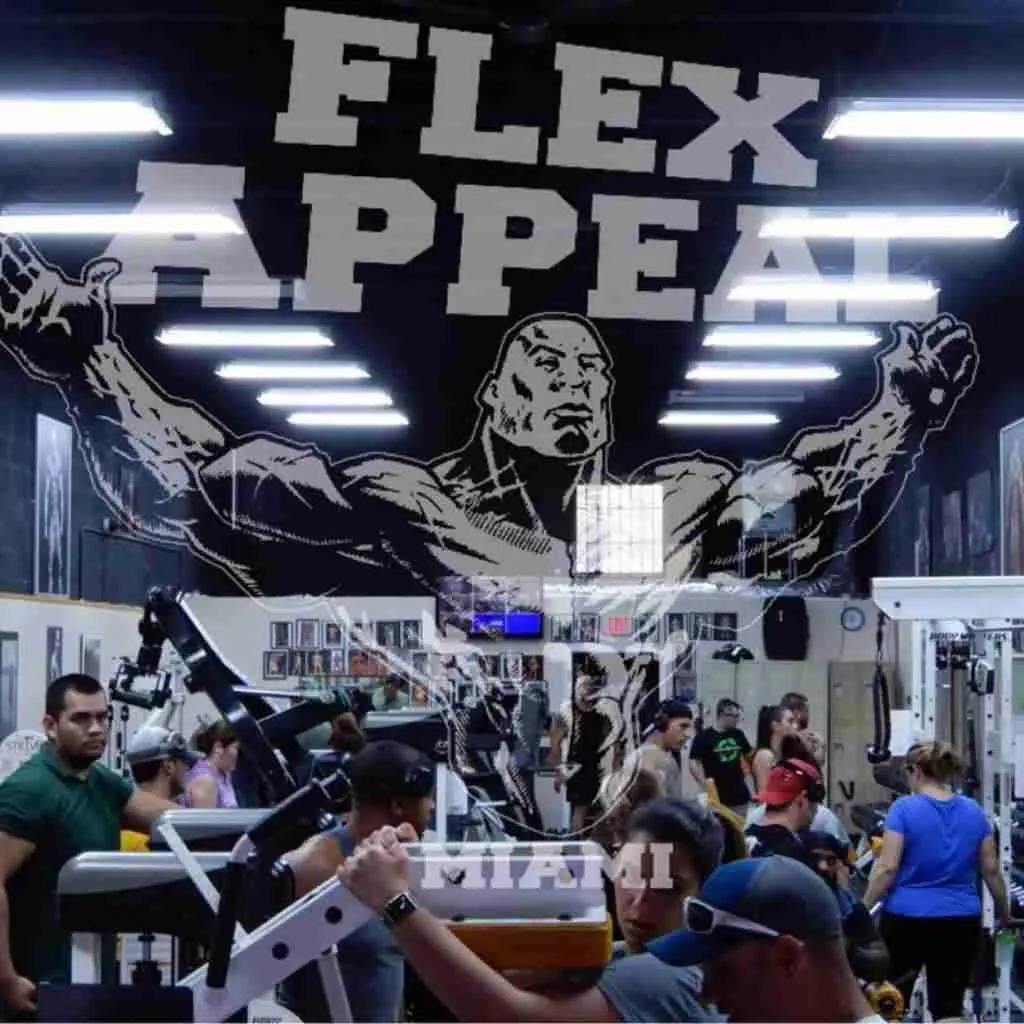 4. Bev Francis Gym (Powerhouse), NY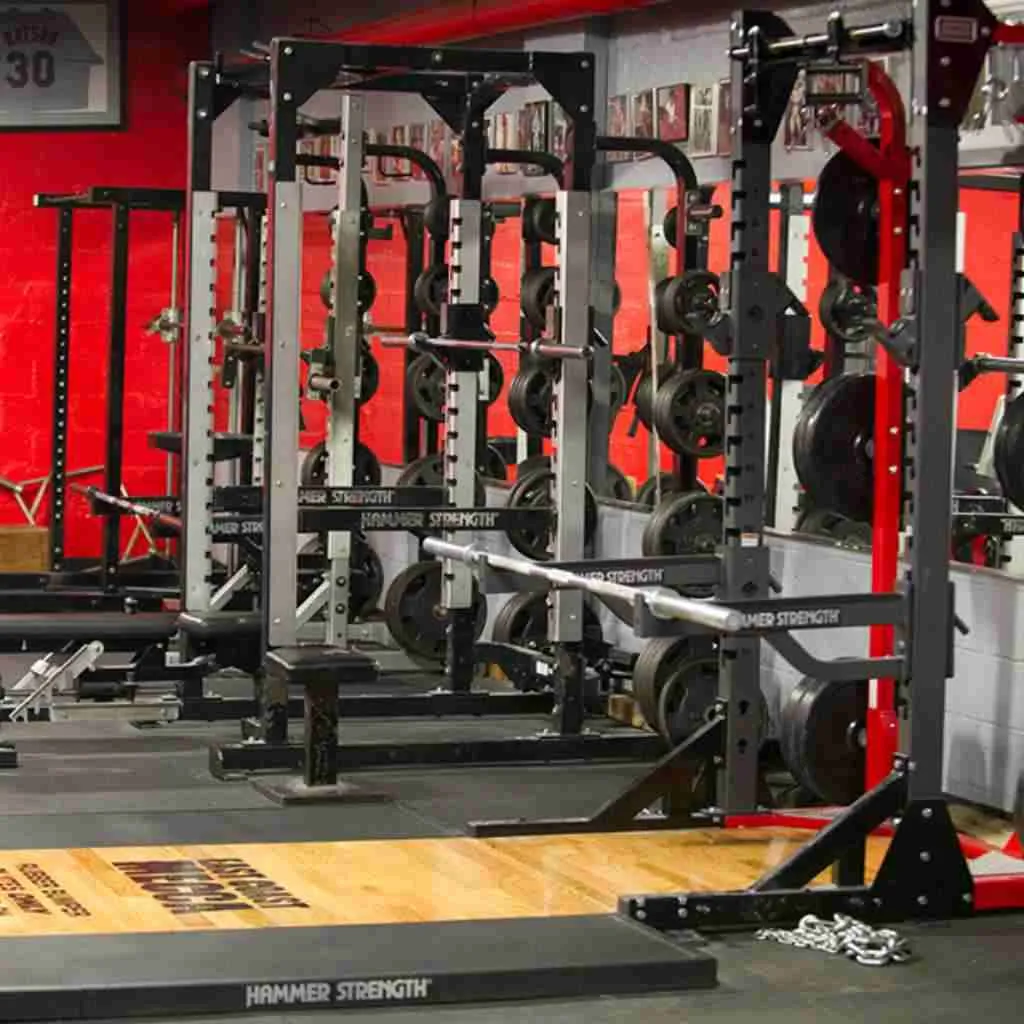 Ranked among the top 5 bodybuilding gyms in the USA by pretty much every awarding body, Bev Francis Powerhouse Gym is considered the East Coast Mecca of weightlifting.
Founded by Bev Francis, the former professional IFBB bodybuilder back in the late 80s/90s, you can't visit NY and not detour to Syosset to see this place. Bev won numerous titles in her career, including the 1987 NPC Nationals and the 1991 IFBB Ms. International and her background in bodybuilding has translated into the gym's training culture, which emphasizes hardcore and intense workouts.
The gym is open close to 24/7 hours so you can bank on a midnight teardrop workout if you fancied.
Some big names have graced this gym over the years, including Ronnie Coleman, Jay Cutler, and Kai Greene, all of whom have trained at the gym in preparation for competitions. This has built the gym's reputation as a top training facility for serious bodybuilders.
Why do we like Bev's Gym?
I know Rocky was based in Philadelphia, but there is this image in your mind of a New York old school gym, which feels 'Rocky like'. Bev's  seems to capture that, and at the same time having triplicate versions of every bit of kit the most high end gym would have.
There is nothing tatty, or cheap about the place, it's clean, organised and as is often the case in a real bodybuilding gym – friendly.
There is something inspiring about working out in a gym that has encouraged thousands of people just like you, to make their way to Syosset, simply to lift weights and feel good, knowing titans of the trade have enjoyed doing it here too. That's what there is to like. 
Address: 235-C, Robbins Ln, Syosset, NY 11791, United States
Day Pass: $25
Instagram: @bevsgym
24/7 Hours? Yes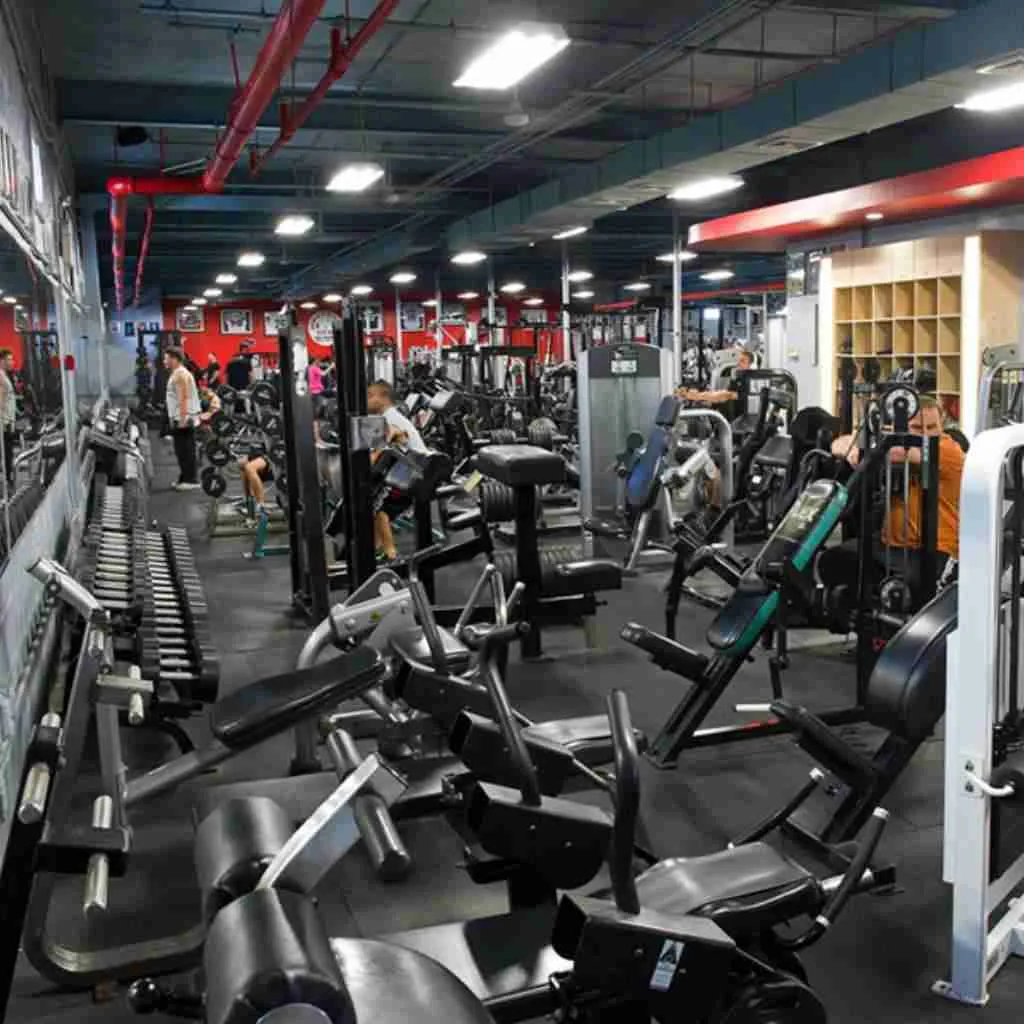 5. Brickhouse Gym, South Carolina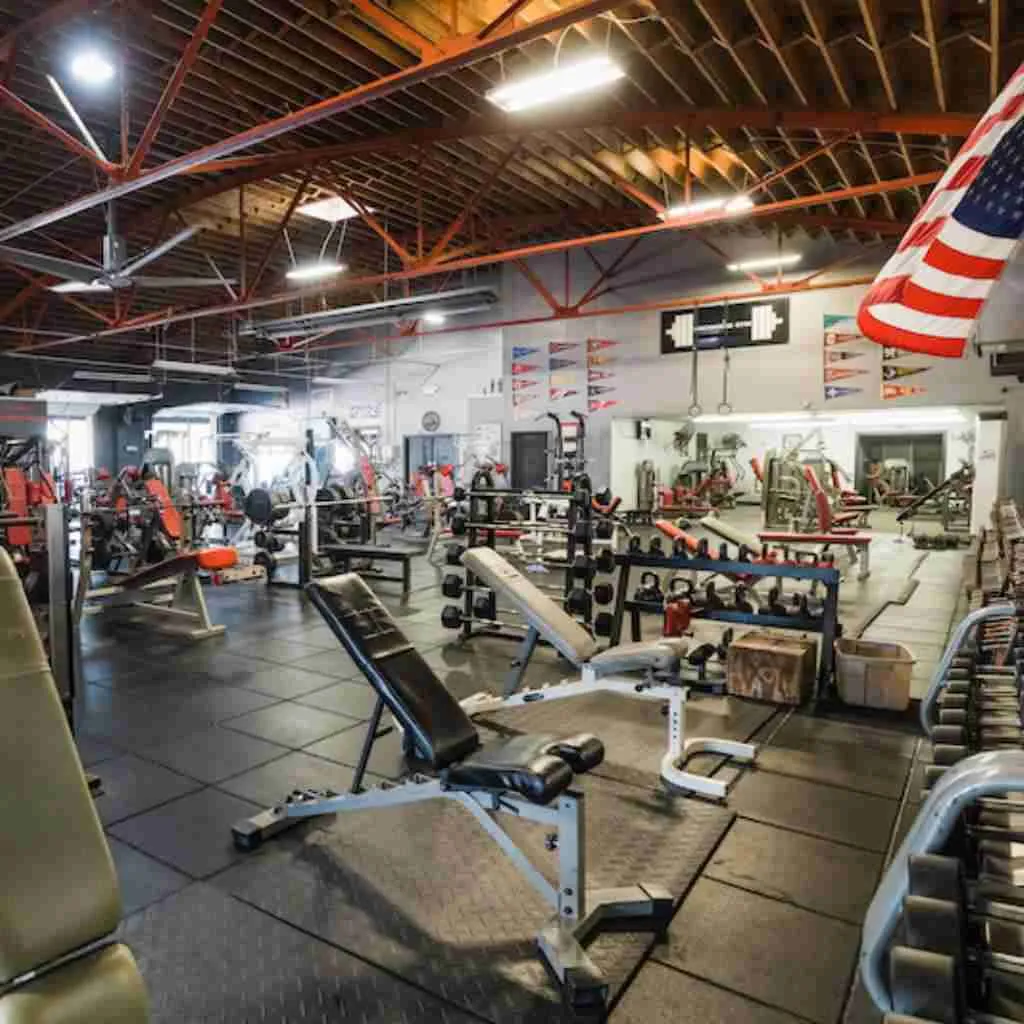 Brickhouse Gym in South Carolina is my pick, if there was an award for dark horse best bodybuilding gym in the USA. It was a fantastic find and a genuinely decent match-up against any bodybuilder's gym in the country. 
Located in Columbia close to the river, halfway between Charlotte and Charlestown, this place is well worth a day trip – probably longer. This is the kind of gym you visit and then take a look at Zillow or Rightmove to see if migrating is a real prospect. 
Lets dive in – Brickhouse has had it's warehouse style doors open for over 20 years now, it's 12,000 sq foot and features everything from atlas stones to more contemporary free running treadmills. There is a room for free weights, and a 'room' (it's more like a warehouse) for resistance machines that are badged up with brands such as Nautilus, Life Fitness and co. This place is the real deal.
Alongside the usual finds in a decent bodybuilder's gym in America, you have the added bells and whistles such as a posing room and chalk bowls. For the athletes they have an astro space with prowlers and sleds, for the strength lifters, dumbbells run to 200 lbs. 
Behind the counter you've got management that includes bodybuilding champions and IFBB pro card holders, and for those who need a bit of training guidance they hold daily boot camp classes open for all. Columbia's gym users are lucky to have this place. Cherish it, use it, support it. We are jealous. Well done Brickhouse.
Address: 519 Huger St, Columbia, SC 29201, United States
Day Pass: 5 Day Free Pass For Potential New Members
Instagram: @brickhousegymsc
24/7 Hours? No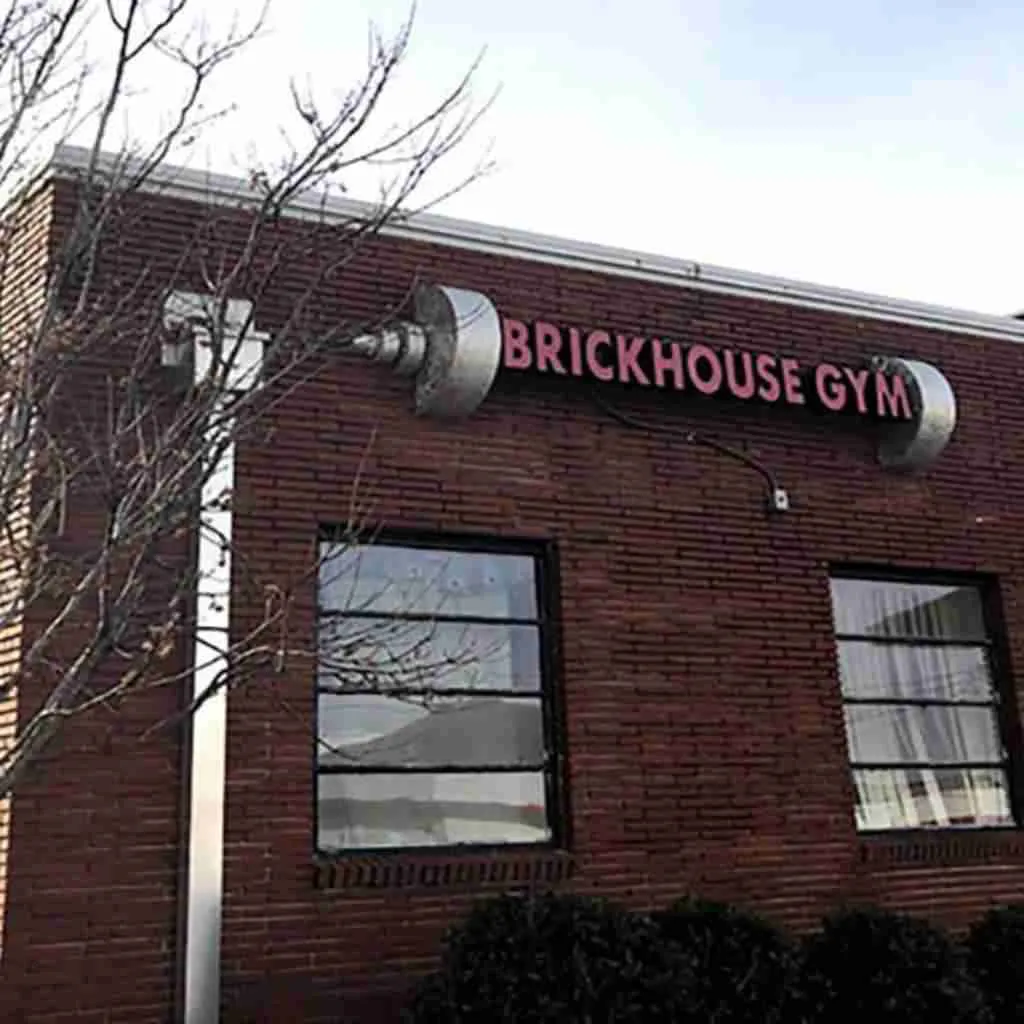 6. Body World Fitness, Philadelphia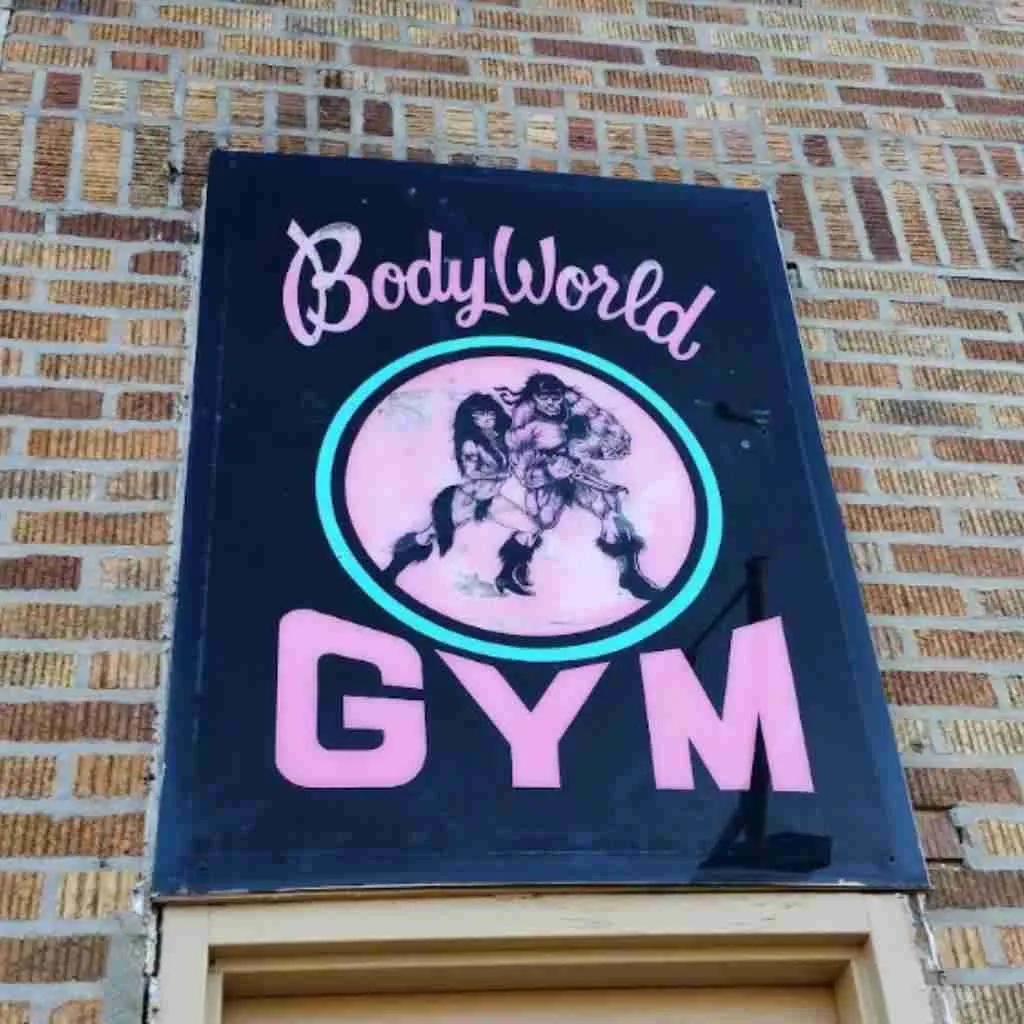 Pulling up to a tip-off in Philadelphia for a hardcore gym sessions brought us standing in front of this sign. It looks like something out of the 80s and to be honest, I think that's when Body World Fitness first opened up shop. 
Body World dispenses with any care for a working website, socials or pretty much anything to do with technology, unless that technology involves lifting and lowering iron. When it came to finding an entry for our list of the best bodybuilding gyms in the US from this part of the States, we found a hidden gem here.
A little smaller than other gyms, but with a depth of equipment needed to complete all your foundational lifts, this is the kind of old school gym you want to put a preservation order on. The classic posters on the wall of past heros are fading and weathered, and the dumbbells have years of use to their knurling, but the charm remains and we loved it. 
Located in South Philadelphia not far from some of the big box gyms, it was easy enough to find. Don't expect tons of cable based resistance machines, but you will find some nice plate loaded kit like Hammer Strength for leg press, rows and the beautifully extensive rack of dumbbells. 
Body World offers an affordable day pass rate in comparison to most other places to workout and membership (if you're sticking around) is rolling month to month, so no complicated admin fees. It's a straightforward, no-nonsense gym that attracts people who care about training and less about filming themselves working out. In fact, I don't think I saw one mobile phone out while training here. Can't be bad.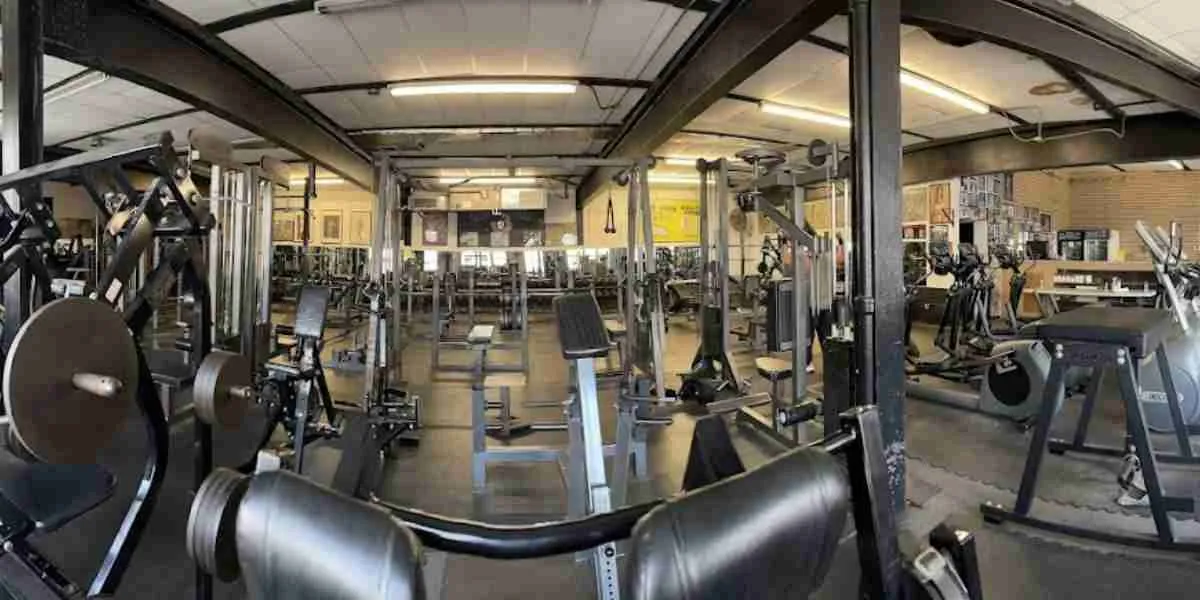 Address: 1622 Passyunk Ave, Philadelphia, PA 19145, United States
Instagram: Lol – No working website, this is a word of mouth world
Day Pass: $10 (2023)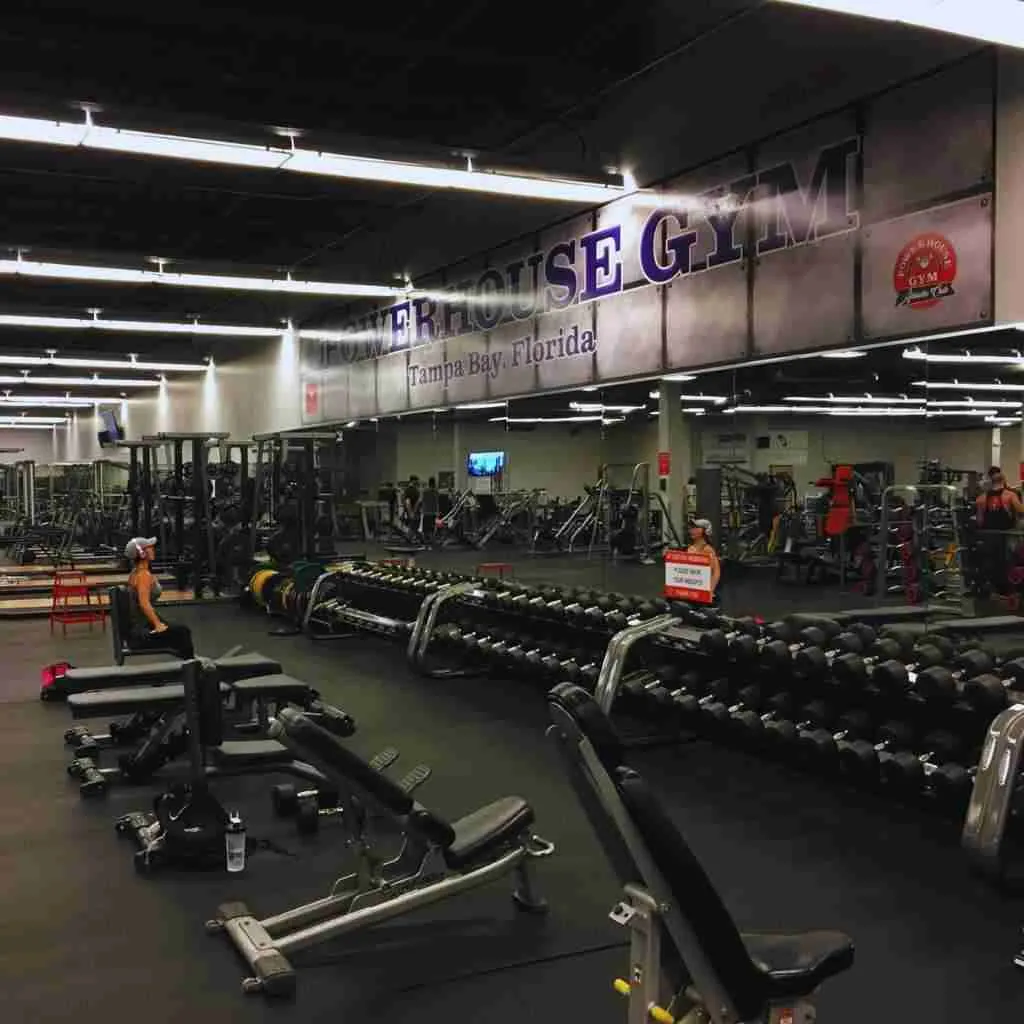 Florida like NY, Texas and Cali has its fair share of monster bodybuilding gyms and the PGAC of Tampa deserves a mention. Part of the Powerhouse family it dominates the local conversation when it comes to where to train locally. 
Branding itself as an athletic club it has tried to broaden its offering to move beyond just being a bodybuilder's gym and does include other activities such as boxing and athlete coaching. You can't miss the massive astro space in the centre of the club, decked out like a sports field. 
From meal prep, to nutritional advice, even draft training, PGAC aims to serve potential elite sportsmen and women as well as preparing amateur and pro bodybuilders before competitions. When it comes to doing that, 50,000 square foot of space filled with more plates than a Greek restaurant ensures it's up to the job and why current IFBB pros and even Dave Bautista have been seen training here.
So who trains here right now?
With Erin Stern, Derek Lunsford, Sheila Bleck, Janeen Lankowski, Nathan Wonsley and 3X Natural Mr. Universe winner John Hansen training here in Tampa, it creates an inspiring and collaborative workout environment.
Why do we like PGAC?
This place is probably amongst the glossier of Powerhouse Gyms and that's perhaps because it's Tampa. While it doesn't have that hardcore or old school touch to it, it does have a sense of professional focus which means you get in, train hard and get out. I'm a big fan of the clear room to train too. We all know that anxiety you get when you're trying to lift heavy and people are moving around a little too close to your station. Tampa's entry to the best bodybuilding gyms in America absolutely doesn't have that problem.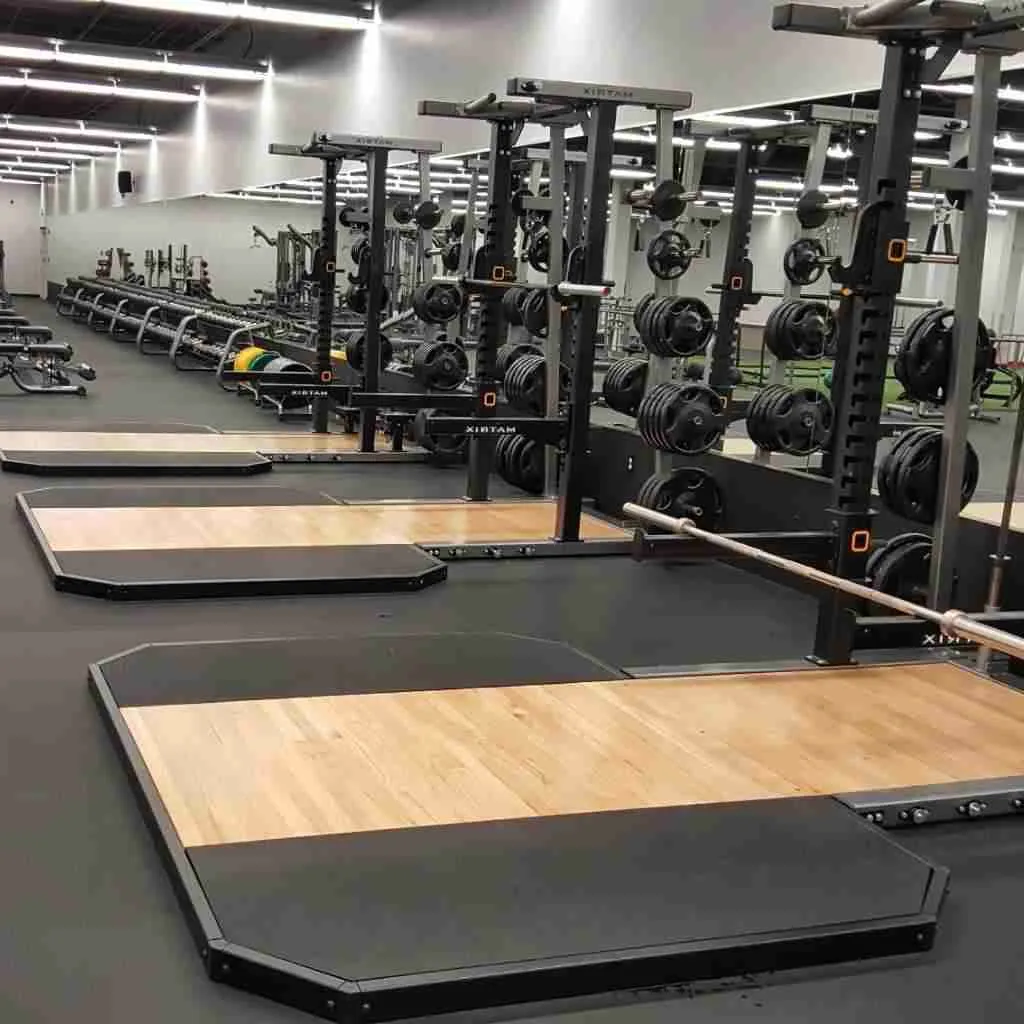 Address: 3251-A W Hillsborough Ave, Tampa, FL 33614, United States
Day Pass: $10 (If accompanied with a member)
Instagram: @powerhousegymathleticclub
24/7 Hours? No – but 5am to Midnight
8. Iron Religion Gym, Orlando FL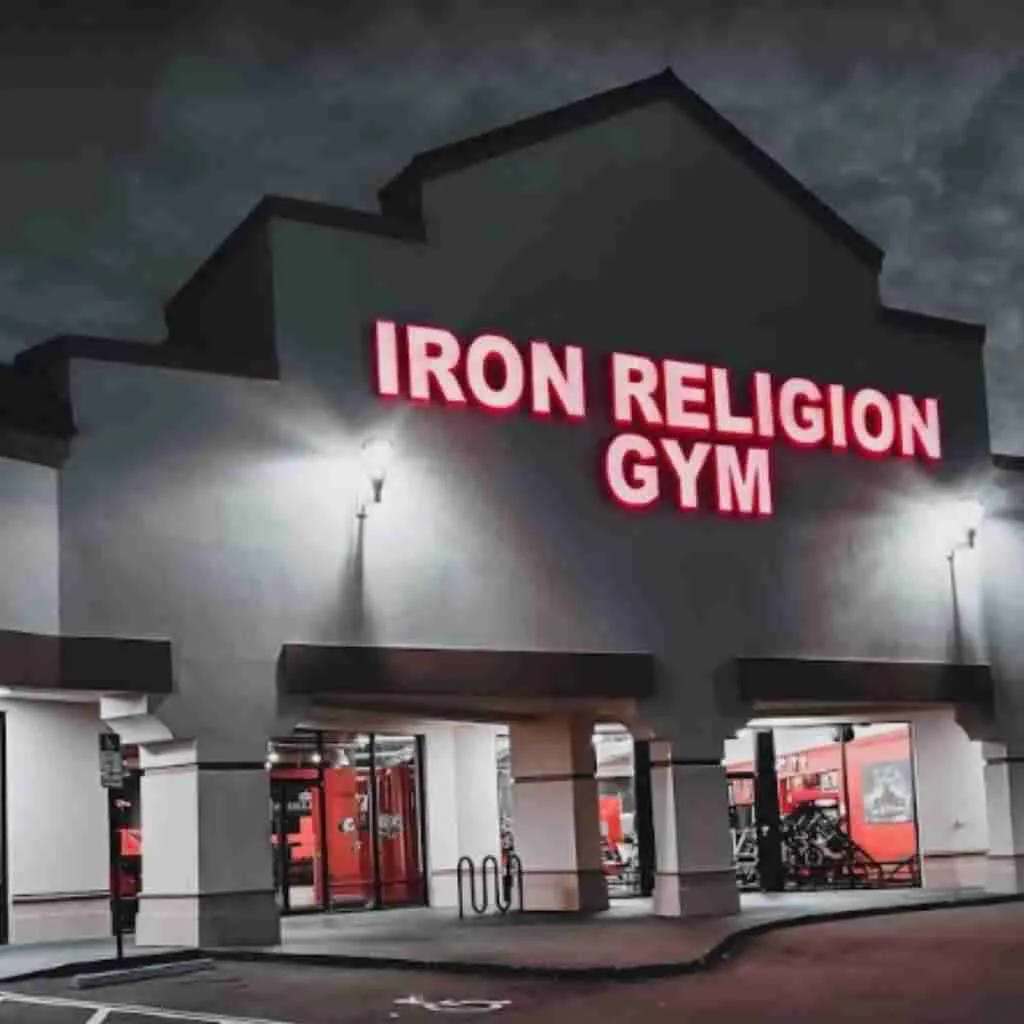 So you've seen Flex Appeal in Miami, and PGAC in Tampa, before you leave the state of Florida, you need to pay a visit to Iron Religion Gym in Orlando. We came here in early 2022 as soon as flights from the UK to the US were resumed. We took a roadtrip from Daytona to Dallas and made this independently owned palace of flexing a non-negotiable stop en-route.
444 5 star reviews (at time of review) can't be wrong and we wanted to see why.
As you walk in to the place you're hit by the visual similarity to somewhere like Dragon's Lair of Nevada, and get that visual stimulation from the red and black – ready to workout colour scheme. Pictures adorn the walls of photoshoots from the gym, the clientele on premise are jacked and you are met with a feast of plate loaded equipment, lifting platforms and power racks. 
The gym is vast with zones for dumbbells, sections for machines, alongside areas for cardio and warm down space. You've got NPC and IFBB pros on the PT team including 2006's Ironman Invitational Winner Gustavo Badell. 
Why do we like Iron Religion Gym?
It's the buzz for us. The gym is a hive of concerted effort and focused intensity. It feels electric and that feels motivating. I also think the organisation of the place is an underappreciated touch. There's nothing more awkward than training at a gym for the first time and walking about trying to find things. The way IRG is logically laid out makes finding what you need when working a split, pretty easy.
Address: 5247 International Dr, Orlando, FL 32819, United States
Instagram: @ironreligiongym
Day Pass: $15
24/7 Hours: Yes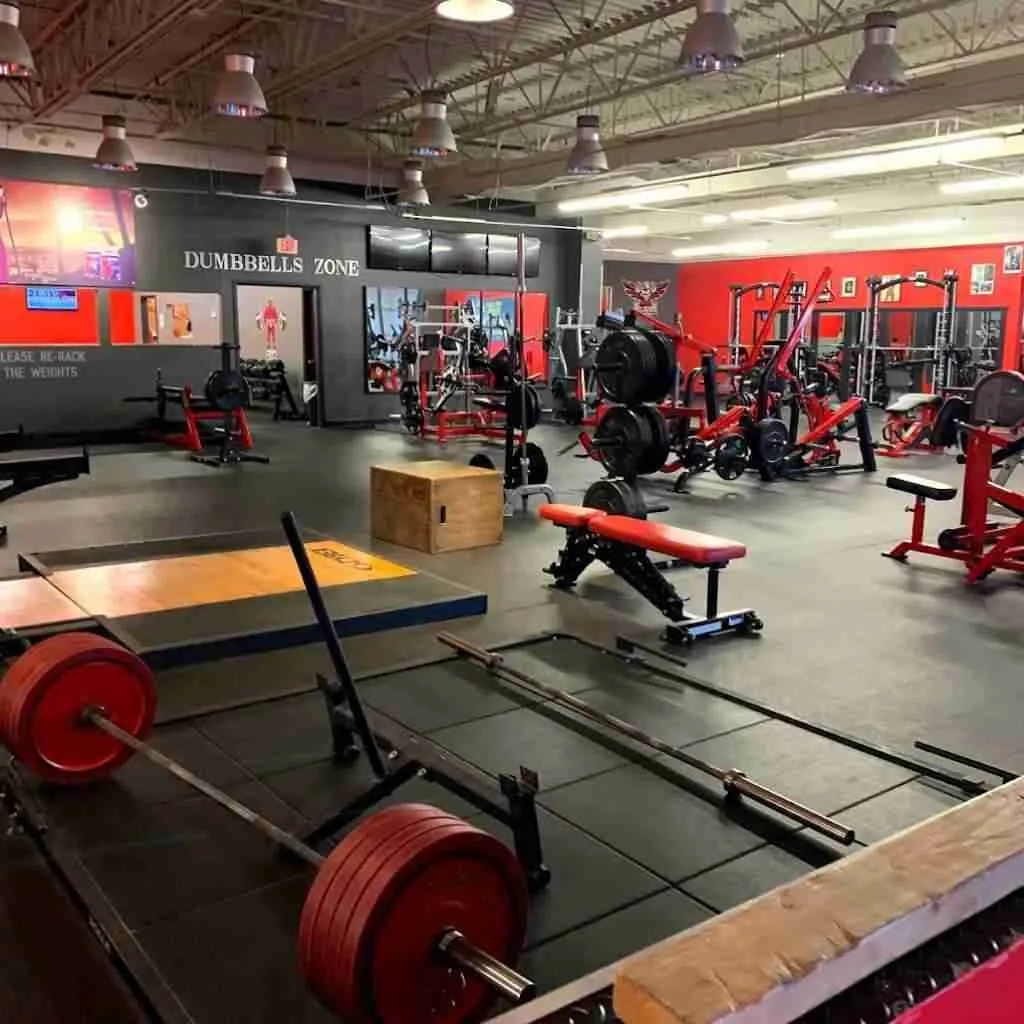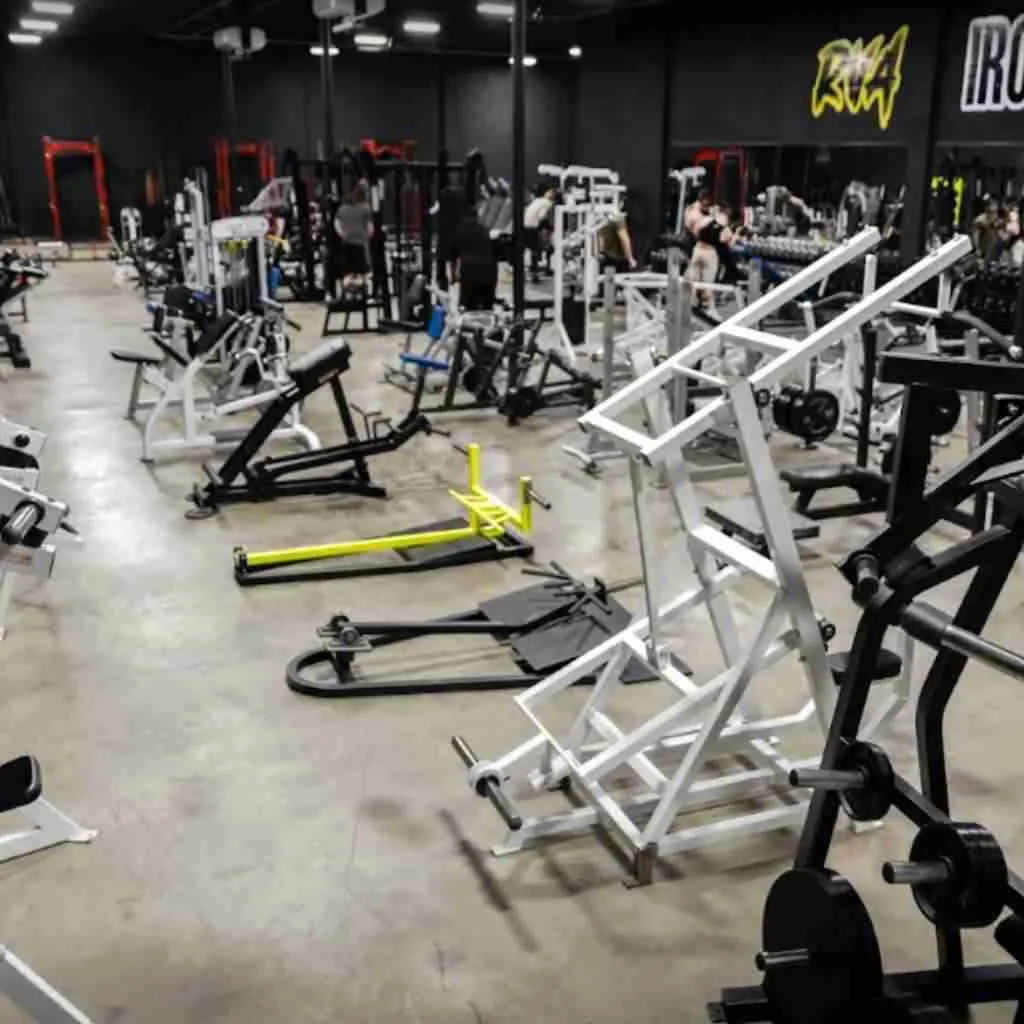 Dumbbells to 90kg! Yes that's right, 200lb dumbbells, which are an absolute showstopper for RVA Iron Gym in Richmond. Criminally underrated on the whole 'best bodybuilding gyms in the world' scale, it's used by IFBB pros and for good reason.
When gym equipment doesn't match it tends to be for 2 reasons. 1 of those is because the gym is taking hand me downs, the second reason is because the owners know that different brands do better than others for certain pieces of kit. With this many good reviews, it's easy to see that RVA Iron is laid out for the second reason. Different brands for different needs. This is the sign of gym owners who care.
We got a recommendation to visit here after asking someone in the downtown Whole Foods. It was actually a couple, both a guy and girl both stacked to bits. That tip-off led us to RVA Iron and how you now know that if you're ever in Richmond, you should pay a visit too.
What do we like about RVA Iron Gym?
Bobby and Brandon the founders have built a friendly and formidable local business that is a true judgemental free zone. You can find a real range of people here, from beginners to real iron grinders, and not one of them is here to give you a hard time.
The gym is open 24/7 for members and if you're in the place on your own you can set the gym's Ipad to your own playlist. 
The layout is organised by muscle group and the premises caters for powerlifting fans too.  Support a local family run business and at the same time enjoy one of America's best bodybuilding gyms, here in Richmond.
Address: 3910 Adams Rd, Richmond, VA 23222, United States
Instagram: @rvairongym
Day Pass: $15
24/7 Hours: Yes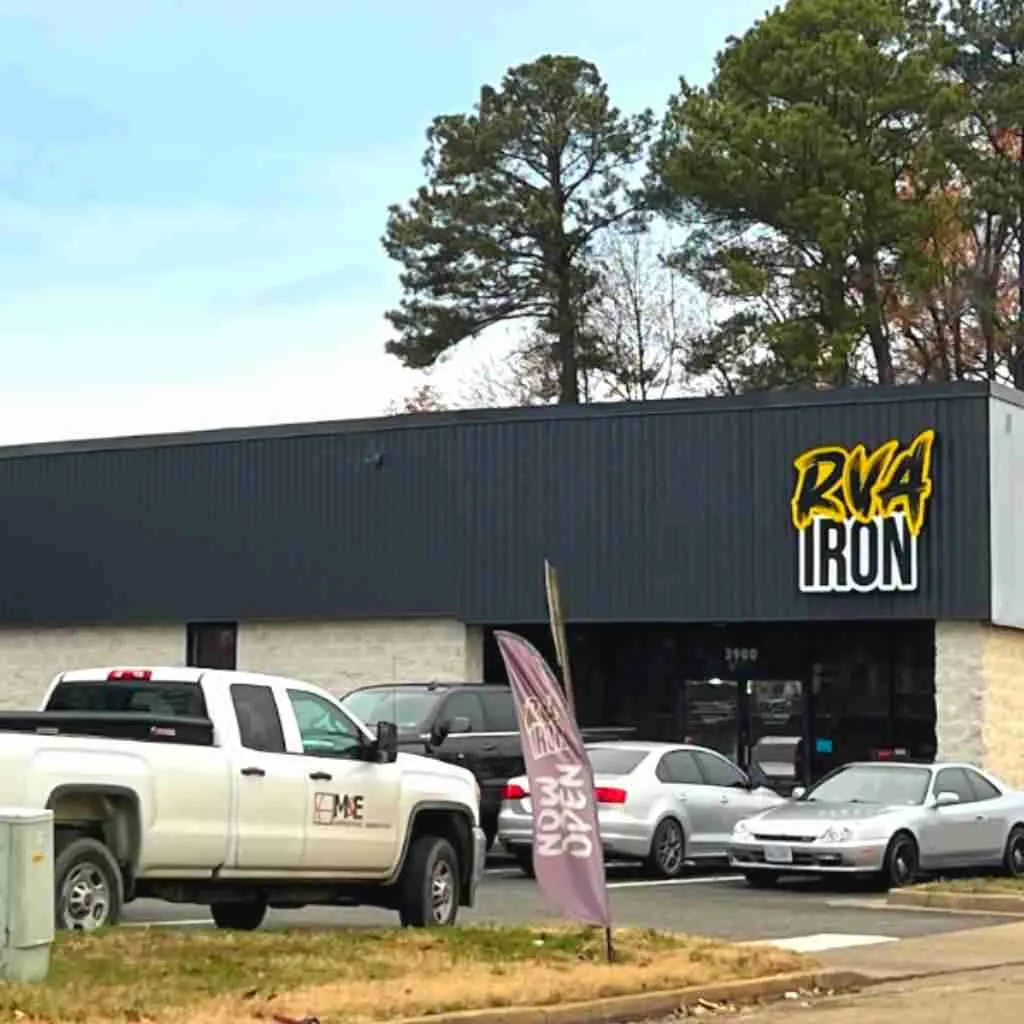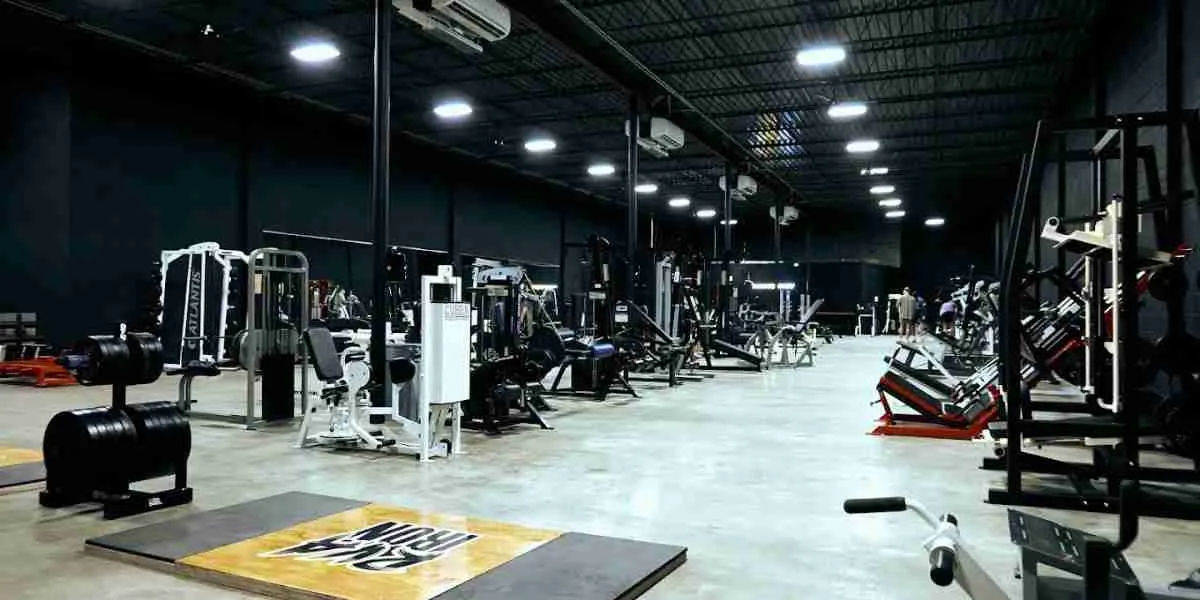 10. Dragon's Lair, Nevada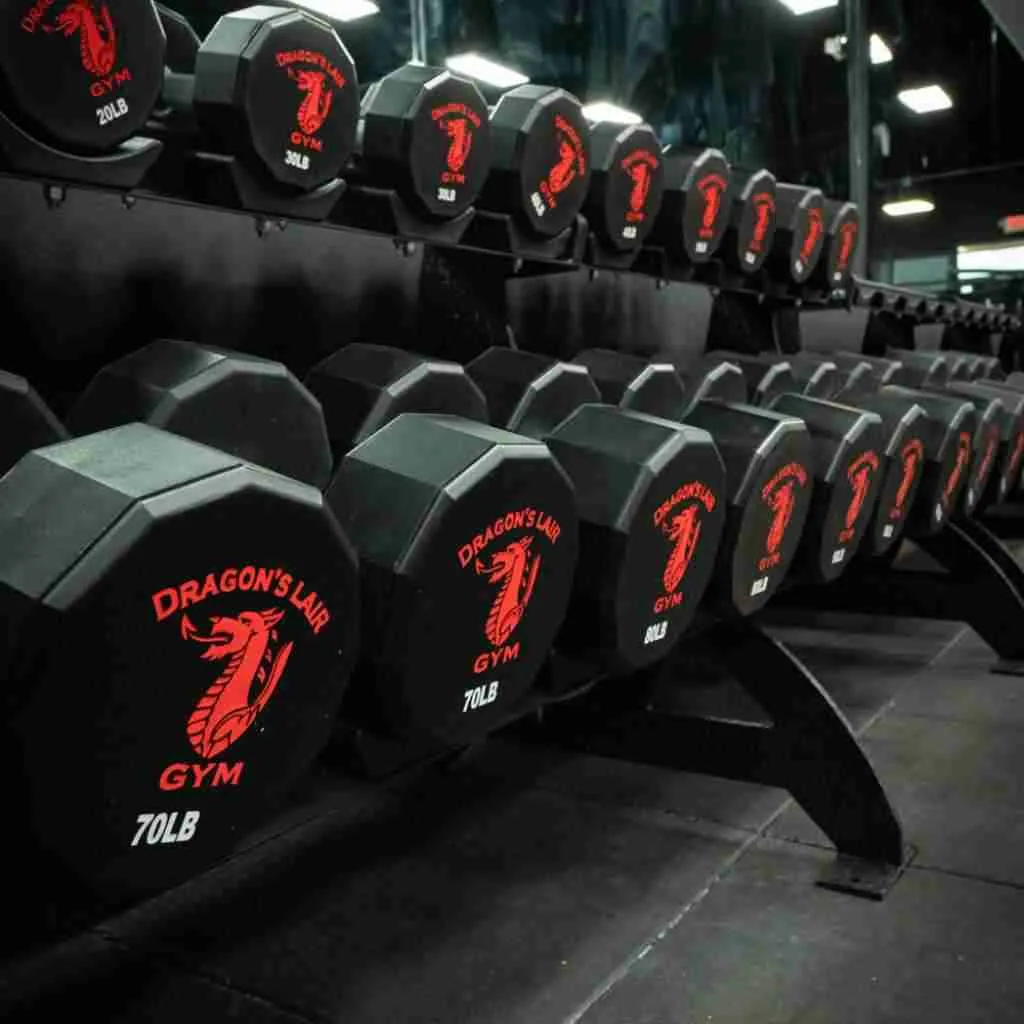 Maybe the red dragons are a giveaway but this bodybuilding gym in Las Vegas is owned by a Welshman. Yes, Dragon's Lair is the home gym for Welsh IFBB pro James 'Flex' Lewis and regularly used by Jay Cutler, Big Ramy and Lee Priest.
With over 100 pieces of gym kit in perfect condition, an astro space and well oiled cardio machines this is a hell of a gym.
Picture this, you're sat on the plate loaded incline chest press and staring out at a massive wall mural with the words DRAGON'S LAIR emblazoned across it in fire text – yes mate, you're ready for war!
Beyond how the gym looks on the inside, it's actually pretty contemporary on the outside and looks like any modern brand in Vegas or even Dubai would. 
Similar to Gold's in Venice, or Bev's in NY, Flex's gym in Nevada brings visitors from the world over in the hope of meeting a famous face or setting a new PB and as the pictures show, you can see the draw.
Why we like Dragon's Lair?
As red blooded, iron pounding, bar snapping fans of weight training, this is amongst THE gyms you have to visit. It's stacked to the brim with showroom fresh kit, is full of positive faces and because it's in Vegas you feel like you're being even more healthy, while the rest of the town destroys their livers and their bank roll.
Address: 7850 Dean Martin Dr #506, Las Vegas, NV 89139, US
Day Pass: $30
Instagram: @the_dragons_lair
24/7 Hours? No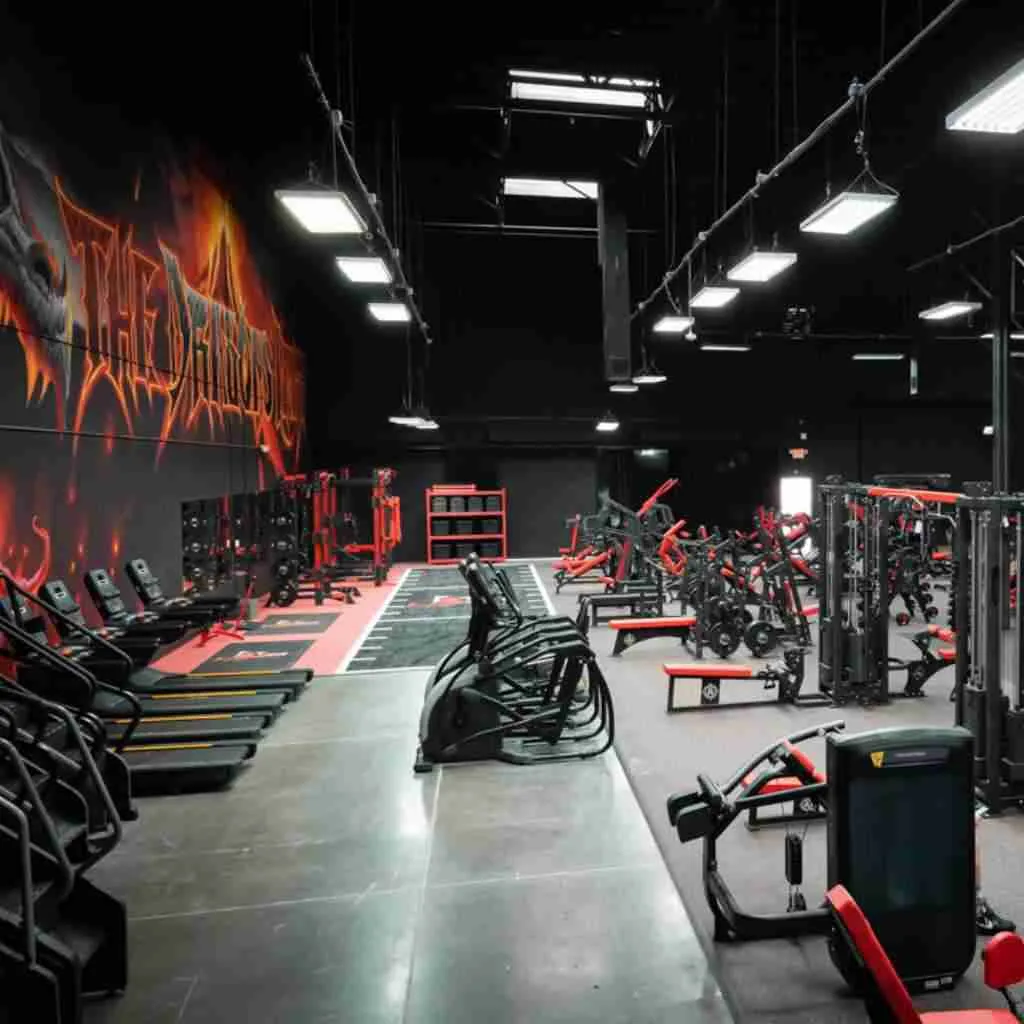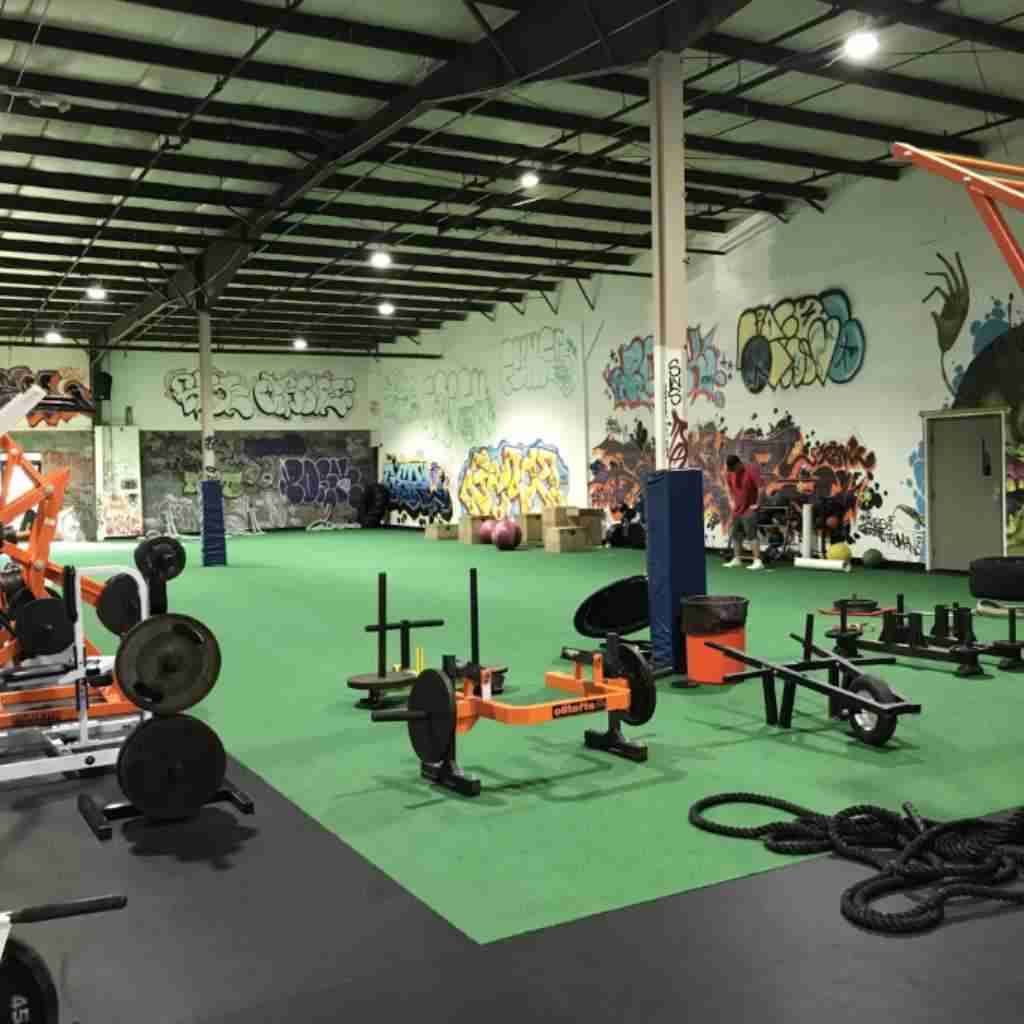 This is a guide all about the best bodybuilding gyms in the US, so it seems a bit off kilter to be throwing in powerlifting style locations. That said, I'd argue the core of any great training plan is the fundamental lifts, and Old School Iron in Cleveland wins hands down at this.
It might even be a disservice to suggest it's merely just a strength gym, because OSI feel like it's much more than this. As you approach the outside you see this big old hanger style space, with roller shutters up and inside is sparkles with chrome and powder coated metal frames. 
The gym is filled with benches, leg presses and a variety of Hammer Strength plate loaded beauties, there is no AC (as it should be) but a few big fans spin over head to lightly move around the sweat beads appearing on your face from your heavy barbell workout. But remember it's Cleveland, so it's never really warm outside anyway!
Why do we like OSI?
Why does OSI make it into our list of the best bodybuilding gyms in the US? Ask IFBB Pro Mike Ely who trains himself and others there perhaps instead! It passes the 'good enough for a pro' test, but its also got some great leg fixtures, including the often overlooked Pendulum Squat.
Not overpriced, no joining/cancellation/hidden fees, and while we liked the dedication to their craft they've shown here, 100s of Google reviews say the same too.
It's not open 24/7 but it's kept in great condition and you need staffing for that. So that's no real shade. Finally, they are adding kit to their site and still trying to improve, they aren't resting on their laurels. Round of applause OSI.
Address: 5139 W 140th St, Brook Park, OH 44142, United States
Instagram: @oldschoolironcle
Day Pass: $15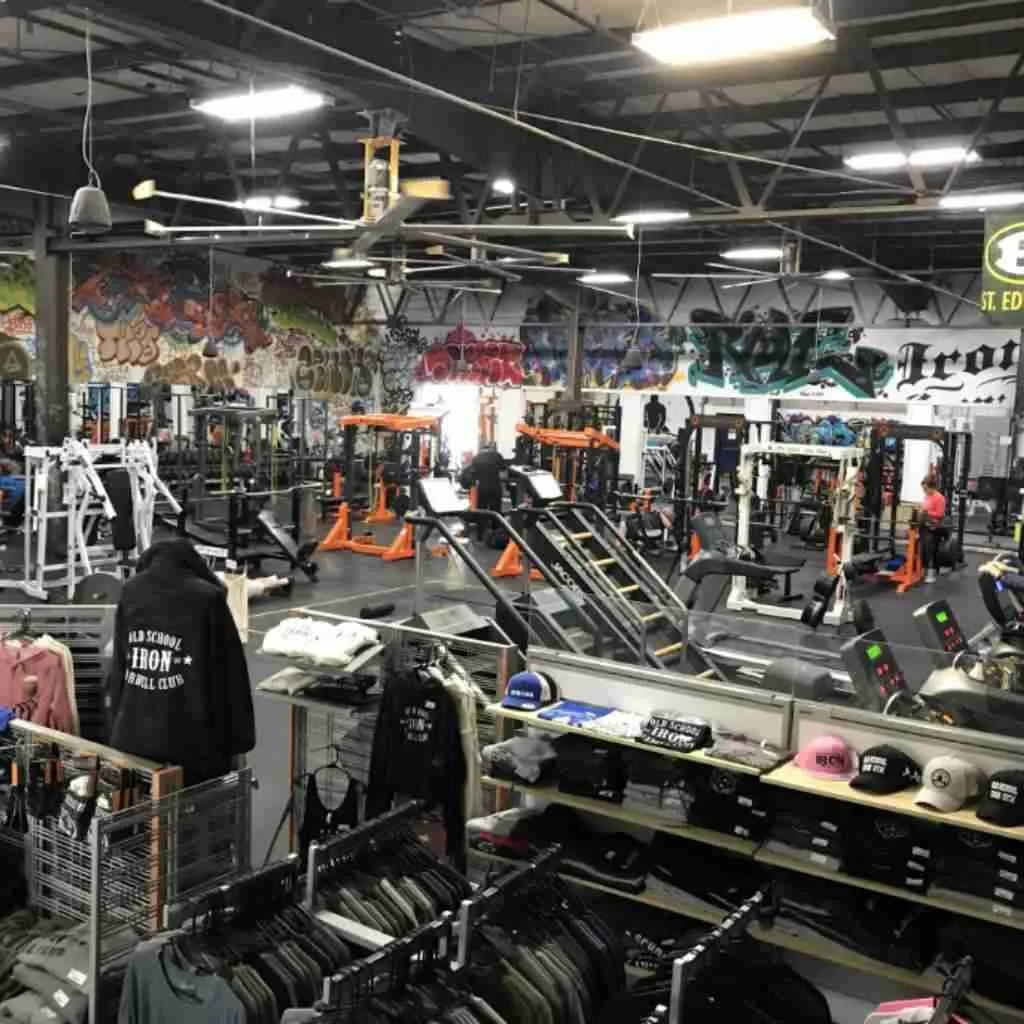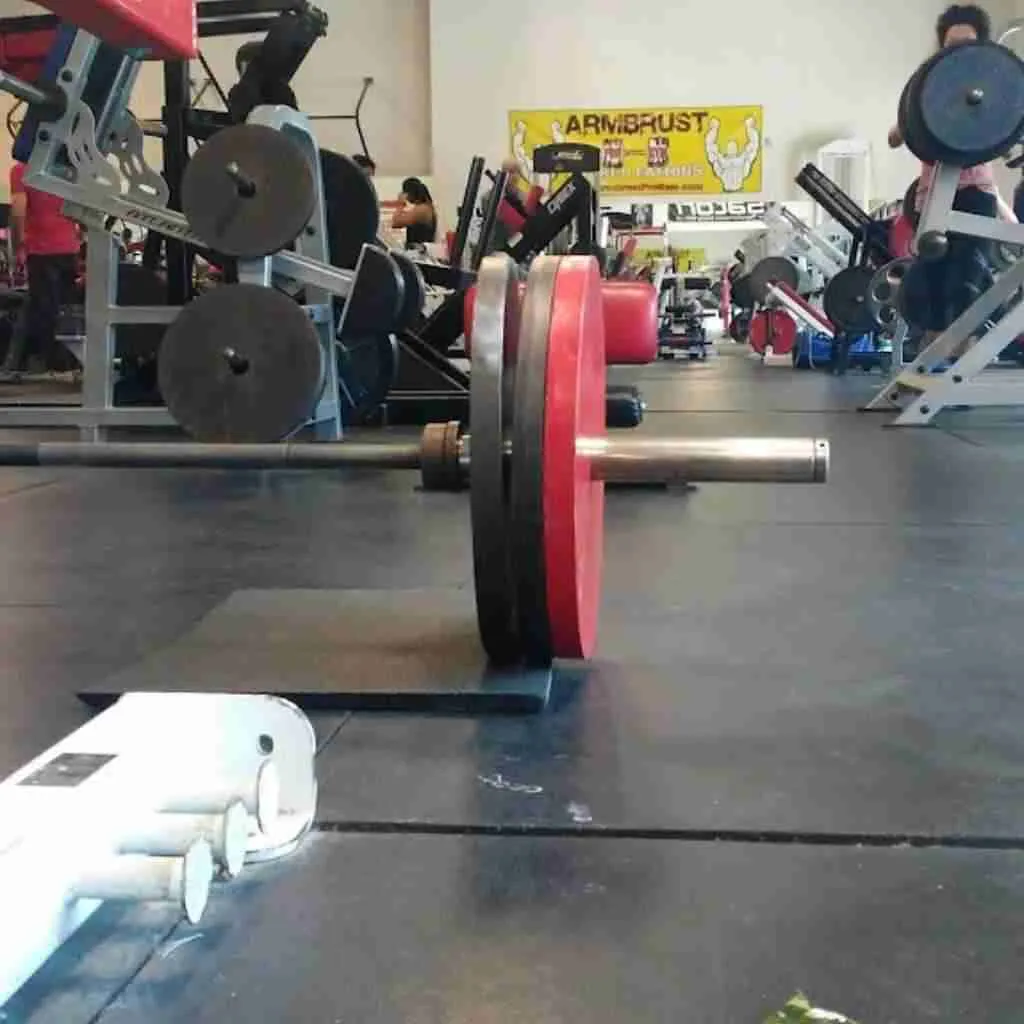 A short hop from Denver and you have another of America's best bodybuilding gyms in Armbrust Pro Gym. Home gym to current Mr Colorado and the owner himself Dylan Armbrust is a former NPC competitor, current judge and G-Unit. 
The gym is more compact than some of the other places we have stopped off in to review, but the equipment list is anything but. They have a whole room dedicated to your leg day pleasure and the joint has a slightly old school bodybuilding charm to it. Despite being post 2000.
The gym was opened in 2008 so is well into it's second decade of life helping people feel better about themselves. If you feel particularly good, Dylan and Andrea's gym even has posing rooms. Those posing rooms are obviously a callback to their association with the bodybuilding world and it's this legitimacy that has a number of local NPC and IFBBs on their membership roster.
Wheat Ridge is a smaller community on the fringes of Denver which makes accessing Armbrust pretty easy. You can't miss the big sign on the side of the road and then as you pull in, you have a ton of parking out front. This was pretty much a major part of our reason to come to Denver on our road trip, so we stopped off on a nearby Motel to make sure we could get a couple of visits in to the gym here.
Why do we like Armbrust?
Dedicated leg room – in fact so much leg gear they have a pendulum squat in the outdoor training space (also a nice touch). Some great hip thrust equipment, strongman gear (which I like to look at but never use) and finally I love the dumbbells. Perfect grip size…decent.
Address: 4240 Kipling St, Wheat Ridge, CO 80033, United States
Instagram: @armbrustprogym
Day Pass: $20
24/7 Hours? No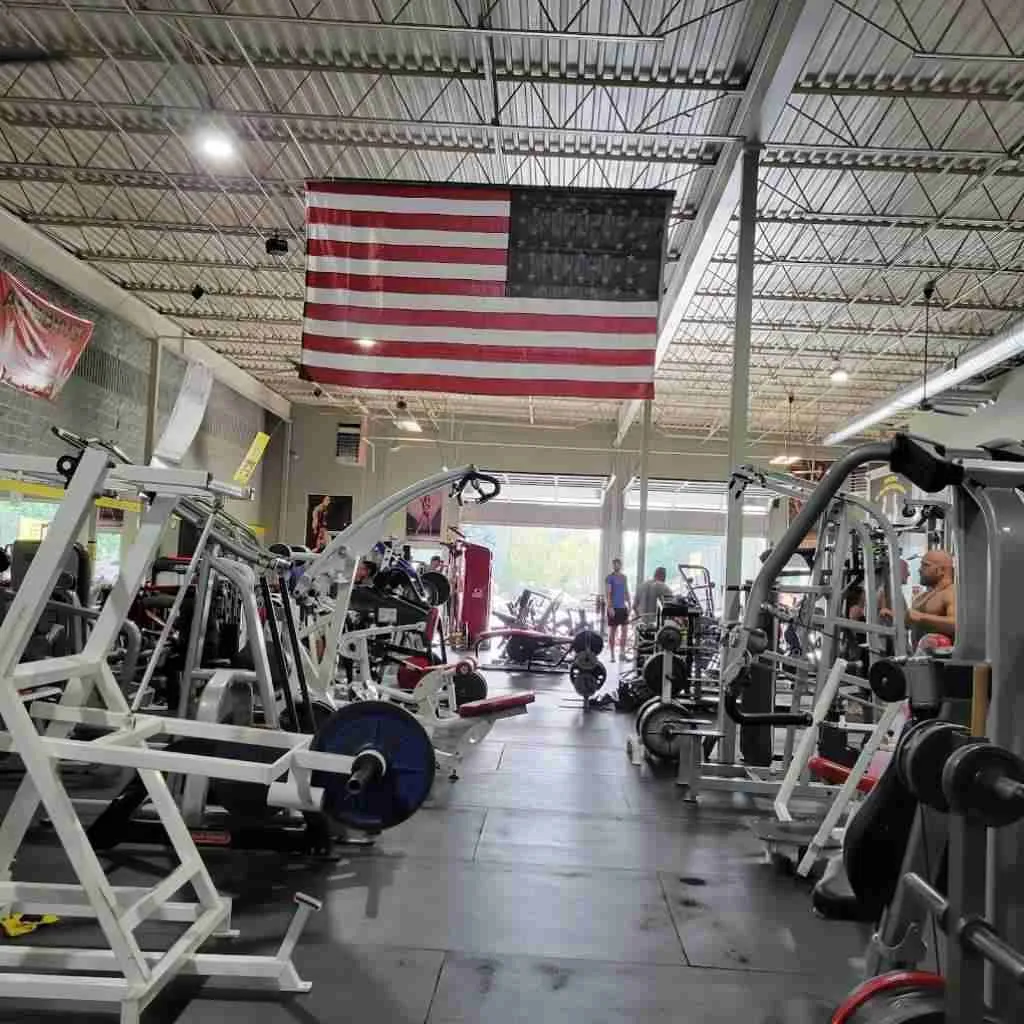 12. Bob's Fitness Center, Nebraska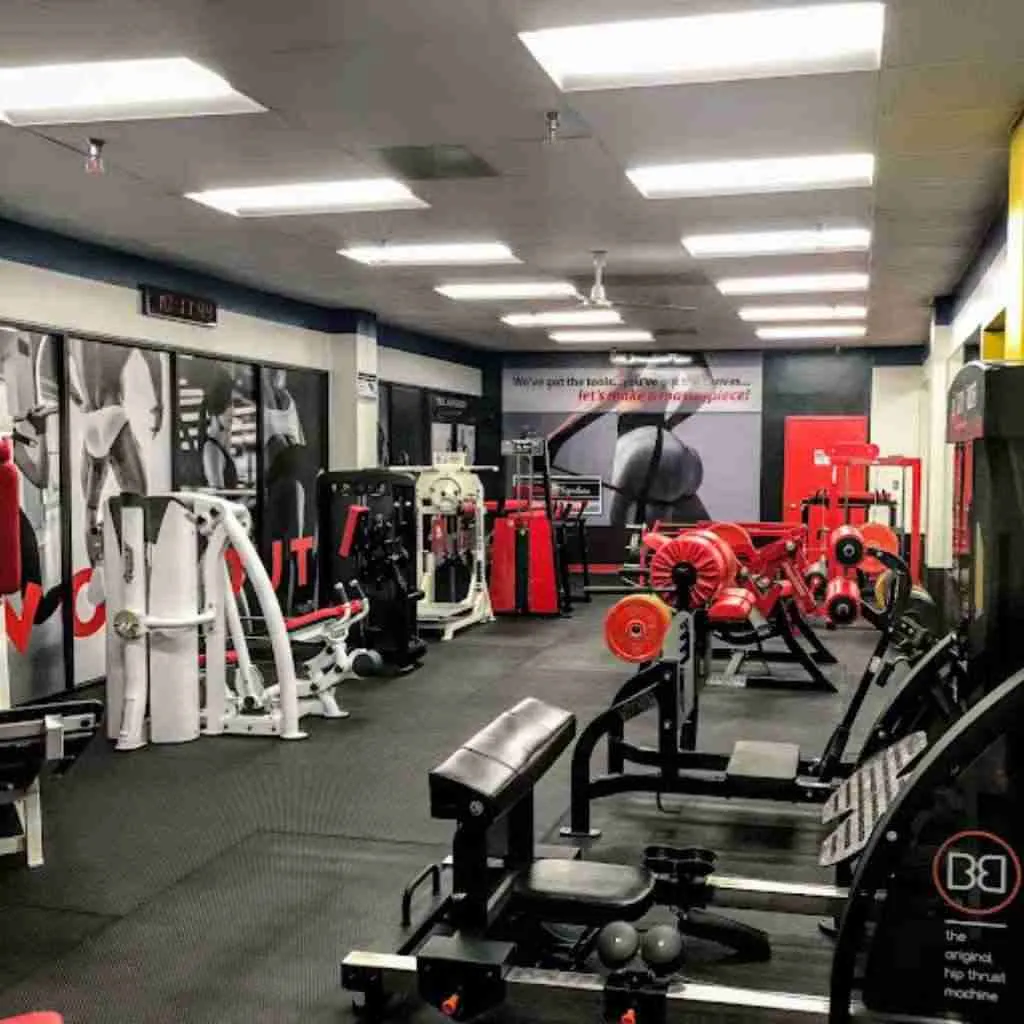 If it's good enough for the Mountain Dog it was going to be good enough for us. 
Bob's Fitness Center is our pick from Nebraska that truly deserves to be considered one of the best bodybuilding gyms in America. It's not your conventional, hardcore training centre and has an 'Average Jo's' feel to it, but it's equipped with such a vast range of machines and weights in perfect condition, you can't fail to have a good work out here.
Something about Bob's makes us feel you could come home one day after a workout with a warm pot pie handed to you too. And I think this stems from the founding story of the gym too. Bob the founder, used to work in local gyms and in the mid 90s had the opportunity to open his own place. In that it's grown and while its retained some of the look of the mid 90s, the places functions as it should in 2023. It's a great gym, and every item has been acquired based on its efficacy.
You visit some of the big box gyms and they will have all machines with one brand stamp on. What that fails to recognise, is some brands suck at some equipment. So when you see an incredible arena of equipment like Bob's, you know it's been picked for the right reason. To that end, they have Flex, Legend, Prime Fitness, Bodymotion and the list goes on. 
Why do we like Bob's Fitness Complex?
The founder story, the range, the independently owned values and best of all the secret workout kit they have. Bits I've never seen before is what won me over the most. They even have dumbbell holders so you don't need to kick them up on a heavy set. Smart.
Address: 1001 Fort Crook Rd. North Bellevue, NE 68005
Instagram: @bobsfitnesscomplex
Day Pass: 14 Day Free Guest Pass For Locals
24/7 Hours? Yes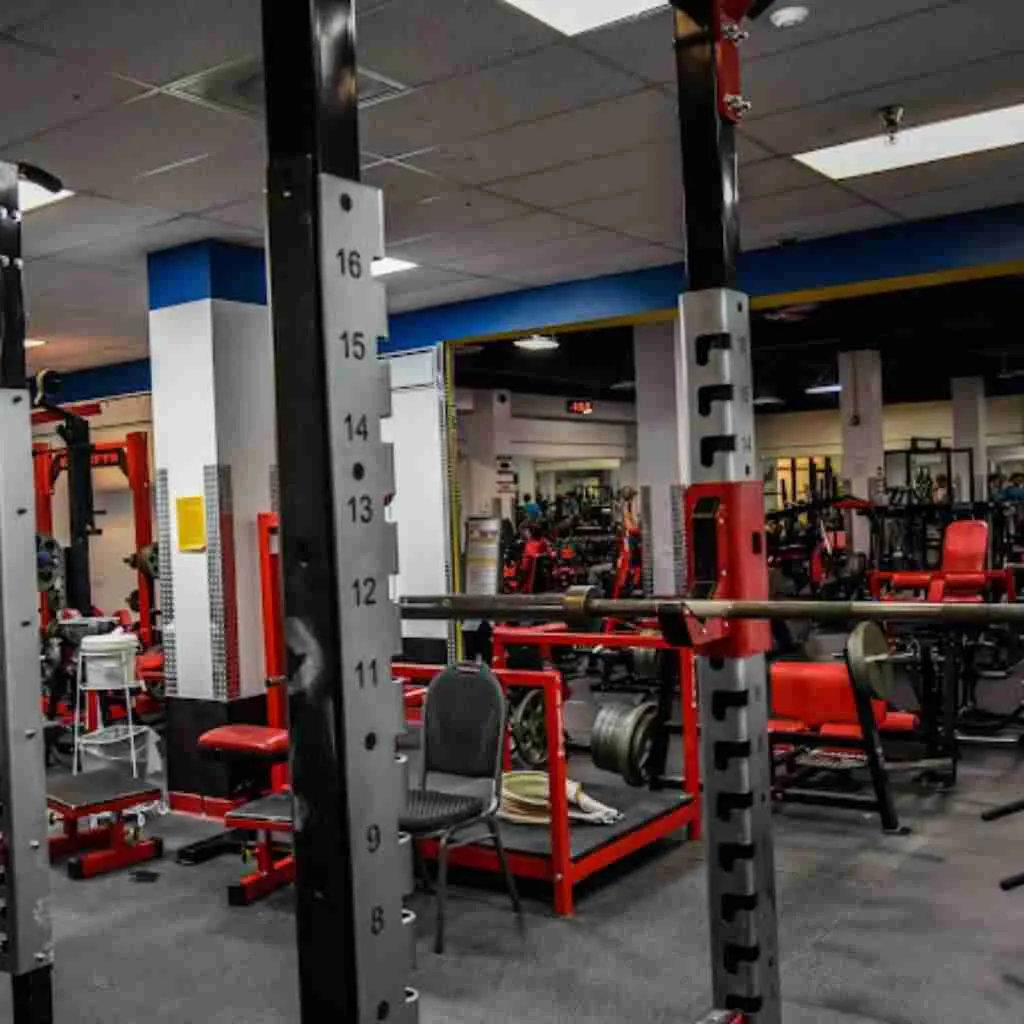 13. Dave Fisher's Gym (Powerhouse), Torrance CA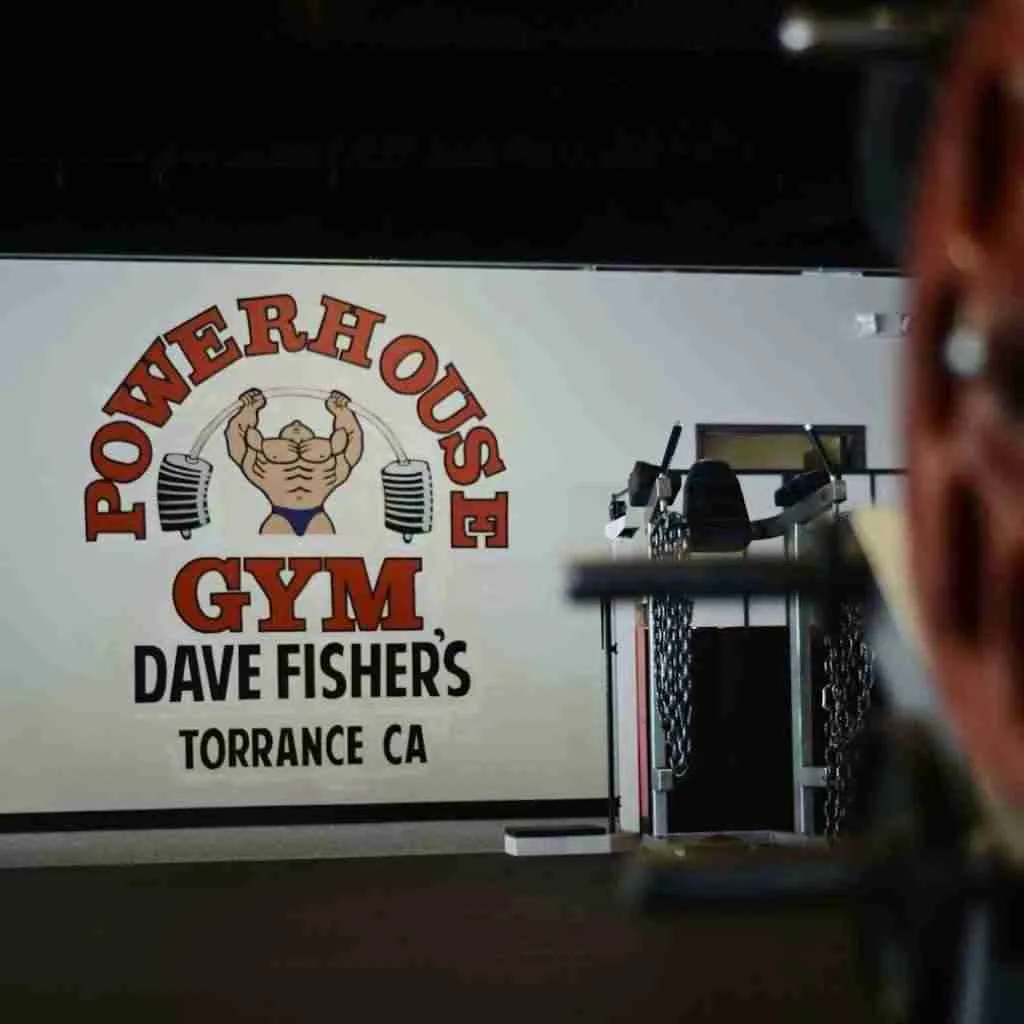 I first heard about Dave Fisher's in Torrance California from a Mike Ahearn video and knew the next time I was in SoCal I would have to pay a visit. 
Like a lot of the Powerhouse Gym network – which is a franchise but still means gyms have their own personal independent touch, there is this old school vibe. Perhaps that's the branding or just the nature of some of their franchisees and the era of bodybuilding they herald from. Dave Fisher's is no different.
The place feels personal, not overly modern but not to its detriment, and it has the bodybuilding images on the walls, many of whom trained or still train at Dave's gym.
We showed up for a shoulder day, and they had a couple of shoulder press stations, which is nice as finding one in most branded gyms is impossible.
Why we like Dave Fisher's Gym?
So why does Dave Fisher's Powerhouse deserve to be listed as one of the best bodybuilding gyms in the US? 10 unique squat stations, 4 smith machines, mobile phone selfie stands (for those that need them) and the mix up of guests. You can look one way and see a someone getting ready for comp, look the other way and see someone with the physique of a programmer going through the motions but feeling good in themselves. I like that, it tells me the gym has a good atmosphere, which all stems from the top. Dave seems cool, so his gym feels cool too. Check it out.
Address: 22715 Hawthorne Blvd, Torrance, CA 90505, United States
Instagram: @davefisherspowerhouse
Day Pass: $10
24/7 Hours? No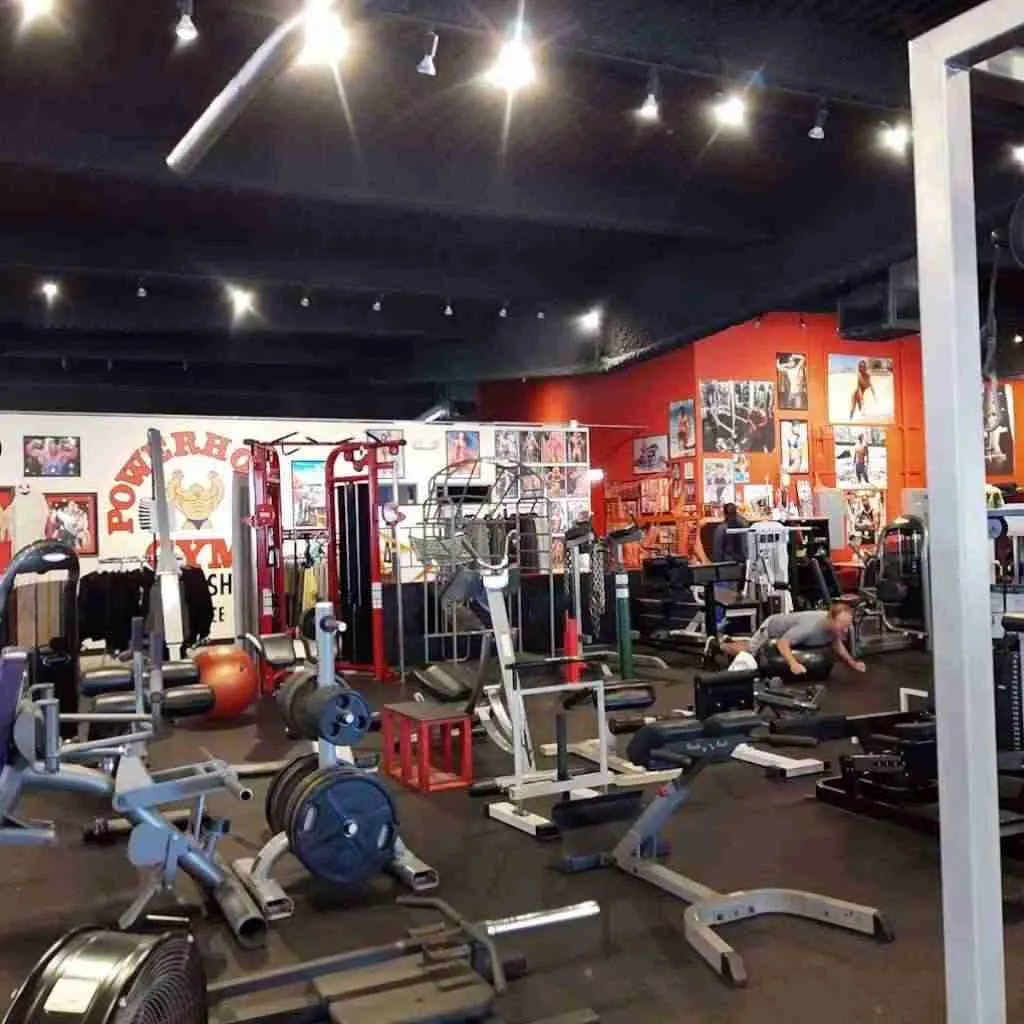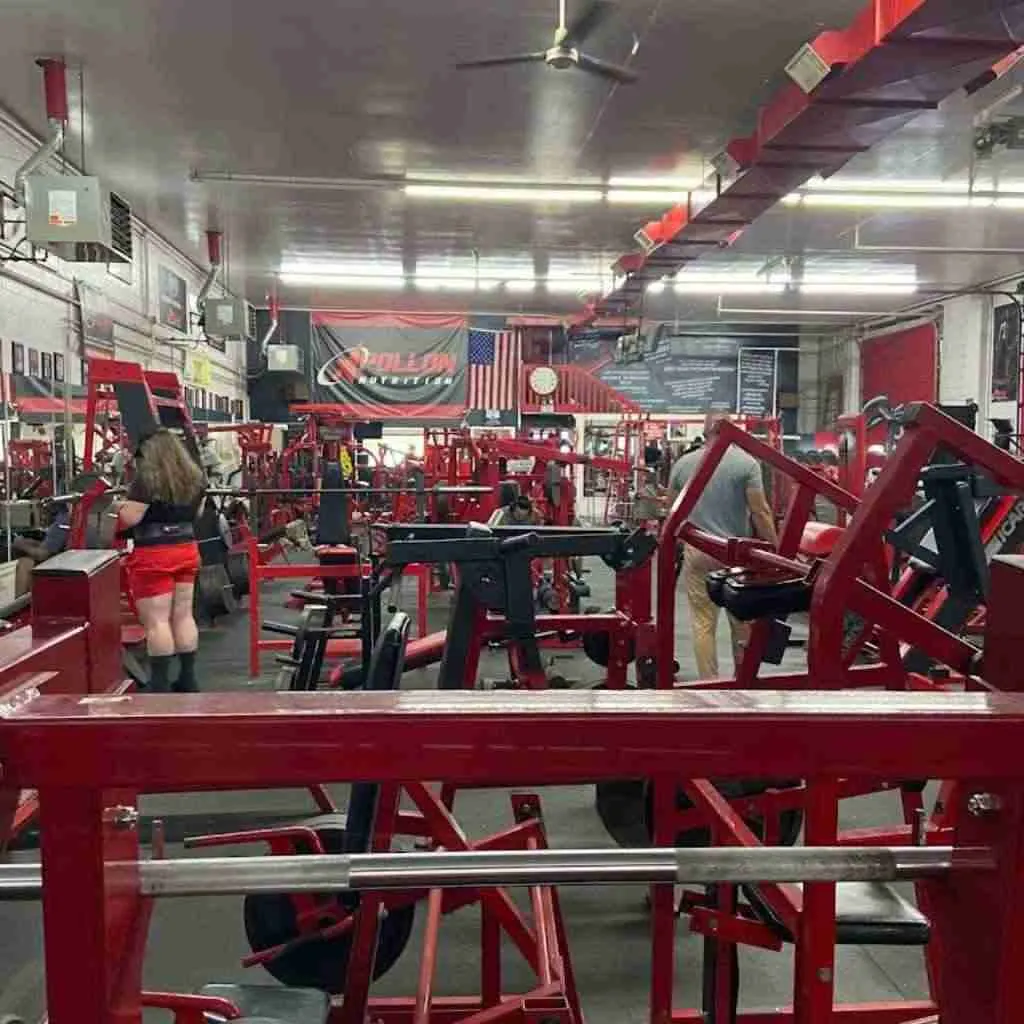 Where Rich Gaspari first trained and now a supporter to many up and coming athletes through their Apollon Nutrition brand, Apollon Gym is considered a credible place to train. So, when in New Jersey….
Apollon has been in business since back in the mid 70s and certainly when you walk on the gym floor you can see there is probably some kit that seem to share that age too. But that's half the point, this gym holds high quality equipment that has stood the test of time. Part of that is testament to the owners over the years (new owners in 2008) taking care of the gym and having members who care too. The other part, is that the gym has always been run by people who know what makes a good item of gym gear. You won't see any Primal Strength here!
The equipment has been decked out in the angry red livery of Apollon's brand, while the barbells have that worn brown look to them that says they've seen some solid workouts. 
Why do we like Apollon Gym?
We put Apollon into our list of the best bodybuilding gyms in the US as we would probably get crucified not doing it. Bev's Gym in NY may be the old school gym in the North East of the US, but Apollon is the hardcore pick. 
I love the attention to detail when it comes to barbell selection. I've rarely seen a cambered bar in a gym before, which is something I loved using to take the hit off my shoulder joints. Having this and the belted squat, pendulum and pivot press all in the same gym meant I left the place struggling to stand. Savage quad workout.
On the way out, we got a custom made shake from the counter and a protein bar for later from the shop. This place ticks all the boxes.
Address: 160 Talmadge Rd, Edison, NJ 08817, United States
Instagram: @apollongym
Day Pass: $20
24/7 Hours? No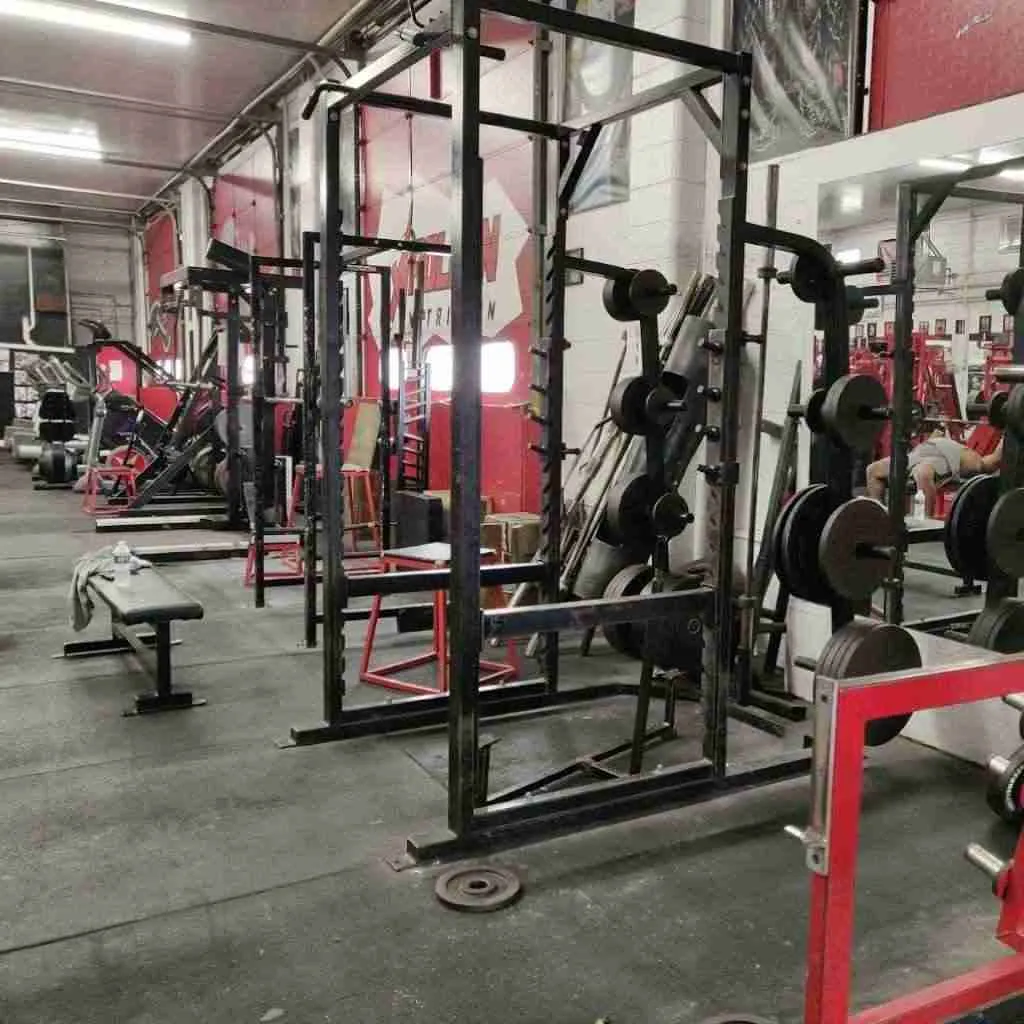 15. Iron City Gym, Houston TX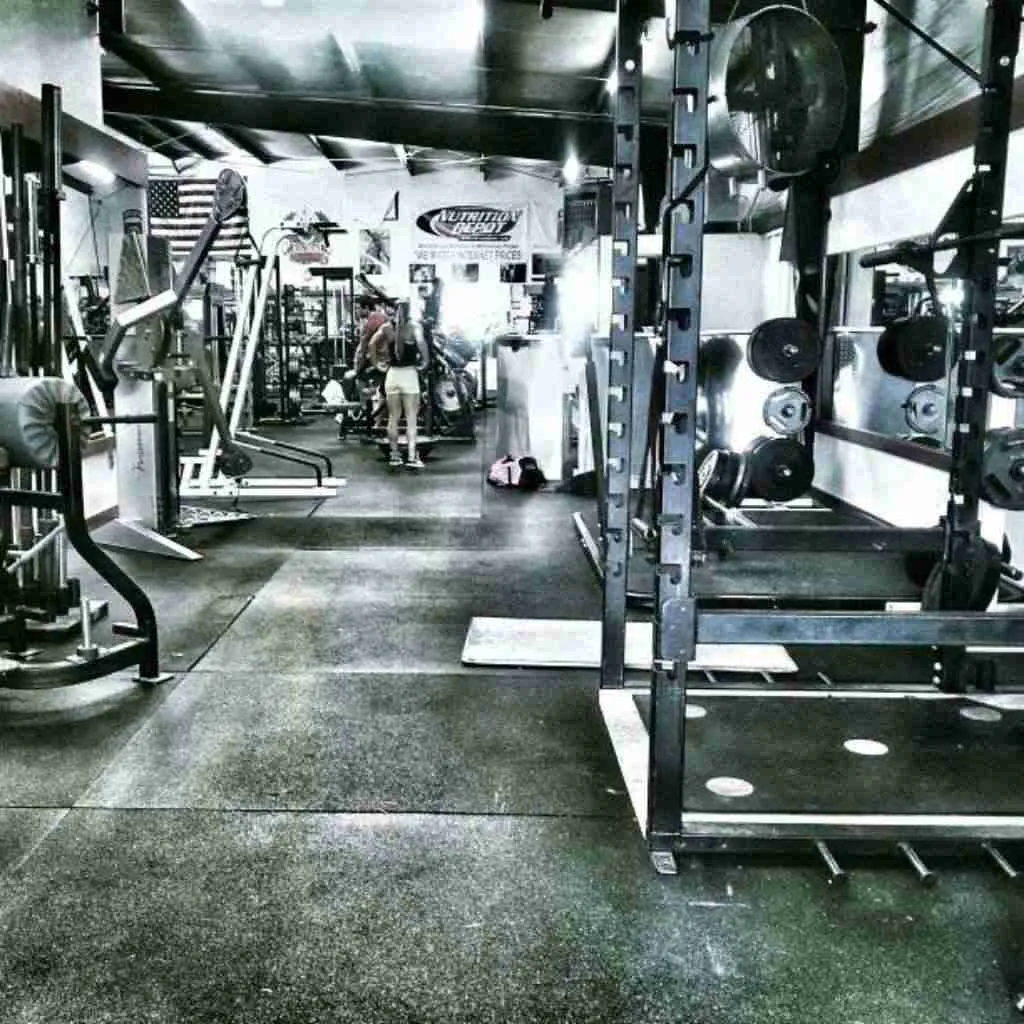 We got to hear about this place from Tik Tok, a veteran owned gym in Houston. We were driving through, so we made the stop.
Easy parking out front and as you walk in this place expands in front of your eyes like a Tardis. It's an arena of a workout space and we visited just after their addition of a specialised leg zone. 
The vibe is great, it has quite a wild energy to it, which is the same for a lot of Texas I guess, but nonetheless it stacks up against any of the best bodybuilding gyms in the US that we had seen. 
In their own words, this warehouse gym is targeted toward everyone from the beginner to the MMA fighter to the IFBB Pro. and their PT team includes competing bodybuilders, such as Chris Darby. They have every touch point of training covered, which means, atlas stones, chalk, zero AC, dumbbells to 200 lbs, ropes, chains the lot. 
Why we like Iron City Gym?
We love the authentic, independent owned personality of the warehouse style gym, as well as the 24/7 access, easy parking and reasonably priced day passes. 
Equipment is well maintained, tons of floor padding (no one wants a hard floor when benching dumbbells) and as I've already mentioned, it's veteran owned. (Ex Royal Artillery here, so I'm always going to back a vet)
We found a few more selfie takers than other gyms here, but I guess when you're sliced and diced at one of the coolest gyms around, you probably want to show it off.
Address: 15922 Cypress N Houston Rd Ste 200 Cypress, TX 77429
Instagram: @ironcitygymtx
Day Pass: $15
24/7 Hours? No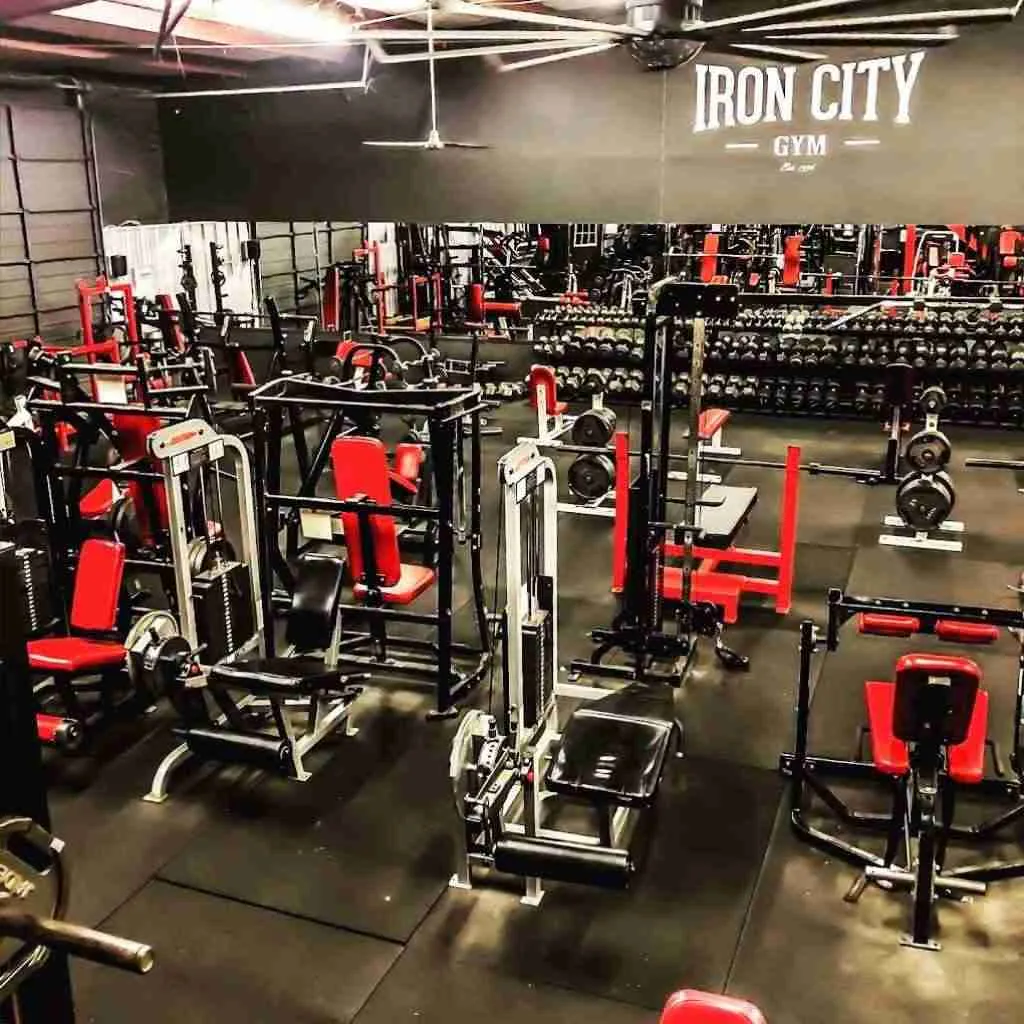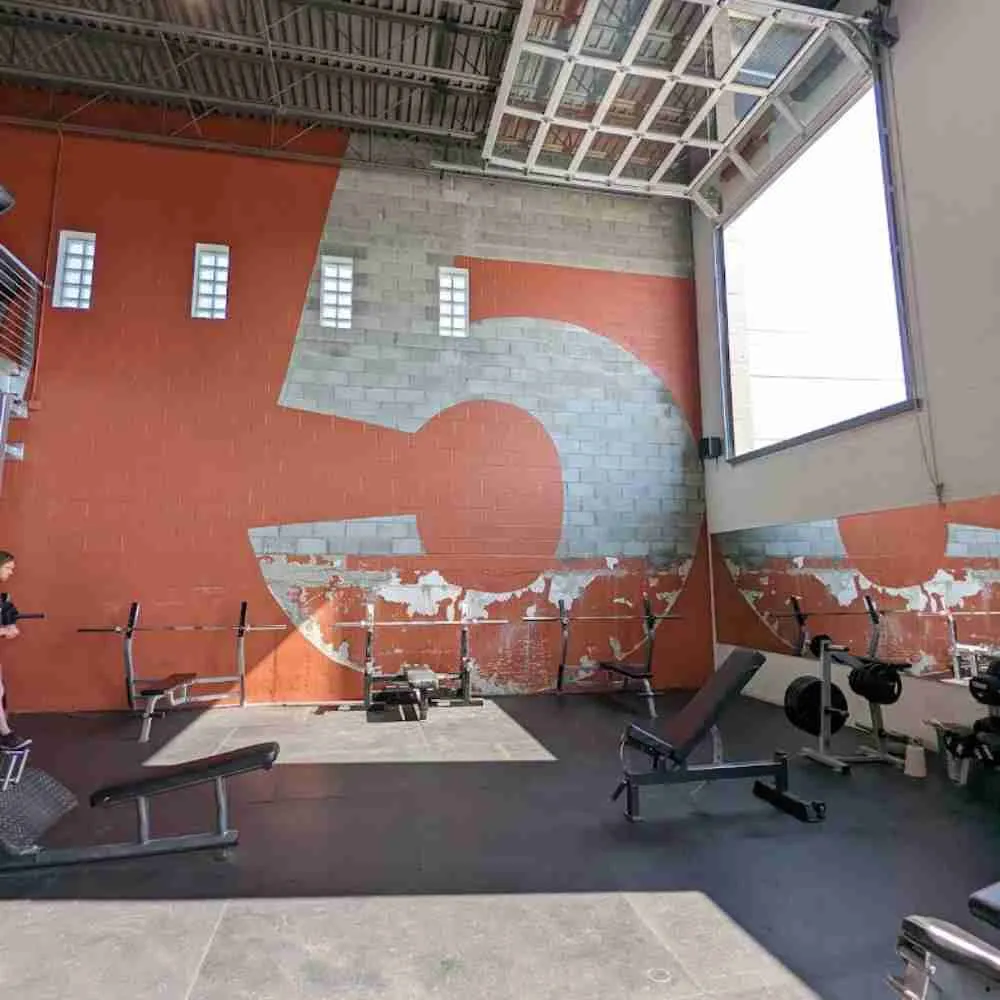 The hunt for the best bodybuilding gyms in the US brings us to Nashville and to a gym in the 5 points business district called Gym 5. Smashed to bits after the Tornado of 2020, the gym and the community recovered and what you have here is a visually stunning gym in a very Alcatraz kind of way. 
Inside the gym, it's a cavernous warehouse style space that reminds me (yes reminds me) of a prison. But in a cool way. Wait, I know this sounds an odd explanation. The gym just looks and feels great. That's all I'm trying to say here. It also passes the IFBB Pro test, (not a supplement) with a competing bodybuilder on the training team here.
Indoors they have rows of benches, racks, selectors, plate loaded equipment and brands such as Nautilus and Troy. Outside, they have an additional space containing squat rocks, T Bar row and astroturf for more athletic training drills. 
Why we like Gym 5?
The outdoor rack area is a real nice touch. Standing there in the bright morning sun, looking across the grass while smashing legs was great when doing reps (prefer a mirror when doing heavy for safety). The gym can get busy, and as we rocked up there were cars spilling out the parking lot, a sign of a place people flock to. So, having this outdoor training area helps deal with that rush. 
The views over East Nashville from the cardio area on the 2nd floor are pretty cool, as is the affordable pricing and the best bit – heavy metal music to get you in the mood. It's got to be Tennessee's best kept gym secret.
Address: 952 Main St, Nashville, TN 37206, United States
Instagram: @gym5nashville
Day Pass: $10
24/7 Hours? No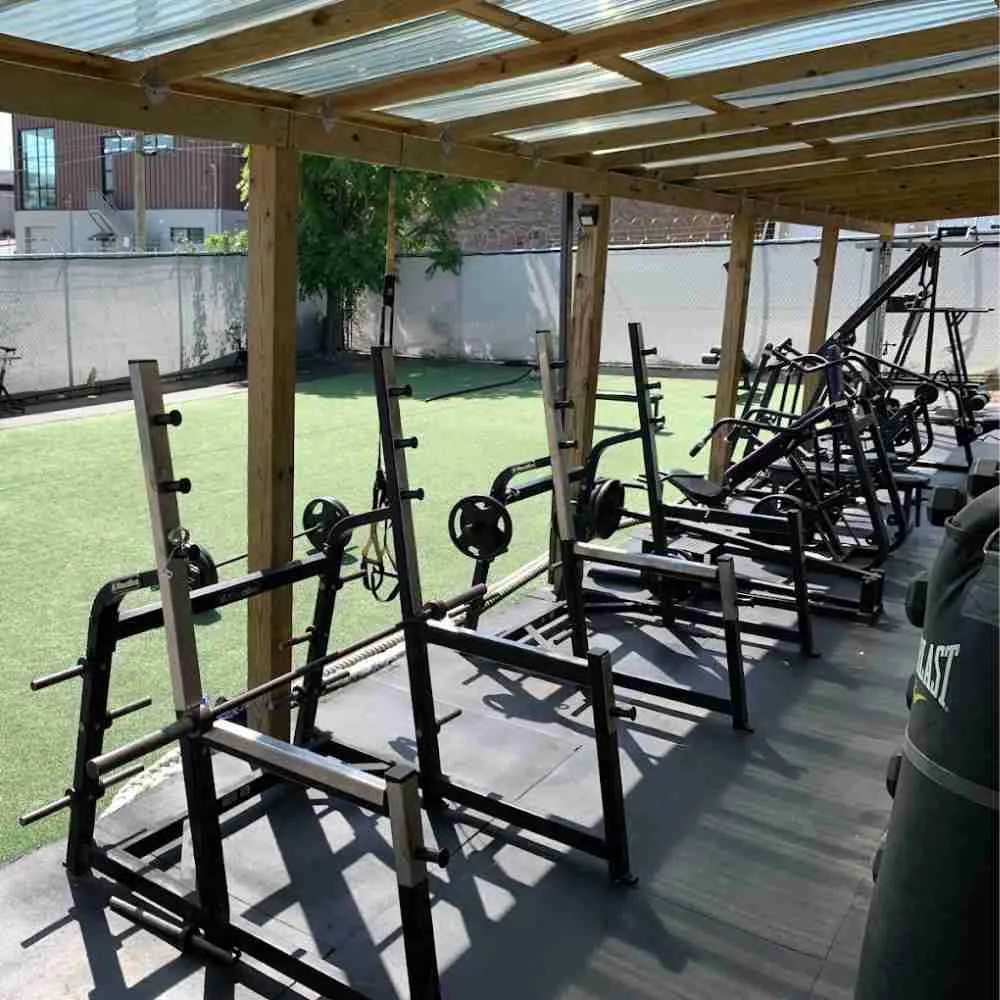 17. The Colosseum, Columbia MD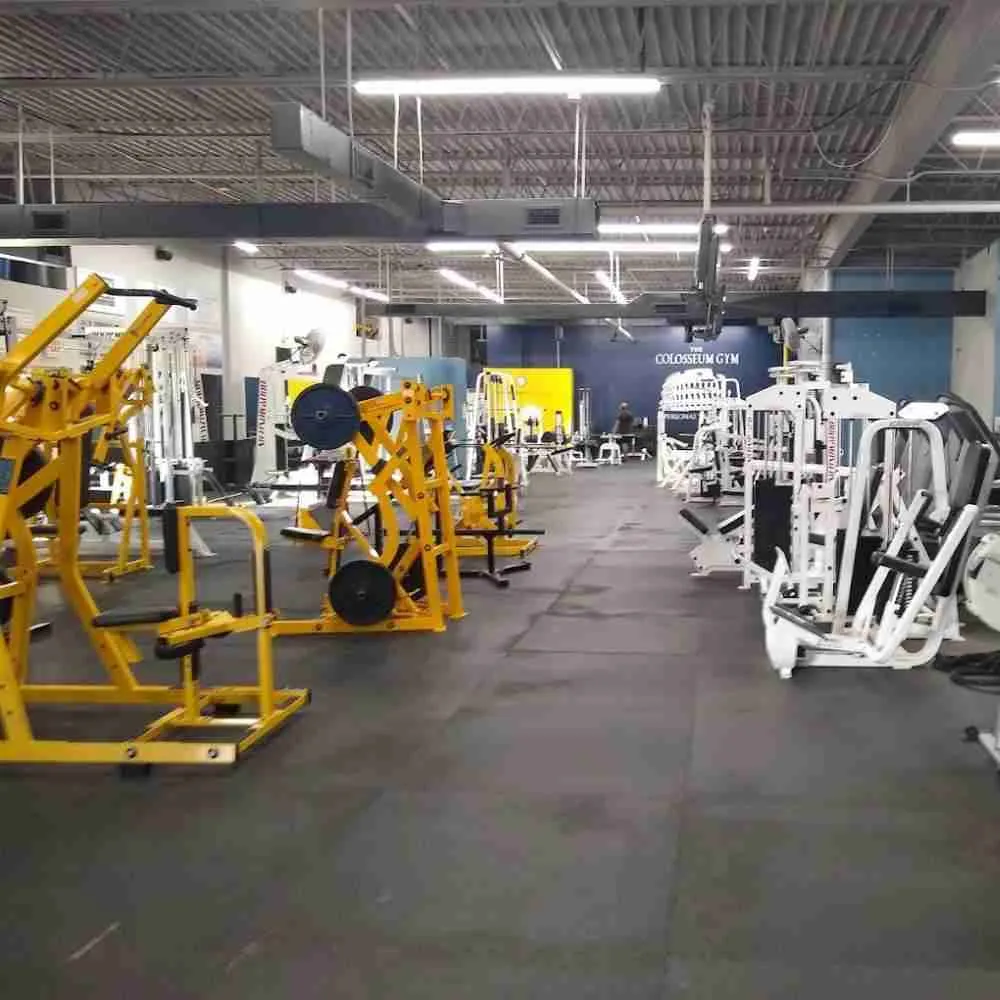 The Colosseum in Columbia, Maryland opened its doors for the first time in 1993 by military veteran Tim Gallagher and he continues to run the gym to this day, 30 years later. 
This Maryland pick from our bodybuilding gyms in the US guide, actually caters to all types of lifters and trainers. From Arnold Classic competitors to USAPL powerlifters, right through to your Aunt Joan trying to lose a few pounds. It's a welcoming environment and makes me wonder how the big gym brands even turn a profit in towns where you're up against such a local feature. 
There's a sense of community gym about this place, but where different training desires have their own space, you don't have to fear being judged because you want to lift heavy or put a bit more effort into your lifts.
And if you really want to move some heavy weight, they have reinforced lifting platforms, bumper plates and atlas stones. 
Why we like the Colosseum Gym?
There is a ton of parking out front, inside the counter staff are warm and welcoming and the owner is on-site regularly. I always like it when the boss is around, it shows they care. 
For members there is 24/7 access available and the membership fees are very reasonable. The gym equipment is all solid brands such as Body Masters, Icarian, Elite FTS, Hammer Strength and Standard. I like that the heavy lifting section is in it's own area, so you can do your heavy compound moves without fear of looking like a meathead to the cardio squad. Finally, I loved the atmosphere of the place, Columbia is not a small town, but it has a small town spirit and I got that here. If you're in Maryland, maybe visiting Baltimore, make the trip to Columbia and check out the Colosseum gym. 
Address: 9159 Red Branch Rd, Columbia, MD 21045, United States
Instagram: @thecolosseumgymmd
Day Pass: $10
24/7 Hours? No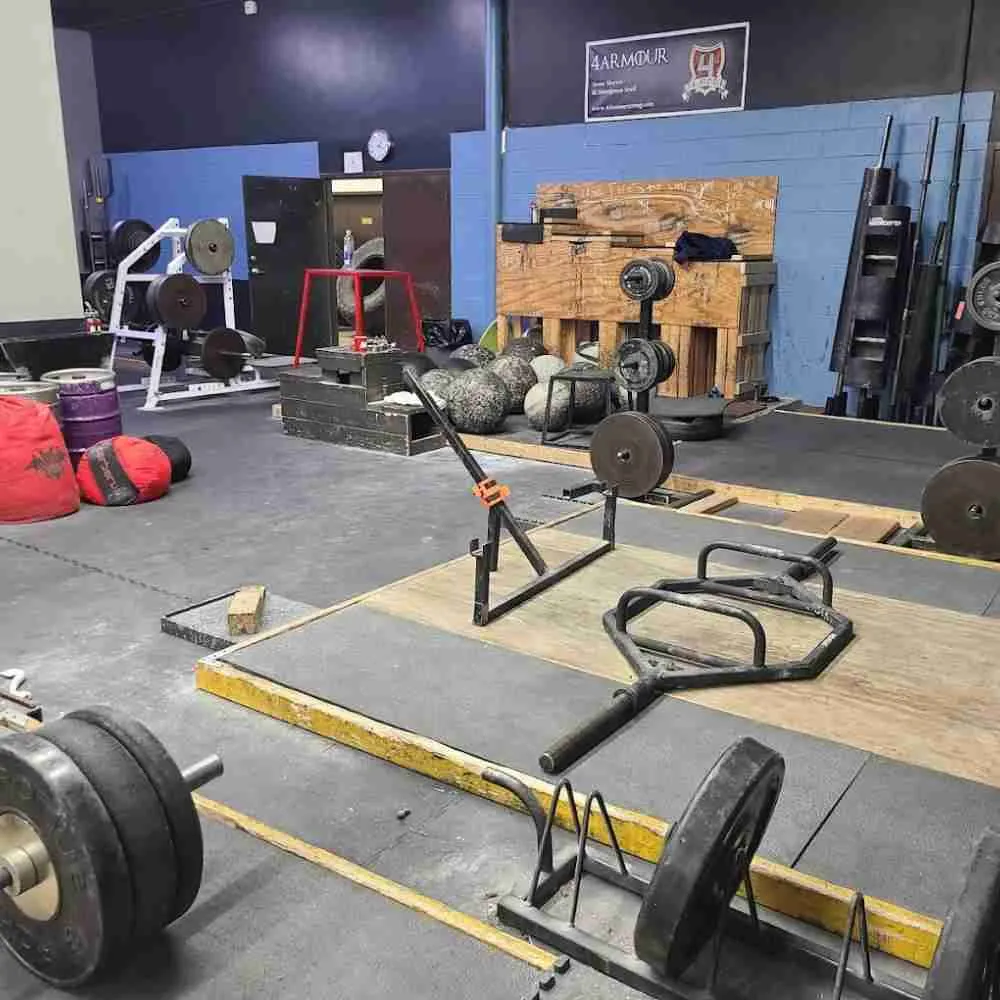 18. Iron House Fitness, ATL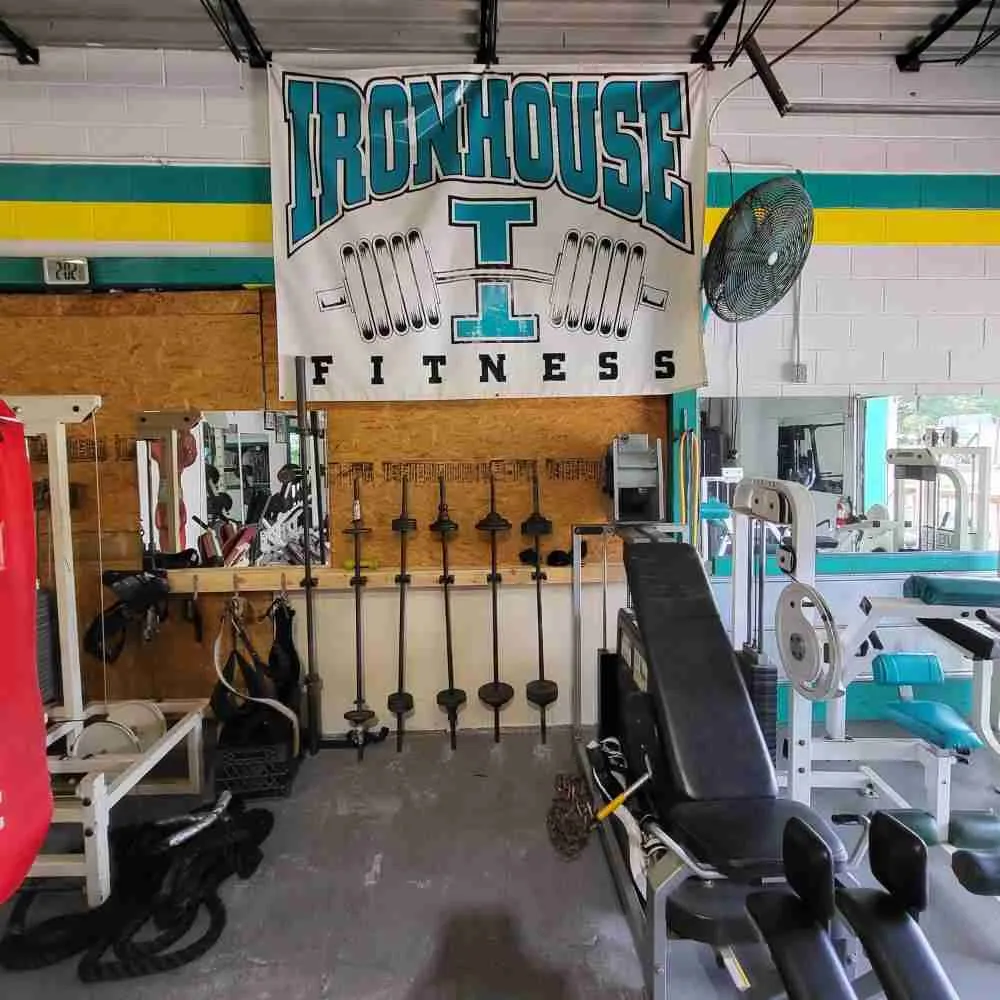 If this place is good enough for a professional bodybuilder then it's good enough for you and I. We knew there were a few more 'polished' multipurpose gyms in Atlanta, but you come here if you want to throw down a real workout. This is an old school bodybuilding gym fan's nirvana and somewhere to come for a strength day.
Tony Hester former competitive bodybuider opened the gym several decades back and while it shows, it's just so ridiculously old school you have to come here to train.
If you're into your bodybuilding, you'll know how to adapt your workout and while Ironhouse may not have all the machines a Gold's Gym might have, you've got tonnes of iron here to make a formidable barbell workout happen.
But above all else, you come to this place to train as the pros used to. They didn't have pin selector, padded glute drives, they had what worked, and when you come here, it's enough for you too.
Why we like Iron House Fitness?
You've probably gauged by now that we like to workout, but we also like the charm of an old school bodybuilding gym in America. It gives you great holiday photos but also a sense of inner satisfaction that you too don't need all the bells and whistles to train. Who doesn't like feeling a little hardcore now and then?
I think this is part of the reason why we love Iron House Fitness. At the end of the day, it's a great gym, with a storied owner, that is old school AF, has tons of weight to throw around and some quality plate loaded machines too. I get Dorian Yates workout vibes training here, you will too. Support the old school in Smyrna, Georgia.
Address: 2652 S Cobb Dr SE F, Smyrna, GA 30080, United States
Instagram: @ironhousefitness
Day Pass: $12
24/7 Hours? No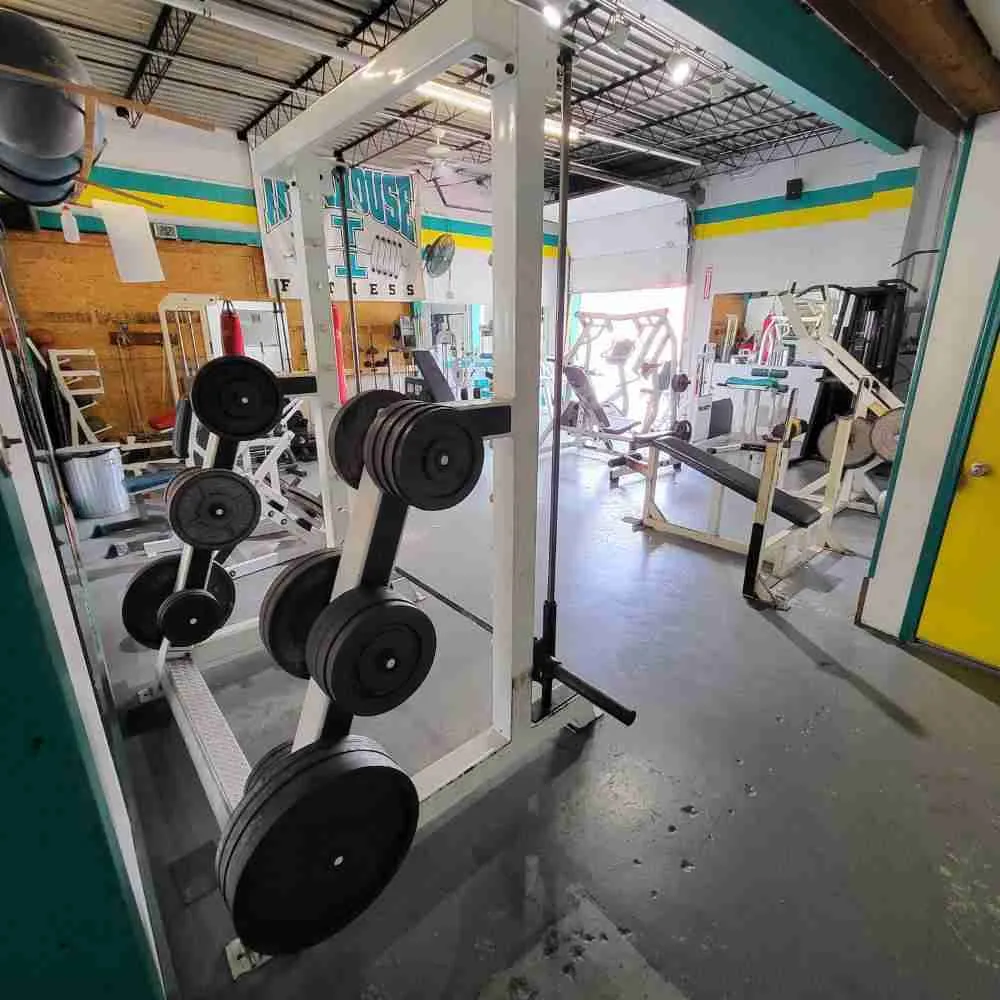 19. Gold's Gym, Venice Beach CA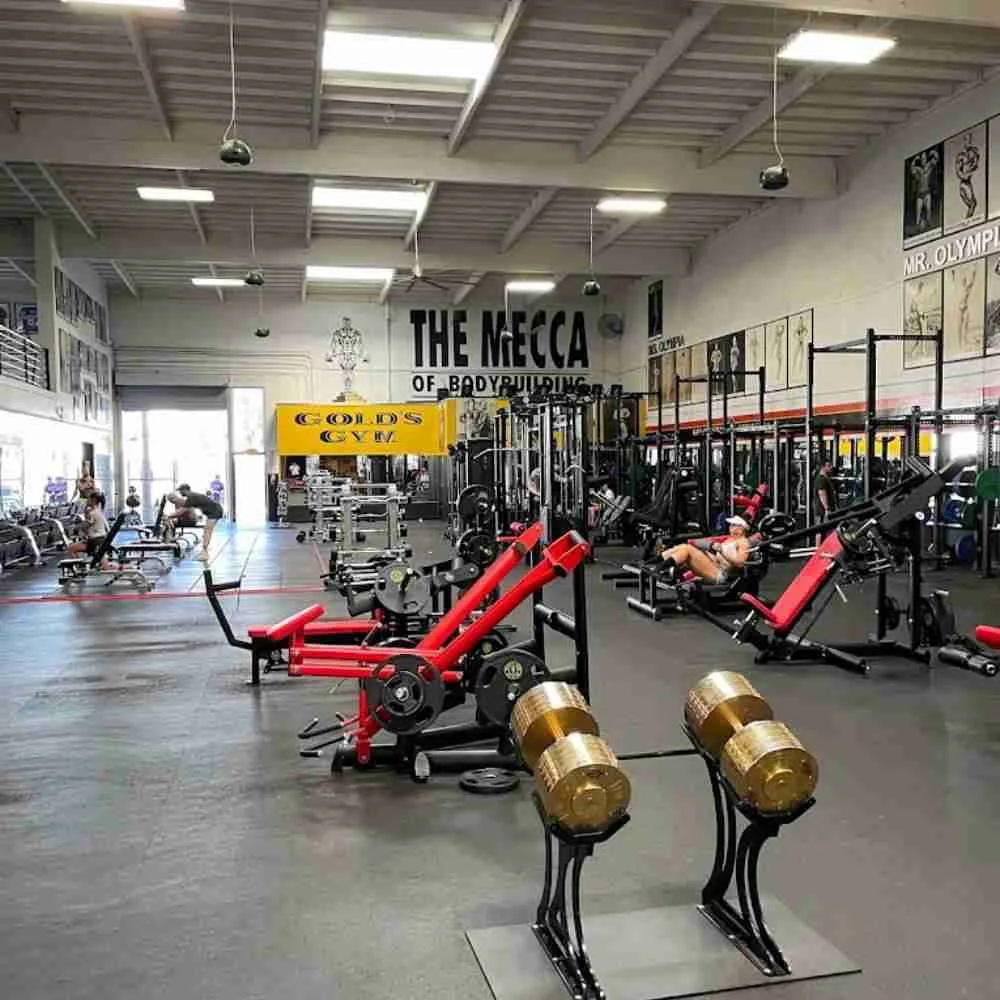 Come here once as a tourist visit, but unless you're going to sign up as a member, you probably won't want to cough up $40 every time. But don't let that cloud the entry of Gold's Gym, Venice into the pantheon of best bodybuilding gyms in the USA. 
This place gets grandfather rights and it's this reputation that explains why legions of bodybuilding fans make their pilgrimage to Joe Gold's first gym every day; then leave happy with their equally overpriced long line vest. I am included in that group. I still can't bring myself to wear it and ruin it. I'm saving it for best! 🙂
To this day it still serves as a home base to a stage load of competing professional bodybuilders, aesthetic influencers and names you'll know of such as Mike Ahearn. 
I love visiting the area and I enjoy training here as it's so extensive but you do feel a little like you're under the spotlight. 
Why do we like Gold's Venice?
It's the original right? OG of bodybuilding gyms beyond your Muscle Beaches, is right here. Every Mr Olympia under the sun has trained in this place at one time and the location is great too. You can hit a worldy of a chest workout and walk straight out into the sun and onto the beach. It's not cheap, but it's loaded with kit you've never seen before and the outdoor gym space is great too, especially if you want to add a touch of sweat to your workout. 
It's Gold's Gym number one – you just have to like it.
Address: 360 Hampton Dr, Venice, CA 90291, United States
Instagram: @goldsgymvenice1
Day Pass: $40…….
24/7 Hours? No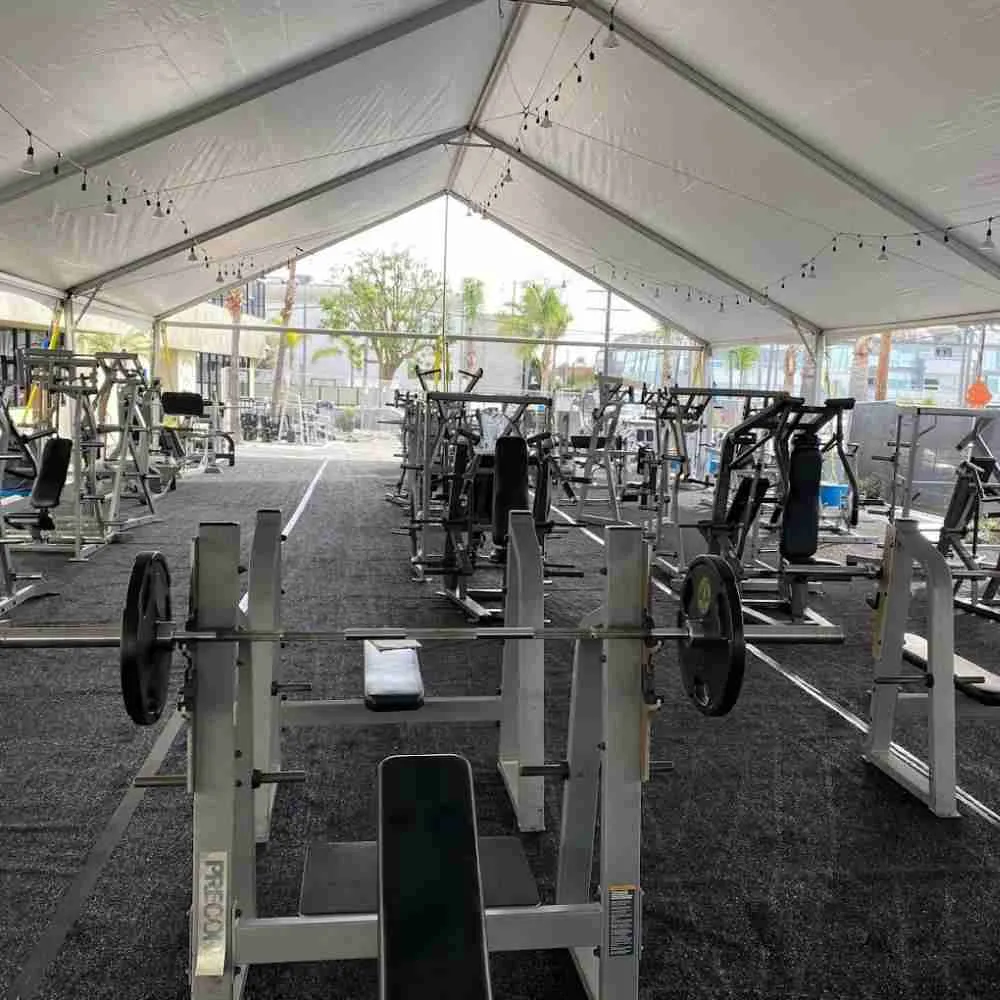 20. The Original Powerhouse Gym, Highland's Park MI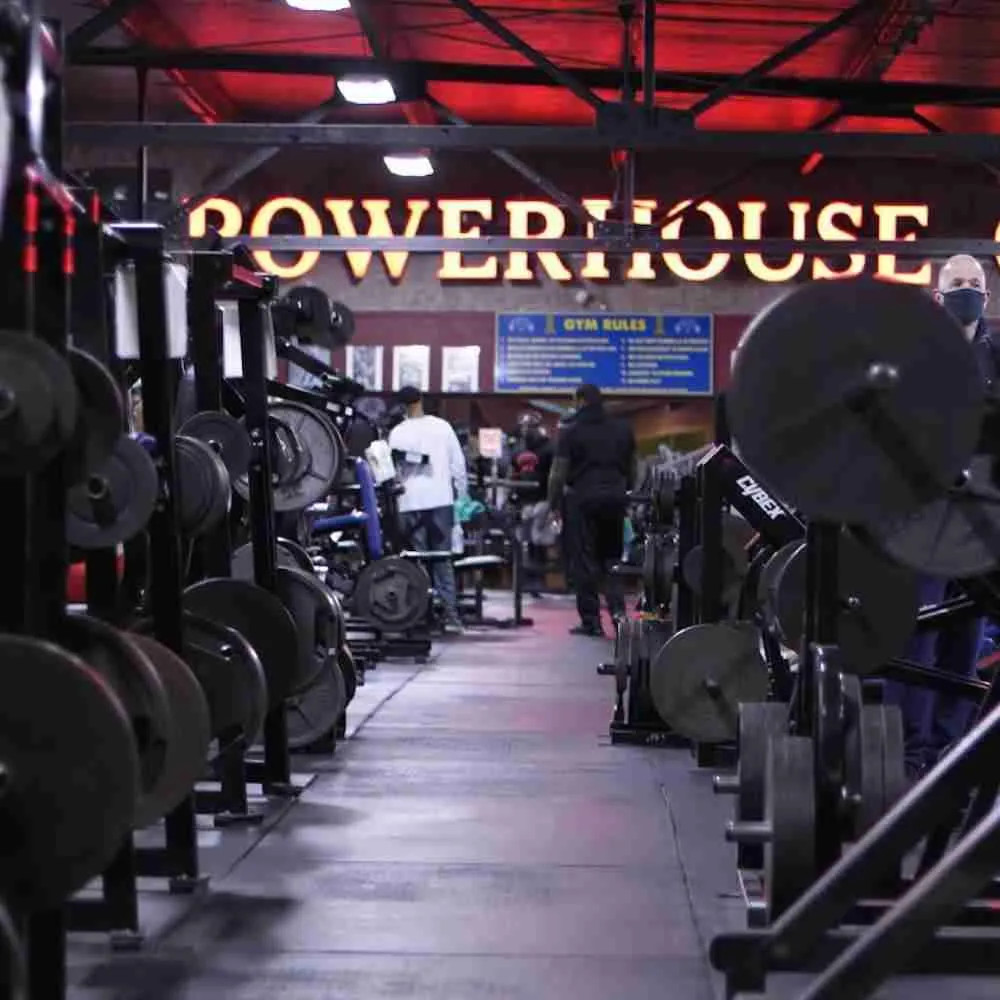 Just as we couldn't write this guide to the best bodybuilding gyms US has to offer, without mentioning Gold's, we can't forget Powerhouse either. This is the original Powerhouse gym opened by the Dabish brothers back in the 70s and maybe that explains the organisation's branding even today. Still this gym is epic and few in the world can compete.
Maybe it's the wood panneling inside, the shelves with their rows of portraited bodybuilders, the faded yellow lighting or the outside parking lot that makes me feel I've walked onto a set of a Bill Murray movie, there is a lot to love about the OP gym and it's not just the range of training options.
The gym has daily pass options but also pretty flexible membership deals. They focus on no gimmicks and no BS contract terms. The core value of being a community gym still lives on in this part of Michigan.
Why do we like the Original Powerhouse Gym?
It's in a really unassuming part of the world and with the brownfield style streets nearby, as you pull up into the parking lot, you wouldn't believe you're about to walk into one of the best gyms in the world. But as you step inside and smirk at the aesthetics of a different age, it dawns on you that you really have walked into one of the best places you'll ever press a bench. 
There's no point me talking about X sq ft, or this many dumbbells, it's the Original Powerhouse Gym and it rightly earns its place in this list of the greatest bodybuilding gyms in America.
Address: 16231 Woodward Ave, Highland Park, MI 48203, United States
Instagram: @powerhousegym
Day Pass: Free 1 Time
24/7 Hours? No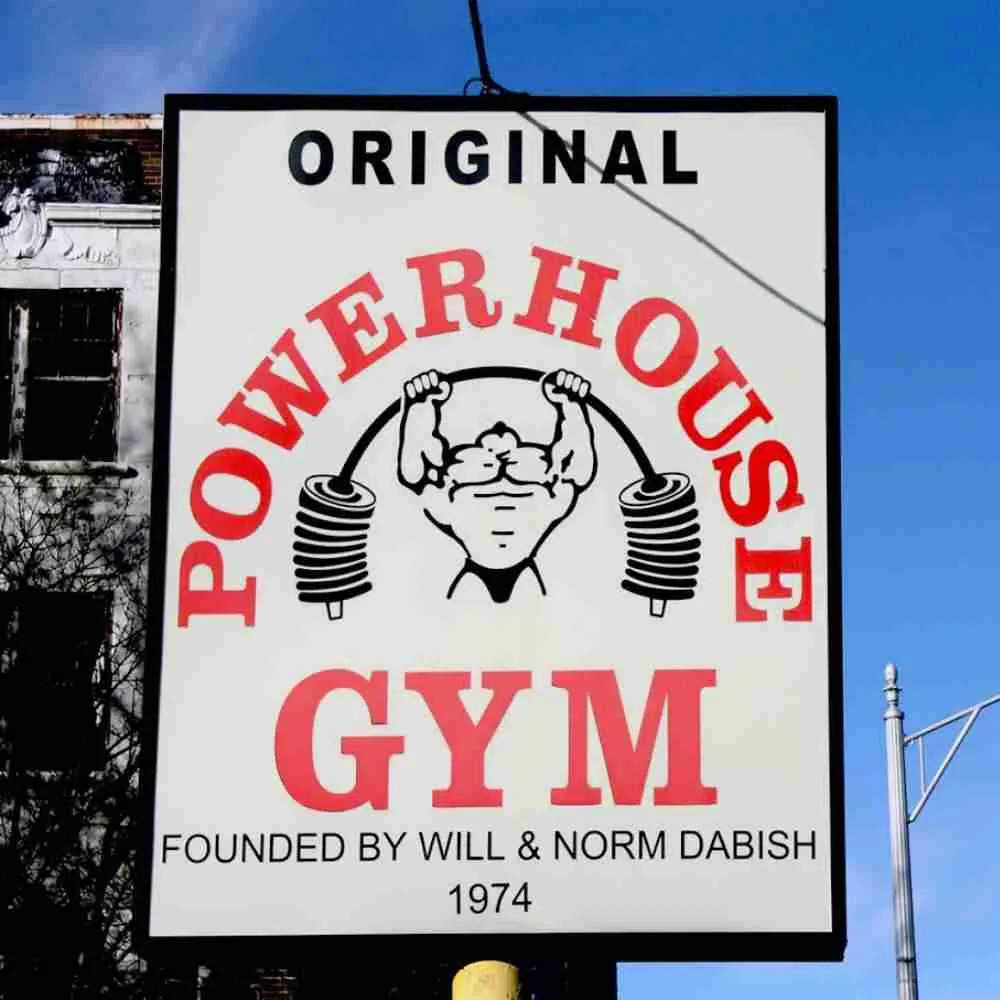 21. The Original Metroflex, Fort Worth TX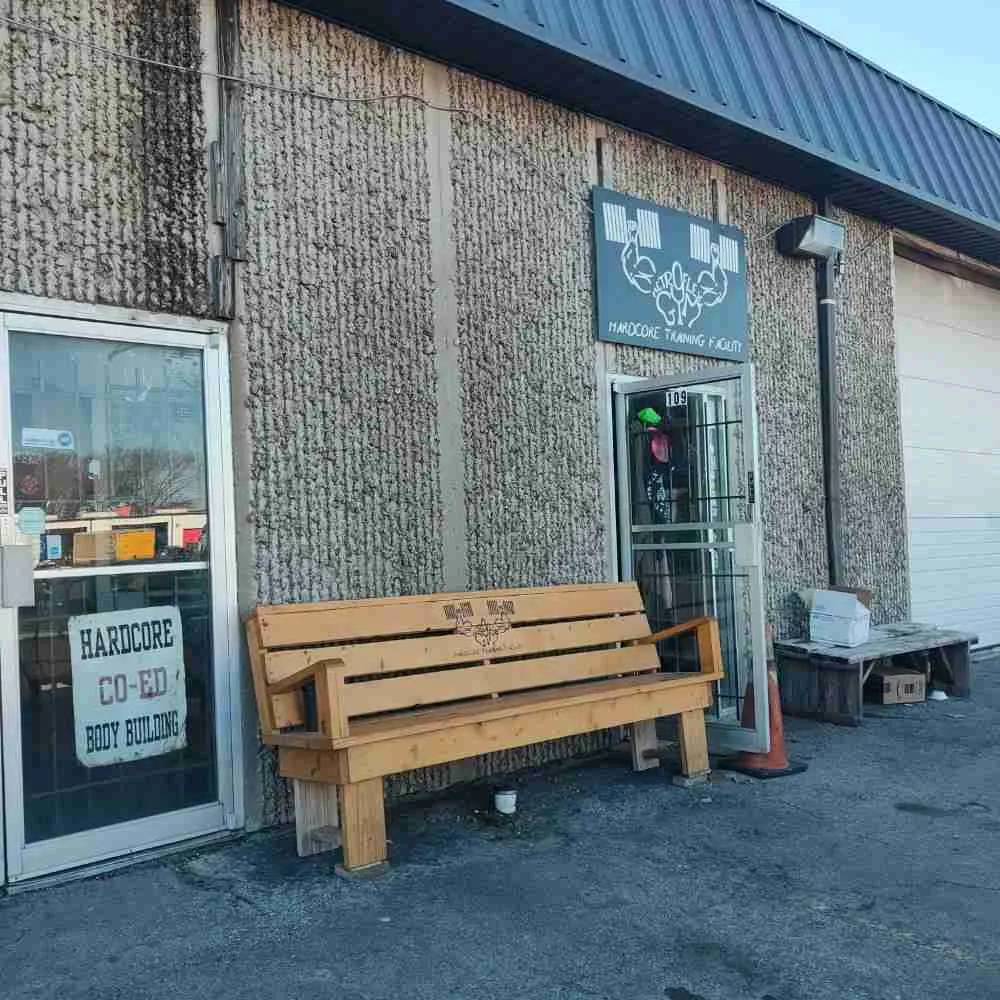 We went HAM on this old school bodybuilding gym in Texas in one of our early reviews and for good reason, it left a mark on us. They don't make them like this anymore and while some try to replicate it, they don't make them like Brian Dobson (Founder) either much anymore too. You can't replicate this place truly, it's one of a kind and a must stop on any bodybuilding fans journey around the USA.
A short hop from Dallas, it's highly accessible from public highways and when you arrive here, get ready to lift move some real weight. Angry rock music blares at you as you walk through the same doors Ronnie Coleman and Branch Warren have done on many occasion.
Reasons to visit? If you like that classic old school authentic vibe, this will be your scene. What the gym lacks in modern resistance machines, it makes up in well oiled, well used, custom made kit. YOu can tell some of the benches here have been custom welded and you can tell the quality. 
Dumbbells run to obscene digits, use Ronnie's favourite squat stand and they have a fair bit of strongman kit too. We tried using the wagon wheels on our deadlift day. Swear it was harder using them.
Address: 2921 S Cooper St Suite 109, Arlington, TX 76015
Day Pass: $20
Instagram: @originalmetroflexgym
22. Muscle Factory, Tempe AZ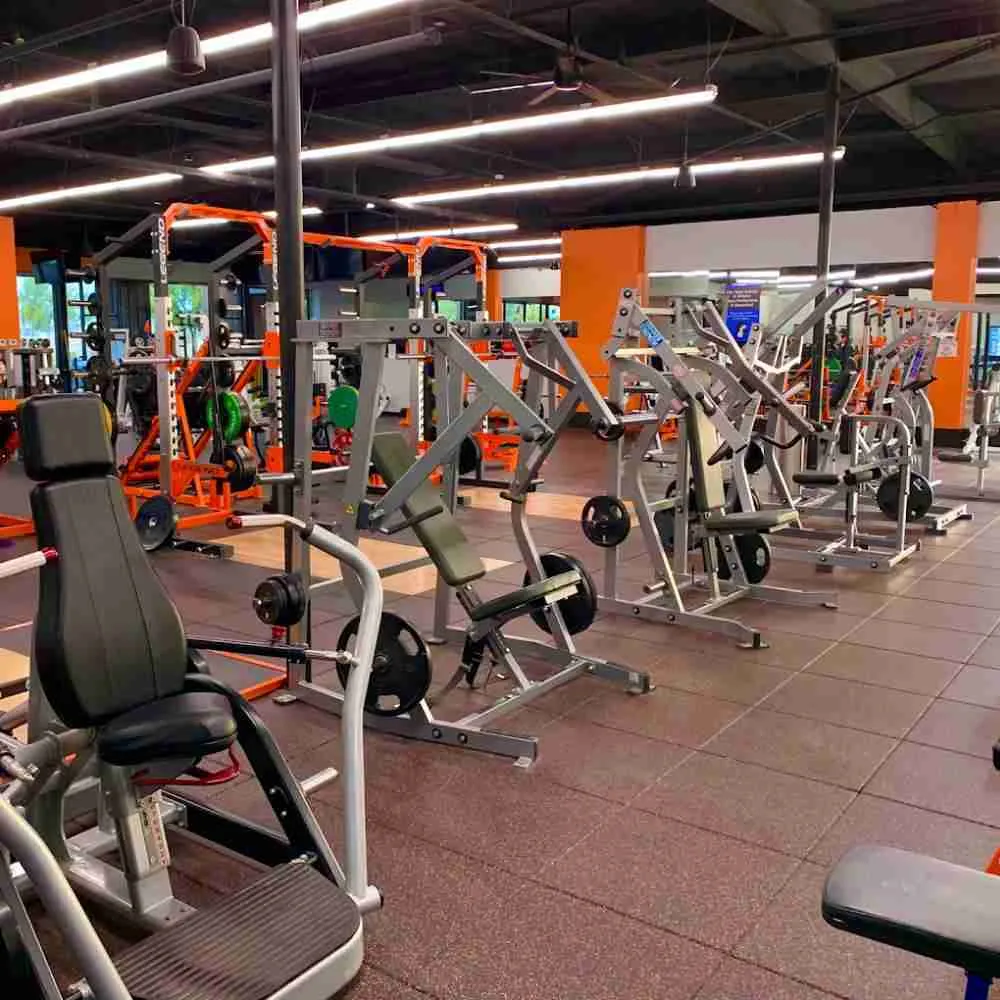 Tempe in Arizona boasts a great bodybuilding gym option in the Muscle Factory. Spread over 12000 sq ft, the fitness centre has 24/7 access to members, making it a really nice option for those who love to train but can't always do it at the same time.
As a dad, I'm always balancing getting my son to bed, spending time with the wife and still wanting to train, knowing that my lunch break is that little bit too far to reach the gym and get the workout I want on some days. 24/7 gym access would be amazing.
Muscle Factory provides chalk, has power bars, even belts available to borrow, this must be related to their gym motto "Heavy lifts are actively encouraged". 
Their equipment range includes Nautilus, Atlantis, Rogue, Legend and Matrix and there is a nice balance of plate loaded machines, selectors, power racks and leg equipment I've not seen before.
Why do we like Muscle Factory?
Like a lot of the good bodybuilding gyms outside of the main hubs, they tend to get overlooked, this place was a real nice find. They have heaps of bars, some great Elite FTS leg equipment, lifting platforms, big open bright space and easy parking. Oh one thing I loved but almost forgot – Ivanko dumbbells. They feel for me, like the perfect size. Theirs run to 150 lbs and they also have fat grip dumbbell options for finishing your forearms off.
Well priced, non corporate, and non judgemental.
Address: 1301 E University Dr Ste 125 Tempe, AZ 85281
Instagram: @musclefactorygymaz
Day Pass: $15
24/7 Hours? Yes for members only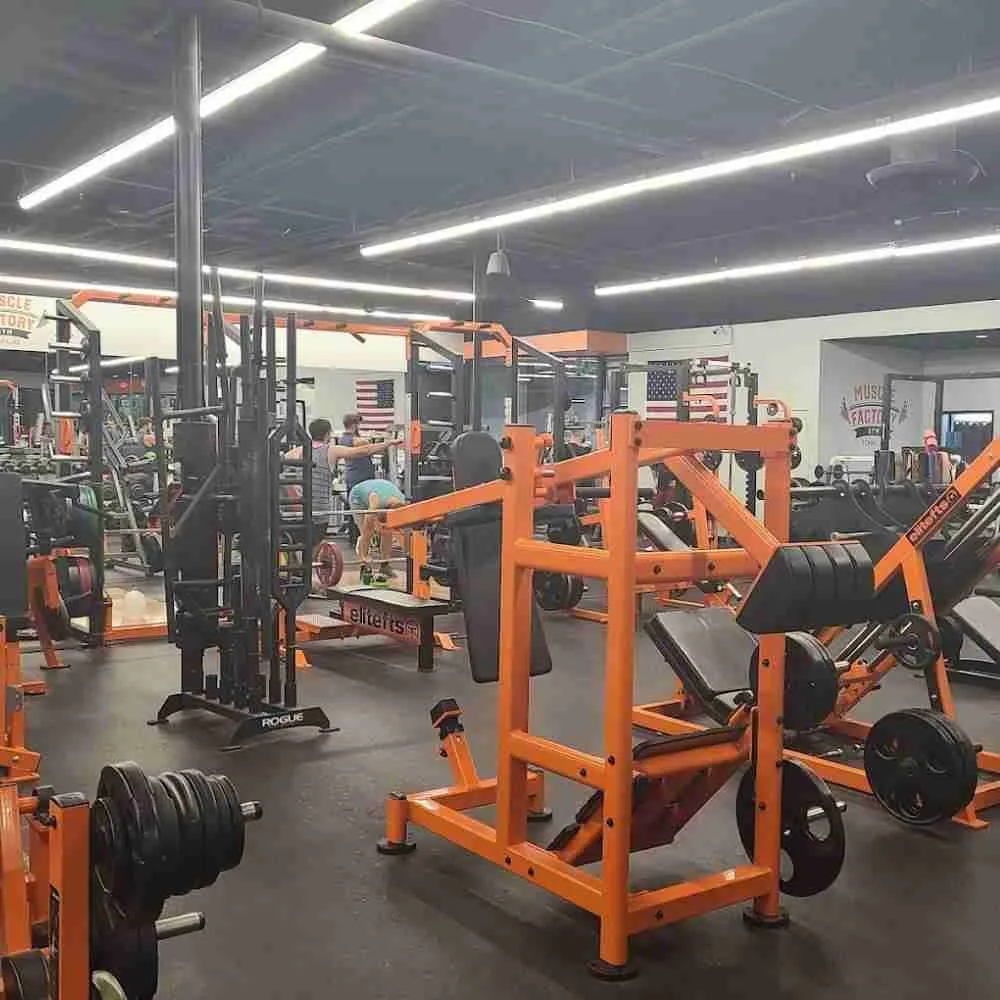 Your Bodybuilding Gym Could Be Here
Want a bit more attention, either here or another more suitable spot – why not tell us why your bodybuilding gym in America should get included. You can reach us on 'contact at barbellsabroad.com' or hit the contact link below. We are always on the lookout for sponsors too. So if you fancy putting your brand in front of the type of person looking for bodybuilding gyms in USA, then our inbox is open.