Pack your straps, your belt and your favourite playlist as we go on a roadtrip to find the best bodybuilding gyms in the UK. England, Scotland, Wales and Northern Ireland, discover some weightlifting gems across the British Isles.
Bodybuilding Gyms In The UK
TLDR: In this guide we travel from north to south, east to west to find you the greatest list of the best bodybuilding gyms in the UK. We've searched for some places off the beaten track, so whether you're going to London, Glasgow, Birmingham or Manchester, or somewhere in between, we've got a recommendation for you.,
Quick Answer
What's our favourite bodybuilding gym in the UK? I may offend my local gym (but then I have added them here) and call out Majestic in Bournemouth as the champ.
But it's not fair to pick one, we have dozens for you to decide yourself.
The history of bodybuilding in the United Kingdom dates back to the 1800s. This century saw Eugene Sandow come to the stage in Europe – who the iconic Mr Olympia statue is inspired by. In the early days, bodybuilding and strongman were more about lifting big and drawing a crowd, and the chiselled abs and pumped chest was just a byproduct. It wasn't building bodies in the gym these days though – it was lifting animals and carts. A world away from where we are today.
Sandow began a publication and published the first bodybuilding magazine, he also developed some of the first bodybuilding machinery. In 1890, thanks to Sandow's influence the World Championships for weightlifting began in England, and sales for dumbbells, machines and barbells soared.
Winner Of The World's First Big Bodybuilding, Bernarr Macfadden, was the next in the spotlight alongside Charles Atlas. Bodybuilding was becoming more mainstream, and the 1930s quickly became known as the golden age for bodybuilding.
By the 40s and 50s bodybuilding gyms were popping up and a the culture was in full swing with competitions and federations being created such as UKBFF in 1946.
The 1970s and 80s saw muscular actors on screen, such as Arnold and Sylvester Stallone. Other big names such as Frank Zane, Dave Draper, Chuck Norris, and Mike Mentzer were hitting the scene too.
Today, bodybuilding momentum is going strong. With great lighting and the highlights reel of Social Media, there is inspiration everywhere. Then there's the rise in sophisticated drugs and implants to enhance the physique even more.
Most UK cities and towns have a bodybuilding gym. Whether it's an old-school bodybuilding gym with OG kit or something a little more mainstream, the UK has it all.
Bournemouth on the South Coast has the most gyms and a high ratio of gyms to the population with 159 places to get pumped.
Cardiff, Newcastle, and Bolton were the places most obsessed with muscle, according to data. There are some big guys and girls in these places — we don't know what they put in the food, but we can guess what they put in their arms…
How we picked the best bodybuilding gyms in UK?
Why should you trust us for our bodybuilding gyms in UK guide? Well, we can give you a couple of reasons.
We love visiting gyms and get all around the UK
We have a background in Personal Training and know what makes a good set up
We've spent a combined 40 years lifting weights 
We love it. 
We don't get paid for writing this. None of these gyms have given us anything to mention them, we just think they deserve some airtime. These gyms might not be the ones with the big budgets to spend on influencer reviews, but from their founders and members to the kit and classes, they've got edge  that rates them highly on our list.
Winners - Best Gym For Bodybuilders In The UK
Right, let's get too it. Having trained at some of the best gyms for bodybuilders in the UK, we're ready to sip a protein shake and eat our chicken and rice while we reflect on our sessions.
We plan on updating this and adding more to the list.
In no particular order, let's take a look.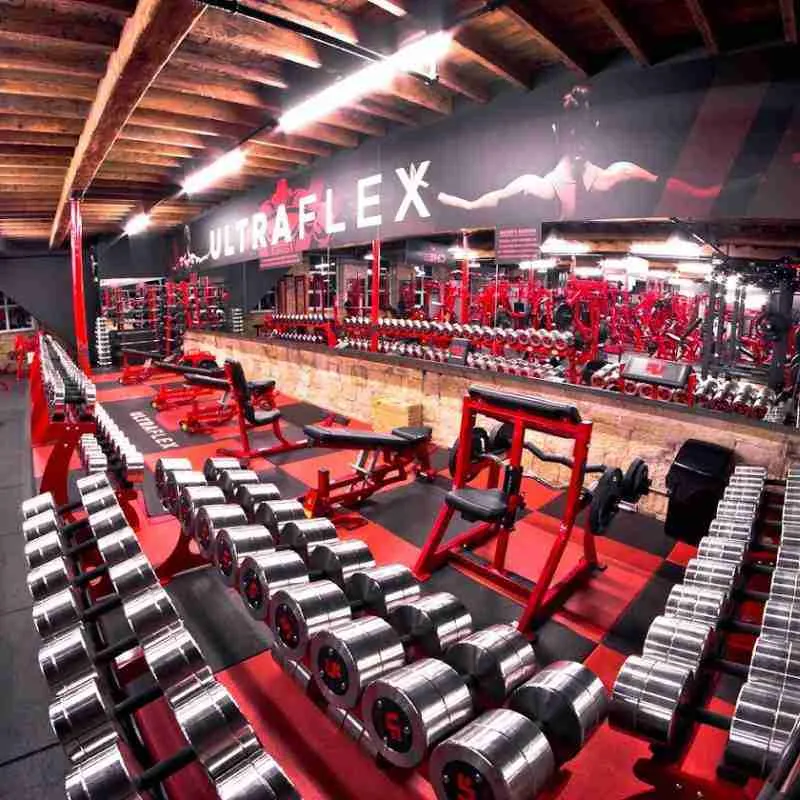 Having followed Charlie Mardon throughout his bodybuilding career, we were excited to get down to Ultra Flex in Leeds.
And it didn't disappoint. From the perfectly on brand weights to the martial arts studio and beautiful stone building, every 15,000 square ft of this gym is an inspirational space.
With dedicated areas to train chest, back, abs, and legs, we didn't see even one person doing bicep curls in the squat rack. It also so saves your valuable training time as you don't have to look too far for the kit you need. We did absolutely no aimless walking about here. A super efficient workout. We like that. 
The weights here are made by some of the best brands in the business. Free weights go up to some serious KGs and the machines can be altered to different angles to hit different muscle groups and provide a new stimulus. 
The personal trainers here are some of the best in the area. So if you find that you're here and not 100% sure what to do, or where something is, they'll be the ones to direct you. They were all really friendly too. Not the type to spend your PT session admiring their biceps in the mirror!
This gym is more than a gym. Other facilities include a boxing studio, sunbed rooms, barbers, physiotherapist, CrossFit, stretching areas, showers (with underfloor heating!) and a reception lounge.
The reception also stocks bodybuilder friendly meals to takeaway, supplements, and shakes.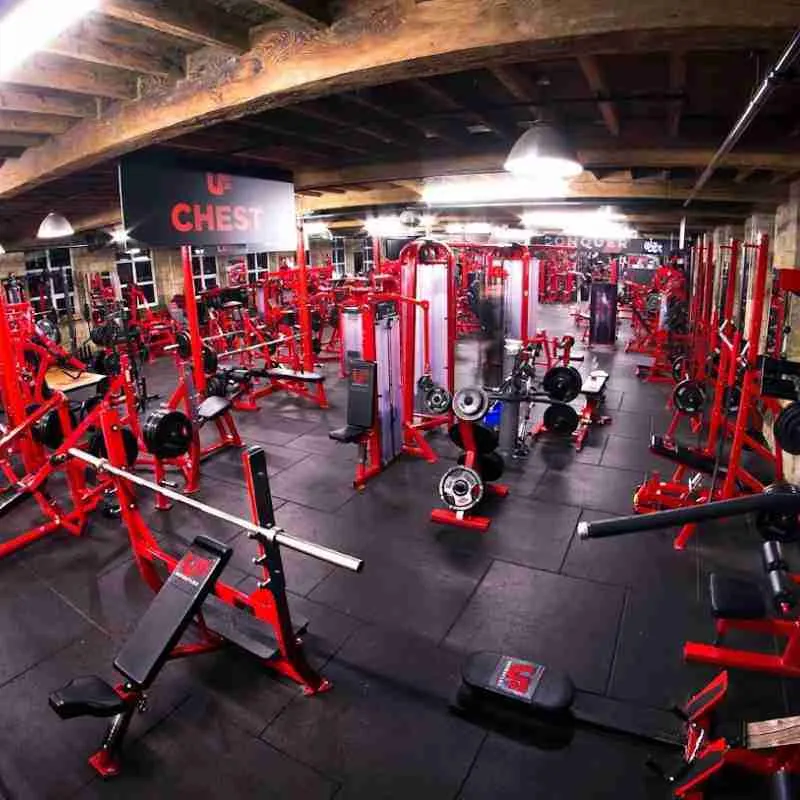 2. Stackhouse Gym, Rayleigh - Southend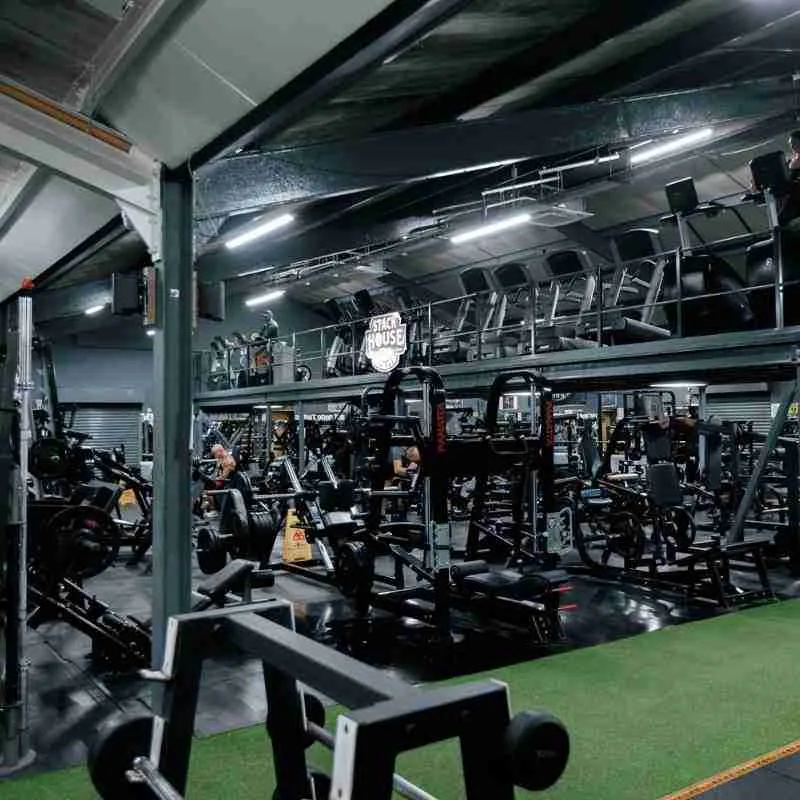 I'm a little blessed with this one, this is my local gym. Stackhouse is amongst the best bodybuilding gyms in Essex and the UK. And it's not just great for bodybuilding; they are big in the strong man game and even run an arm wrestling club on Sundays. Niche AF.
You get a feel for the gym membership when you hit a place up on a Friday evening, or Sunday afternoon. If it's busy, the membership are about that life. And this place is always rocking. 
A great gym should have amazing gym equipment, with all the top brands, but it should inspire you the moment you walk through the doors and Stackhouse nails that vibe. 
Featuring… Expect Hammer Strength and Panatta plate loaded kit, Nautilus unilateral selector machines, Life Fitness, Jordan dumbbells, insane sound system, a lot of cable column options and motivated members.
Why we like it….The gym attracts local competitive IFBB Pros and those pushing for a Pro card, it has tons of parking, it's easy to get to, great protein bar, members break out area with seating and wifi and 30 day membership is the same price as a 1 day pass in the US. Great value for money. 
Any outstanding features not seen in shyte gyms? Pendulum Squat, Atlas stones, Viking Press, 6 or 7 squat racks….the list goes on.
Sum it up….You'll want to make this your regular.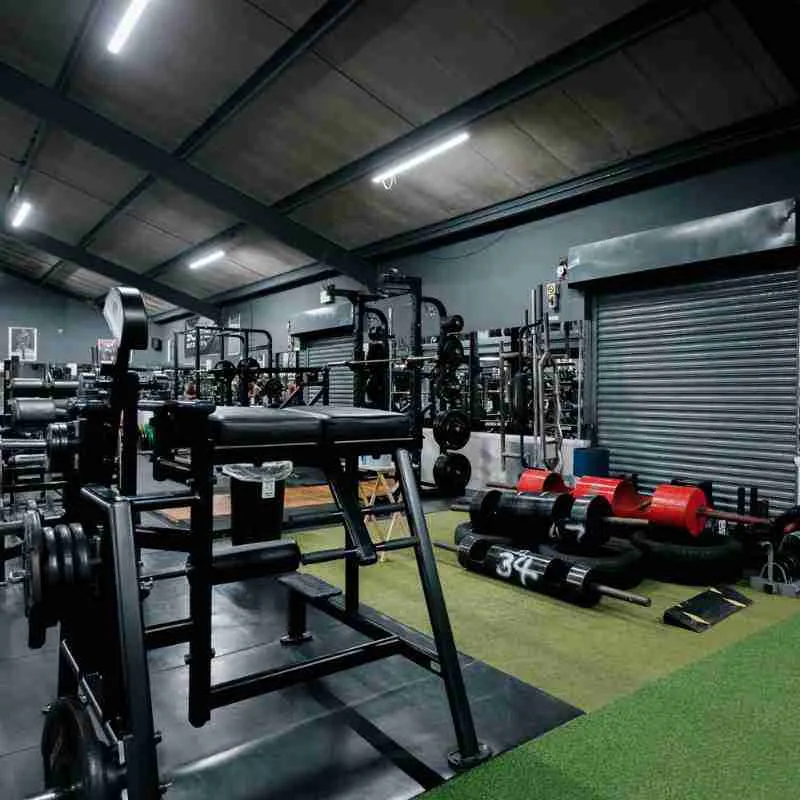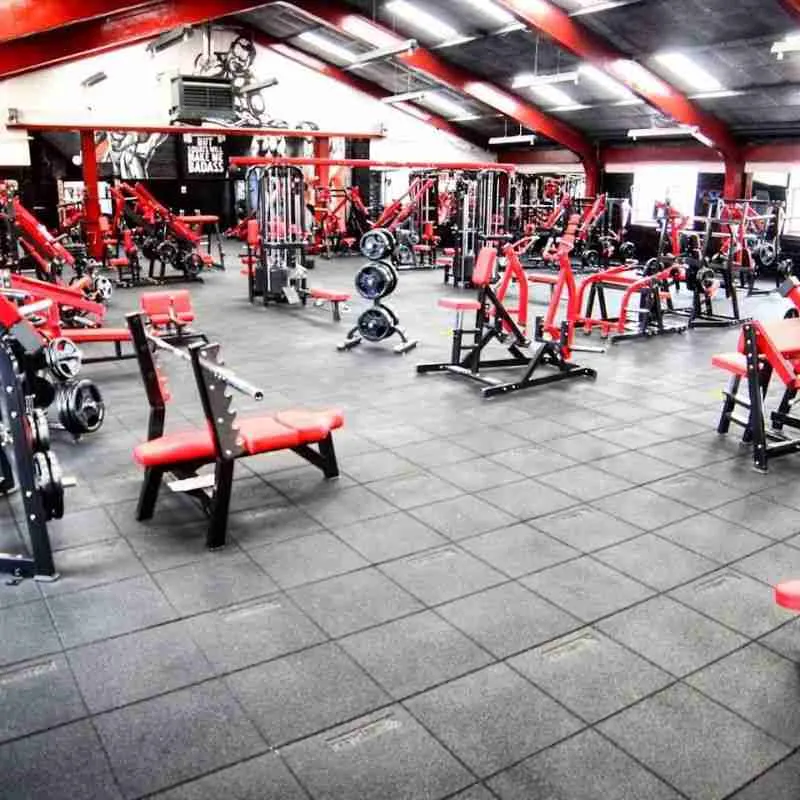 Two friends from Poland had an idea, to bring something new to the Glasgow fitness scene. Today, Extreme Gym has five locations. We visited their flagship in Glasgow.
From its advanced equipment to the well-stocked supps shop, this is a gym that cares about delivering the best possible training experience and helping people reach even the most ambitious goals.
Trainers here are high class. They all have specialisms and training methods, such as hypertrophy, OPT, and nutrition.
Taking a walk around Extreme Gym, we were pleased to see the logical layout and more than enough weight plates and barbells. They've got a section for cardio featuring the usual suspects – bikes and treadmills.
From our visit here, something that really stood out was the mix of people here and the buzz about the place. There were PT sessions, people on the cardio kit, free weights, and machines.
While it was busy in there – we went at a peak time – it didn't feel crowded and there was no waiting for the machines. They must have got their capacity spot on.
Something we really appreciated about this gym was not having to book. We turned up after our long drive from the South East, paid £10 and got to work. We finished with a shower and grabbed a protein bar from the supplement store there.
A top notch gym. Kudos to the founders for bringing something special to the Glasgow fitness scene.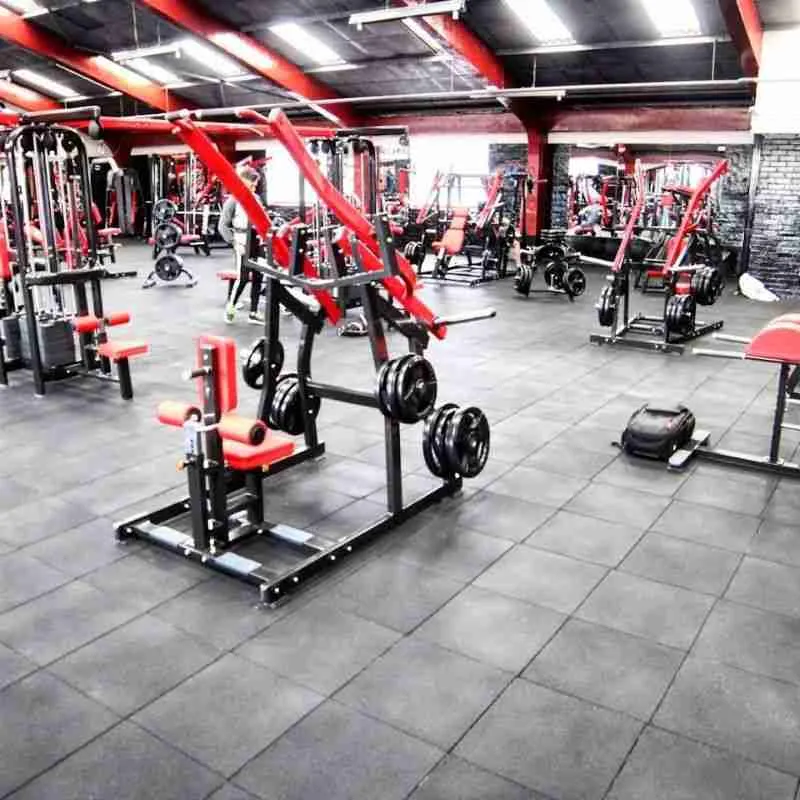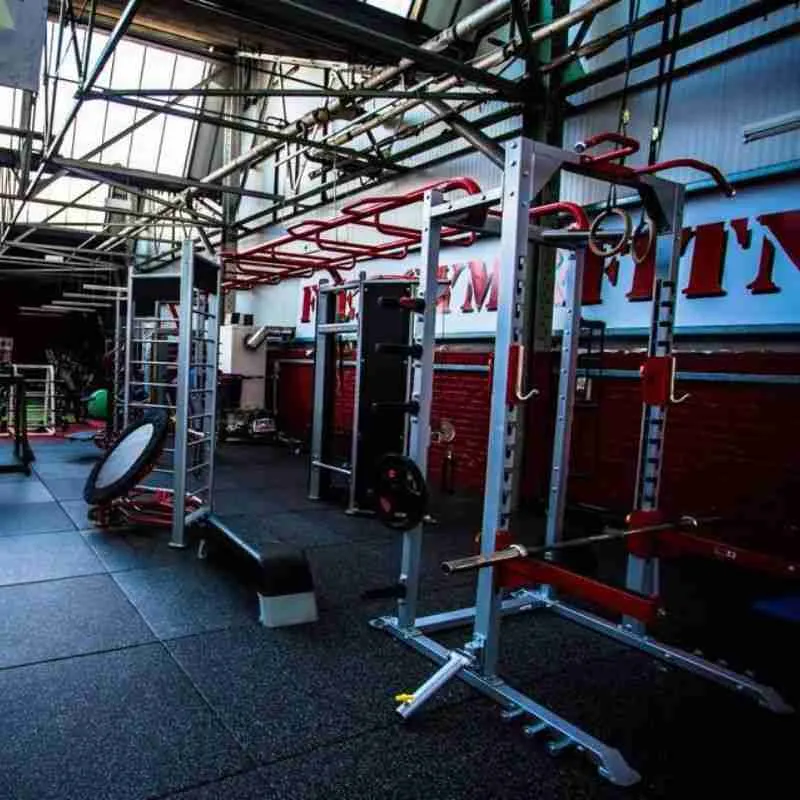 Set in an industrial unit on the Montgomery Road, Flex Gym is known as one of the best modern gyms in Belfast.
It's got everything you'd expect from an awesome bodybuilding gym: boxing kit, free weights, weight plates, machines, pull up bars, and more.
They've even got a new row machine to really get those back muscles working. No need to straddle over a bench, and we're here for it.
When we dropped in on a Saturday morning, it was pretty busy, but not too busy that you couldn't get on what you want to. Plenty of racks and weights for everyone's goals.
Before we visited the gym we started following them on socials. On Facebook, they share some pretty impressive transformations, some in as little as six weeks.
Credit to the trainers. When we were doing our session, we noticed quite a few PTs. Of course, as PTs ourselves, we can't help but listen in… and we were impressed. These guys know what they're talking about and their form is spot on.
Trainers were coaching both women and men of all ages and abilities. Some were obviously in there to step on stage, and the trainers knew what to say and how to plan their sessions.
We did a tough back session here, and got to use some pretty decent kit and chat to some interesting people.
Address: Unit 14, 40 Montgomery Rd, Castlereagh, Belfast BT6 9HL
Day Pass: £4
Instagram: @flexgymni
24/7 Hours? No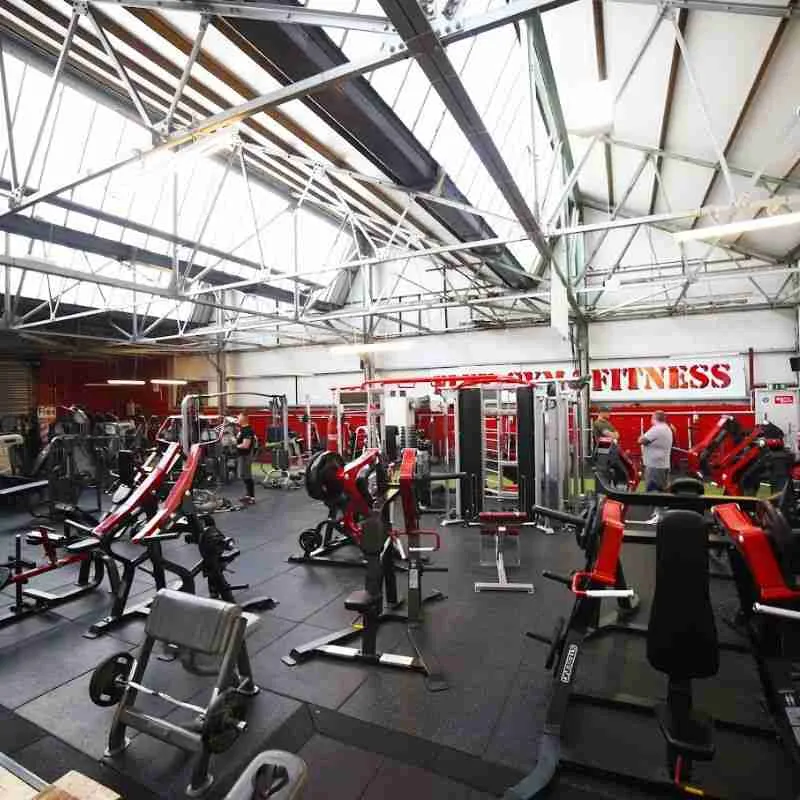 5. Majestic Gym, Bournemouth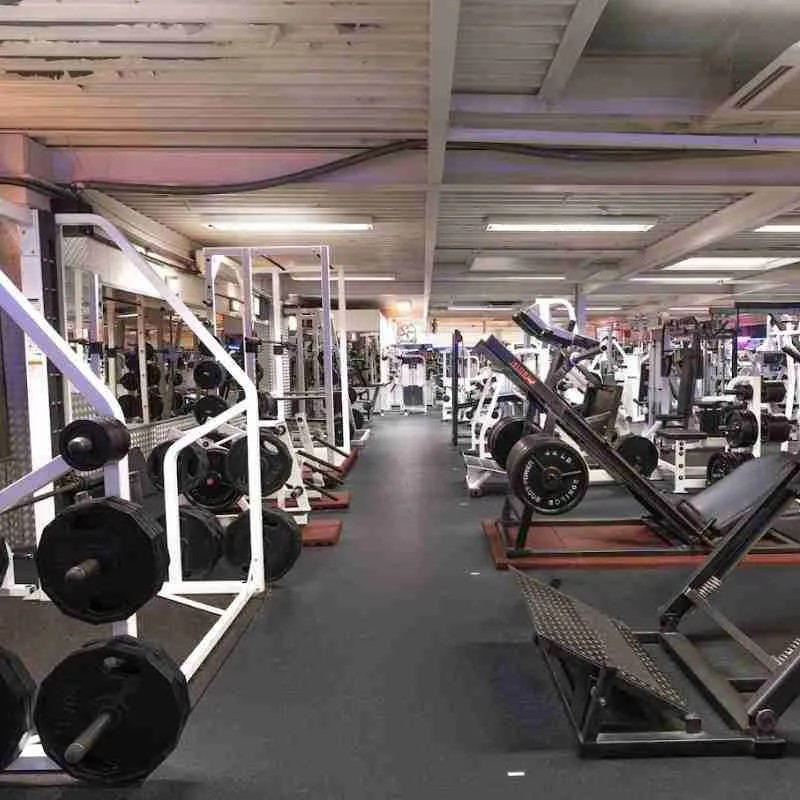 Majestic Gym is on the South Coast, not far from the popular holiday spot – The New Forest. If you're in Hampshire and want to train, this is a gym that's well worth a visit.
I used to come here when I was at Bournemouth University and it's still amazing. I was ridiculously lucky to have this on my doorstep. From the DJs playing on a packed Monday night while you get back on the ride, to the attention to detail of keeping the post workout protein shake pint glasses in the fridge. 
On our trip around the best of Britain's bodybuilding gyms this last year, we came back to Boscombe to see this oasis. It didn't disappoint and I know if you get a chance and check it out, you'll see why too. 
What makes this one of the best bodybuilder gyms in the UK, 1 – the members, but 2 – the owners. And those two are legends down here. Johnny and B have been running this place since my age ended in 'teen'.  Two guys who are advocates for training. For them it's a life not just a business.
Featuring… Panatta, Super heavy dumbbells, American Standard plates, Hammer Strength and more. The team here buy with 'best in class' in mind. If the best vertical leg press is Watson, then that's what they will get. Class acts.
Why we like it….Has parking, has great atmosphere and lighting – great advocates to bodybuilding in the owners and it's a short walk to the beach to get some vitamin D post workout. 
Address: 12 Roumelia Ln, Boscombe, Bournemouth BH5 1EU
Day Pass: £10
Instagram: @themajesticgym
24/7 Hours? No
Workout Completed: Tear Drop Workout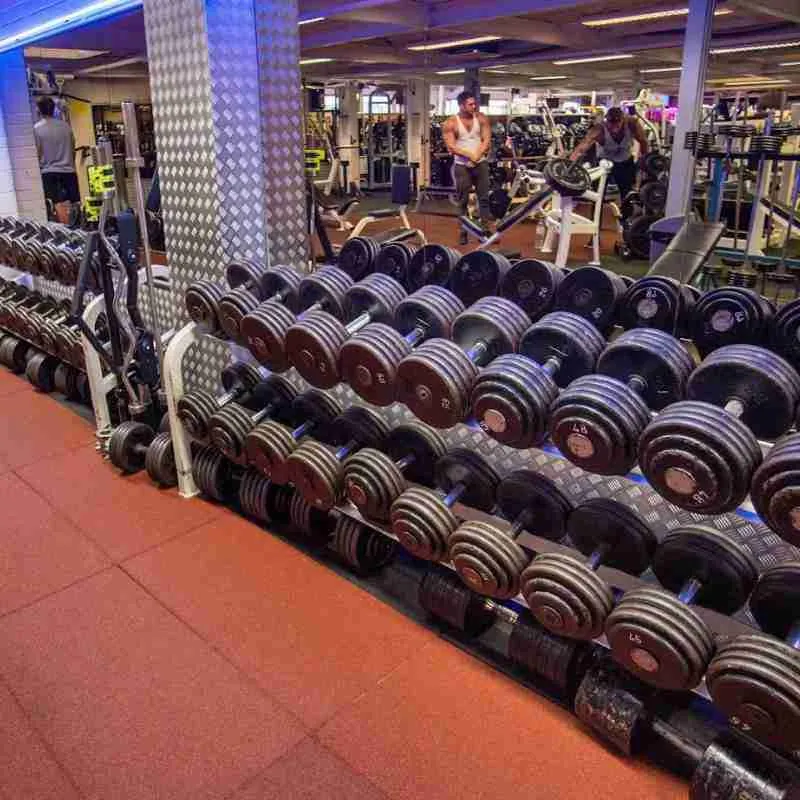 6. A1 Ironworks Fitness Concepts, Birmingham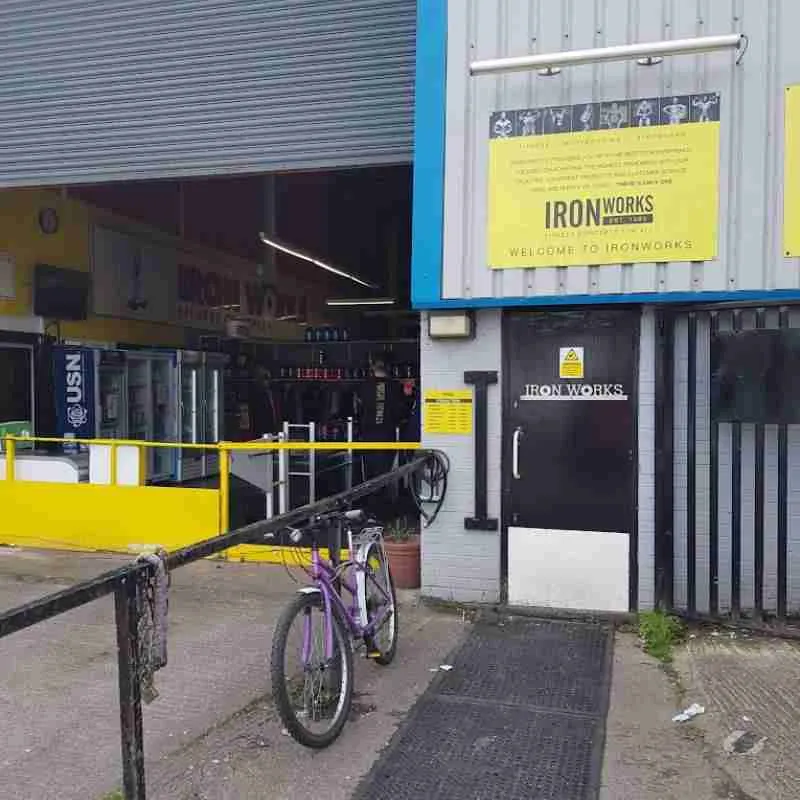 Just off the A441 in an industrial unit, you'll find one of the best bodybuilding gyms in the UK.
Opened in 1993, by a husband and wife team, this gym has played a part in the bodybuilding industry and the general fitness scene.
They've invested in some serious kit over the years, some are even bespoke to Iron Works. Set across two floors, you'll find cardio kit, free weights, machines, and stretching areas.
From bodybuilding champions to the World's Strongest Man, the hall of fame here is pretty impressive. But it's not just seasoned bodybuilders here, the PTs help aspiring athletes get competition ready, and help the general population with their body goals.
There's some really nice bits of kit here and plenty of weights to go round. Expect the best brands in the business here. There's also a ladies only gym for those who want to train away from the main floor.
It's not 24 hours, but the opening times are pretty good. Training starts at 5am, and doors close at 10 pm Monday to Thursday, and 5am-9pm Fridays, and 8am-4pm at weekends. We trained here in the week at lunchtime, and there was a buzz, but it wasn't heaving and no wait time.
We finished our session with a chat and a shake at the reception. Hearing from the staff about the inspiring and interesting people they get through the door. On that note, the staff were all great. It was pretty easy to navigate around the gym, but the PTs we spoke to sent us in the right direction.
We were impressed by the level of bodybuilding knowledge coming from the PTs. They clearly train some athletes and are the best in the area.
We will say, when you put this gym in your satnav, drive slow as signage isn't great and it can easily be missed.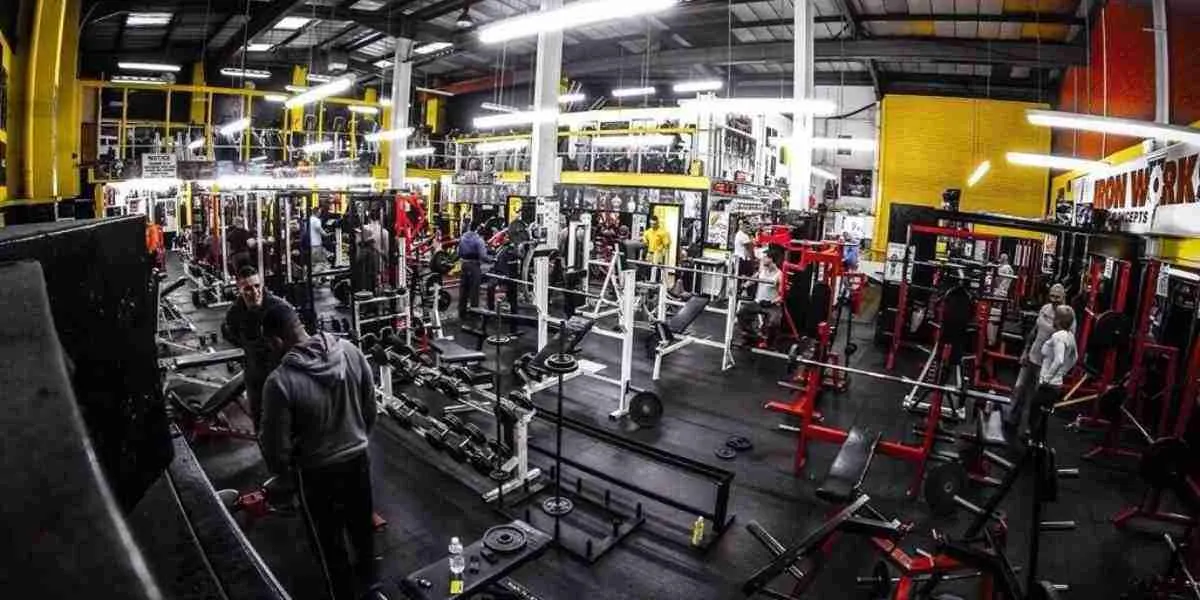 Address: Unit 2, Park View Estate Pershore Rd S, King's Norton, Birmingham B30 3JX
Instagram: @ironworksbirmingham
Day Pass: £12 (week pass)
More Of The Best Bodybuilding Gyms in Birmingham
Birmingham is a hotspot for great bodybuilding gyms in the UK.  The birthplace of six times Mr Olympia winner, Dorian Yates, and bodybuilding events and competitions held almost every weekend, you can see why Birmingham and bodybuilding go hand in hand.
Here are two more gyms that just had to make the cut for UK bodybuilding gyms that just hit different. 
Total Fitness Emporium, Gravelly Hill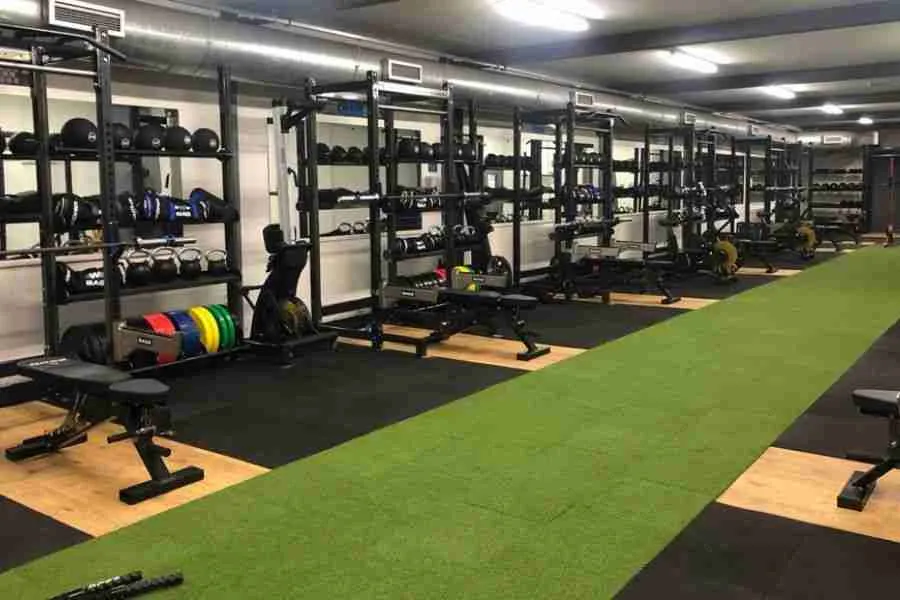 There's always something so pleasing about training in a gym with dedicated sections, and a sled track is the icing on the cake.
We set ourselves up at a rack, and had access to everything we could need in reaching distance. Not only did they have free weights here, there were machines,  a cardio area, boxing ring, and functional training area. 
This gym has been going since 1997 and they've built a real community here and welcomed some famous athletes. People stick around for dinner, and even a haircut. There's also a supps shop to keep you stocked up. Easily one of the best bodybuilding gyms in the UK.  
Address: 173-179 Tyburn Rd, Birmingham B24 8NQ, UK
Day Pass: £8
Instagram: @emporiumgym
24/7 Hours? No
Temple Gym, Birmingham Jewellery Quarter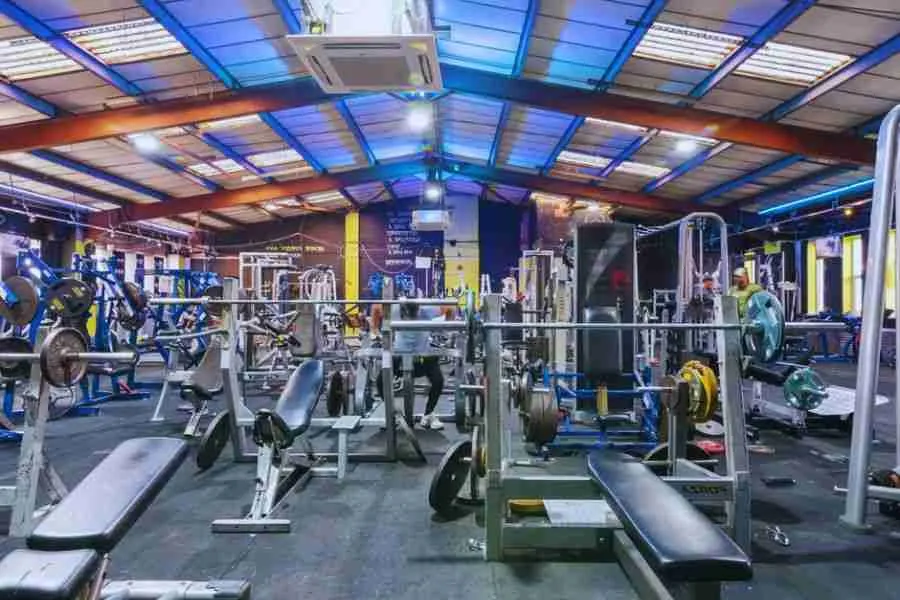 Temple gym is one of the most hardcore bodybuilding gyms in the UK. It's been around since the 60's and was previously owned by Dorian Yates himself. Today it's under new management, but the Nautilus machines, Hammer Strength kit, and Cast-iron Dumbbells remain – and so does the old school bodybuilding energy.
We tried one of Dorian Yates' Blood and Guts workouts here, it felt only right. And we weren't the only ones. 
The gym has everything you need from free weights and machines to cardio kit and a mat area. There's also shower facilities to freshen up post Dorian Yates style beasting. 
Address: 19 Kenyon St, Birmingham B18 6AR, United Kingdom
Day Pass: £6.30 (free for new members)
Instagram: @templegymuk
24/7 Hours? No
7. Frontline Fit Performance, Manchester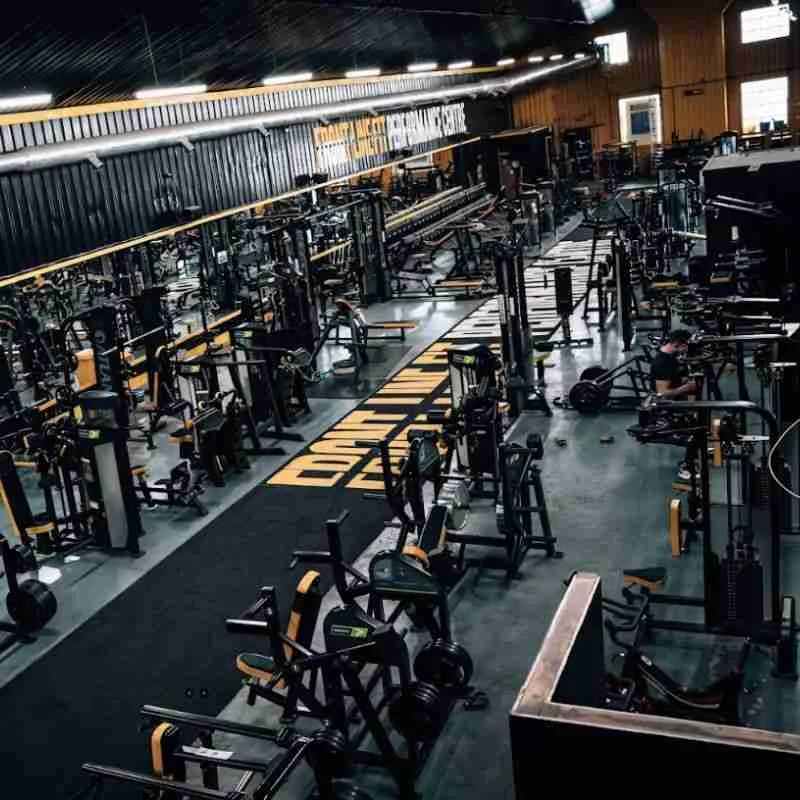 Frontline Fit Performance is an industrial unit turned gym and it's massive. High ceilings and kitted out with yellow and black weights, benches, and machines, and the walls to match – this is a gym that catches your attention.
With cable machines, free weights, cardio kit, and racks of dumbbells, you'll have everything you need here to train hard. Machines are Prime or Atlantis, so you know you're in good hands here.
The trainers here are some of the best in the area. We heard it for ourselves on the gym floor, but just looking at their results page and it's very clear – the PTs know their stuff.  
Throughout the year they offer a Strength Camp, to kickstart people's goals and get them seeing significant results through nutrition and small group PT.
So who trains here right now?
They've got a real mix of members. Some are just starting on their fitness journey, while others are stepping on stage, filming their workouts and quite possibly influencers. Probably some famous people stepping through the doors here, it's bound to attract some top bodybuilders in Manchester. 
Why do we like FLF?
This place has a hardcore touch to it, alongside a sense of professional focus. There's loads of space here so you can feel comfortable that you've not got someone coming up too close when you're about to do a heavy lift – that's got pulled back written all over it.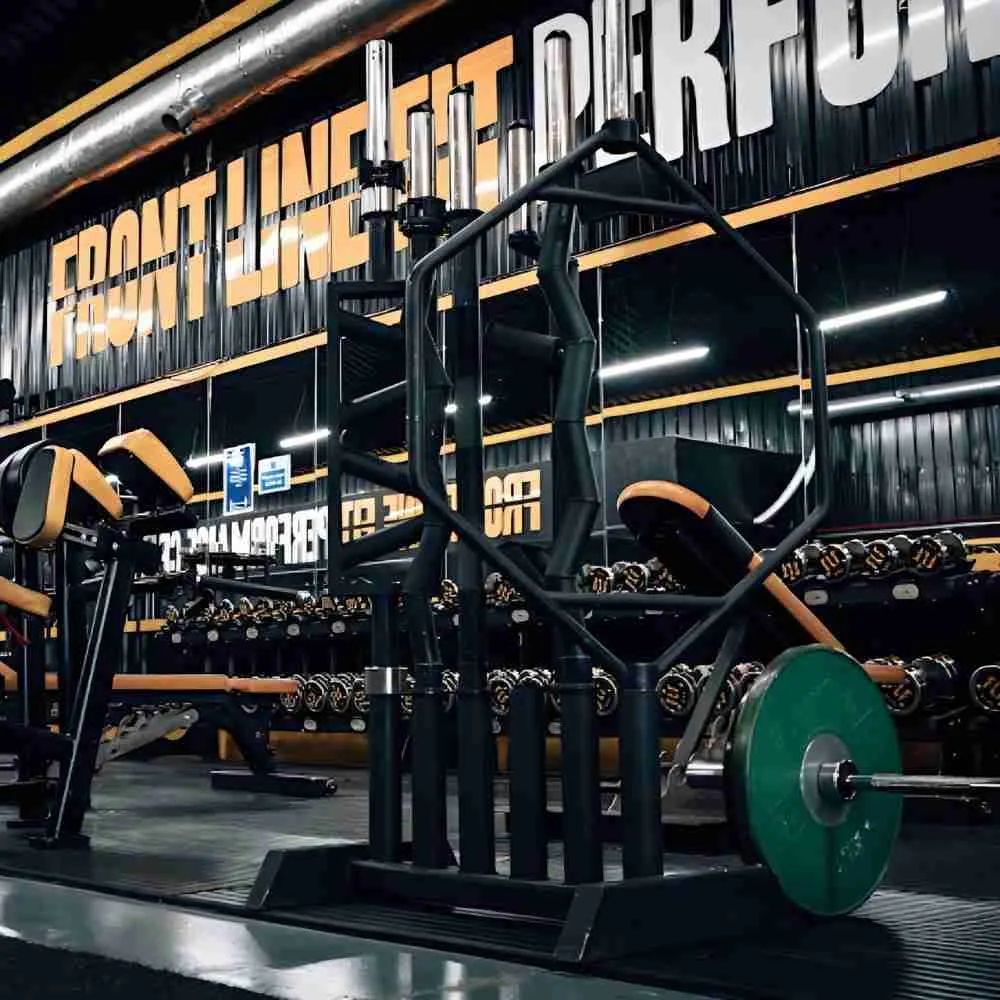 Address:  97 N Western St, Manchester M12 6JL
Day Pass: £20
Instagram: @flfperformancecentre
24/7 Hours? No
Workout Completed: Hardest Leg Workout Ever
More Of The Best

Bodybuilding Gyms in Manchester
Manchester is one of the biggest cities in the UK and has a big bodybuilding population. Manchester hosts the FITEXPO, the Bodybuilding Championships, and more great events. Get ready to shine at these Manchester bodybuilding gyms in the UK.
Olympic Sports Gym, Ashton-under-Lyme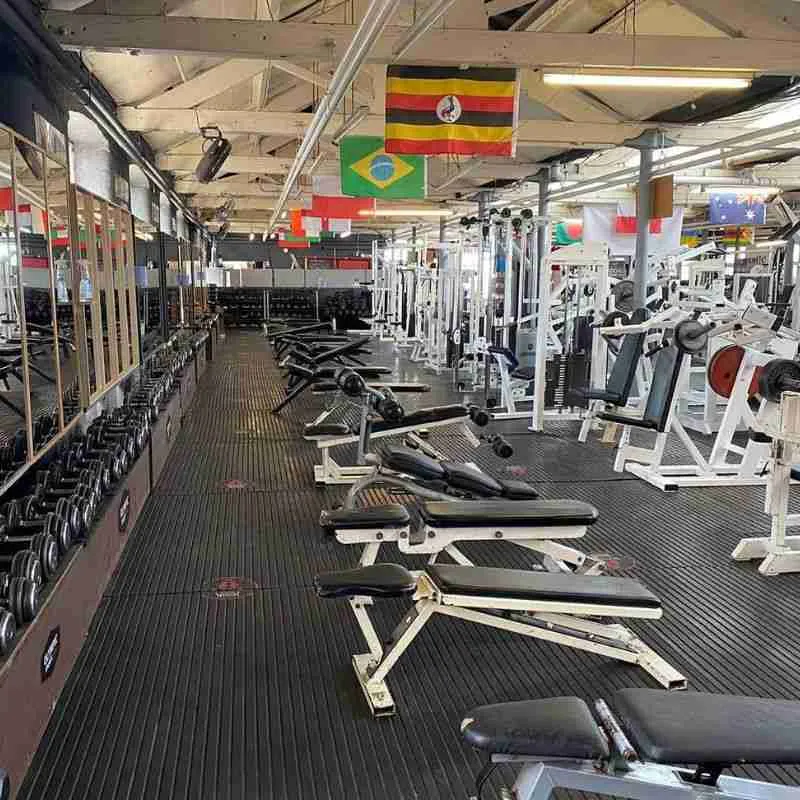 This is a proper old school gym. It's got tonnes of kit too, even at busy times you won't struggle to get on machines. We visited after work which is  peak time, but thanks to such a huge range of kit we got on everything we wanted to. 
At this gym you'll find free weights, machines, cardio and a boxing room with six hanging bags. There's also a shop stocking supplements, shakes, and bars.
The gym was established in 1983 by Mick Clegg, ex strength and conditioning coach for Manchester United. The staff at this gym all really know their stuff, and they're friendly too. We had some insightful chats with PTs here and if we were locals, we'd be booking sessions with them for sure. 
Address: Portland St S, Ashton-Under-Lyme OL6 7SX,UK
Day Pass: £4
Instagram: @olympicsportsgym.co.uk
24/7 Hours? No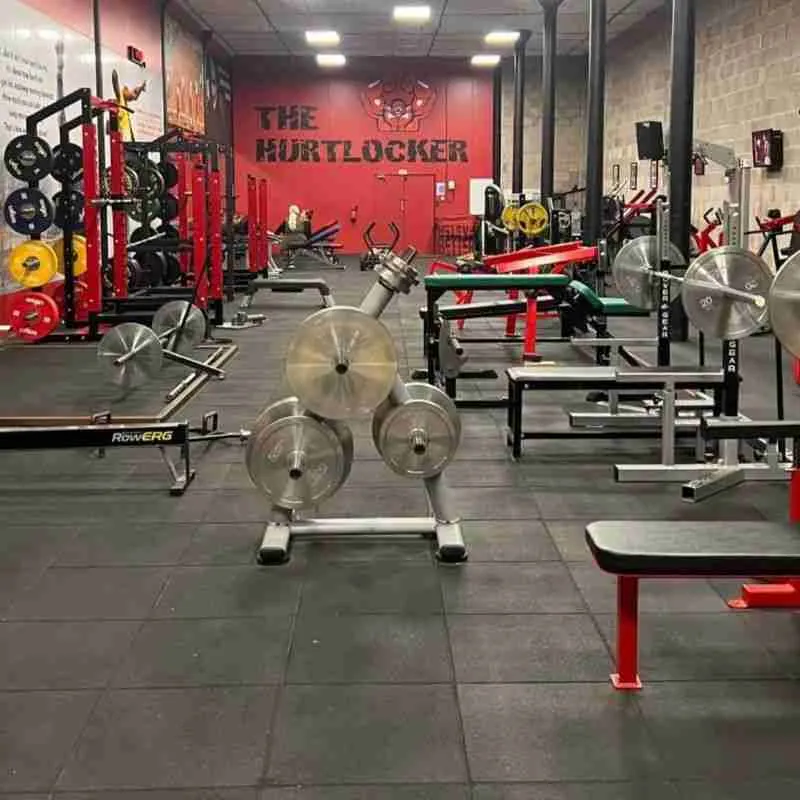 We love an old school vibe, and Hurt Locker in Oldham certainly has that.
Competitive bodybuilders and athletes make up the PT staff here. They work with competitive bodybuilders, general population, and athletes – and they've got the qualifications and the experience to help you reach your goals. 
There's loads of kit here too. Top brand machines, freeweights, cardio kit and functional training areas are all part of the offering. 
It's a friendly gym where you can feel inspired by other bodybuilders and motivated people reaching goals. 
Address:  2nd Floor, Nile Mill A, Unit 23 Fields New Rd, Chadderton, Oldham OL9 8NT, UK
Day Pass: £8.50
Instagram: @_the_hurt_locker___
24/7 Hours? Yes
8. Dedicated Fitness, Merseyside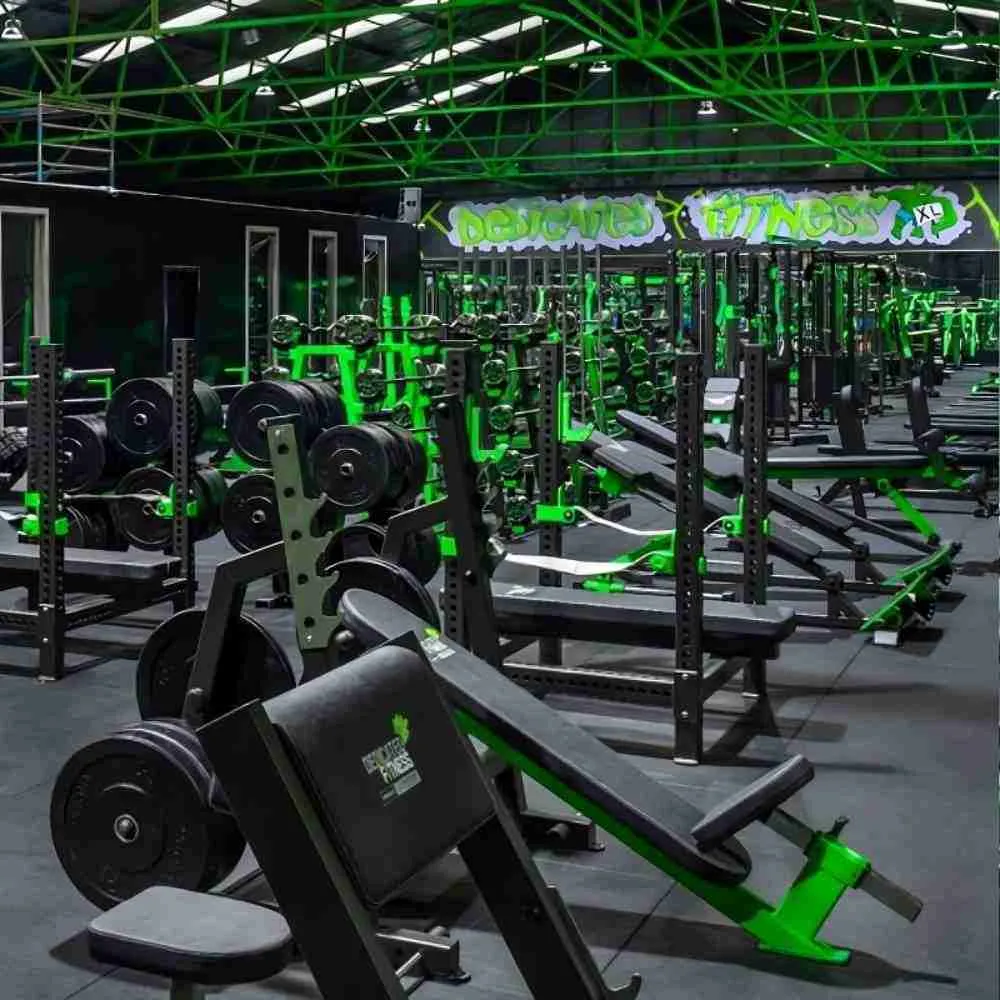 While you're in Liverpool, visiting Dedicated Fitness in Merseyside is a must.
When we were reading up on the gym before we went, we didn't like the sound of some reviews – but we thought it's important to try things out for ourselves rather than take someone's word for it. And we're glad we did.
The amount of kit, and the quality of it is impressive.
Yep, some corners of the gym could do with a clean but to be honest, we don't mind rough edges here and there.
This gym has 66 cables, 12 Watson power racks and plates, 25 m track, functional kit, tyres, over 50 leg machines including Watson glute drives, and up to 130 kg in dumbbells.
That's an insane amount of kit, right? This means there's no trouble getting on the machines you need – even at peak times. Not only is there enough kit, but there is plenty of parking too.
The building is an industrial style unit, and the car park is right outside, and free.
There's a shop here, too, stocking supplements, shakes, and bars. The staff are helpful here and were able to point us in the direction of what we might need for gains and recovery.
This gym is 24 hours, you can train here at any time of day or night. Perfect if your job means you can only train late, early or in the middle of the night.
You can finish your workout with a shower and a sauna. What a dream.
Address: Ellis Ashton St, Liverpool, L36 6BP
Instagram: @dedicatedsupergym
Day Pass: £10
24/7 Hours: Yes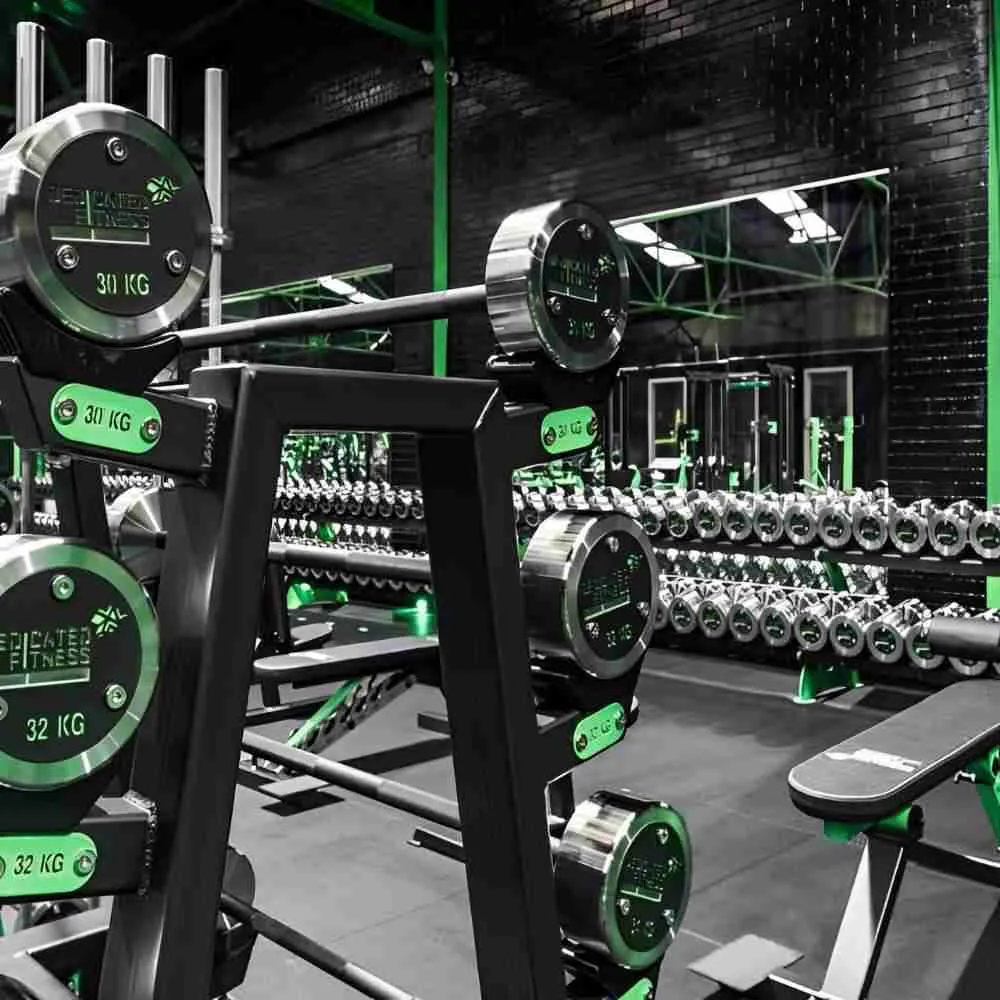 9. Olympia Gym, Newcastle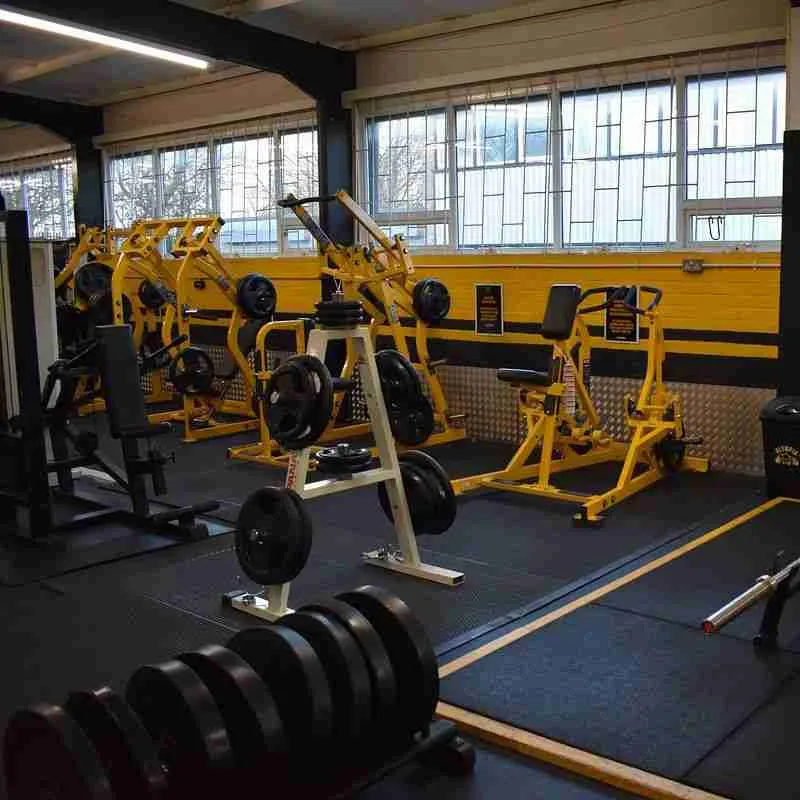 Independent, female-owned gym Olympia Gym in Newcastle is easily one of the best bodybuilding gyms in the UK. From the moment you walk in the door, you feel welcome. Then when you get on the gym floor you can enjoy more than enough kit to go around.
The machines here are top-of-the-range Hammerstrength, Watson and Prime USA, and then you've got rows of dumbbells, free weights, a cardio area and functional training space. If you like Concept stuff, then you'll be pleased to hear there's a Concept row, ski, and bike.
The gym also holds fitness classes such as core, lifting, WODs and CrossFit-style sessions.
We felt a real sense of community when training here. Members were looking out for others, jumping in to act as spotters between sets – that sort of thing.
What do we like about Olympia Gym?
The founder and MMA fighter, Lisa, has made something special here in Newcastle. It's a gym that's not afraid to invest in decent kit – something that draws in members and keeps them there.
The welcoming and friendly atmosphere from both members and staff echoes through the gym, even as day tripper members, people spoke to us.  
We always rate a gym highly when you can pick up something to eat on the way out so you avoid that petrol station stop on the way home. Here they stock macro and calorie-controlled meal prep and coffees to go. 
Address:  Redburn Rd, Westerhope, Newcastle upon Tyne NE5 1NB
Instagram: 
Day Pass: £8
24/7 Hours: No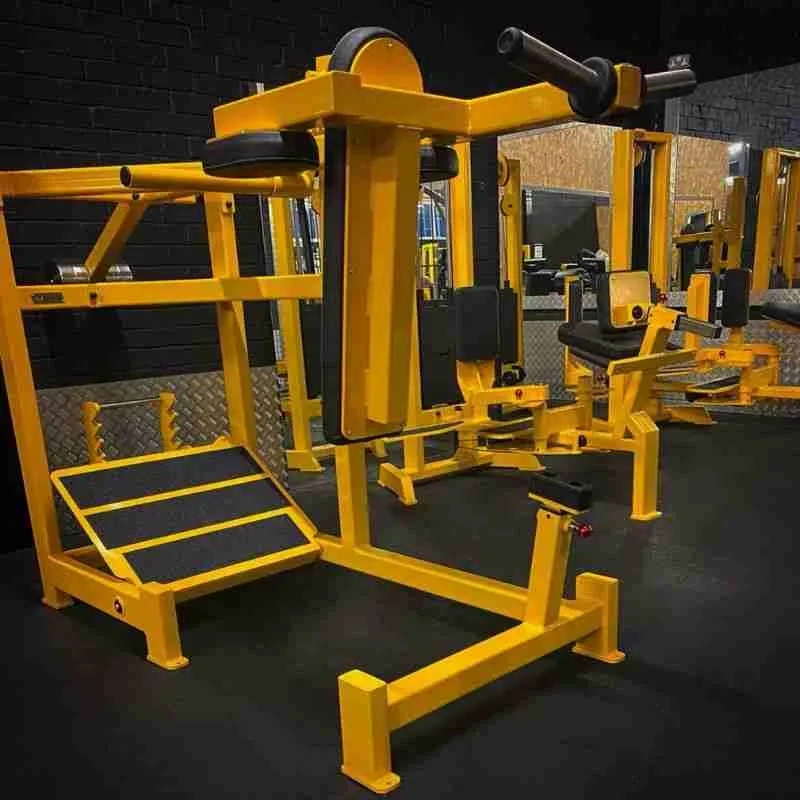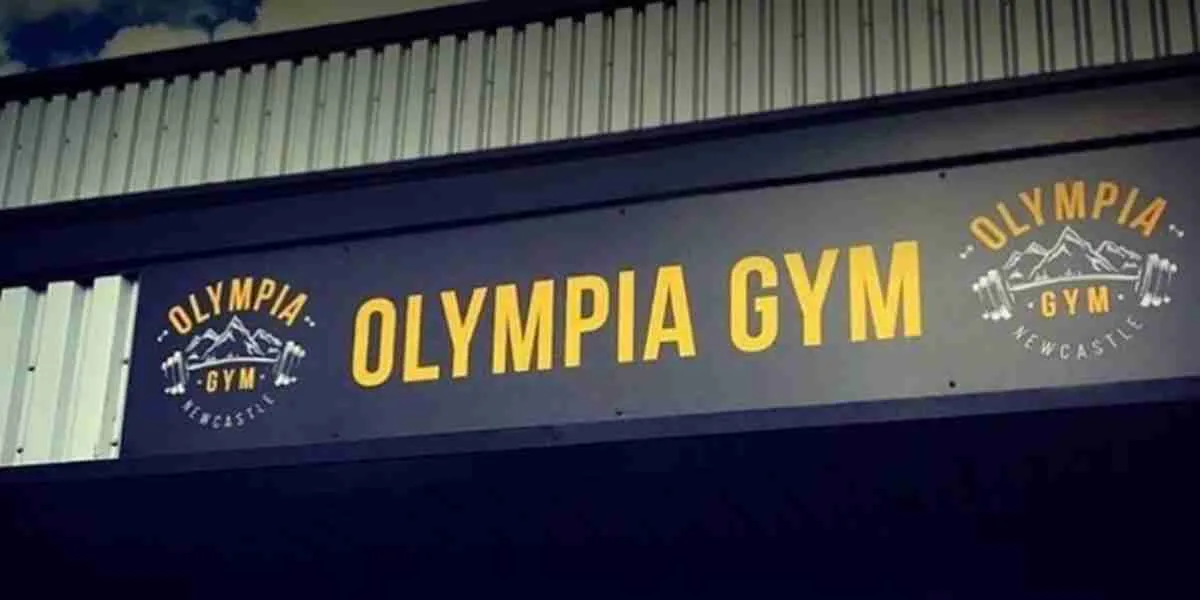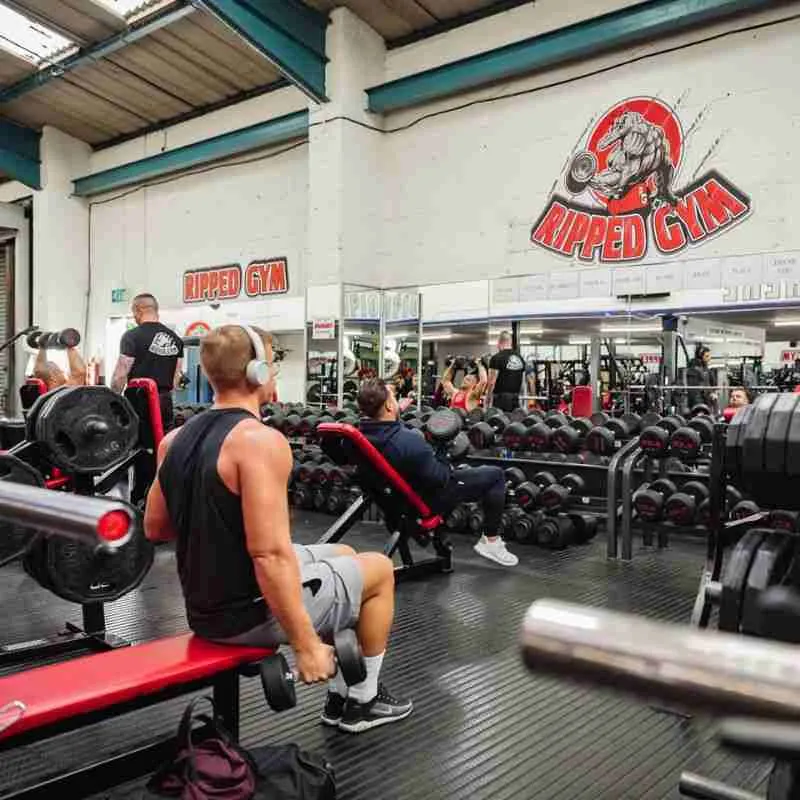 Set up in a black tin-style industrial unit, you might not think it's that special. However, inside it's surprisingly bright and spacious. We heard about this gym through a friend of a friend and after they told us about the extensive Hammer Strength and Cybex machines, and the awards it had won, we wanted to see for ourselves.
And we weren't disappointed. Not only are the machines top of the range, the rest of the kit is well maintained and all in good order. The functional training area was tidy and clean and the rows of dumbbells up to 120 KG. We had more than enough kit to be getting our workout on with.
The gym has been going since 2008, opened by husband and wife Elvis and Michelle. Elvis poured his passion into the gym, but sadly following a short illness he died in 2014. Michelle runs the gym solo now, and by the looks of it does a great job.
While we did notice some bodybuilders and competitors in this gym, there were also your average Joe's and Jane's just getting in a workout. It's a place that welcomes people of all levels, from athletes to amateurs. 
Why we like Ripped Gym?
This is a gym with old-school bodybuilding energy, but it's also got a bright and welcoming feel. The PTs are some of the best coaches in the area and are happy to have a chat and share some quick tips.
But. What we really like about Ripped Gym is that it's open every day of the year. And we mean every day. Even Christmas. So if you're not up for another game of Charades, or you don't celebrate Christmas, you know you can get a workout in here. 
Address: 4 Wych Elm, Harlow CM20 1QP
Day Pass: £8
Instagram: @rippedgym
24/7 Hours? No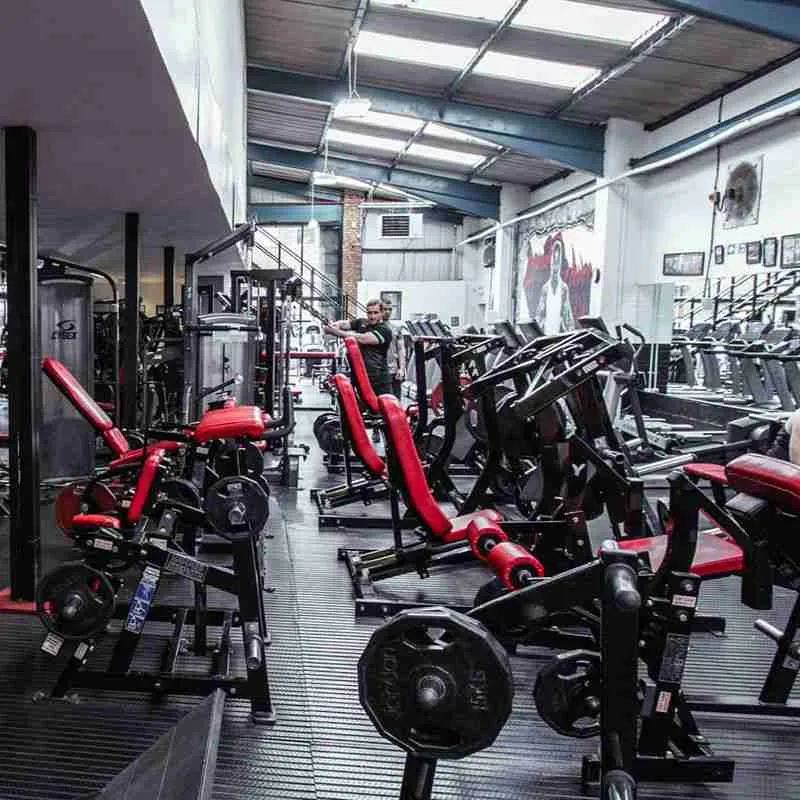 11. Olympian Gym, Hemel Hempstead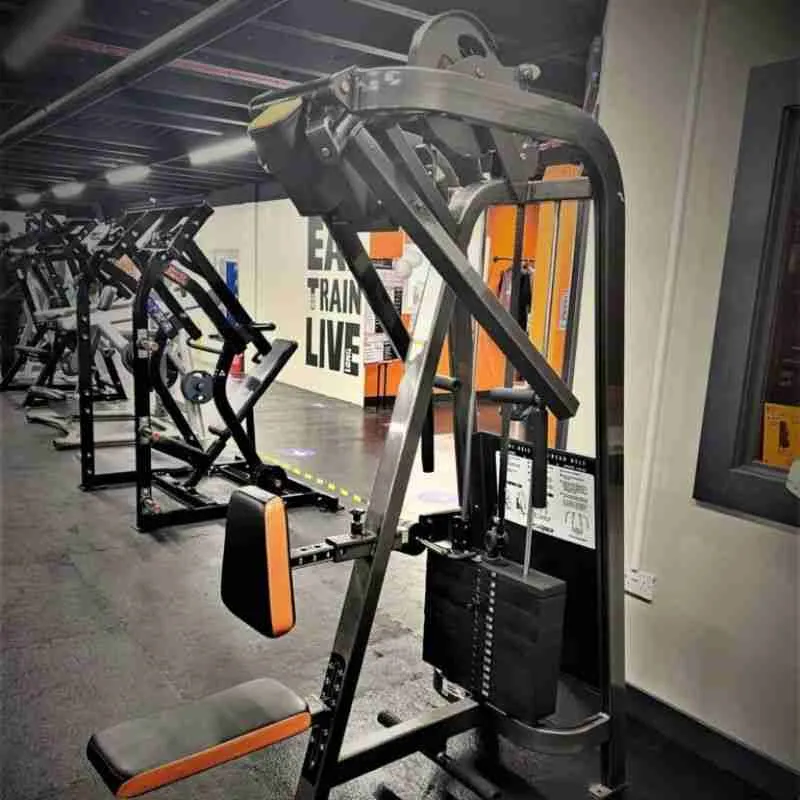 IFBB Pro Bodybuilding champ Eddie Abbew and his wife own Olympian Gym in Hemel. It's an old school bodybuilding gym with a mix of old and new machines, including Nitro, Cybex, Nytram, Hoist, and Hammer Strength.
The machines are well organised and arranged in muscle groups, which makes moving around the gym and finding what you need easy, even as a day passer.
They've got loads of kit here: machines, free weights, dumbbells, functional training. There's also enough space so you don't have to shimmy around people when you're setting up for a big lift.
Pro Prep meals are on sale here and meet all your post workout macros and calories.
Why do we like Olympian Gym?
Why does Olympian Gym make it to our best bodybuilding gym on the UK list? Well, it's run by an ex-IFBB pro, and the knowledge and passion come through to the gym floor. They have top-of-the-range kit, and some old classics that have been well maintained to still give a beasting today. 
When we were in Olympian Gym we got to speak to some of the staff, who cared about educating members about lifestyle and fitness. The PTs here are some of the best (and competitors themselves), they know how to train amateurs and athletes.  
Address: 187D The Marlowes Shopping Centre, Marlowes, Hemel Hempstead HP1 1DT
Instagram: @eddieabbewsolympiangym
Day Pass: £6
24/7 Hours? No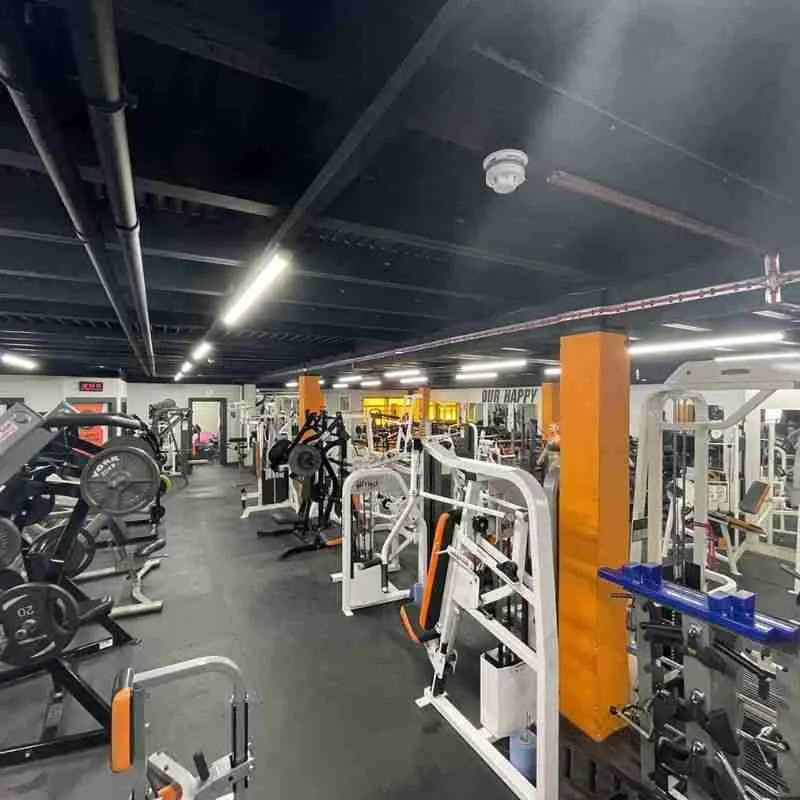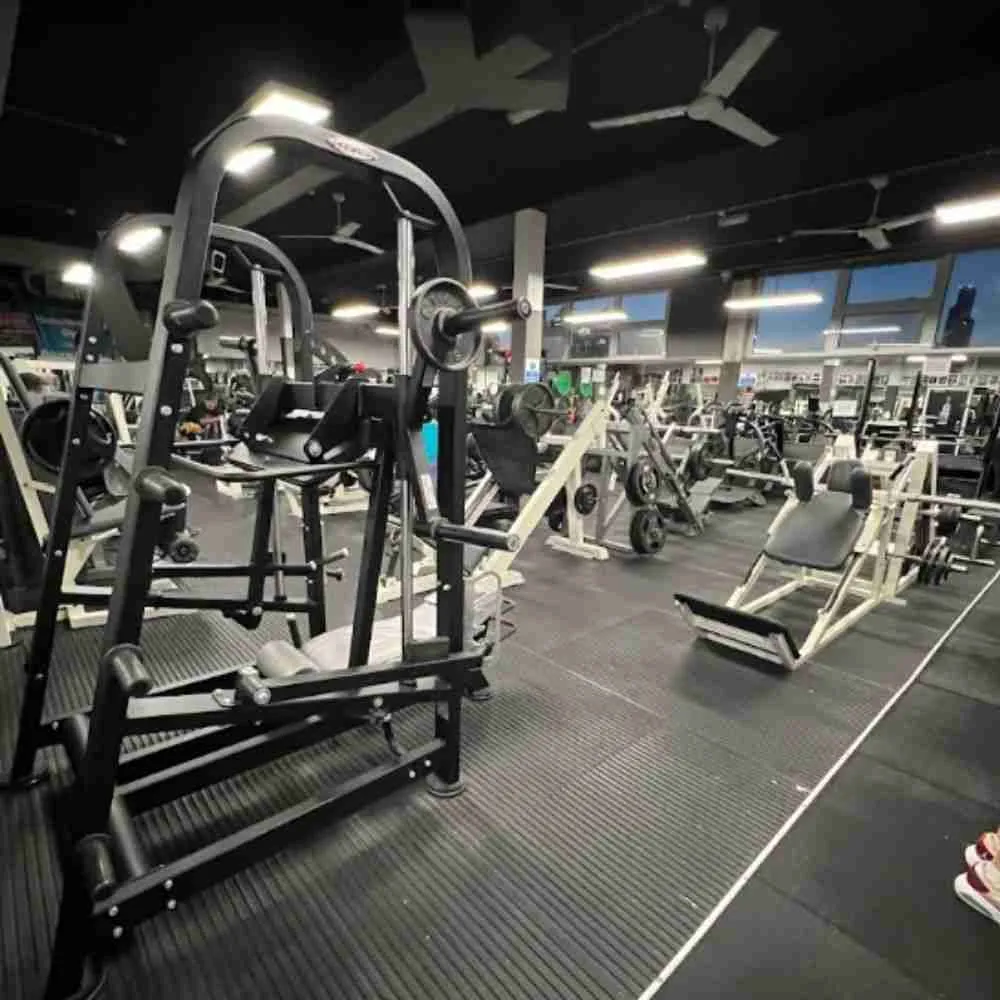 The capital of the UK absolutely must have one of the best bodybuilding gyms here. London is home to some major comps, including UKBFF.
Former pro bodybuilder Sav Kyriacou owns Muscleworks, and with old-school and new kit, you can tell it's built by someone who knows what makes a bodybuilding gym.
There are so many machines here and dumbbells up to 180 lbs. There are also bars, plates, boxing and cardio kit. Set across two floors, the main level is set up for chest and back/arms, the upper half is a leg room, and the other half is a boxing room and cardio equipment. There's not a huge amount of space to do functional training when it's busy, but at quieter times it shouldn't be an issue.
Selected by Sav, the PTs are mentored to the highest standards. These trainers know what they're talking about and can happily take on new competitors and seasoned athletes looking to step up their game. Trainers are not only educated, but experienced too, with IFBB Pros, UKBFF qualifiers, and WBFF Pros all on the team. These trainers mean business, and if seeing them doesn't inspire you enough just take a look at the hundreds of bodybuilder pro photos around the gym. 
Why do we like Muscleworks?
This is a no-nonsense, inspiring gym where you pay and pump. People who train here are serious about their results. There's a place to grab a pre-workout and then a macro meal post-workout at a fair price. Everywhere was clean too. Just be prepared for grunting, loud lifting noises etc. This is a gym where people lift some serious weight. 
Address: 114 Vallance Rd, London E1 5BLs
Instagram: @sav_muscleworks/
Day Pass: £6.50
24/7 Hours? Yes!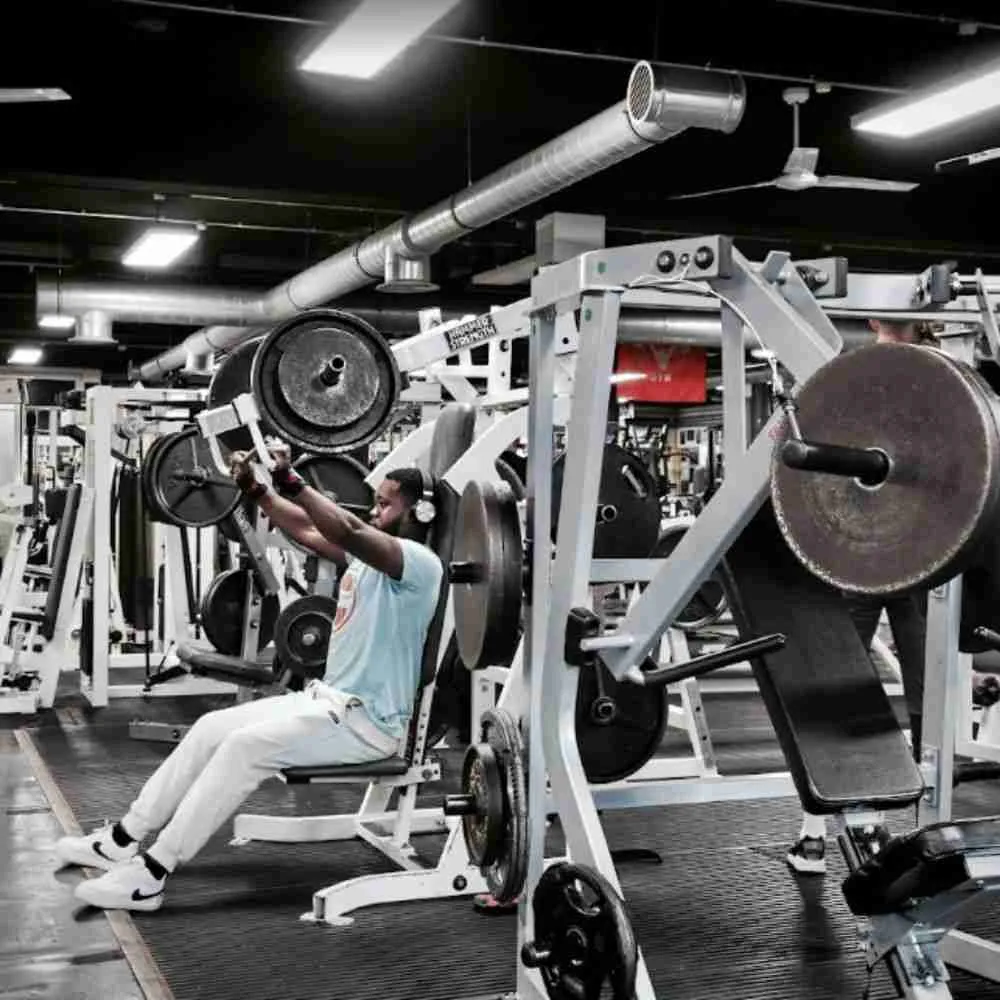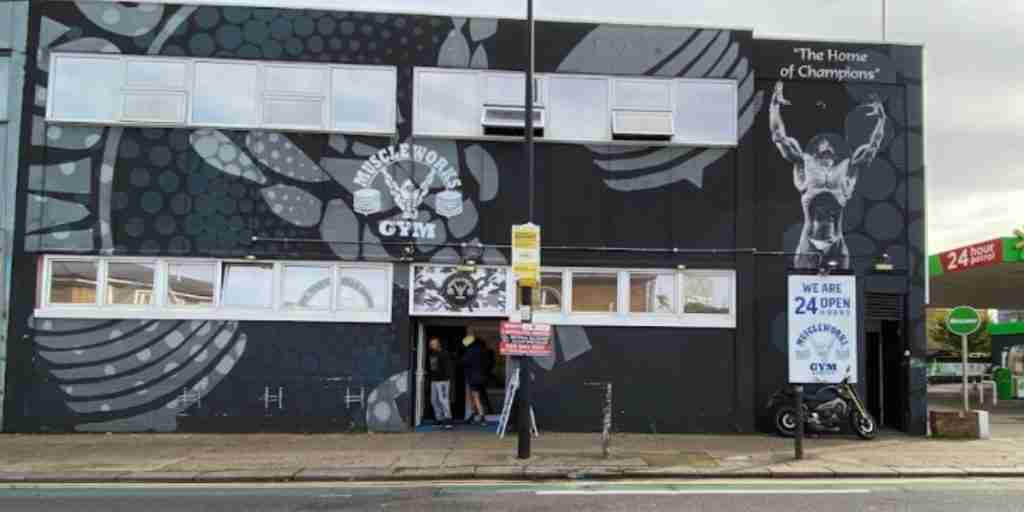 13. Strength Asylum, Stoke-on-Trent
People who are serious about training train here. It's a strong man and bodybuilding gym, and it's not for the faint hearted. Its for people who want to be inspired, see results and get an education on lifting. That's not to say newbies, novices, and amatures aren't welcome. We know our way around the gym ,but we're not strong man level, and everyone was friendly enough.
Like in any gym, put your weights back and you'll get on just fine!
We didn't count, but we read online that they've got 150 pieces of strength equipment Hammer Strength & Life Fitness and a gym that covers 13500 sq/ft. The dumbbells go up to 100 kg, and the free weights area has approximately 10,000kg of plates.
The gym is so well known in the community that they hold events like meet and train with Dorian Yates, Phil Heath training seminar, and Group posing seminar with Ms Olympia. Big names come here and they always draw a crowd.
In a big box gym, you'll find machines of just one make. But, what Strength Asylum has done is taken the best of each brand. Find Hammer Strength, Eleiko, Nautilus and more. 
This is a gym that trained the likes of WSM Eddie Hall, so you can expect all the kit you'd need, whether you're a beginner or WSM. Find a truck pull harness, logs, WSM spec kettlebells, 2 man deadlift, and so much more. We were impressed. Staff saw us eyeing up all this kit and were happy to tell us about their training experience with WSM and to let them know if there's the kit we need and they can try to help — however, we have to be monthly members, not day passers due to insurance so keep that in mind if you're here to use this kit. 
Why do we like Strength Asylum?
It's a place created by people who train, for people who train. The PTs here can train the general population right through to Strongman comps and bodybuilders, they're friendly and helpful too. It's not fancy, but it has a strong 'let's work' vibe. 
Address:Unit 2 Trent Trading Park, Hanley, Stoke-on-Trent, UK
Instagram: @strengthasylum
Day Pass: £7
24/7 Hours? No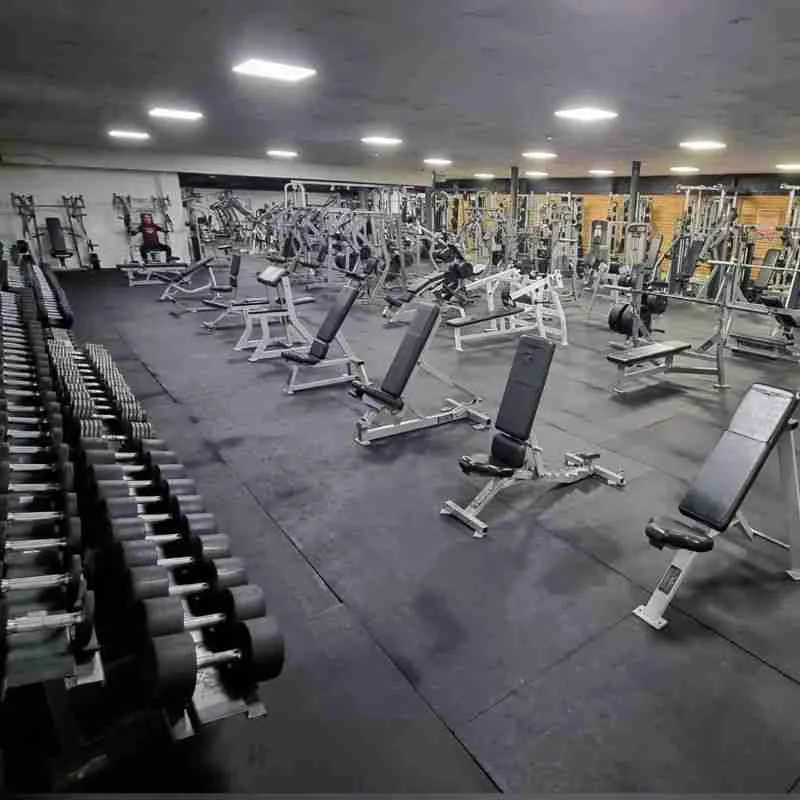 14. PB Performance, Cardiff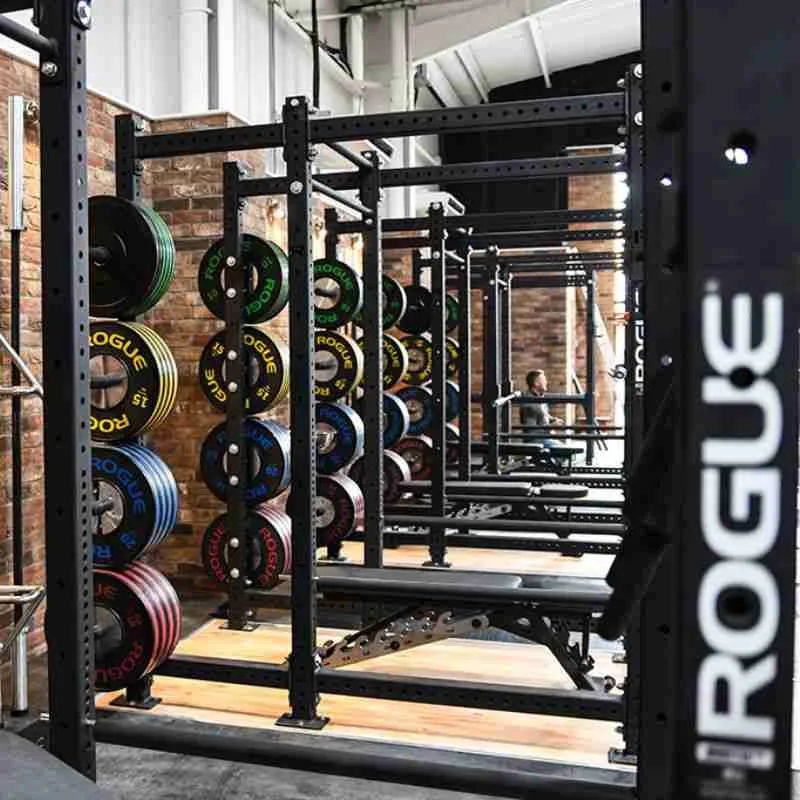 Split over to levels, with five training areas, and over 200 peices of kit, this gym is one of the finest bodybuilding gyms int he UK.
High ceilings and plenty of floor spaces means you can clean and press to your hearts content without worrying about going through the roof. If you like to train outside, there's a mat area with calesthetic training bars. During classes they other take kit out there too. 
Classes here look pretty epic. When we were there an indoor cycling class was going on in one room, and bootcamp in another space. They also have Pilates and reformer Pilates, metcons, powerlifting and weightlifting classes, and more. 
Why we like PB Performance Gym
So why does PB Performance Gym deserve to be listed as one of the best bodybuilding gyms in the UK? There is so much kit here, but it's not crowded thanks to their capped membership. Plenty of space to lift, and enough weights to lift big.
The offering here is great too. Small group training, classic and unique classes, and PT sessions. This helps people with all budgets reach their goals. The team here all seemed friendly and welcoming, happy to share training tips and talk us through some of the kit.
It feels new and clean – not like an old-school bodybuilding gym, but has an energy of people who are driven and inspired.
Address: Unit 49, Portmanmoor Road Industrial Estate, Est South, Cardiff CF24 5HB
Instagram: @pbperformancegym
Day Pass: £6.75
24/7 Hours? No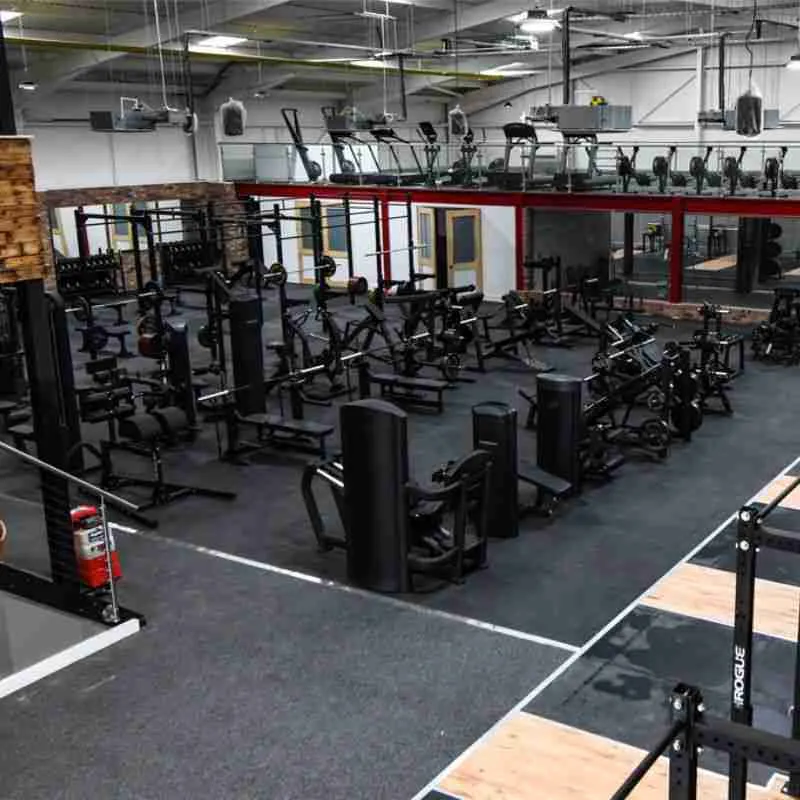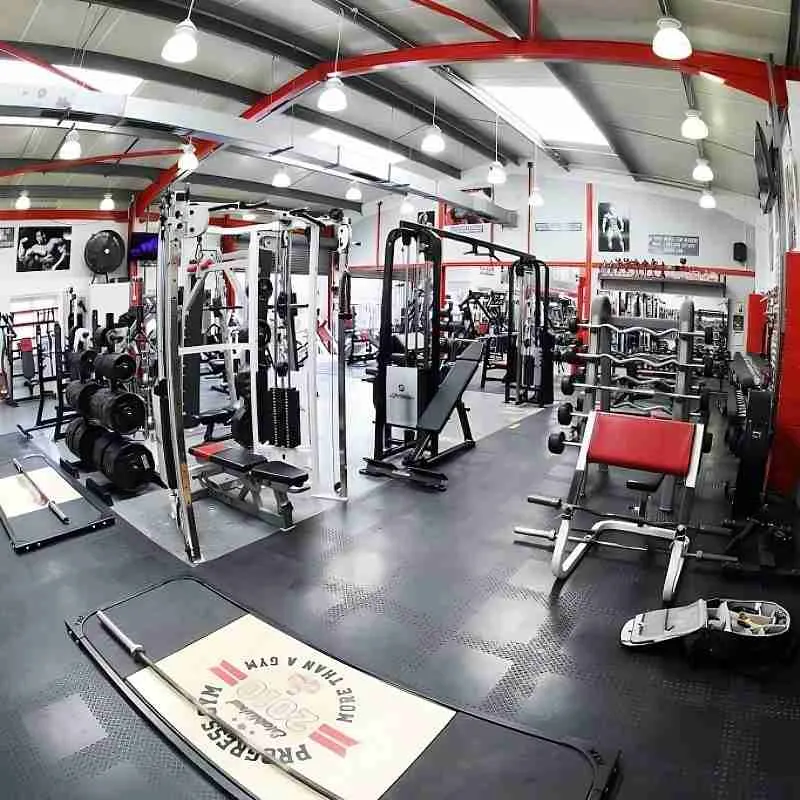 Progress Gym is one of the most varied gyms we came across when visiting the best bodybuilding gyms in the UK. There's more here than just kit to get you larger or leaner. There's dedicated inserts with a range of bumper plates, a sprint track, ropes, sleds, and prowlers, then there's the usual machines (but top of the range) and rows of dumbbells.
We always rate a gym highly when their cardio kit is more than treadmills. Here you'll find Ski Ergs, Assult Bikes, Concept bikes and rowers, and step machines. Build these into an absolute beast of a CrossFit style or Hyrox prep session.
Bodybuilders will love the extensive weights here, and the machines that offer a new stimulus. The machines and areas in the gym are sensibly organised to maximise efficiency and space. 
There's also 9 different classes on offer here, from spin to yoga and group workouts. 
Why do we like Progress Gym?
We put Progress Gym into our list of the best bodybuilding gyms in the UK because it's a gym that offers something for everyone. It's a gym that draws in competitive Strongman and bodybuilders thanks to the huge selection of weights, great functional training kit and community vibe. There's also a well stocked supps shop here where you can buy protein, meal prep, and even eggs… 
They're also open everyday of the year, including holidays and weekends. So while it might not be 24 hours, there is plenty of time to get your gains here.
Address:  3a &3b, Kingfisher Close, Gazelle Road, Lynx Trading Estate, Yeovil BA20 2PJ
Instagram: @progressgym
Day Pass: £10
24/7 Hours? No
Your Bodybuilding Gym in Britain and N.I Could Be Here
Have we missed your bodybuilding gym in the United Kingdom? Does it have that OG vibe, or new school meets old school energy? If you want it to make the list, tell us and we will come check it out. You can reach us on 'contact at barbellsabroad.com'.
We are always on the lookout for sponsors for our posts too. If you want people reading about bodybuilding gyms in the UK to see your brand, we're interested to hear from you. Drop us a message.