Hammer Strength Gym Equipment Review
TLDR: I like this brand – you probably will too. In this Hammer Strength gym equipment review, we compare them against the other big players in fitness land, we talk about what they do well, what they don't and cap it all off with our ratings matrix. 
Highlights
Hammer Strength is part of the Life Fitness brand
Hammer Strength is made in the USA
Hammer Strength excel at iso and lateral plate loaded equipment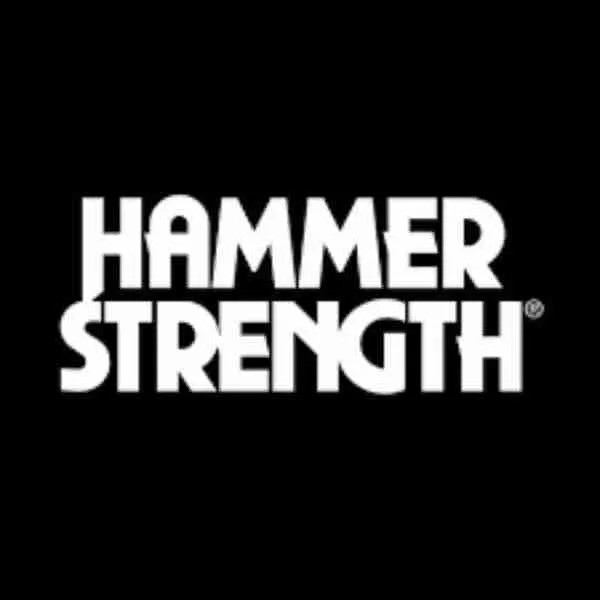 Quick Hammer Strength Ratings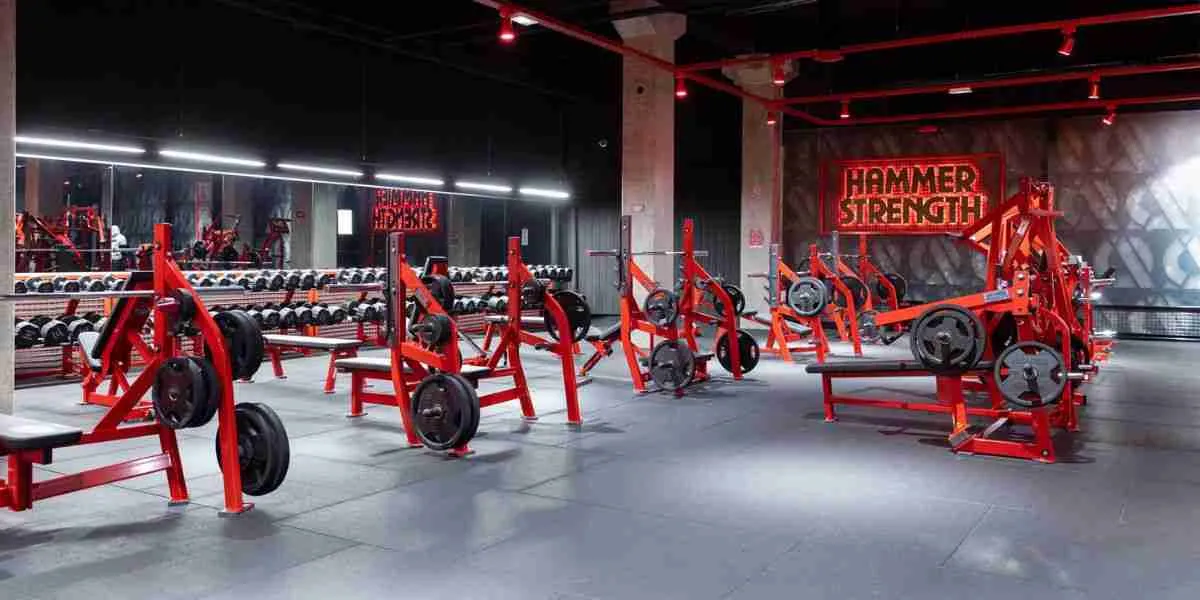 Who are Hammer Strength the gym brand?
Hammer Strength is a notable player in the fitness industry, known for its durable and ergonomic gym equipment. It caters to fitness enthusiasts worldwide, providing gym equipment designed to meet various workout needs, most notably resistance training through plate loaded machines.
What are the origins of Hammer Strength?
Hammer Strength was established in 1989 by former American football player Gary Jones. He saw the need for gym equipment that could simulate natural movement while offering the stability and control that machine weights provide. Gary comes from a family with a strong legacy in the fitness industry. His father, Arthur Jones, was the creator of Nautilus, another respected brand we will likely touch on at some point, who themselves made some cool gear, such as the free motion smith machine.
Before founding Hammer Strength in 1989, Gary Jones was an NFL player, and he recognized a gap in the market. He saw that most existing gym equipment did not cater well to athletes. The equipment lacked the ability to simulate the multi-plane movements necessary in sports. Traditional weightlifting equipment primarily allows for only a single plane of movement, great for hypertrophy but isn't as effective for developing the kind of functional strength athletes require. 
On the other hand, free weights do allow for more dynamic movements but can be risky at the advanced lifting level without a spotter. The solution developed alongside the Cincinnati Bengals was Hammer Strength, the first brand of strength training equipment to use iso-lateral technology, allowing for independent movement of each side of the body. Those plate loaded rows that you see people using on one side only…. that's because of Hammer Strength. This commitment to simulating real-world movements has made Hammer Strength a favourite among athletes and also bodybuilding gyms looking to help their users offset the ravages of wear and tear.
Where is Hammer Strength gym equipment made?
Like Hammer Strength's parent company Life Fitness which is based in the US, HS is manufactured in Kentucky, while their HQ is in Illinois alongside the family of brands that also include Arc, makers of Arc Trainer (my personal favourite cardio machine) and Cybex.
Where will you find Hammer Strength?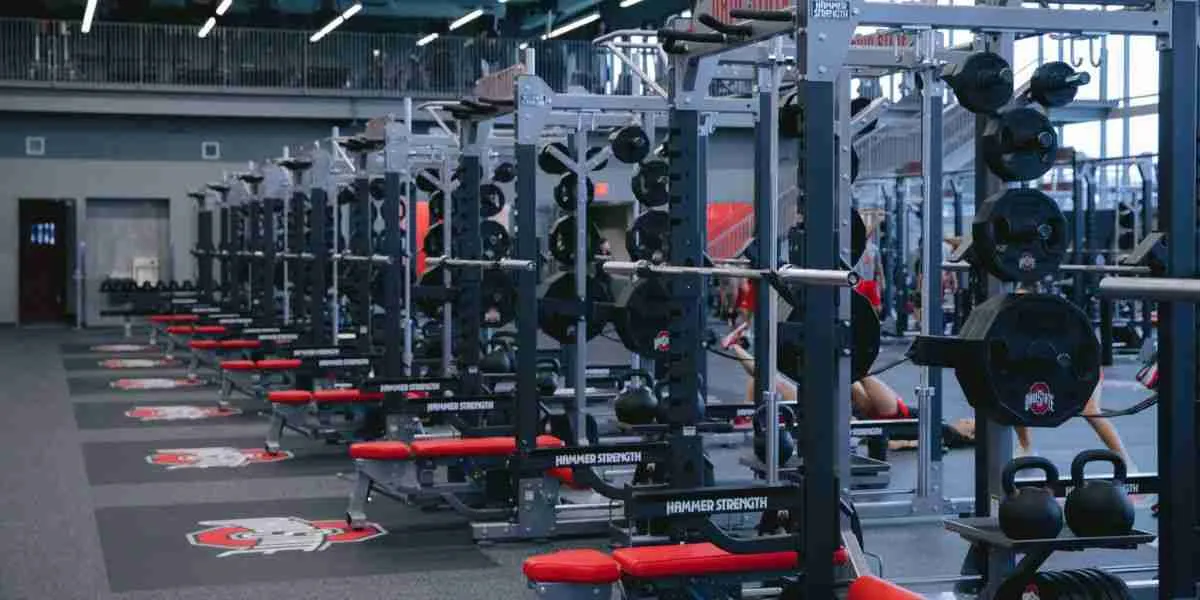 With the founder's early work alongside the Cincinnati Bengals, Hammer Strength continues to work with US sports teams, the NFL and collegiate football leagues. They are the chief gym supplier to Oregon State University and the Ohio State Buckeyes among many more. 
When they aren't providing durable kit to 300lbs offensive tackles, their equipment is found in Gold's, La Fitness chains and beyond. My own local gym, Stackhouse in Rayleigh Essex, uses Hammer Strength for pretty much all their plate loaded equipment. And if you're in Essex looking for a decent place to work out – it is 100% worth a visit.
Is Hammer Strength gym equipment expensive or cheap?
Hammer Strength isn't the cheapest brand on the market – but not the most expensive either
Hammer Strength products tend to be comparable in price to similar names such as Precor, a touch under the price point of Technogym and less than Arsenal Strength or Watson. Against the more budget options of Body Solid and Primal Strength though, you are going to pay more. What you're paying for with these types of brands is cachet, credibility, low maintenance costs, durability and if all else fails; resale value.
The bigger brands hold their price better. 
Price Examples:
Incline Chest Press
Technogym Incline Chest Press: £4000 (Occasion Fitness 2023)
Hammer Strength Iso Lateral Chest Press: £3200 (Best Gym Equipment UK 2023)
Primal Strength Iso Chest Press: £1699 (Primal site)
Short summary: While Hammer Strength may not be the cheapest brand on the market, its competitive pricing reflects the premium nature of its products and the significant value they offer over the long term.
Pros: What does Hammer Strength do well?
Sports functional gym equipment
Adds credibility to a gym
Makes super durable equipment
Maintains a good after market for resale
Cons: What does Hammer Strength do less well?
High initial cost – This might deter individual fitness enthusiasts or smaller fitness centres from purchasing.
Aesthetics. I like the retro nature of the equipment but they don't always look beautiful
Grip ergonomics
Hammer Strength vs alternatives?
Time to see how Hammer Strength stacks up. I have pulled a handful of the big names to draw some benchmarks from, so lets dive in.

Hammer Strength vs Rogue
Hammer Strength and Rogue are two giants in the fitness industry, each carving out a distinct niche. Hammer Strength shines in the area of ergonomically designed, hard-wearing equipment, with particular expertise in plate-loaded and iso-lateral machines. On the contrary, Rogue's strength lies in free weights, racks, and CrossFit equipment. These pieces are both durable and affordable, making Rogue a go-to for home gym enthusiasts. For example, a Rogue squat rack can be priced at around $700, while a similar Hammer Strength rack may come with a price tag of around $1,200. Nonetheless, Hammer Strength holds an advantage in the domain of selectorized and plate-loaded machines.
Winner? Rogue for Barbell equipment & Racks due to pricing and sufficient durability. Hammer Strength for plate loaded equipment
Hammer Strength vs Technogym
Technogym as we have already touched on, is a prestigious and globally recognized fitness brand. More known for innovative design and incorporating technology as well as being in every hotel gym in the world it seems! In contrast, Hammer Strength puts more of its emphasis on durability and efficient biomechanics, especially in its strength training equipment, making it a favourite for those valuing straightforward functionality and longevity. A chest press from Technogym, for instance, might be available at about $3,200, whereas a similar Hammer Strength machine may cost upwards of $3,500, reflecting the brand's focus on premium, long-lasting equipment.
What's crazy is that while Technogym chest press from new, retail at $3200 (ish) – you can take your pick from second hand versions at around $1000.
Winner? Hammer Strength for me for plate loaded equipment. Price is very little to pick between, but you will be able to resell it for more if the proverbial hits the fan, and carries a bit more bodybuilder credibility. 
Hammer Strength vs Arsenal Strength
Arsenal Strength, a newer yet promising name in the fitness market, has captivated audiences with its contemporary design and colour customization options. These visually striking and sturdy products definitely stand out. Despite this, Hammer Strength's extensive experience manifests in its top-notch biomechanics and wide range of equipment, particularly appealing for commercial gym setups. A squat rack from Arsenal Strength might set you back around $1,500, while the same from Hammer Strength may cost around $1,200, showing how Hammer Strength offers competitive pricing for commercial-grade equipment.
Winner? Overall? Tough one, but for innovation I may go for Arsenal Strength here as it has customisation in the equipment settings, which is not often seen for plate loaded gear. Though Hammer Strength wins on price and may grab the award for best balance of multiple things that matter. 
Hammer Strength vs Matrix
Matrix Fitness impresses with its comprehensive assortment of cardio and strength training equipment, all known for their feature-rich nature and customization options. In comparison, Hammer Strength, while less feature-heavy, outperforms in the domain of biomechanical engineering and durability, attracting those seeking an uncompromised, natural workout experience. A Matrix chest press machine might be priced at around $2,800, while a comparable Hammer Strength machine might be priced around $3,500, illustrating the premium positioning of Hammer Strength in the market.
Winner? Hammer Strength – no one into bodybuilding walks into a gym and gets a hard on for Matrix, it's perhaps the aesthetics, it's hard for me to say this, as I'm British and so are Matrix and I love to support UK brands. (Sorry guys, prove me wrong.) They do make good cardio kit though and they are respected in the mainstream fitness industry for gym equipment. They just aren't ROARRRR!
Is Hammer Strength a good gym brand?
If you need to kit a gym for strength trainers, bodybuilders or even fancy treating yourself in a home gym, Hammer Strength is classic. I find their plate loaded equipment a little retro. It's almost ugly but then you're reminded that it's heyday bodybuilding. There is something extremely Americana about it. When I see a gym with a sea of white metal and the Hammer Strength name plate, I know I can have a good workout there. 
Holding Hammer Strength tells me something about a gym. That's part of the value of owning their products. But aside from that, I've seen utter units destroy their bodies on HS equipment and the machines live to fight another day. I'm not the biggest fan of anything else they produce, but plate loaded kit, it's quality. 
Hammer Strength Consumer Reviews
Hammer Strength, a highly regarded fitness brand, boasts impressive consumer reviews praising its durable and reliable gym equipment. On Fitness Superstore, it scores an average of 4.8/5 from over 150 reviews, with users applauding its robust construction and long-lasting performance. Similarly, its Plate-Loaded machines earn a solid 4.9 rating on Rep Fitness, with users lauding the equipment's superior biomechanics that allow for a more focused workout. Google Reviews also reflect a high satisfaction rate of 87%, with customers willing to pay more for the brand's quality and durability.
A 2020 Statista survey revealed that 13% of U.S. gym-goers prefer Hammer Strength, a significant figure given the market competition. These reviews and statistics affirm Hammer Strength's commitment to providing top-tier, biomechanically sound gym equipment.
Most Popular Hammer Strength Gym Products/Lines
The Iso-Lateral series, Plate-Loaded machines, and the Ground Base line are among the most popular Hammer Strength offerings. These are lauded for their smooth operation, ergonomic design, and balanced strength development promotion. These are all modifications of the same core 'thing'. Plate loaded strength training equipment. They do well with their dumbbells also, and make some headway with barbell plates, but you're more likely to find their name on the lifting platform and not on the rack or weights.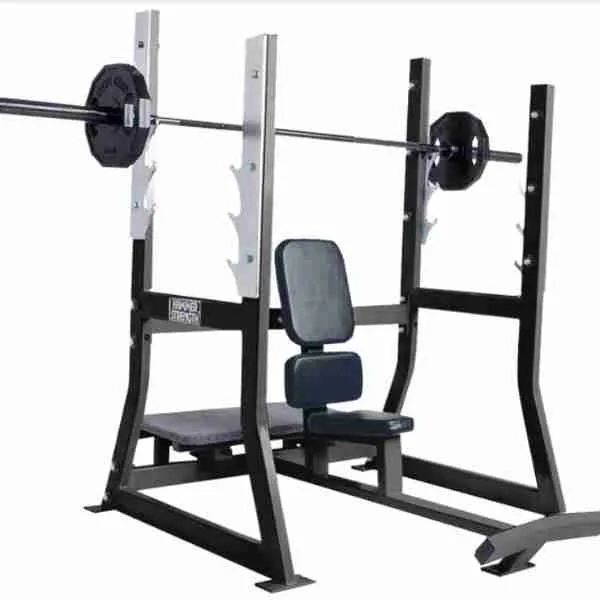 Shoulder Press Rack // Actually my favourite military press rack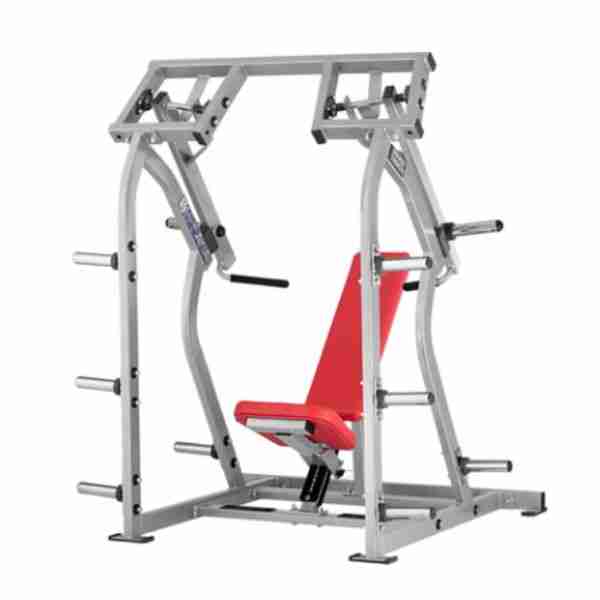 Iso Shoulder Press // Lookss like a strange angle, but feels more comfortable.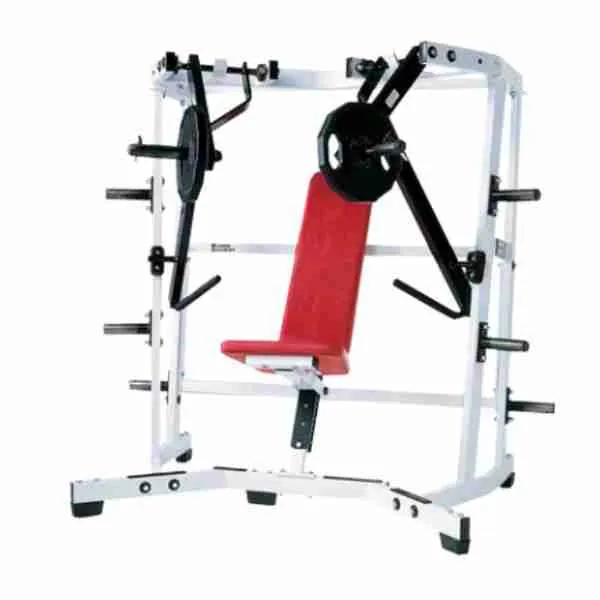 Iso Chest Press // Doesn't look beautiful but is one of their top sellers.
Where can you buy Hammer Strength Gym Equipment from?
You can buy Hammer Strength gym gear direct or see if there is any used gear on the secondary market at somewhere like "UK Gym Equipment Online" and eBay. Due to their popularity, you don't tend to find as much online at steep discounts, but worth a hunt nonetheless.
Technogym Gym Equipment Verdict
Pro Bodybuilder Focus
85%