Best Hotel Gyms In Berlin
We review the best hotel gyms in Berlin, and save you having to sift through endless photos of conference suites.
Love the gym and visiting Berlin?
TLDR: In this travel fitness review, we look at Berlin and make 6+ recommendations for the best hotels with gyms that enable proper workouts (almost like home). From a Crossfit session to Bro Splits and a 'Push, Pull, Legs' type workout, these 5 stack up. 
what's berlin like for fitness fans
Berlin is a city that offers plenty of activities for tourists. It is one of the most popular destinations in Europe, and for good reason. The city is home to an abundance of art galleries, museums, historical landmarks and concert venues.
Berlin is a great city for fitness lovers. There are plenty of top-quality gyms here, as well as world-class running routes and parks. If you're looking for a good workout while you're on holiday, then you'll be spoilt for choice in Berlin.
That said, not all hotel gyms are created equal. Some are better than others, and it can be tough to know which one to choose. That's where we come in – we've reviewed the best hotel gyms in Berlin so that you can book with confidence. Take a look at our top five picks and get active on your next holiday in Berlin!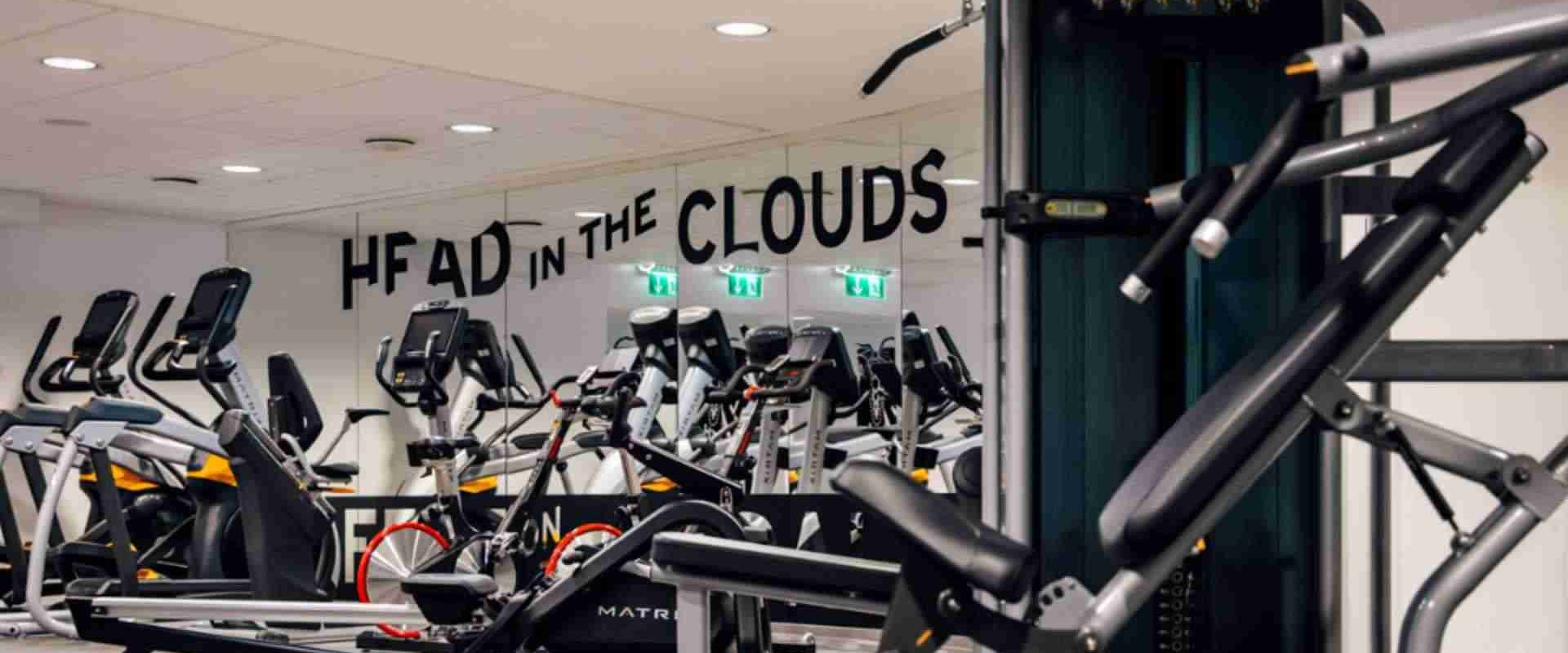 How We Picked The Best Hotel Gyms in Berlin
The 'science' behind our gym hotel reviews
We are our audience. That's the first thing you should know. We have made that walk into hotel gyms for over a decade now and know the disappointment that happens all too often, leaving you annoyed you paid extra for a place to stay that had a fitness centre.
The reality is most hotel gyms have been put together by someone who has never been to a gym in their life. We weigh up several facts when it comes to picking winners or calling out losers.
1. Can you complete the major compound lifts? These include squats, deadlifts, presses and rows (or pulls). These are generally best served with a squat rack, maybe a smith machine and the presence of an Olympic barbell. Read about the "Fundamental Lifts".
2. Who does the weight load cater for? The reality is most hotel gyms do not have sufficient weight plates or dumbbells for strong women, let alone adult males who visit the gym regularly.
3. Overall gym conditions. This includes space to stretch, the condition of equipment, is there a/c etc. Nothing worse than trying to do an ab workout or flexibility movements on a wooden floor with no mats.
4. Cardio Range. What is the condition of the CV equipment and is there too much focus on machines that replicate the one exercise we can all do without a gym. Running/Walking. Yes – we will down mark for a room of treadmills….so stupid.
Best Hotel Gyms in Berlin - The Winners
In no particular order, here are our picks on 6 of the best hotels with fitness centres in Berlin. We have tried to cover the major central areas of the city to give you some choice, no matter where you stay in Berlin.
Listen instead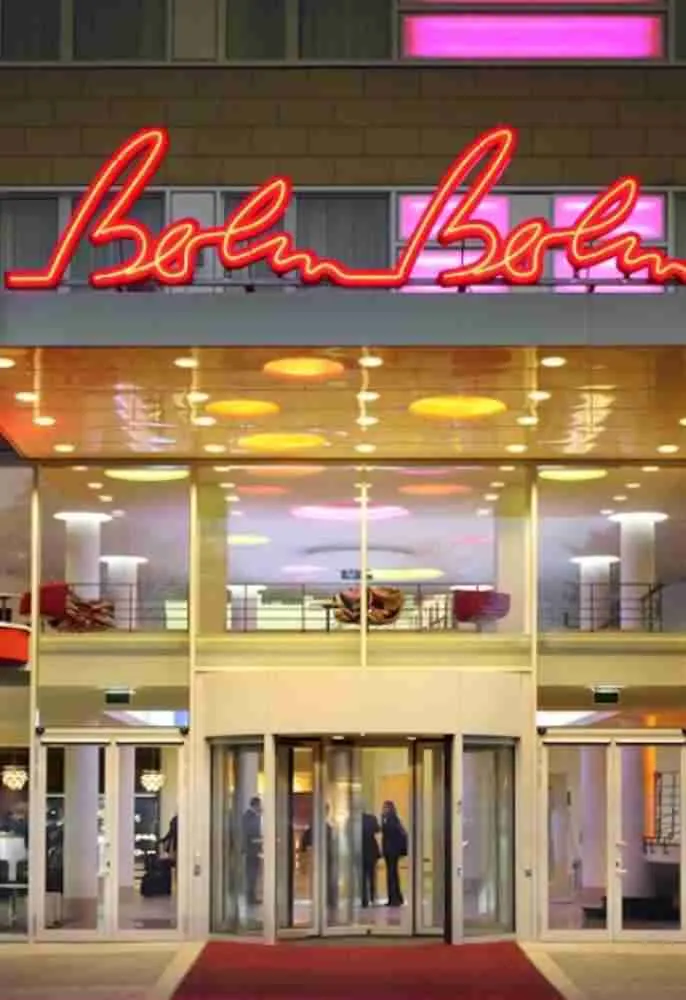 Ave Price Per Night: £85
Neighbourhood: Tiergarten
1. Hotel Berlin Berlin // Best For Budget
"They also have a 24/7 Gym which is above average compared to other hotel gyms." Verified Google Review
First on the list is the Hotel Berlin Berlin, (Yes it is named twice) which has a great gym and a good range of equipment. This hotel gym is ideal for regular gym goers as it has everything you need to stay fit away from home. You'll find treadmills, ellipticals, exercise bikes, rowers, and weight machines. They also have free weights and dumbbells for those who want a more challenging workout. The facility also features an auxiliary fitness room for stretching, yoga, or Pilates exercises.
The hotel itself has beautiful modern décor and comes highly rated by visitors. What's more – their room rates are very reasonable at around 99€/night including breakfast! And speaking of breakfast – their restaurant offers healthy American-style breakfast options such as steel-cut oatmeal and egg-white omelettes. So if you're looking for an all-in-one fitness experience in Germany's capital city, look no further than the Hotel Berlin Berlin!
The Pros
Price is good for centrality
Punchbag is a rare treat
Leg Extension/Curl Machine
The Cons
No real barbell station
No barbell bench
No Olympic bar
Realistic Workouts Possible
Check Availability Now >>>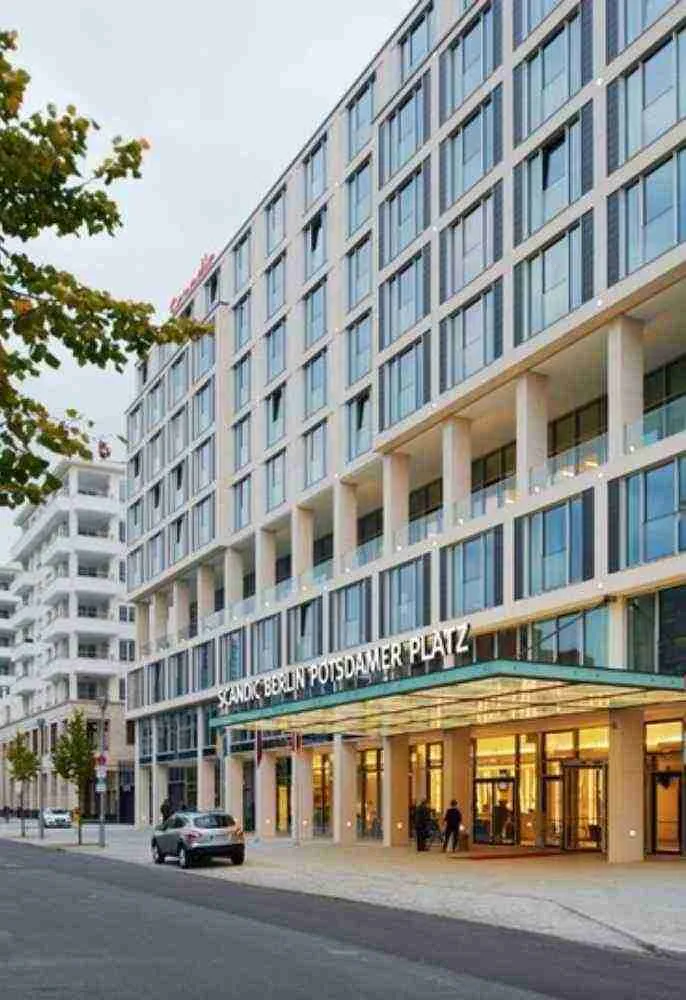 Ave Price Per Night: £100
Neighbourhood: Tiergarten
2. Scandic Berlin Potsdamer Platz
// Best For Business Types
"Great Fitness Room and fantastic breakfast" Verified Google Review
When it comes to a hotel gym in Berlin ideal for business types then the Scandic ticks the boxes. While the gym isn't overly comprehensive and lacks the forethought of a smith machine or power rack at half the cost of one treadmill, they do have a lat pull machine and chest press machine with adjustable bench settings. This means if you don't mind minimal variety, you can still knock out a solid upper body 10 x 10 Russian Volume Training style workout. 10 sets of 10 reps at with minimal rest in between on any compound movement is going to leave you nicely slammed.
The Pros
The pool is more instagram than functional but offers a nice R&R post workout. The location is perfectly central for tourists and the barbell rack means arm pumps can be done properly too.
The Cons
No Smith Machine - but lots of expensive cardio toys. I'll never understand this logic. Lacking in real weight.
No real dumbbells or Olympic bar.
Can't really train legs
Realistic Workouts Possible
Check Availability Now >>>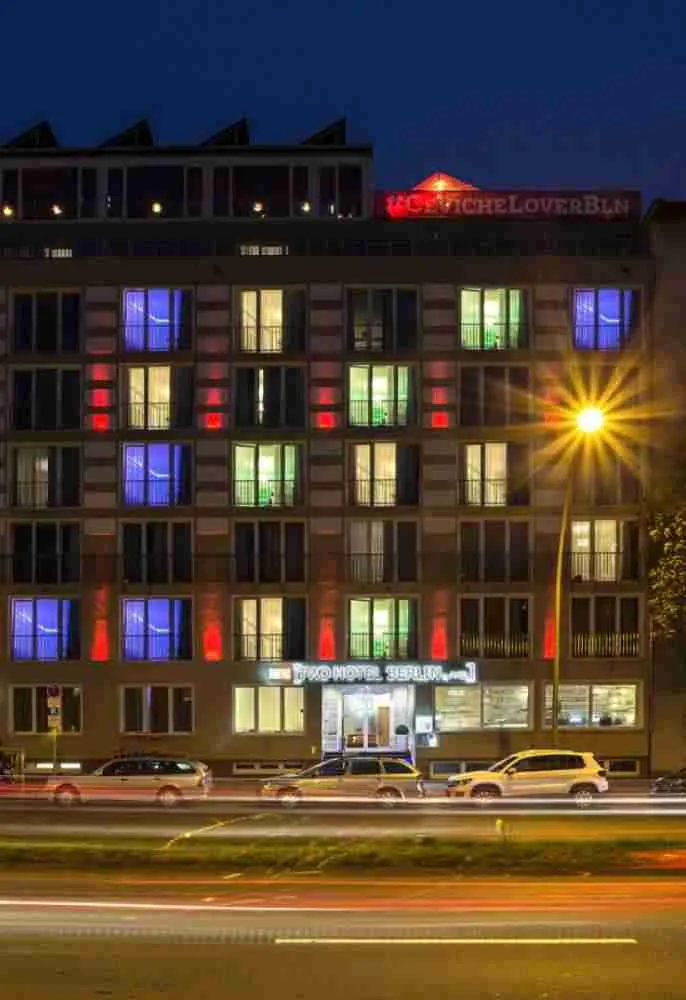 Ave Price Per Night: £80-100
Neighbourhood: Wilmersdorf
3. Two Hotel Berlin By Axel
// Best LGBTQIA Friendly
Finally - a hotel gym with a bench press!
Located in the heart of Berlin, the Two Axel Hotel provides an excellent gym experience. The hotel gym is equipped with a variety of equipment, including free weights, treadmills, ellipticals and a stretching area. Plus, they offer daily fitness classes like yoga and HIIT.
The atmosphere is also great – it's a clean, modern space with plenty of natural light that makes you want to get moving right away. According to reviews from visitors, their breakfast buffet also offers healthy options, which is an added bonus if you're looking to stay in shape while visiting Berlin.
The average price per night for a room ranges from €80-€120 depending on the season and time of year. It's definitely worth it for those who like to stay active while on vacation and want a high-quality gym experience.
The Pros
Flat Bench
Smith Machine
Good Dumbbell Selection
The Cons
Limited resistance machines
Tight space
Realistic Workouts Possible
Check Availability Now >>>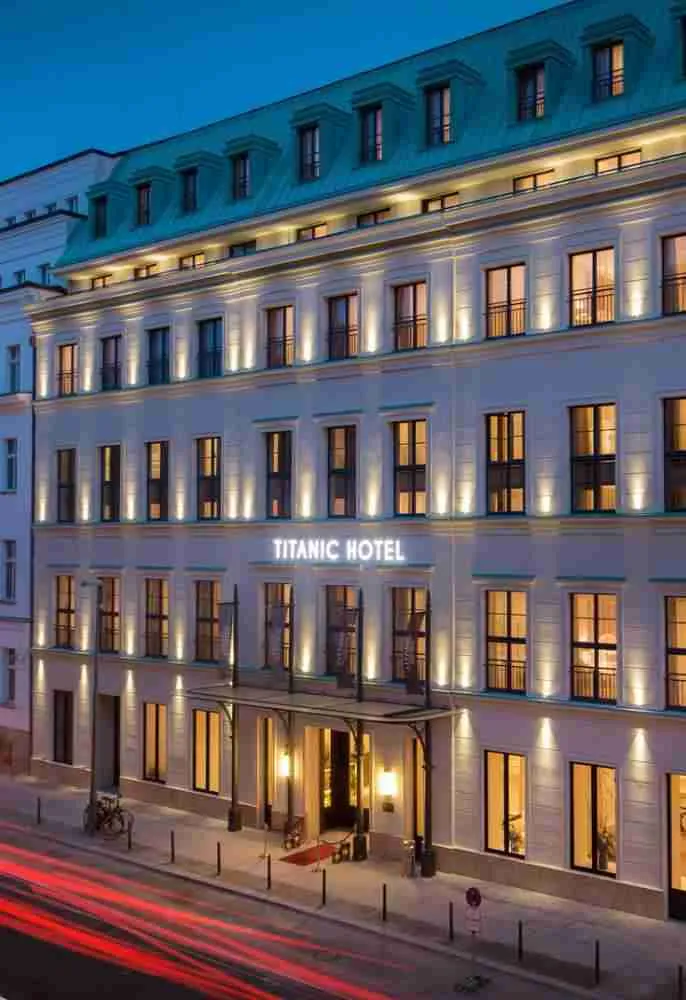 Ave Price Per Night: £100
Neighbourhood: Government District
4. Titanic Gendarmenmarkt
// Best Overall Hotel Gym Award
From Google: "The Gym got everything you need for a good session!"
Number 3 in our guide on the best hotel gym in Berlin brings us to the Titanic Gendarmenmarkt Berlin. It is located in Mitte, which is conveniently close to most of the tourist attractions.

The Titanic Gendarmenmarkt gym is equipped with a range of weight machines and cardio equipment, making it perfect for any traveller who wants to stay in shape while they're away. The atmosphere in the gym is friendly and lively, making it an ideal place to hit your fitness goals on holiday.

The hotel itself has been rated highly among travellers; guests rave about its location, comfortable rooms, helpful staff and good breakfast options. Plus, you can get a room per night for about 90 Euros which includes breakfast! This seven-story hotel is a great place for tourists who care about keeping fit while on their vacation.
The Pros
It's basically a gym
Leg press
Power Rack
Dumbbells to 30kg
The Cons
No Plate Loaded Equipment
No Assault Bikes/Anaerobic Cardio No T-Bar - Chest Supported Back
Realistic Workouts Possible
Check Availability Now >>>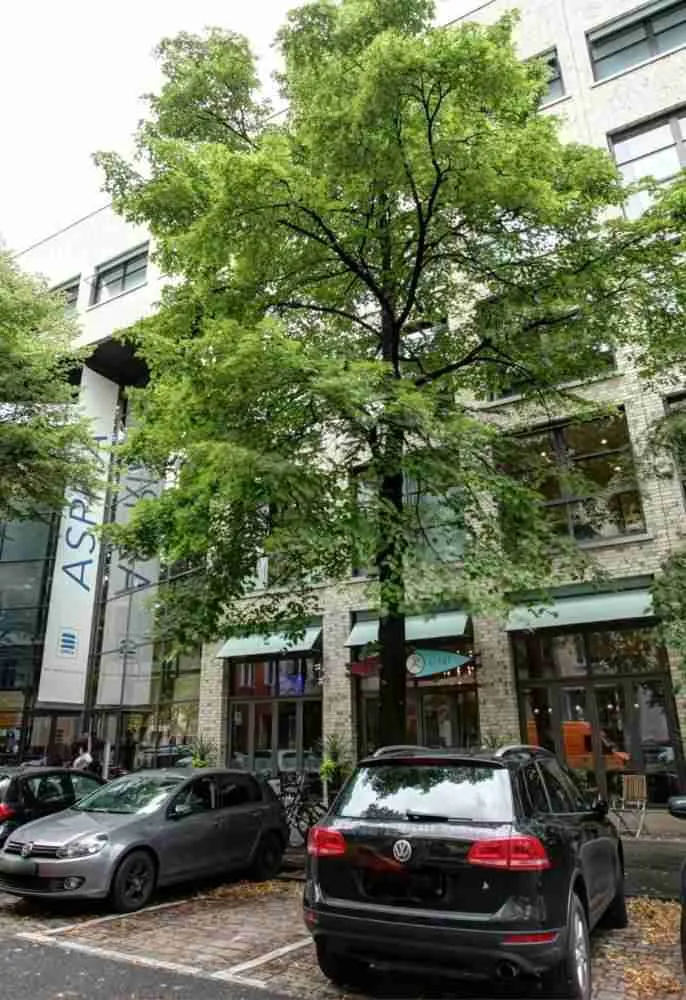 Ave Price Per Night: £122
Neighbourhood: Charlottenburg-Wilmersdorf
5. Aspria Berlin Ku'damm
// Best For Crossfit Types
The Aspria in Berlin is a gym with a hotel, more than a hotel with a gym. It's essentially a complete wellness club masquerading as somewhere to sleep.
Aspria Berlin Ku'daam is a great choice for those who want a hotel gym in Berlin. Located in Charlottenburg-Wilmersdorf, the hotel has a well-equipped gym with state-of-the-art fitness equipment. Not only that, but the hotel also provides fitness classes and personal trainers for those who need help with their workouts.
While the pictures may not show it, you can find everything from a deadlift bumper plate platform to an Olympic sized pool. The Aspria is a bit out of the way for those with city centre sightseeing in mind, but as a place to check in to that won't leave you with missed gym days, this place has the lot. The hotel itself has an impressive 4.5/5 rating on TripAdvisor, with people commenting on its cleanliness, friendly staff and excellent food service. Plus, it's not too expensive either – rooms start at €80 per night and breakfast is included! And as an added bonus, they also offer healthy eating options as part of their breakfast menu – perfect for those looking to stay in shape while travelling!
The Pros
Olympic Sized Pool
Spinning Classes
Olympic Barbell w/Bumper Plates
The Cons
Bit out of town - Needs taxis
Hotel service has mixed reviews
Realistic Workouts Possible
Check Availability Now >>>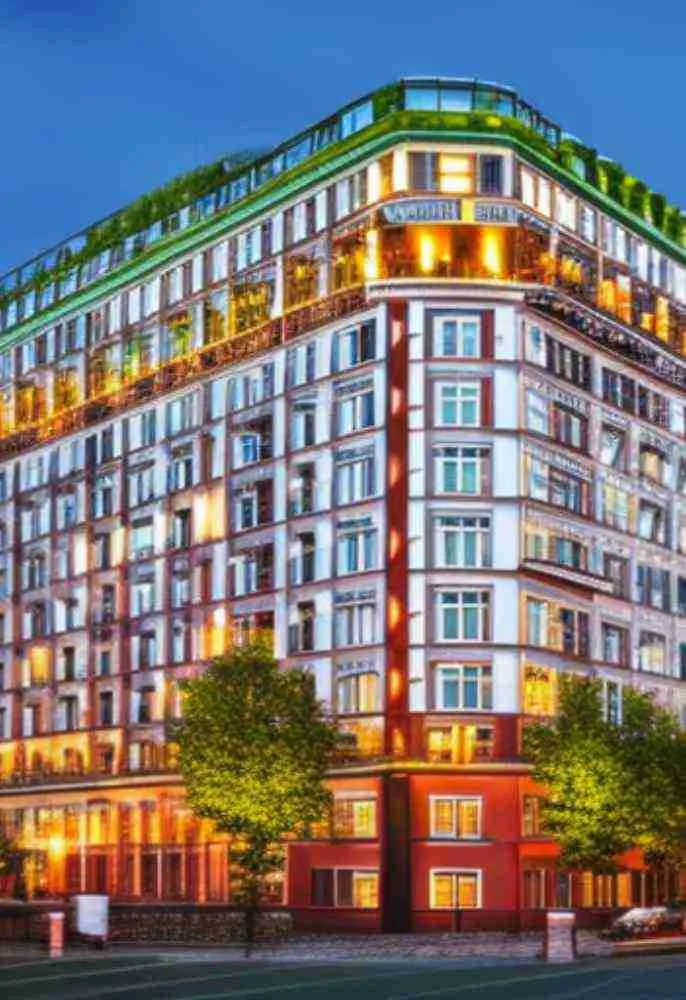 Ave Price Per Night: £61
Neighbourhood: Mitte
6. The Social Hub Berlin
// Best For Nomads & Solo Travellers
A great option sociable hotel for digital nomads who are tethered to their laptop and want a good all round gym on site they can escape to.
If you're looking for a hotel that offers an amazing gym experience and also has a great atmosphere, then The Social Hub Berlin is the ideal option for you. This hotel offers an impressive array of modern gym equipment, plus a sauna and steam room, so you can unwind after your workout. And thanks to the dedicated staff, you'll always get the help and advice you need when it comes to your training.
The hotel is conveniently located near some of Berlin's main attractions, giving you easy access to explore the city's culture. Plus, there are plenty of restaurants and bars in the area, so you can really make the most of your visit. Based on reviews from visitors, The Social Hub Berlin is praised for its friendly staff and clean facilities – visitors often remark that they felt well looked after during their stay. Rooms come with breakfast included and average price per night is around €140 – making it reasonably priced compared to other luxury hotels in Berlin with gym facilities.
The Pros
Olympic Bar
Cool hotel
Good for meeting people
The Cons
Bit out of town - Needs taxis
Not so much free-weights
No Lifting rack for deadlifts/squats
Realistic Workouts Possible
Check Availability Now >>>
Honourable Mentions in Berlin (Click to see more)
Some hotels with gyms in Berlin that are also worthy of a mention. They may lack in a few areas but we believe if it's a short stay, you could modify a workout and make these hotels work just fine for you.
I feel like most hotel gyms are fitted out by someone who has never stepped foot in one. Spending fortunes on multiple cardio machines but not an Olympic bar in sight. We review hotel gyms so your next trip doesn't mean missed workouts. Follow me @theskinnyboy
David // 20+ Year Gym Rat