We review the best hotel gyms in London, and save you packing your favourite gym gear for a big disappointment.
Love the gym and visiting London?
TLDR: In this travel fitness review, we look at London and make 10 recommendations for the best hotels with gyms that enable proper workouts (almost like home). From a Crossfit session to Bro Splits and a 'Push, Pull, Legs' type workout, these 5 stack up. 
what's London like for fitness fans
Did you know that London is one of the most visited cities in the world? With a population of over 8.5 million people and over 32 million tourists every year, it's no surprise there's a good deal of hotel gyms to choose from.
London is a great city for fitness enthusiasts, providing a wide range of options for staying active. There are traditional fitness facilities, boutique fitness studios, and plenty of outdoor activities. There are also many running and cycling events and cycling hire schemes. All in all, London offers a wide range of fitness options for people of all fitness levels, making it an ideal city for those wanting to stay active and healthy.
So, if you fancy a break from your hotel gym in London, head to the city's parks or one of the 500 Day Pass private gyms and get your sweat on amongst the locals.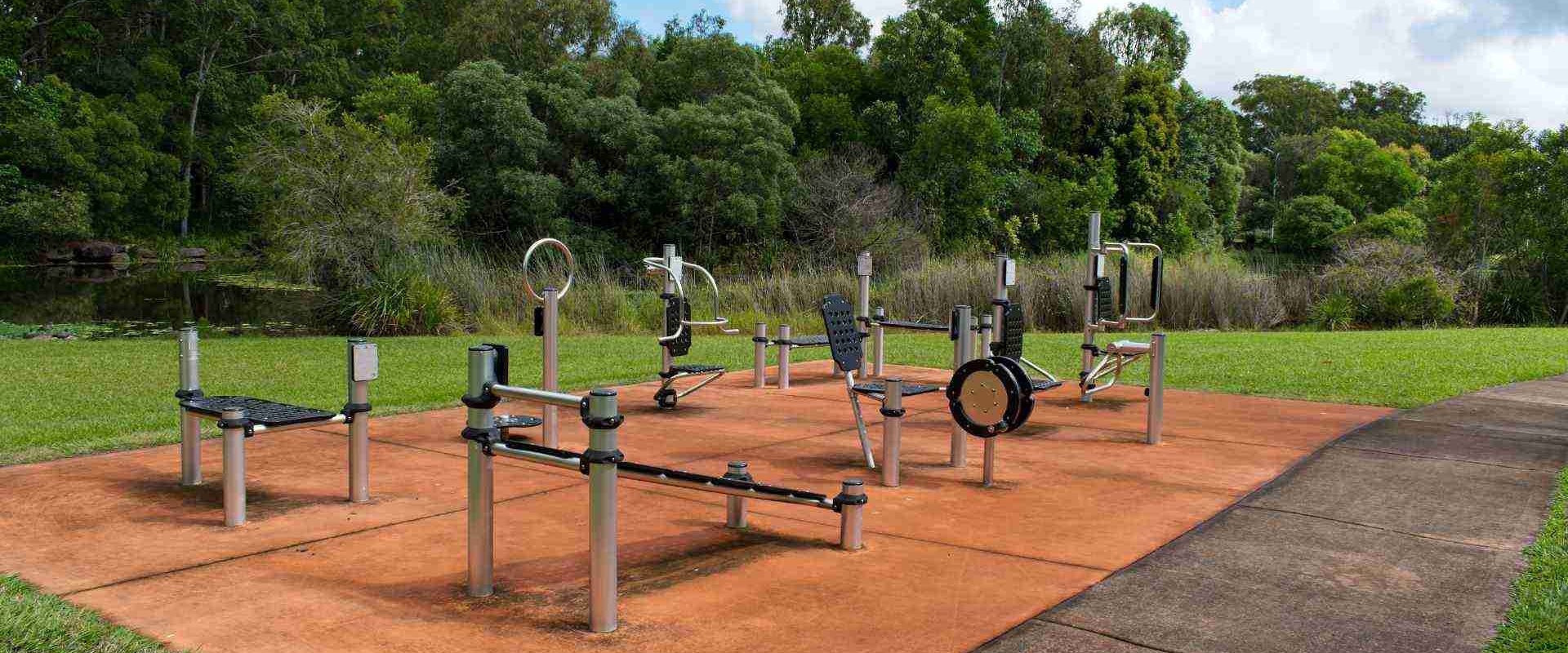 How We Picked The Best Hotel Gyms in London
The 'science' behind our gym hotel reviews
We are our audience. That's the first thing you should know. We have made that walk into hotel gyms for over a decade now and know the disappointment that happens all too often, leaving you annoyed you paid extra for a place to stay that had a fitness centre.
The reality is most hotel gyms have been put together by someone who has never been to a gym in their life. We weigh up several facts when it comes to picking winners or calling out losers.
1. Can you complete the major compound lifts? These include squats, deadlifts, presses and rows (or pulls). These are generally best served with a squat rack, maybe a smith machine and the presence of an Olympic barbell. Read about the "Fundamental Lifts".
2. Who does the weight load cater for? The reality is most hotel gyms do not have sufficient weight plates or dumbbells for strong women, let alone adult males who visit the gym regularly.
3. Overall gym conditions. This includes space to stretch, the condition of equipment, is there a/c etc. Nothing worse than trying to do an ab workout or flexibility movements on a wooden floor with no mats.
4. Cardio Range. What is the condition of the CV equipment and is there too much focus on machines that replicate the one exercise we can all do without a gym. Running/Walking. Yes – we will down mark for a room of treadmills….so stupid.
Best Hotel Gyms in London Winners
In this travel fitness review, we look at London and make 10 recommendations for the best hotels with gyms that enable proper workouts (almost like home). From a Crossfit session to Bro Splits and a 'Push, Pull, Legs' type workout, these 5 stack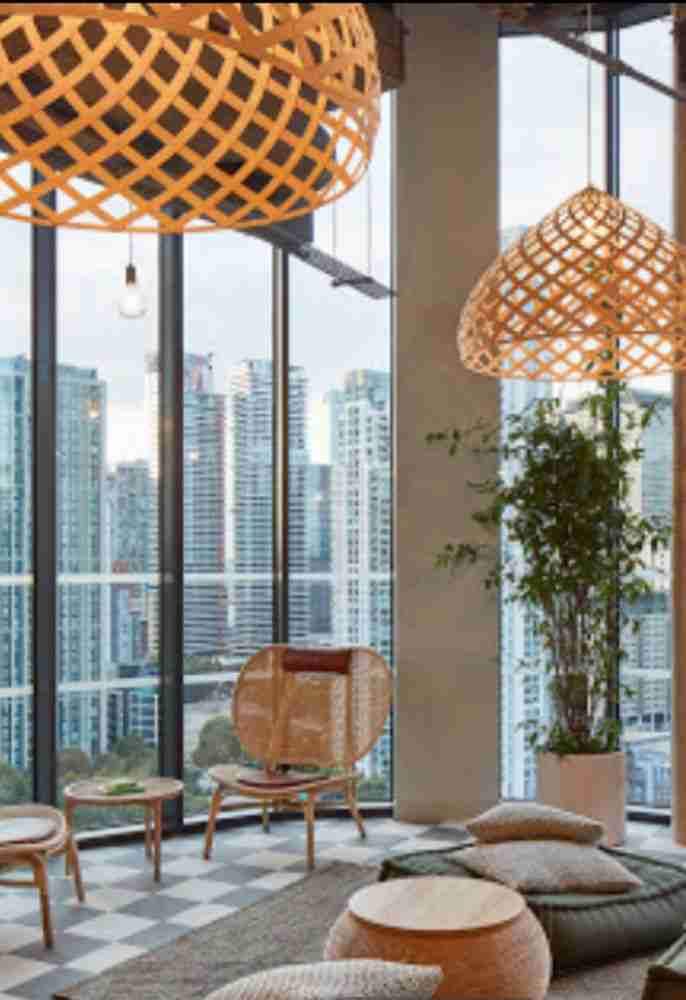 Ave Price Per Night: £150-£200
Neighbourhood: Stepney/Canary Wharf
The Collective is more of an aparthotel than a conventional hotel, but it comes with a gym that ticks the boxes for fundamental lifts. Barbells Abroad Approved!
The Collective is a hotel and co-living space located in Stepney, near the Canary Wharf business district of London. It offers a range of amenities and services for travellers, such as private rooms, shared spaces, fitness and wellness facilities and events. It is a great option for those looking for a social and community-focused accommodation, as it has a rooftop garden and provides easy access to public transportation, amenities and attractions. Additionally, it offers a range of room types and short-term stays, giving travellers more flexibility and convenience.
For us, the Collective is a winner locally for it's hotel gym, with the power rack and Olympic bar. This kit, means those who want to train legs or lower back can do so, with Deadlifts/Squats, and Crossfit fans can do anything from cleans to Pendlay rows and beyond.
It's so overlooked in hotel gyms, but a power rack is the most efficient purchase you can make and tends to cost a fraction of one treadmill which replicates what we can all do for free anyway.
The Pros
Power Rack - Bumper Plates
Modern Cardio
Lovely Wellness Spaces
The Cons
Rooms a touch small
Not Cheap
Have to book the gym
Realistic Workouts Possible
See More Photos & Availability >>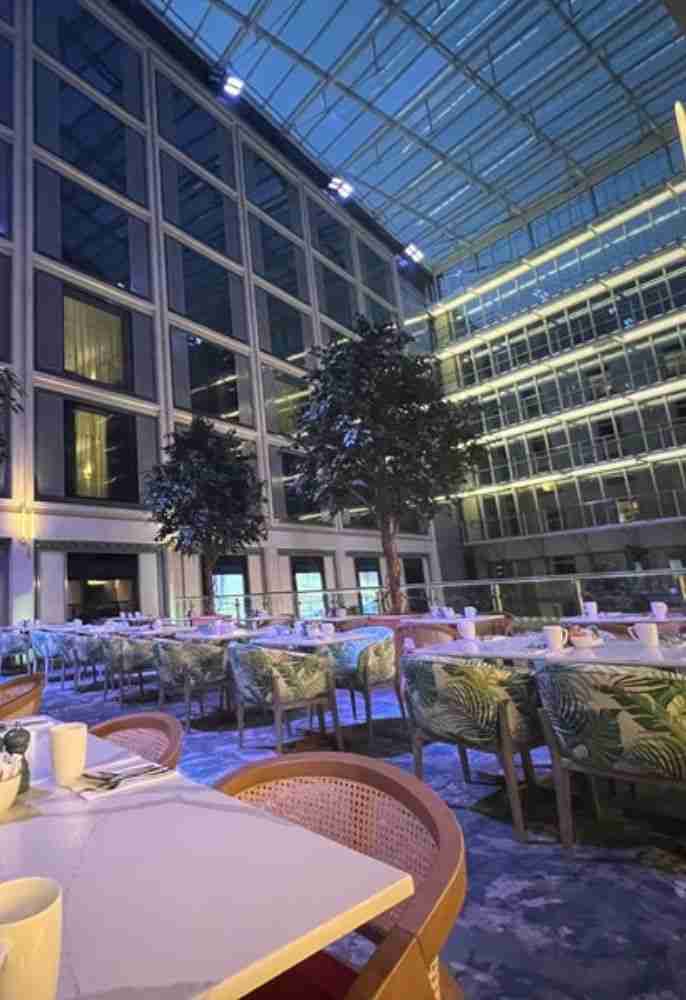 Ave Price Per Night: £175
Neighbourhood: St Pauls – Bank
2. Leonardo Royal St Pauls
// Best Overall Pick
This was the first 'best hotel gym' we ever experienced. It was miles ahead of others some years back and is perfect for most gym goers, but they could do with a power rack and a touch more weight for me.
You want the best of the best when it comes to finding a hotel gym in London and that's why the Leonardo Royal St Pauls is worth considering. Located close(ish) to trendy Shoreditch, this hotel has a well equipped gym with modern equipment and plenty of space. There's even a spin room, so you can have a great cardio workout. The gym also provides free weights and lots of machines for strength training.
The reviews from people who have stayed at the Leonardo Royal St Pauls are overwhelmingly positive. From the modern designs of the rooms to the helpful and friendly staff, visitors praised all aspects of their stay. Plus, they mentioned how they enjoyed being able to access the gym anytime they wanted during their stay since it's open 24/7. As far as pricing goes, it's very reasonable — starting at £135 per room per night — and that price includes breakfast, too! Oh, and if you're into healthy eating, there are plenty of veggie options on their menu as well!
The Pros
Could pass as a public gym
Isolation Leg Machines
Wellness Spa
The Cons
Barbell Weight Plates Max 120Kg Dumbbells cap out at 20kg
Realistic Workouts Possible
See More Photos & Availability >>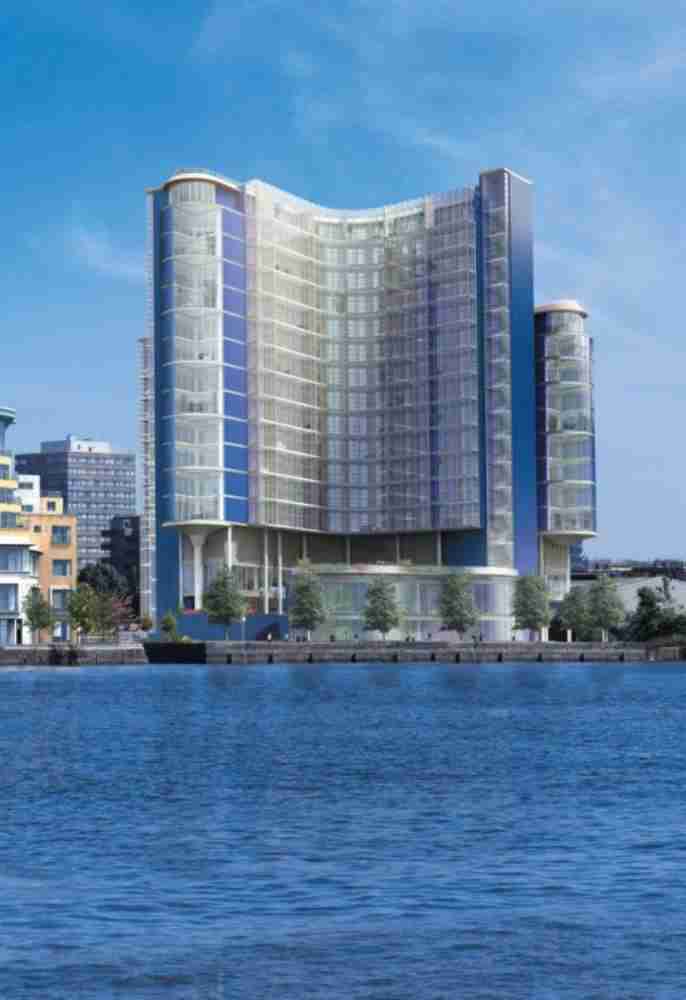 Ave Price Per Night: £160-200
Neighbourhood: Chelsea/Battersea
3. Rafayel On The Left Bank
// Best Hotel Gym in Chelsea/Battersea
A good range of kit including a chest supported back row
The Hotel Rafayel on the left bank is a luxurious hotel that caters to fitness enthusiasts. It has a state-of-the-art fitness center and an indoor pool for guests to use. The breakfast at the hotel is varied and includes healthy options such as fresh fruits and yogurt, as well as more indulgent options such as pastries and cooked breakfast items.
The Pros
A good range of primary compound exercise focused machines. A good back day is possible.
Leg Press
The Cons
No Smith Machine.
Barbell Rack but not enough barbell weight to capitalise
Limited dumbbell max weight
Realistic Workouts Possible
See More Photos & Availability >>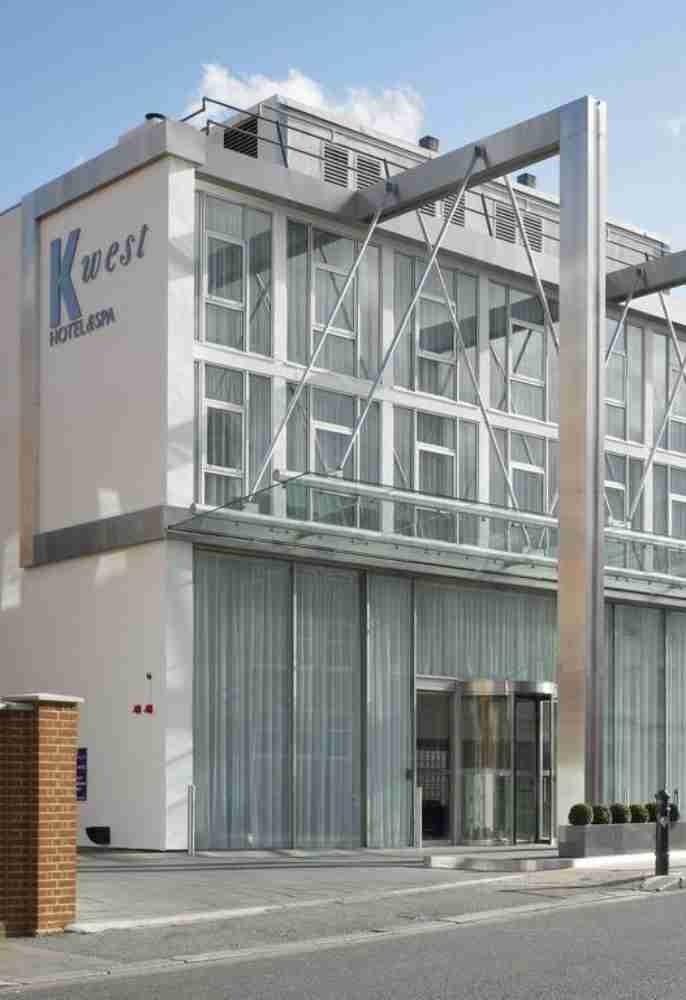 Ave Price Per Night: £140
Neighbourhood: Shepherd's Bush
4. K West Hotel & Spa
// Best in Shepherds Bush
24/7 Hotel Gym - Halle-effing-lujah
Are you looking for a hotel gym that appeals to regular gym goers? Then K West Hotel & Spa should be at the top of your list! Located in Shepherds Bush, this hotel gym is well equipped with all the fitness machines you need. It features top-of-the-line equipment from TechnoGym, which is one of the best brands for gym equipment.
The K West Hotel & Spa has been praised by visitors for its modern and stylish design and its high quality customer service. Visitors have also praised the breakfast and food service, which provides healthy eating options so you can stay in shape while on vacation.
The average price per night at the K West Hotel & Spa is around £140, but it's worth every penny if you're looking for a good gym experience while in London. And if you're lucky, you may even get complimentary access to the spa facilities!
The Pros
The gym contains all the kit you need to do to ensure you don't feel you missed a training day.
The barbell can be used for deads, squats can be done off the back of the bench rack
The Cons
Shame no plate loaded leg press
Pool is a little small
No power rack/Bumper plates
Realistic Workouts Possible
See More Photos & Availability >>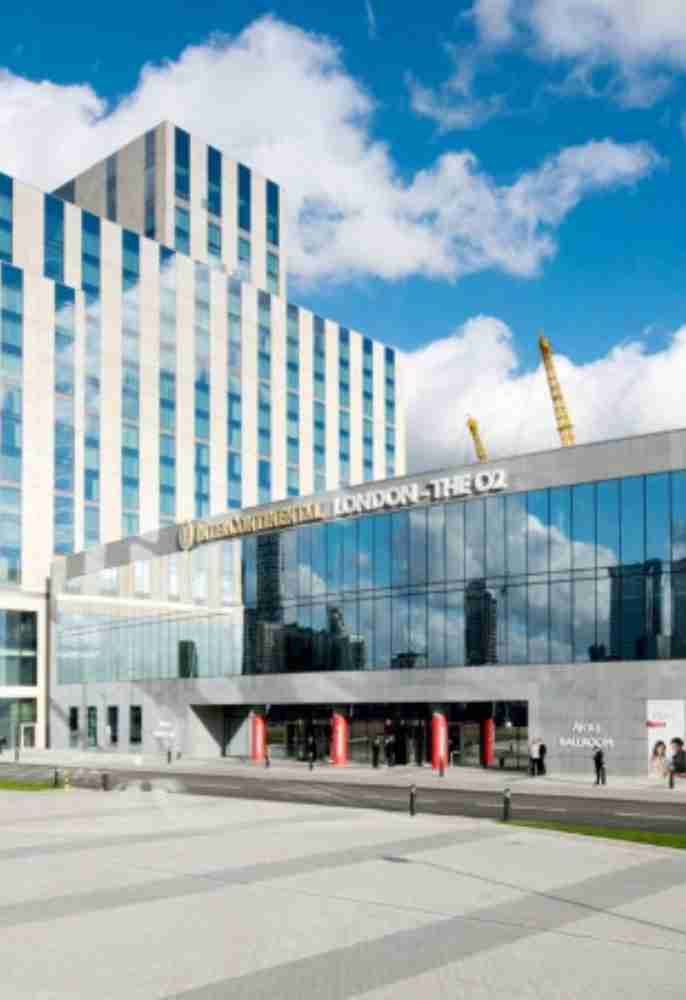 Ave Price Per Night: £150
Neighbourhood: Greenwich 02
5. Intercontinental 02 Hotel
// Best Near The O2 Greenwich
Dubai hotel like customer service, 24 hour gym and direct onsite access to the O2. Probably explains the 4.5 Google review score.
Located within The O2 complex and offering stunning views of the Thames, the Intercontinental O2 London Hotel is one of the best hotel gyms in London. The gym is something to be experienced and puts a lot of hotel gyms to shame. With lots of equipment, including free weights, resistance machines and cardio machines, you can keep fit during your stay. The gym also offers classes and personal trainers.
The hotel itself has excellent reviews from visitors that comment on the friendly staff and modern rooms with comfy beds. As for food options, there is a steakhouse as well as an all-day dining restaurant which features healthy eating choices so you can keep up with your diet while travelling. Prices for rooms start at around £150 per night and this includes breakfast, making it a great value choice for those looking for a luxurious stay with a top-notch gym which caters to their fitness needs.
The Pros
Luxury Pool that ISN'T small
Smith Machine
Leg curl/extension machine
The Cons
No chest supported row machine
No max lift deadlifts on wooden floor
Realistic Workouts Possible
See More Photos & Availability >>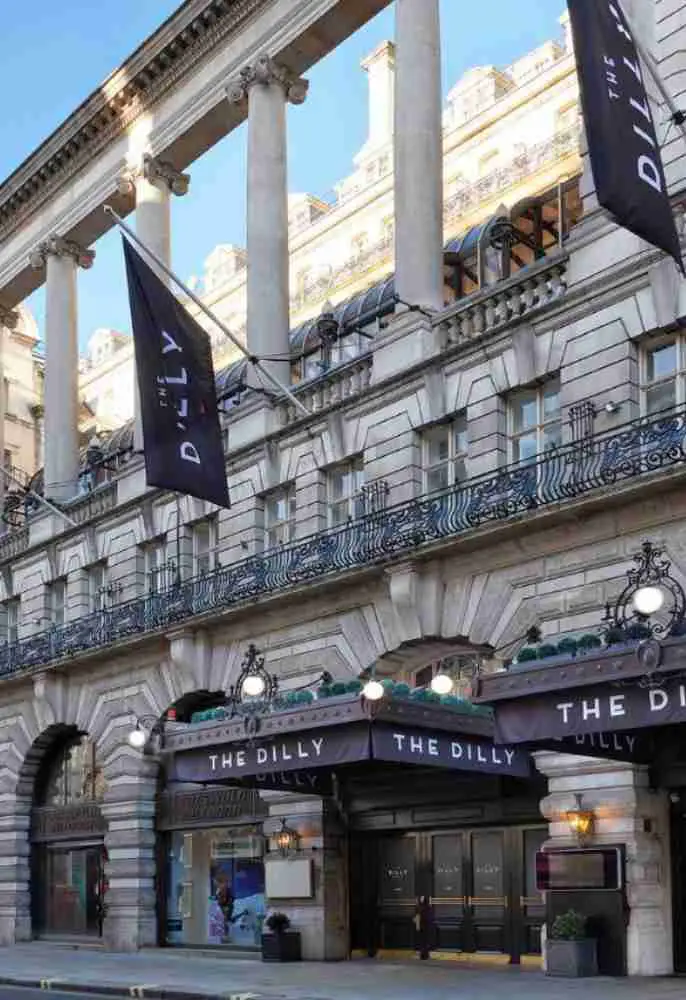 Ave Price Per Night: £100-£150
Neighbourhood: Mayfair/Covent Garden
6. Dilly Hotel
// Best Hotel Gym In Central London
The gym has had a recent facelift which means it works as a completely functional gym and it's bang slap in the heart of tourist London.
Located in Covent Garden, the Dilly Hotel's gym is sleek and modern with an array of top of the line equipment. You can expect to find free weights, treadmills, exercise bikes, and rowing machines. This is perfect for those who want to get a full body workout while they're on holiday.
The hotel itself is well-reviewed by visitors and boasts some great food options featuring healthy eating options. Plus, rooms are affordable starting at around £100 per night which includes breakfast and access to the gym. So if you're looking for a place to stay in London and need access to a top-notch gym, then you'll definitely want to book your stay at the Dilly Hotel.
NB: Pool has been closed since COVID – I've not displayed the photos for this reason
The Pros
Power Rack
Cool location
Bumper plates
The Cons
Pool closed for no real reason
Realistic Workouts Possible
See More Photos & Availability >>
Honourable Mentions in London (Click to see more)
Some hotels with gyms in London that are also worthy of a mention. They may lack in a few areas but we believe if it's a short stay, you could modify a workout and make these hotels work just fine for you.
Although not all gyms in London offer day passes, you may find some hotels are more lenient. Most offer the option to book sessions on an hourly or daily basis, depending on the hotel's policy.
However, it's worth noting that some hotels restrict their gym access to guests, so be sure to check before booking. The best way to do this is to read online reviews or call up the hotel directly.
Even though you might have to pay a small fee associated with day passes or temporary membership in London's gyms, it could save you money in the long run and give you access to the latest equipment and facilities in the hotel. All of these factors tend to add up, so research carefully and book your preferred option well in advance!
London is home to some high-calibre gym facilities. Here are the five best gym brands in London to look out for when selecting a hotel to stay in!
The first is Fitness First, which has more than 180 locations around the world and is known for its modern equipment, classes and personal training sessions. They also have a wide range of cardiovascular and strength machines, free weights and resistance equipment.
Next, you have Virgin Active. With 6 locations across London, you can choose from a selection of gyms that are all equipped with the latest fitness machines and state-of-the-art equipment for all your needs.
Pure Gym, which boasts 100 locations all over London, has plenty of cardio, weight and strength equipment as well as a range of classes including yoga and Pilates. And don't forget about David Lloyd Clubs in London! Most clubs feature modern equipment like cardio machines, weights and resistance machines, plus there are fun classes like boxercise or body combat that are perfect for those looking for an extra boost.
Finally you have The Third Space Gym that offers private memberships and an incredibly impressive selection of gym equipment perfect for anyone who likes working out with friends. With luxury spa facilities too this place is definitely worth considering when planning your holiday accommodation!
I feel like most hotel gyms are fitted out by someone who has never stepped foot in one. Spending fortunes on multiple cardio machines but not an Olympic bar in sight. We review hotel gyms so your next trip doesn't mean missed workouts
Jonnie // 20+ Year Gym Rat