We all know that Gold's Gym just behind Venice Beach is the best bodybuilding gym in LA, but what about the rest? We thought it was about time to shine a light on a few more of the finest old school, bar snapping places to workout in Los Angeles.
A city flanked by beaches, pretty good year round weather and a movie industry means LA residents care about how they look more than most American regions. It's no surprise then that there is a storied history to bodybuilding in Los Angeles, and if you like leaving warehouse style buildings with cables running down your arms, you're going to like LA. But then you knew that anyway.
Early calisthenic and aesthetic bodybuilding legends such as Joe Gold (Gold's Gym) and Vic Tanney put the sport on the map late in the 1950s training beachside at the original Muscle Beach, Santa Monica. After claims of anti-social behaviour led to the local authority removing the weights from the beach, Joe Gold disappointed at the bodybuilding gym facilities locally, launched what would be the first Gold's Gym. Word spread that this was a serious bodybuilding gym by a serious trainer and story of LA being a bodybuilding mecca was written. Fast forward to the 1970s/80s with the likes of Arnold Schwarzenegger, Franco Columbo and others and the legacy is cemented. 
Los Angeles is notorious for its bodybuilding scene, with some of the most iconic names in bodybuilding history coming from the City of Angels.
From Arnold Schwarzenegger and Lou Ferrigno to more recent legends like Kai Greene and Ronnie Coleman, Los Angeles has been home to many champions who have made their mark on bodybuilding history.
The city even hosted one of the most prestigious bodybuilding events in the world – Mr. Olympia – from 1983 to 1991. In fact, four Mr. Olympias have been won by athletes from Los Angeles: Arnold Schwarzenegger (1970, 1971, 1974- 1975), Lou Ferrigno (1977–1979), Lee Haney (1981-1992) and Ronnie Coleman (1998-2005). Los Angeles has also seen its fair share of IFBB Pro winners including Flex Wheeler, Jay Cutler and Dexter Jackson.
So, that's the history lessons done, bodybuilding was and still is massive in LA and if you head over to Gold's in Venice today, you'll still likely spy an IFBB Pro or 5.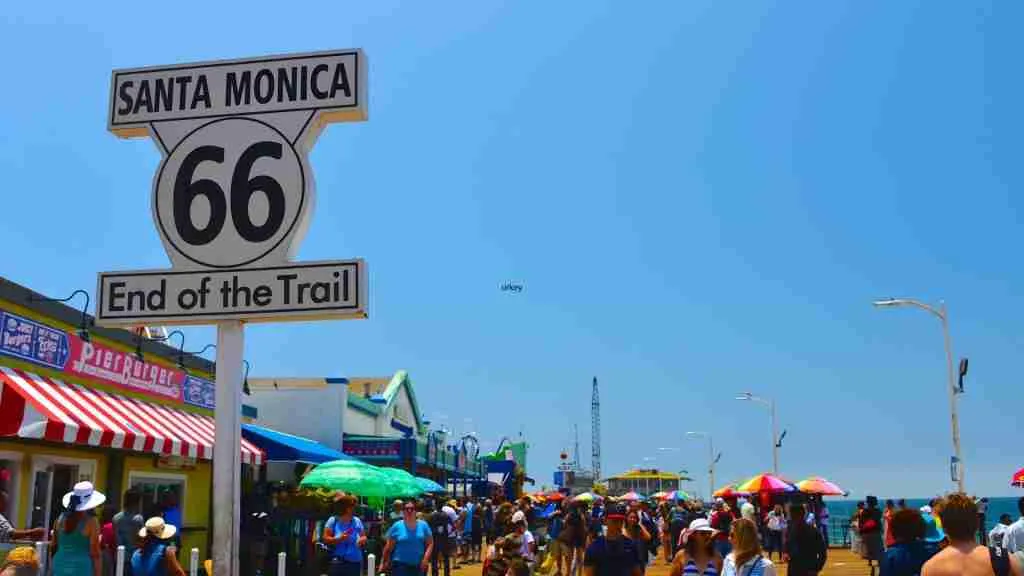 How we picked the best bodybuilding gyms in LA?
We must have spent the best part of 2 years in the last 6, spent in Los Angeles. So we are privileged to be able to review the best bodybuilding gyms in LA based on our own experience. We flipped the tyres, left crack sweat on the benches (then cleaned it), and hit new PBs. Okay the last bit may not be true. I can't remember once ever hitting a PB in LA, but that's probably because I work remotely and have to be tuned into UK hours so permanently walk around with a sense of jet lag. Nonetheless, we have PT training, and beyond the fitness qualifications, we live in gyms week in, week out. I'm writing this at 11:20pm on a Monday night, while my legs recover from a brutal Reg Park style 5 x 5 quad workout. This is what we do.
So, with that in mind, you can trust us to have your back, when it comes to finding the places you want to train in LA. Let's get into it.
Winner - Best Gym For Bodybuilders In LA
When you peel back the layers of gyms in LA, and wade through the Orangetheory Fitnesses, F45s and LA fitness, you can find some real gems. From local community style fitness centres to some real dedicated lift factories. In case you skimmed past the early part of this article, we know Golds in Venice is amazing, so is Gold's in Hollywood and Palm Springs etc. But we wanted to find you some hidden gems. Which brings us to our favourite, the subtly named 'Hardcore Training Gym'.

If you want to see our nationwide review next – check out our 'best bodybuilding gyms in US' write-up
Hardcore Training Gym | @hardcoretraininggym
South Central LA is as gangsta as it comes, or at least, it used to. These days with the prices of LA living, I'm pretty sure it will be filled with hipsters in a year or two. However for now, it still has that touch of street life, grit, realness; and it's where we found the best named gym ever: 'Hardcore Training Gym'. It's obviously all part of the narrative, the looks, the name, the massive wall mural, everything about this place screams hardcore. Founded back in 2018 and positioning themselves as a private bodybuilding gym, they don't do day passes, so we were pretty lucky at being able to train here while on holiday and we're glad we did. Let's talk Hardcore.
Why we love the Hardcore Training Gym
So we love LA because it's warm, and we love Muscle Beach (or the idea of it) because it's legendary, but in truth you don't always want to train outside in one of the sunniest cities in the US, and you also don't want to be training alongside half the lunatics hovering around the fringes of the outdoor gym on Venice Beach. So what do you do? You hop in the town car and head over to 'HARDCORE TRAINING GYM. A gym that can only be referred to in capital letters and yelled, with a soundtrack of Hatebreed making you want to deadlift atlas stones.
HTG (Hardcore Training Gym) just across from Inglewood has the best of both worlds. And like Venice Beach, you won't have to walk far from the doors of the gym to see a complex gradient of life. The gym has an outdoor training yard as well as indoor space too. And while the exterior makes it look gritty, don't let that vibe make you think it's falling apart or unwelcoming. The opposite, it's well run, clean and friendly. Oh, and it's very affordable too.
Why is this our favourite bodybuilding gym in LA? It's authentic Los Angeles, it gives us Temple Gym vibes and it's packed with great brands such as Hammer Strength, Rogue, Eleiko and Life Fitness. There isn't a piece of bad gym kit in the place, they've got about 4 plate loaded t-bar rows and they even have a glute drive too. Bonus points – too many people neglect the glutes.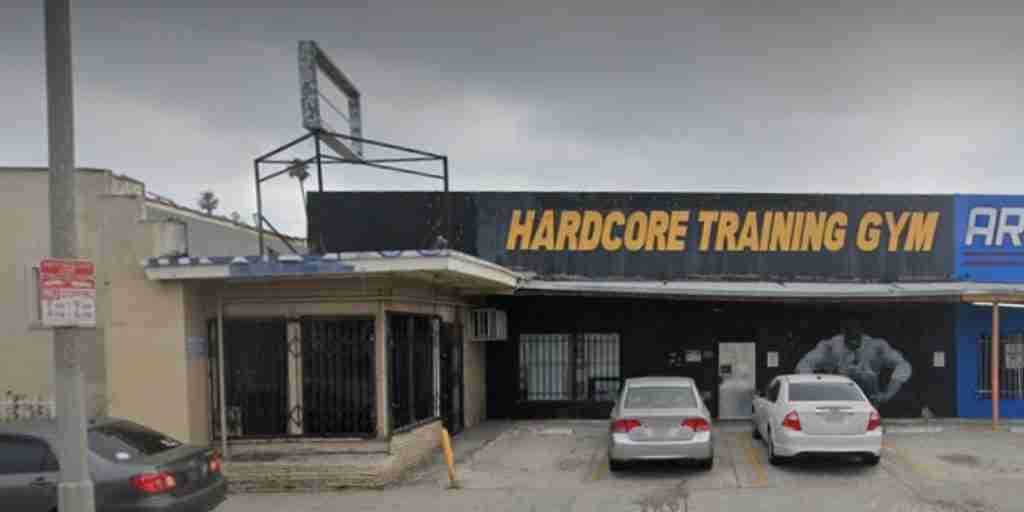 How to find 'Hardcore Training Gym'
From Hollywood, if you're here on your holidays, you'll want to head down toward Inglewood via Santa Monica Blvd, before hitting a left on La Brea Ave and then taking a right on W Manchester Ave. You'll find HTG up on your left hand side with parking out front, so you can easily pull up in your motor. From Hollywood the route is about 20-25 minutes, it's a touch quicker if you're over in WeHo, but plan longer if you're coming in from Glendale or nearby. Speaking of 'where you're staying', if you need some hotel inspo, check out our guide on the best hotel gyms in LA. 
If you're not coming in by car, the nearest train station is Expo/La Brea Station, where you can grab a taxi from, or there are bus stops along Manchester Ave to walk in to the gym from. Uber and Lyft are prevalent in the city as you'd imagine also. We drove, because there is nothing quite like pulling up to an old school bodybuilding gym listening to some brutal rock music and smashing back a Met-rx and a Monster.
Opening Hours
Price To Train
Reviews
Facility Info
Any Downsides?
Opening Hours
Staffed Hours:
Monday – Friday: 7 am- 10 pm
Saturday: 7 am – 5pm
Price To Train
Reviews
Facility Info
Any Downsides?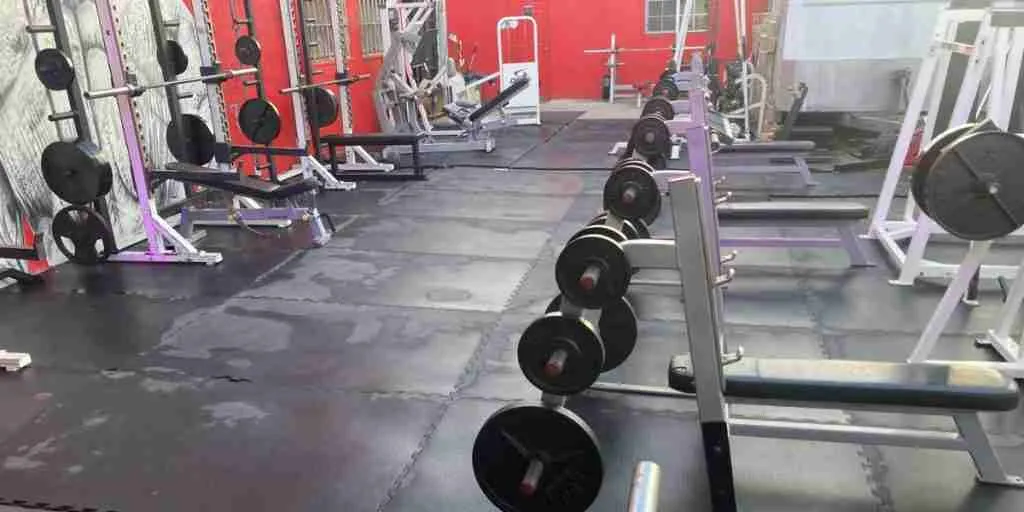 Other Great Bodybuilder Gyms In LA, California
We will probably get grief for not mentioning Bradley Martyn's Zoo Culture gym in this guide, we didn't include it as although it does look crisp, the guy has a ton of exposure already, it's not the biggest place and it just draws in the kind of person who would buy a Prime drink. Not our people….sorry. Moving on, here are 6 names in the game that you'll want to consider once you've done the tourist trip to Gold's and got the longline.
We toyed with adding some locations in this guide outside of LA, including Dave Fisher's Powerhouse, Metroflex Long Beach or Koloseum but think they deserve their own page. Still, if you're heading out to Fullerton, LBC, Anaheim way, or Torrance, then those three should be on your sat nav.
Barbell Brigade Gym, Gibbons St, East LA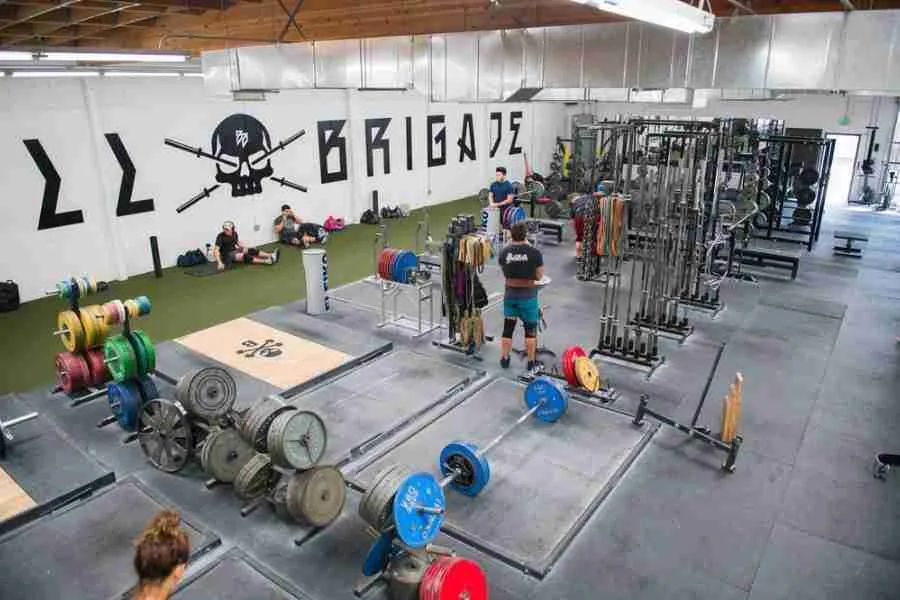 I didn't want to go too crazy with what is an epidemic in LA – barbell gyms, but given that we are 'Barbells Abroad' it was only likely we would have found a place with a similar name. 
Full disclosure, we came to Barbell Brigade Gym the first time, as we thought it was the famous Westside Barbell Club. It's not, but it was still nice to discover this place. 
One of my favourite back workouts is a Spartan 300 style total body barbell circuit. Where the gym is thin on the ground for anything not resembling a barbell, we hit that session instead. Cool place to smash a PB (I didn't). Reason to visit? Come here to set 1RM benchmarks or you love a crossfit workout.
Day Pass: $20 | 5 Days is $50 = Bargain!
IRON, Broadway, Santa Monica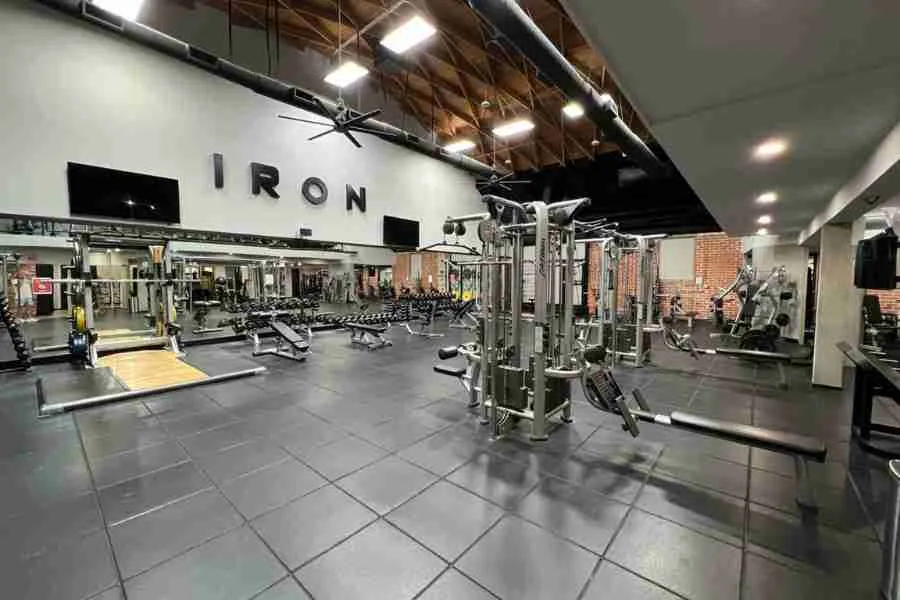 Iron is another gym inspired by the Crossfit push but with the blend of resistance machines. Located close to Culver City it's in the trendy category, but you can try it out for free with their day pass offer, or memberships are in the $130 range.
It's not a pure bodybuilding gym but it holds a deep range of credible brands, a lot of plate loaded strength training gear and the all important lifting platform that says you are allowed to do a real deadlift. Outside they have more of the same in an outdoor weights space featuring Eleiko Olympic plates, bumpers and benches for days.
Dumbbells run to 50kg so it's no Metroflex but Kettlebells to 48kg is decent. Reason to visit? Come here to feel fancy.
Bodybuilders Gym, (Was) Hyperion, Silverlake - Special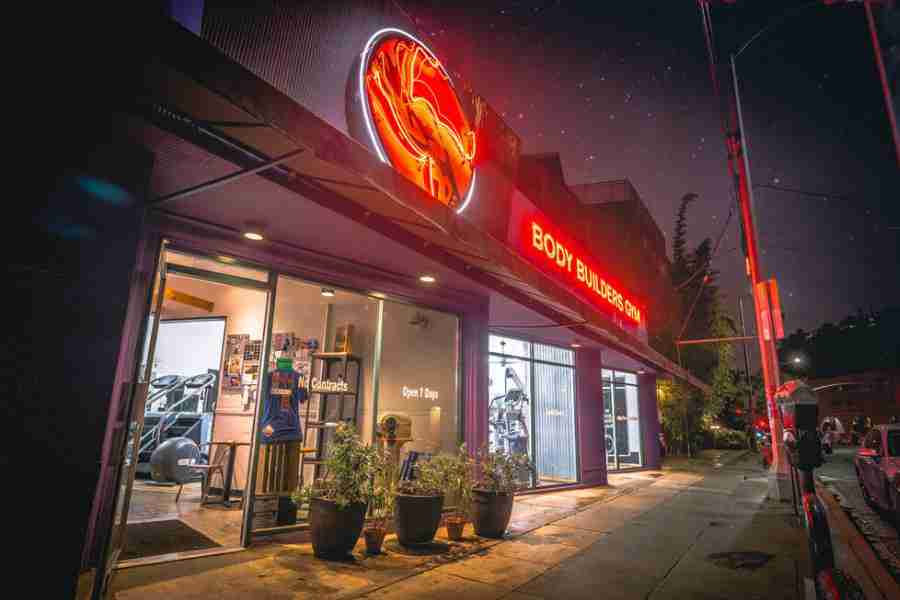 Bodybuilders Gym used to be on Hyperion in Silverlake and other than an irritatingly awkward car park when you've hired the world's largest SUV it was a great gym. It was more 'Average Jo's' than Joe Gold's, but we liked it. It was packed to the rafters with machines, benches, multiple cable stacks, and had old school dumbbells too. The place was spotless and in early 2023 they had to close due to landlord issues. I hope they find a new home, and we will keep them as a special mention in our guide to bodybuilder's gyms in LA as they earned it over 44 years. Good luck BBG!
DC Fitness, Coronado Terrace, Glendale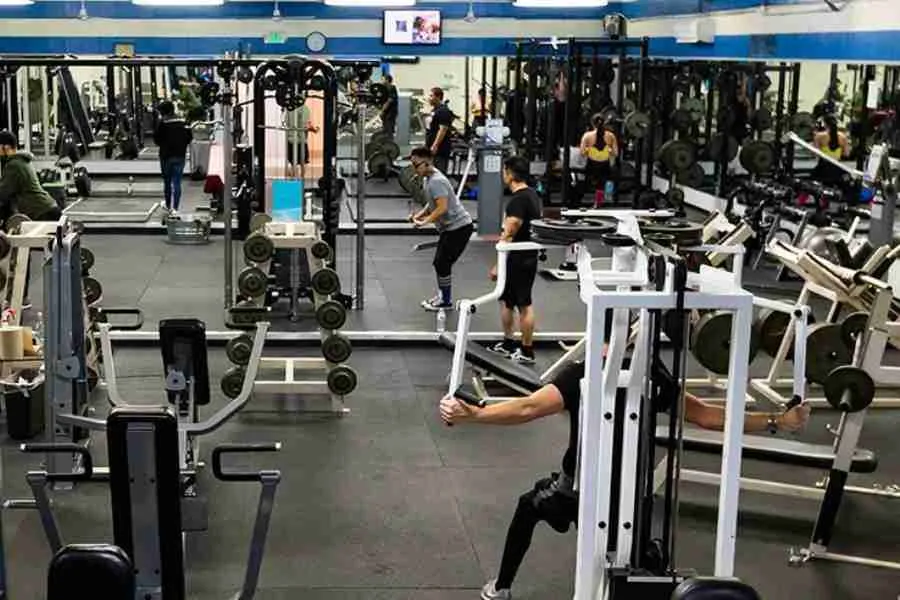 When we research which gyms to visit, we inevitably read the reviews from other visitors. We saw one review of the DC Fitness gym in LA call it 'old school'. At which point we were sold, and we planned our trip!
Day passes here are reasonable – $20. It's insane hearing me say that. $20 is a lot of money for an hour, no one is training today at 1pm and coming back on the same pass tomorrow at 11am, but if you love the gym, you take it on the chin.
What to like? It's a clean, well fitted out gym that has a big community vibe. You can hit all your usual Bro-Split, or PPL split workouts, but better still, the gym's run by a charity that supports those affected by homelessness, hunger and addiction. Your $20 day pass, goes to support those who need all the help you can give them. Add that to the Precor, the 60kg Dumbbells, the weighted heavy chains and the racks for days – Bodybuilders have a real reason to visit.
Foothill Gym, Foothill Blvd, Monrovia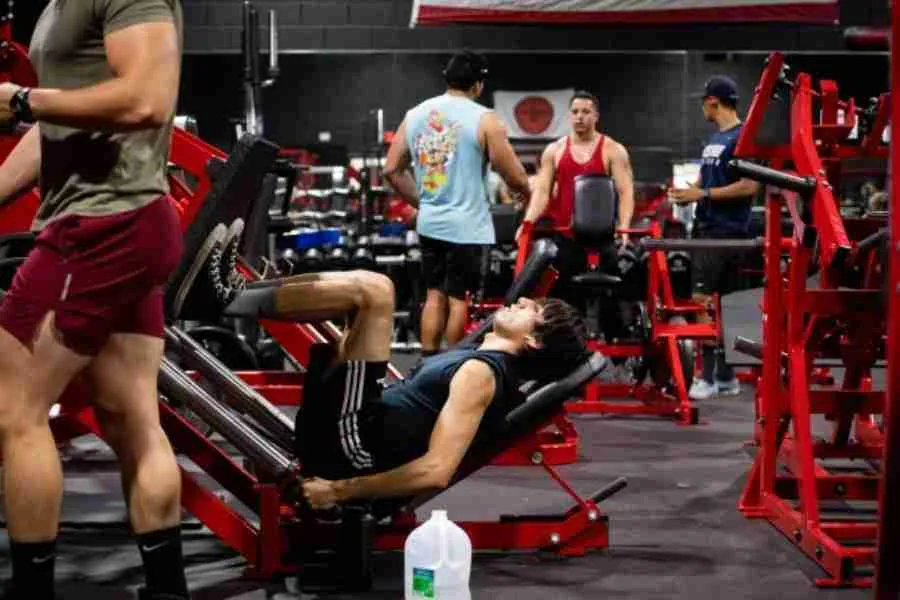 Founded in 1987 in Monrovia a short hop from LA, the gym has been led by IFBB pro card holders since the 90s. Foothill Gym now known as Ultraflex is one of the best bodybuilding gyms in the LA fringes. Technically it's not LA, it's not even Pasadena, but you try telling that to a realtor!
The gym now run by Irish National Bodybuilding Champion, Brian Whelan since taking it over from Hans Hopstaken in the late 90s, has gone from strength to strength and  even the gym is an award winner too.
What do we like about it? Brilliant range of kit, 150lbs dumbbells (60kg to us Brits), looks mint with it's red and black designs, Military/First Responder personnel friendly, and just a huge sea of gym equipment. Reasons to visit? It's a Pro Bodybuilders Gym run by Pro Bodybuilders with a family vibe.

Day Pass: $20
Iron Addicts Gym, Best In Long Beach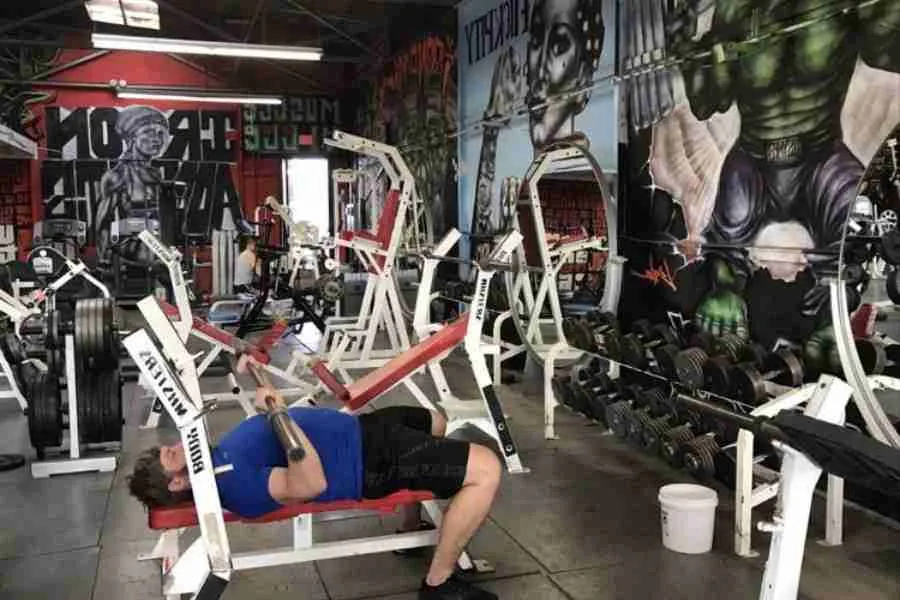 We went for Iron Addicts Gym as a top pick in Long Beach, over Metroflex, as we have given them a bit of attention already. Above this section and over on the Texas page. Needless to say Metroflex is great but so is Iron Addicts and this is why.
Founded by 6 x World Bodybuilding Champion CT Fletcher the authentic AF gym feels like somewhere you can comfortably squeeze that last rep of a 5×5 front squat out, without being judged for exhaling loudly. There's no AC, so you feel every workout if you want to, and while the place has that spit and sawdust look, the top rate equipment is lovingly put together and maintained. 
You'll know when you've found Iron Addicts as the shutters will be up, light streaming in while pbs are getting smoked. It's got a real energy to it. Well worth the trip.
Day Pass: $25 (1st Pass free for Military/First Responders)
Your LA Bodybuilding Gym Could Be Here
Want a bit more attention, either here or another more suitable spot – why not tell us why your gym should get included. You can reach us on 'contact at barbellsabroad.com' or hit the contact link below. We are always on the lookout for sponsors too. So if you fancy putting your brand in front of the type of person looking for bodybuilding gyms in LA, then our inbox is open.