We review the best hotel gyms in LA a city that myself and Lee at one time thought of as a second home. There are few places that make you feel you need to exercise like Los Angeles, here's our take on where to stay that lets you do just that.
Travelling to Los Angeles and want to stay fit?
TLDR: If you're planning a trip to LA and are looking for a hotel with a good gym, you may have found yourself feeling overwhelmed. After all, there are so many hotels in the area that it can be hard to know where to start!
Fortunately, we've done the legwork for you. We've scoured the city and found the best hotel gyms in LA — ones that will give even the most dedicated gym goers all they need for an effective workout routine. Whether you want a room full of resistance machines or somewhere you can sling a barbell around like an Olympian, we have you sorted. What's the best hotel fitness centre? See below.
what's Los angeles like for fitness fans
The Californian metropolis Los Angeles is a top destination for fitness lovers, welcoming thousands of travellers each year who are looking to keep their regime going while they're away. With its year round sunshine, miles of nearby beaches and film industry; staying in shape is treated like a necessity there. 
The city is filled with fantastic gyms, from the luxury hotel gyms to outdoor spaces and even Muscle Beach, the world-famous outdoor gym that was once the playground of all the greatest bodybuilding stars of the 1970s and 80s. (You can still see it there now, and there's a fantastic Golds Gym in Venice Beach too worth checking out too. )
There's no shortage of different ways to exercise in LA, from the colloquial 'hiking' around Runyon Canyon to hiring some fixies and cycling Venice to Santa Monica. Not only that, the city also plays host to some of the biggest fitness events around. Whether you're looking for body-building expos or running events like LA Marathon and Skechers Performance Los Angeles Marathon, you'll find something to suit your interests here. Finally, every 7/11 is stacked with high protein snacks and rows of protein bars. Fitness fans will love LA.
Quick Facts On Los Angeles, CA

How We Picked The Best Hotel Gym in Los Angeles
The 'science' behind our LA gym hotel reviews
We have a personal attachment to LA, so getting round to writing this review took longer than expected. Perhaps we wanted to do it justice. Having been visiting LA for about a decade now, we were on the very last planes out the country when flights and airports globally were grounded in 2019 and flew back to the States the moment we could come back. 
Why can you trust us to review the hotel gyms in LA? We know this city like the back of our hands; from Ralphs in East Hollywood to Bar Lubitsh in WeHo, to the former Bodybuilders Gym in Silverlake – AND we know gyms. We have both trained as PTs, and have been working out now for a combined 35-40 years. That's scary saying that! But as with all our best hotels in the world reviews, we have a selection policy we follow, you can read about it below.
To sum it up – lots of treadmills and we will mark you down, barbells that let you do fundamental lifts, we mark you up.
We are our audience. That's the first thing you should know. We have made that walk into hotel gyms for over a decade now and know the disappointment that happens all too often, leaving you annoyed you paid extra for a place to stay that had a fitness centre.
The reality is most hotel gyms have been put together by someone who has never been to a gym in their life. We weigh up several facts when it comes to picking winners or calling out losers.
1. Can you complete the major compound lifts? These include squats, deadlifts, presses and rows (or pulls). These are generally best served with a squat rack, maybe a smith machine and the presence of an Olympic barbell. Read about the "Fundamental Lifts".
2. Who does the weight load cater for? The reality is most hotel gyms do not have sufficient weight plates or dumbbells for strong women, let alone adult males who visit the gym regularly.
3. Overall gym conditions. This includes space to stretch, the condition of equipment, is there a/c etc. Nothing worse than trying to do an ab workout or flexibility movements on a wooden floor with no mats.
4. Cardio Range. What is the condition of the CV equipment and is there too much focus on machines that replicate the one exercise we can all do without a gym. Running/Walking. Yes – we will down mark for a room of treadmills….so stupid.
The Winners // Hotels With Gyms in LA
Let's get started, 8 great hotel gyms in Los Angeles and a few special mentions at the end. This is our Top 10 + guide to help you find your next healthy hotel in the sunshine state.
Too busy to read? Listen instead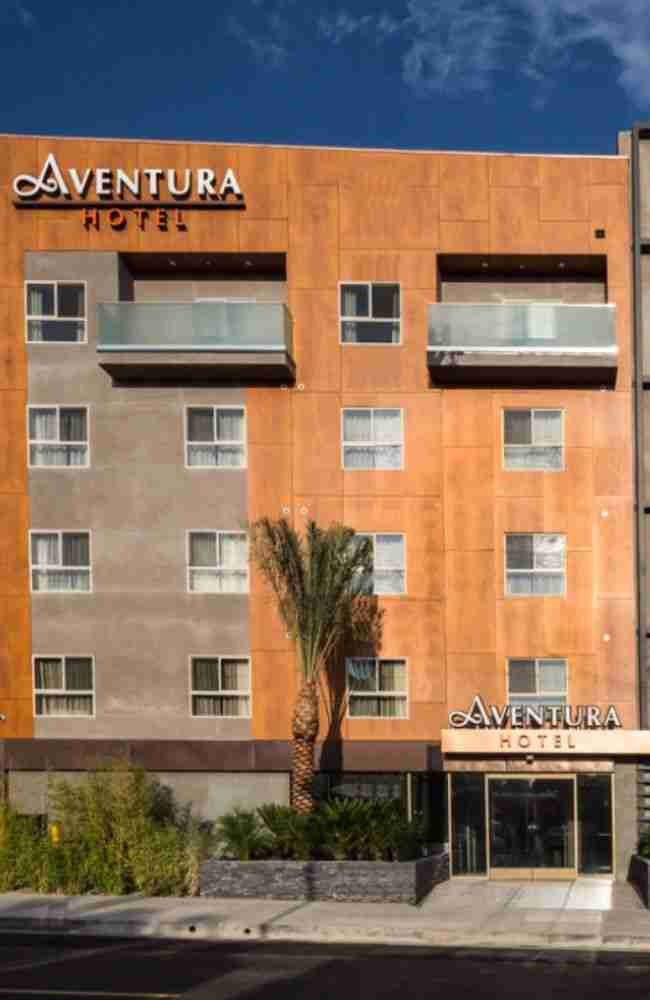 Ave Price Per Night: £130
Neighbourhood: Pico Union
Gym Hours: 24/7 – Pool open from 6am – 10pm
Max Dumbbell:  50 lbs
Gym Brands Seen: Cybex, Bosu
1. Aventura Hotel // Best Hotel Gym In LA On A Budget
Olympic bar AND a smith machine at a solid price point in a location that will be the next up and coming area in LA
First up in our best hotel gyms in LA is the best for budget, Aventura Hotel Pico Union. This hotel gym is ideal for serious fitness enthusiasts who want to keep their workout game on point, even while on vacation.
When you book this hotel, you can rest assured that there's plenty for your fitness needs, with a variety of workout machines available. In addition to the treadmills and ellipticals, guests also have access to free weights, cable machines and boxing equipment.
The Aventura Hotel Pico Union is also great for visitors who pay attention to their diets while travelling. The hotel restaurant serves vegan and vegetarian meals, as well as healthy breakfast options such as oatmeal and yoghurt parfaits. Even better, rooms at the Aventura Hotel start at just $129 per night – certainly not a bad deal!
Reception: info@theaventurahotel.com
Address: 1020 Fedora St, Los Angeles, CA 90006, United States
The Pros
Smith Machine
Olympic Barbell
Double Cable Pulleys
Good Height Chin Bar
The Cons
Could do with a matted area
Space is a bit drab
Realistic Workouts Possible
See More Photos & Availability >>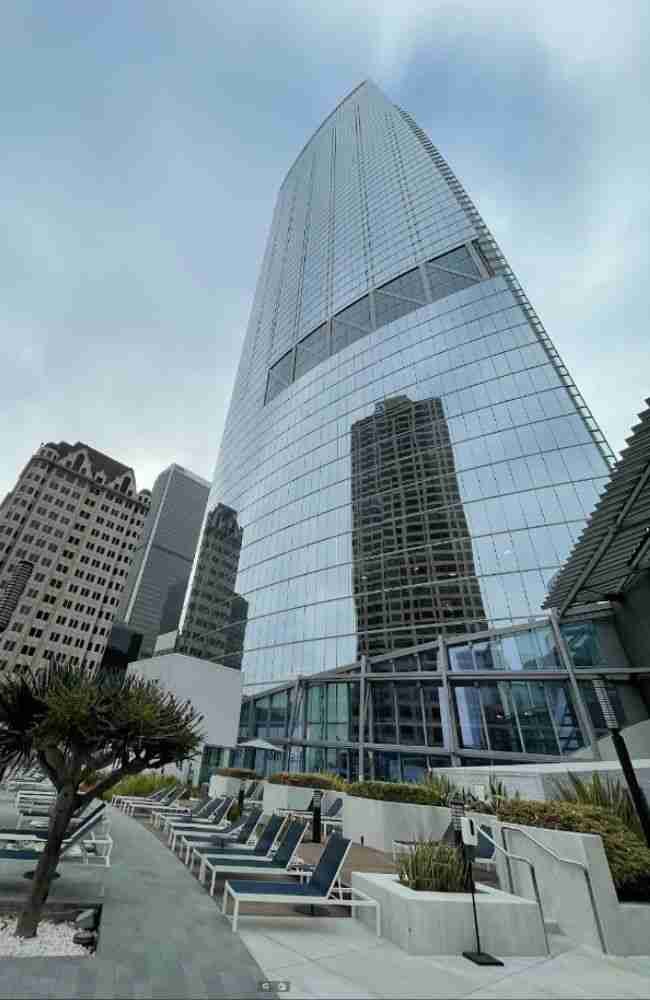 Ave Price Per Night: £200
Neighbourhood: Downtown LA
Gym Hours: Mon-Fri 5am – 9pm | W/Ends: 7am – 7pm
Gym Brands Seen: Technogym
2. Intercontinental Los Angeles Downtown // Best Hotel Gyms In LA
You can get a solid upper body GVT Chest & Back session in - But they will charge you for it.
Number 2 on our list is a brand of hotels that rarely disappoint, it's the Intercontinental Los Angeles IHG DTLA. The hotel gym here offers what many travellers seek, a good gym atmosphere, views, vibes and rubber mats. Top it all off with a quality dumbbell rack, barbells and benches and you have a pretty epic gym. DTLA isn't my bag personally in terms of places to stay in LA, I like East Hollywood or venturing a little further out, but if you wind up here and like a stringer – this hotel will give you a reason to smile. 
The gym offers all the standard machines, free weights and a great selection of cardio and strength training gear. For added convenience, the hotel also provides individual TVs so that you can watch your favourite shows while getting a good workout.
The hotel also offers some extra perks like saunas and steam rooms that can be used after your workout. The bonus is that these amenities are free as part of your room rate. Plus, visitors have generally provided positive reviews about their experience at this hotel, so it's worth considering if you're looking for a convenient hotel with access to a great gym.
The average price of a room per night is quite pricey but this includes breakfast service which features healthy eating options like freshly-squeezed juices, smoothie bowls, omelettes and more! So not only do you get access to one of the best gyms in LA during your stay but you can also enjoy tasty meals as well.
Reception: ICLADowntownSales@ihg.com
Address: 900 Wilshire Blvd, Los Angeles, CA 90017, United States
The Pros
Views for days
Matted Floor
Smith Machine
Incline Bench
Cool Cardio
The Cons
I am genuinely struggling to find any reasonable ones. Perhaps some more resistance machines?
Realistic Workouts Possible
See More Photos & Availability >>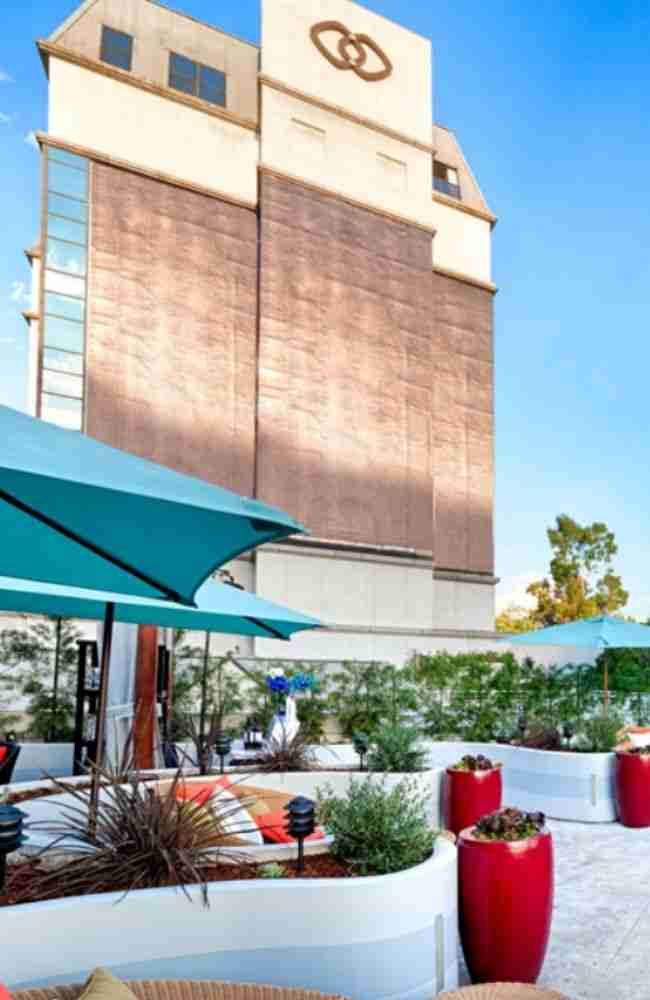 Ave Price Per Night: £150-£250
Neighbourhood: Beverly Hills
Gym Hours: 24/7
Max Dumbbell: 30kg
Gym Brands Seen: Technogym
3. Sofitel Los Angeles // Best Hotel Gym In LA 'Winner'
This hotel gym in LA is amongst the best in the world. Short and sweet 🙂
BDE enters the room, the Sofitel in Beverly is one of our favourite hotel gyms ever, so it's not surprising it ranks high in a localised LA review.  This luxe hotel offers its guests one of the most modern and high tech gyms of any LA hotel. What's more, the hotel gym is open 24/7, so you can get your workout in whenever you'd like! It's insane really, the gym at the hotel is visually impressive, well at least it was for us when we walked through the doors, and the hotel is first rate too. You feel like you're winning when you stay here.
Here are some of the key features offered by the Sofitel Los Angeles at Beverly Hills:
Fully equipped fitness centre with modern cardio and strength training equipment

Professional trainers and coaches available upon request

Onsite spa with a variety of treatments to rejuvenate after a tough workout

Complimentary access to a selection of hot tubs, saunas and steam rooms

Complimentary yoga classes on select days of the week
The reviews from former guests show that this is indeed one of the best hotel gyms in LA. With plenty of positive feedback from previous visitors, you can be confident that this is an excellent choice for those who care about getting their fitness fix while travelling. The average room rate per night includes breakfast and there are healthy options on offer too.
Reception: sofitel.losangeles@sofitel.com
Address: 8555 Beverly Blvd, Los Angeles, CA 90048, United States
The Pros
Great Gym
That's it.
The Cons
Pool is the weakest point - nice to sit by on a sunny day but I felt it was a little pointless for swimming.

Realistic Workouts Possible
See More Photos & Availability >>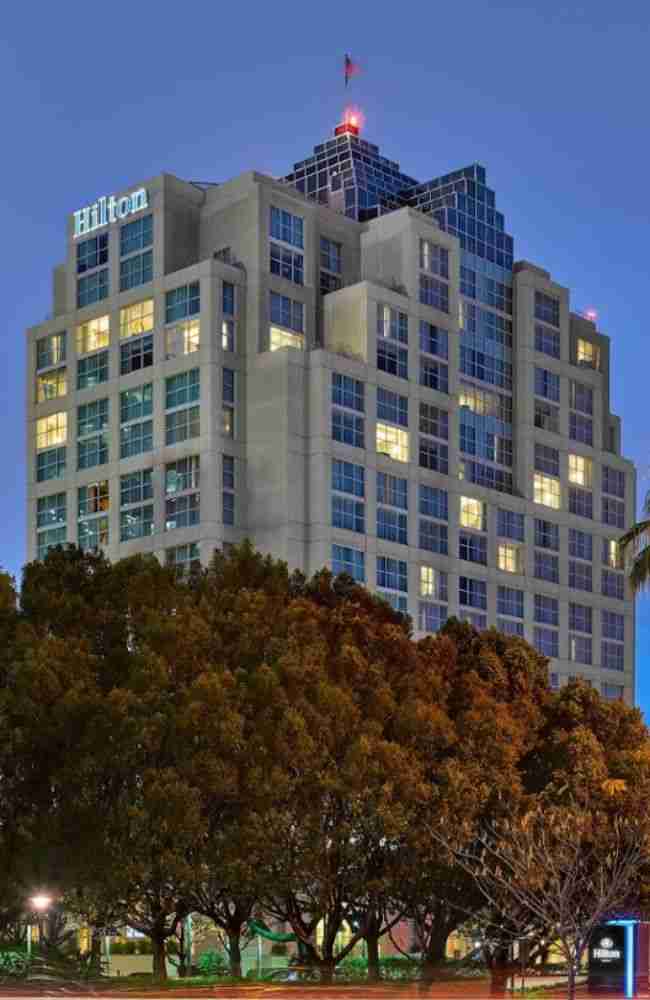 Ave Price Per Night: £150+
Neighbourhood: Glendale
Gym Hours: 24/7
Max Dumbbell: 15kg
Gym Brands: Precor
4. Hilton Los Angeles North // Best Hotel Gym in North LA

Leg press, leg curl and leg extension, mean you needn't race to find a local gym just to hit your legs. No excuses to miss leg day!
If you wear a suit to work still this might be the review for you. If you're looking for a hotel gym in the NoLA and Glendale area of Los Angeles I'm going to suggest the Hilton. With a good depth of cardio equipment and pretty affordable (on the LA scale) it's a sound bet for business travellers or those who just want the option of a gym. 
The wider hotel facilities are of the standard you'd expect at a Hilton, and the gym is kept in good order too. Essentially, no smashed up machines to interrupt your hopes of a workout.
But what really sets this hotel apart from others is its excellent customer service. Reviews describe staff as helpful, friendly and attentive – always willing to go the extra mile to make guests feel welcome and comfortable. What's more, rooms here come with options like complimentary breakfast – which includes healthy options like Greek yoghurt and hearty omelettes – and an average price of $184 per night – making it a great value for money choice too!
Reception: No Email Found!
Address: 100 W Glenoaks Blvd, Glendale, CA 91202, United States
The Pros
Good leg resistance machine options
Upper body resistance machines
The Cons
A little limited in weight-training
Realistic Workouts Possible
See More Photos & Availability >>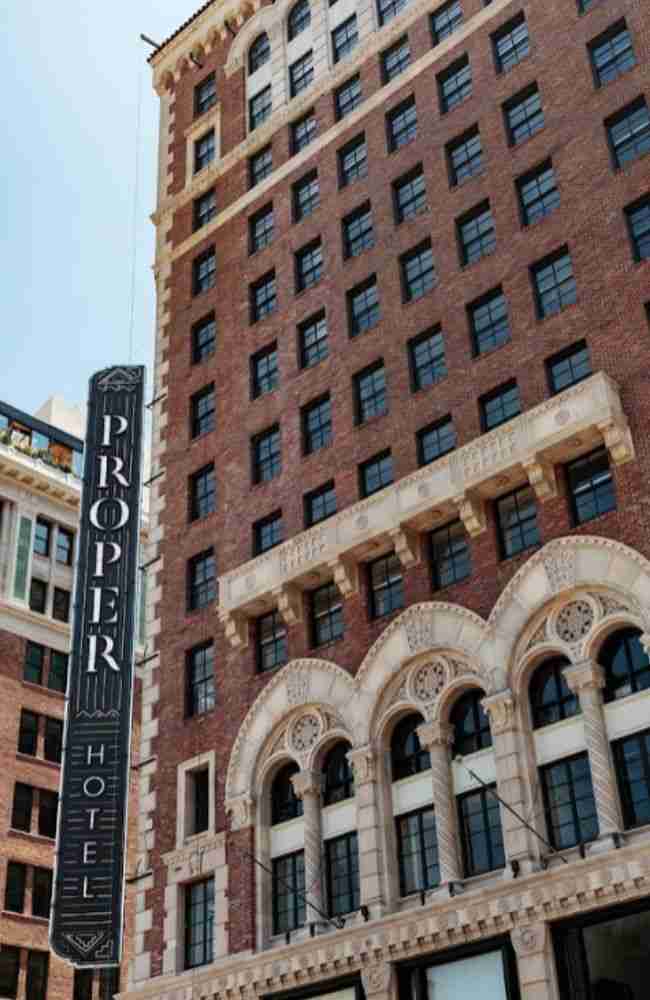 Ave Price Per Night: £400
Neighbourhood: DTLA
Gym Hours: 24/7
Max Dumbbell: 30kg
Gym Brands Seen: Technogym, Peloton, TRX
5. Downtown LA Proper Hotel // Best Hotels Gym in South Park LA
The gym has exactly what you need for a rounded workout, is it the biggest? No, but smith machine, TRX, Dumbbells to 30kg and Peloton, make it a solid box ticker if you want to stay in Downtown.
If you want to stay in Downtown LA, then check out the Proper Hotel – South Park. You'll be able to get your fitness fix right in the middle of the city. This landmark hotel with its rooftop pool is one for hotel peloton fans too.
Equipment
The Proper Hotel gym is well-equipped with lots of the latest high-end cardio and strength machines, plus additional exercise bands and a wide range of free weights.
Why It's Good for Tourists Who Care About Fitness
The Proper Hotel gym is a great choice for tourists who care about fitness because its managers have gone out of their way to create attractive, welcoming spaces for guests. They keep the equipment in excellent condition, offer classes and an impressive range of resistance training machines, as well as a big studio space for group classes too.
What Is the Hotel Like?
According to reviews from visitors, this hotel offers an all-round great experience from its comfortable rooms to its friendly staff; it has good facilities like a restaurant and lounge bar plus chilled rooms for socialising or relaxing after a busy day exploring LA. The average price for a room per night is around $400 and that does include breakfast too — so no need to worry about getting something healthy straight away.
Reception: Dtlap.info@properhotel.com
Address: 1100 S. Broadway, Los Angeles, CA 90015
The Pros
Cool visual vibes
Smith Machine
Technogym
4 Station Cable Pulley Machine
The Cons
Dumbbells cut off at 22kg
Not huge amount of kit
Realistic Workouts Possible
See More Photos & Availability >>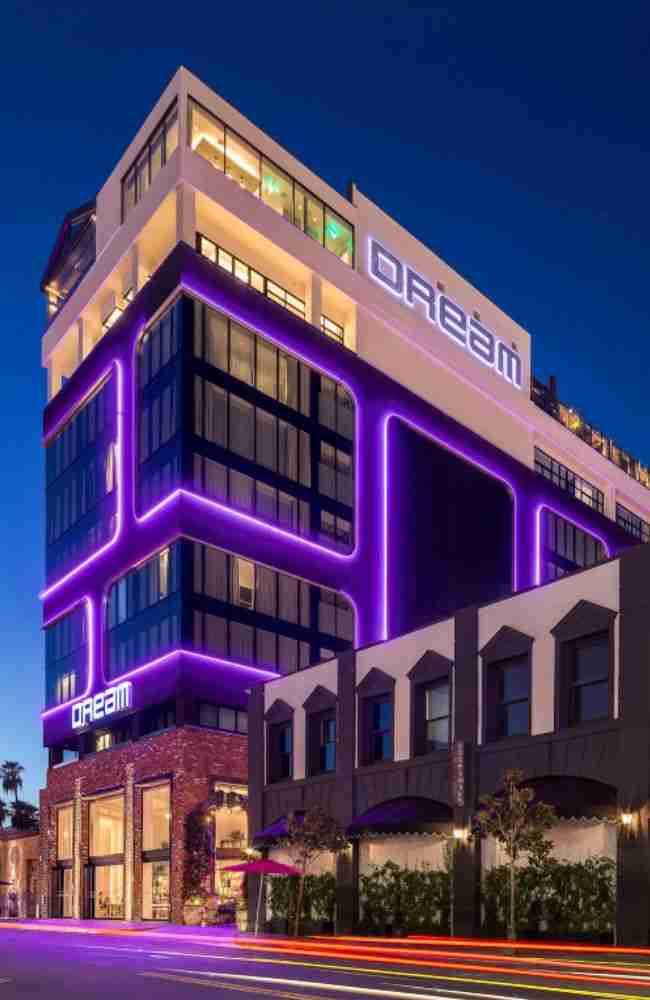 Ave Price Per Night: £250
Neighbourhood: Hollywood
Gym Hours: 24/7
Max Dumbbells: 20kg
Gym Brands Seen: TRX, Gunnar
6. Dream Hollywood // Best Hotel Gyms In LA
More of a 'functional' studio than full blown weightlifting centre, the Dream Hotel Gym encourages you to train in a more circuit/total body fashion, which is probably for the best when you were up clubbing in Hollywood the previous night.
Do you want to stay in Hollywood in style? Then the Dream Hollywood is one to put on your wishlist! It has been one of the most popular, trendy hotels in the neighbourhood for some time, houses a great nightclub and surrounded by some top bars. (We like Good Times at Davey Waynes to get trashed at, but Elbow Rooms for warm up drinks first.)
The gym at Dream Hollywood is great for more mobile or athletic gym goers who like the idea of crossfit style workouts. The gym is filled with hand picked equipment by celebrity PT Gunnar Peterson, who wanted to create a space that was more 'functional'. Eg: you won't find rows of benches and barbell racks. Don't let that put you off though.
Back into the hotel, the rooms are modern and stylish, and come with a variety of amenities like Egyptian cotton sheets and pillow-top mattresses. Prices start around $230 per night, which includes breakfast – great for those who want a healthy start to their day.
The hotel gym has all the basics like free weights, treadmills, elliptical machines and some cable pulley machines to probably eek out a good back workout when you throw in the olympic bar knocking about. Plus, there are plenty of other fitness options like yoga classes, Pilates sessions and even boot camp classes that you can sign up for while you're staying here. So if hitting the gym isn't your thing, there's still plenty to keep you active while on vacation!
Reception: reservationshw@dreamhotels.com
Address: 6417 Selma Ave, Hollywood, CA 90028, United States
The Pros
Bumper Plates
Bench Press
TRX
Punch Bag
The Cons
Could Have More Resistance Machines
Dumbbells Low
Realistic Workouts Possible
See More Photos & Availability >>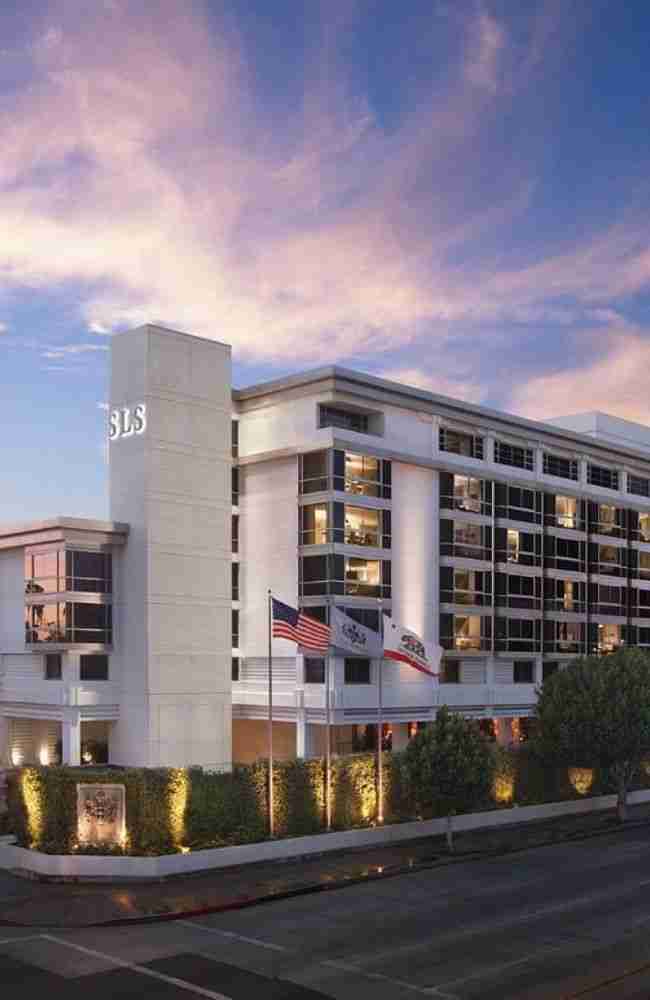 Ave Price Per Night: £250
Neighbourhood: Beverly Hills
Gym Hours: 24/7
Max Dumbbells: 25kg
Gym Brands Seen: Technogym
7. SLS Hotel Beverly Hills // Best Hotel Gyms In LA
Extensive resistance machine range in a luxury location. It's one of the better gyms in the area, not bad for a hotel gym therefore.
If you're looking for the ultimate hotel gym experience in LA, then the SLS Hotel, a Luxury Collection Hotel, Beverly Hills is the perfect choice. From the moment you check in, you'll be surrounded by luxury and comfort. With 299 rooms and suites, an indoor and outdoor pool, as well as a modern fitness centre with state-of-the-art equipment, it's worth every penny.
The gym features:
A selection of weight machines

Free weights

Cardio machines

Training areas for stretching and bodyweight exercises such as squats and planks

Classes such as yoga, bootcamp and kickboxing
The hotel also offers healthy brunch options from their restaurant – so you can enjoy breakfast without the guilt! Plus, if you're feeling really adventurous and want to explore Los Angeles in more detail – you can rent a bike from the hotel and explore! Rooms at SLS start from £212 per night and include breakfast too.
Reception: askus@ennismore.com
Address: 465 La Cienega Blvd, Los Angeles, CA 90048, United States
The Pros
Plenty Of CV Equipment Technogym Resistance Machines
The Cons
Not Much Free Weights Too Many Treadmills
Realistic Workouts Possible
See More Photos & Availability >>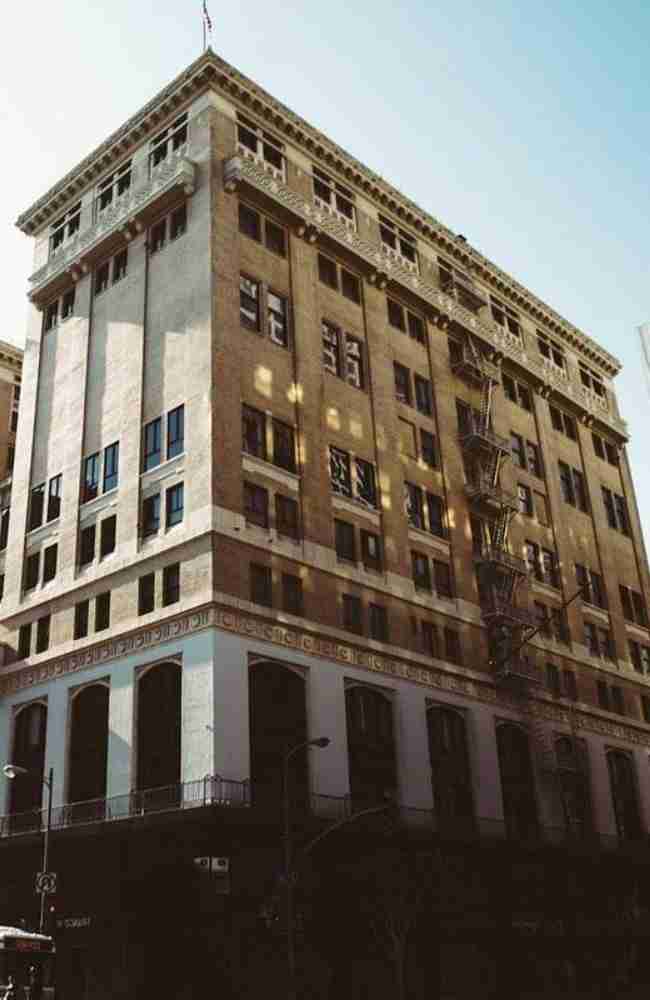 Ave Price Per Night: £175
Neighbourhood: DTLA
Gym Hours: 24/7
Max Dumbbells: 
Gym Brands Seen: Jordan, Cybex, Precor, Custom
8. Los Angeles Athletic Club // Best Hotel Gyms In LA
This is a gym that you can sleep at. There's a real buzz at staying here.
If you're looking to stay fit while visiting LA, why not consider the legendary Los Angeles Athletic Club (LAAC) DTLA? Located in the heart of Downtown LA, LAAC DTLA is a modern fitness escape for active travellers who are looking for more than just another generic hotel gym.
So what sets it apart from the rest? For us it's the vibe, it's great but there's one more thing we love the most, late checkout. Hallelujah! But anyway, for more professional hotel chat, read on and we'll get into why it's a great option for tourists looking for a hotel with a good fitness centre.
Reviews
The reviews don't lie—visitors often report that their stay at LAAC was great simply due to the incredible gym and facilities. With state-of-the-art equipment and plenty of space, this gym can accommodate everyone from weightlifters to yogis, making it the ideal spot for all fitness levels.
Cost and breakfast
The average price per night is slightly higher than other hotels in the area, but many agree that this is well worth it considering the quality of both their accommodation and gym facilities. Most packages also come with breakfast included, which has healthy options available so travellers don't have to worry about breaking their diet or missing out on important nutrition while they travel.
Equipment
At LAAC DTLA, you'll find everything you need for an awesome workout. From weight machines and free weights to cardio equipment like treadmills, ellipticals and spin bikes, this gym has you covered no matter what your workout style may be!
Reception: laac@laac.net
Address: 431 W 7th St, Los Angeles, CA 90014, United States
The Pros
Bumper Plates
Bench Press
TRX
Punch Bag
The Cons
Could Have More Resistance Machines
Dumbbells Low
Realistic Workouts Possible
See More Photos & Availability >>
Honourable Mentions in LA (Click to see more)
3 more honourable mentions that we wanted to bring to your attention if you're looking for a great hotel gym in Los Angeles. Why didn't they make it into the Top 8? They've either been covered by other sites extensively, lack a couple of features or are prohibitively expensive…ahem Four Seasons.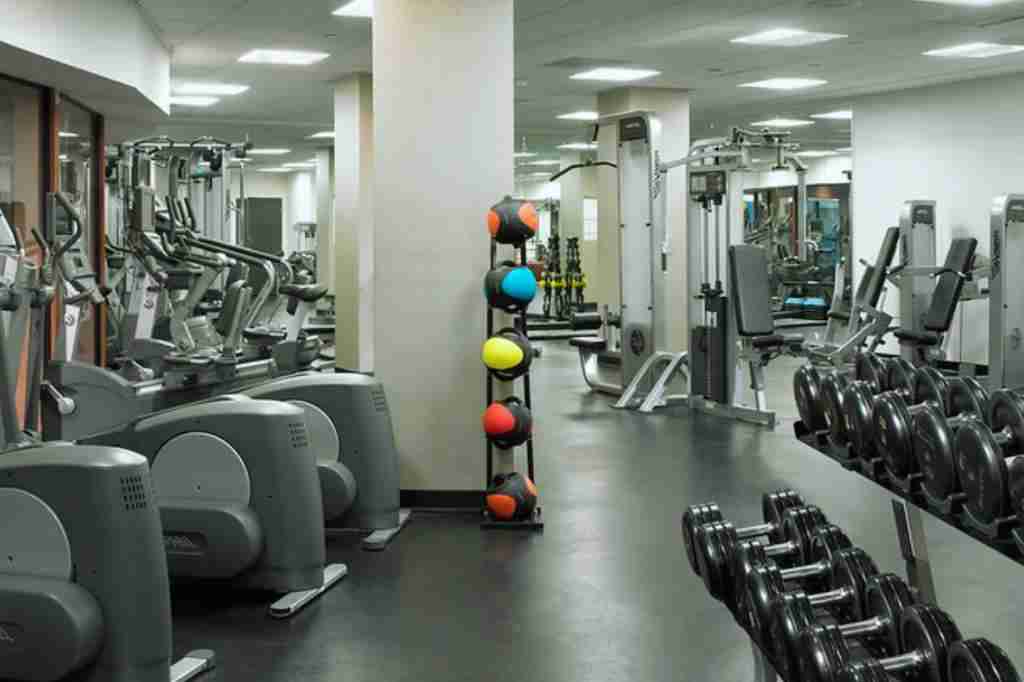 Westin has a good range of resistance machines and reasonable dumbbell range. It won't be your dream free weight workout, but you'll get a really good all over total body workout using machines and cardio. Chest and back are well catered for. It's a lovely hotel and has a a great location. Good pick.
Four Seasons Beverly Hills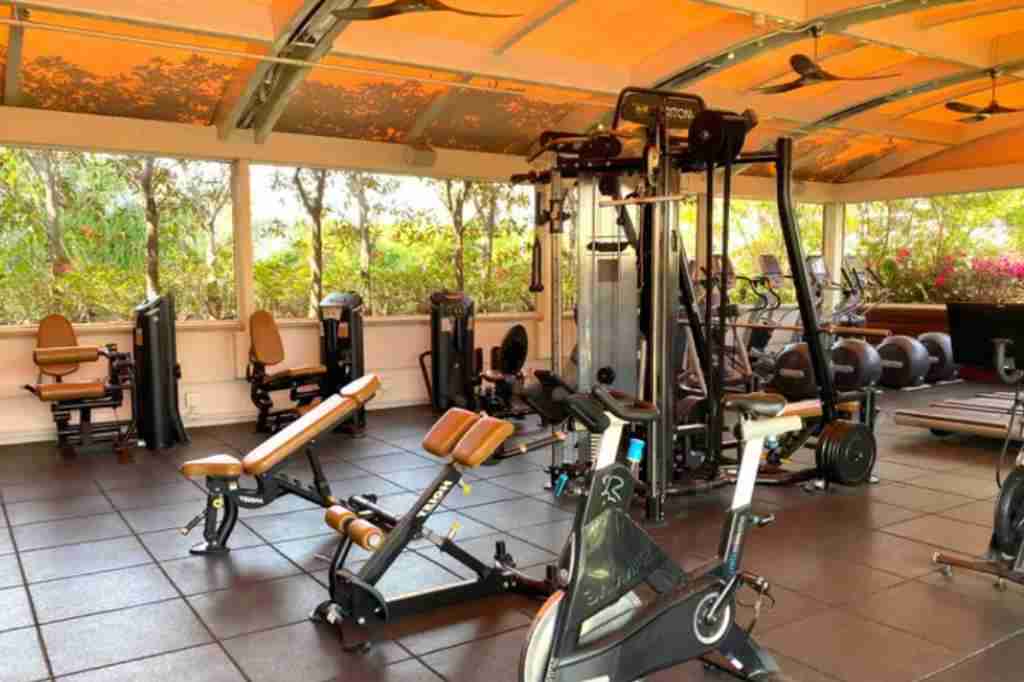 This one probably would make the top 8, in fact it should, but it's been done to death by other reviewers and in our personal experience training there, while we enjoyed ourselves, the cost to stay here was pretty prohibitive. Then again what do you expect from one of the world's luxury hotel brands.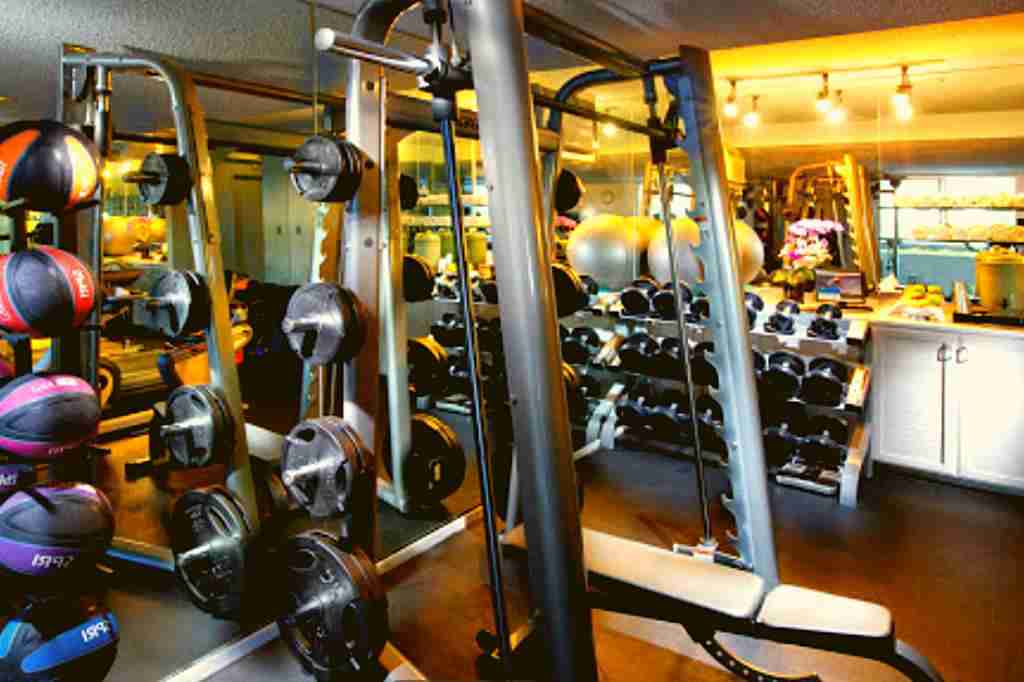 Chamberlain is a top hotel in a fantastic part of LA, WeHo. West Hollywood is packed full of trendy bars and places to eat, and the Chamberlain hotel gym is packed with a lot in a small space. If you work out with a barbell, the smith machine ensures you can hit the primary compound lifts. Weight plates could be heavier but 120-140kg will work for 95%.
So, what about day passes? If you're only in town for a short period of time, or just want to check out a particular hotel gym, you might be wondering if it's possible to buy a day pass for any of the gyms on our list.
Good news—it is! Most of the gyms we reviewed offer day passes — and some of them even have discounted rates available for visitors. For example, at the Hyatt Regency Century Plaza Hotel, you can purchase a full-day gym pass for just $29.
So, why not check out one (or more) of the great gyms found on our list if you're taking a vacation in LA? With day passes available at various hotels across the city, it's easy to find an option that fits your needs and budget. And who knows—you might even stumble upon your new favourite spot while you're there!
If you're looking for a public gym to get your holiday sweat on, then look no further than Gold's Gym in Hollywood. This testament to fitness has everything that you need to get a good workout x 3. Whether it's strength training, fighting, yoga or Pilates – you're all catered for and there is something for everyone. From punch bags to multiple plate loaded glute drives, it's a great gym, it's Gold's after all. The Gold's in Venice is also top drawer as you'd expect, and if you're heading out of town, so is their Palm Springs venue. 
If you like yourself some real lifting experiences then check out our guide to the best bodybuilding gyms in LA.
In terms of other brands, LA Fitness is pretty solid in Hollywood, with its walking track around the top floor and huge range of benches and racks. Sadly our favourite spot 'Bodybuilder's Gym' in trendy Silverlake has closed down due to the landlord taking back the property.
So if you're looking for a public gym that ticks all the boxes – Golds is definitely worth a visit during your stay in Los Angeles!
Visitors to Los Angeles also check out
Have We Missed A Great Hotel Gym In LA?
If we have missed a great hotel gym in Los Angeles and Hollywood, which you think deserves to be on our top list, drop us a message to contact @ barbellsabroad dotcom. If you want to update your hotel's details, reach out to us also. From bigger dumbbell sizes, to better opening hours – holler at your gym-bros. 
I feel like most hotel gyms are fitted out by someone who has never stepped foot in one. Spending fortunes on multiple cardio machines but not an Olympic bar in sight. We review hotel gyms so your next trip doesn't mean missed workouts. I am a Certified SAQ Trainer and REPs (UK) PT trained | @theskinnyboy on Insta
David // 20+ Year Gym Rat