We review the best hotel gyms in Dubai, to save you spending a week doing burpees in your hotel room.
Heading to Dubai and a gym fan?
TLDR: In this travel fitness review, we look at the UAE and make 7+ recommendations for the best hotels with gyms in Dubai. Dubai is a haven for good hotel gyms, well in comparison to other cities of the world. Each of these hotel gyms in Dubai allow you to hit the key functional lifts and walk out feeling nicely peeled for the day's pool party.
what's DUBAI like for fitness fans
As one of the most popular tourist destinations in the world, Dubai is home to some of the best hotel gyms in the business. Whether you're looking for a luxury hotel with all the bells and whistles, or a more affordable option that still has a great gym, we've got you covered.
TLDR – Dubai is an excellent city for fitness lovers.
There are plenty of big fitness events in Dubai, as well as great places to exercise. You can visit several gyms in Dubai and there are plenty of ways to get active and stay fit while you're on holiday or working here. Whether it's a day pass, short term membership, or finding yourself the right hotel with a gym.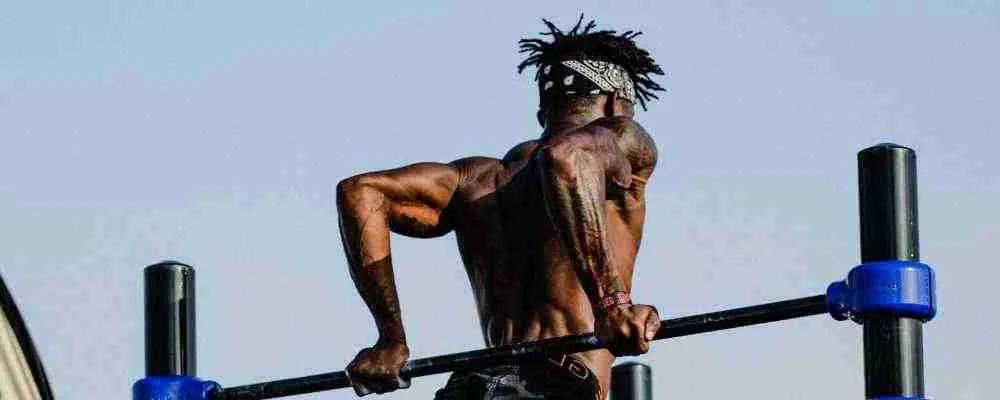 How We Picked The Best Hotel Gyms in Dubai
The 'science' behind our gym hotel reviews
For most people, if you're travelling to Dubai, working out might be the last thing on their mind…not you though! With long days and even longer nights, it's a great way to break up your holiday and keep up your fitness routine. Plus it also stops you coming home feeling worse than when you went away.
But not all hotel gyms are made equal. So what should you look for when choosing a hotel with a gym?
First, consider what type of workouts you want to do. If you're a fan of CrossFit or weightlifting, you'll want to make sure the gym has all the equipment you need like a power rack or smith machine. If you're more of a treadmill runner, then a smaller gym might be right for you. 
Secondly, ask yourself if the gym can cater for your needs. Does it have enough machines? Are the weights adequate? Is there enough space to do a walking lunge, or is the floor soft enough anywhere to even do a sit-up? You'd be amazed how many hotel gyms in Dubai and beyond fail this.
Taking all these things into account is how we formulated our selection policy below.
We are our audience. That's the first thing you should know. We have made that walk into hotel gyms for over a decade now and know the disappointment that happens all too often, leaving you annoyed you paid extra for a place to stay that had a fitness centre.
The reality is most hotel gyms have been put together by someone who has never been to a gym in their life. We weigh up several facts when it comes to picking winners or calling out losers.
1. Can you complete the major compound lifts? These include squats, deadlifts, presses and rows (or pulls). These are generally best served with a squat rack, maybe a smith machine and the presence of an Olympic barbell. Read about the "Fundamental Lifts".
2. Who does the weight load cater for? The reality is most hotel gyms do not have sufficient weight plates or dumbbells for strong women, let alone adult males who visit the gym regularly.
3. Overall gym conditions. This includes space to stretch, the condition of equipment, is there a/c etc. Nothing worse than trying to do an ab workout or flexibility movements on a wooden floor with no mats.
4. Cardio Range. What is the condition of the CV equipment and is there too much focus on machines that replicate the one exercise we can all do without a gym. Running/Walking. Yes – we will down mark for a room of treadmills….so stupid.
The Top 9 Hotel Gyms in Dubai
In this travel fitness review, we look at Dubai, UAE and make 9+ recommendations for the best hotels with gyms that enable proper workouts (almost like home). From a Crossfit session to Bro Splits and a 'Push, Pull, Legs' type workout, these 5 stack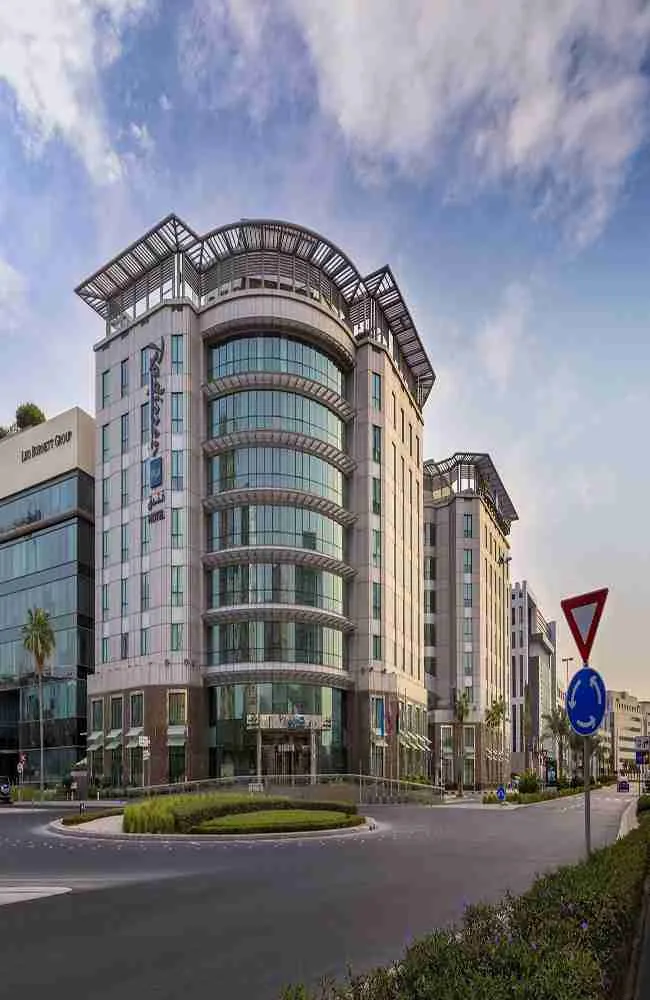 Ave Price Per Night: £125-£150
Neighbourhood: Dubai Media City
1. Radisson Blu Hotel // Best In Dubai Media City
A little dated, a little cramped, but a good spread of dumbbells and smith machine weight plates to ensure your weekly split stays intact.
The Radisson Blu Hotel in Dubai Media City is the one for you if you're looking for a great hotel gym experience. It has all the modern amenities that a regular gym goer would need, such as state-of-the-art cardio equipment and a wide selection of weights. The gym also offers a full range of classes, such as yoga and zumba, so you can mix up your workout routine in the leisure of your hotel.
The hotel itself is rated 4 stars, boasting good reviews from guests on service and comfort. Prices average around £120 per night for a single room, and this includes free breakfast. As for food options during the day – there are various healthy eating options available in the restaurant or bar. So if you're looking for an all-rounder fitness experience at an affordable price – this could be the one for you!
NB: We had already written this guide before we noted their Dubai Deira Creek hotel. It has some bodybuilder plate loaded kit. Check it out.
The Pros
Smith Machine
Nice Hotel
The Cons
More limited than their Waterfront site. Not as good as the Dubai Deira Creek.

Realistic Workouts Possible
See More Photos & Availability >>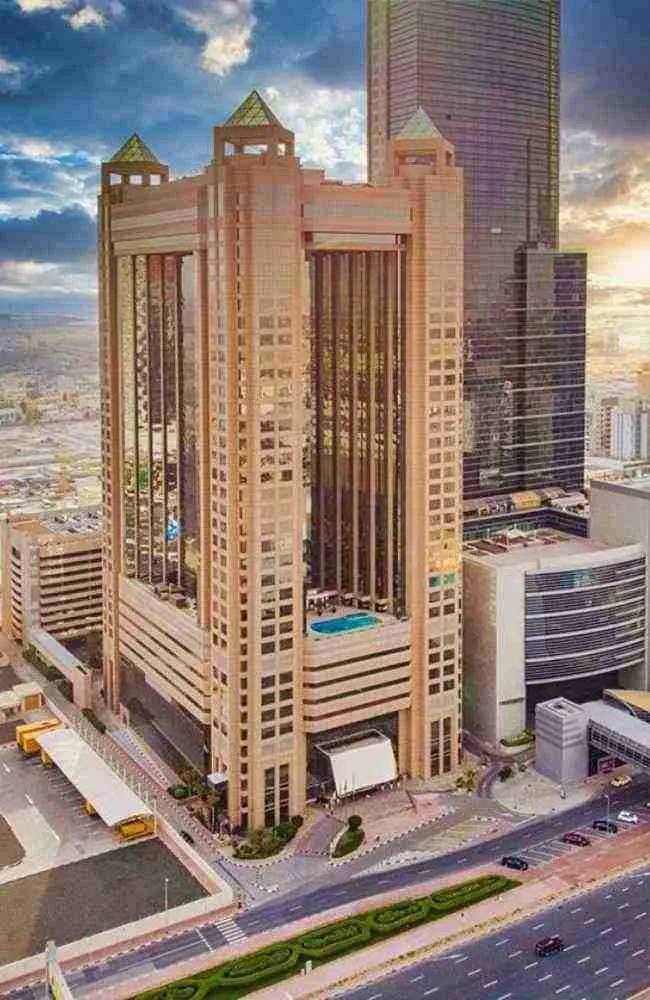 Ave Price Per Night: £175
Neighbourhood: Business Bay Area
2. Fairmont Dubai
// Good Gym In The Bay
Modern Technogym equipment including a Smith machine. It's not the most inspiring fitness suite, but pretty solid display of gym kit.
Are you thinking of visiting the UAE? If so, you can't go wrong with the Fairmont Dubai, a 5-star hotel in the Business Bay area. They have a good gym, equipped with state-of-the-art fitness machines and weights.
The gym offers a wide range of options for all levels of training; from a 1,000 sqm Delphin Studio equipped with cardio and strength training equipment, to kickboxing classes and individual personal training sessions, there's something for everyone. The gym also has a swimming pool and spa facilities, which are great for winding down after a workout.
The hotel is also well-reviewed by its visitors on many websites, who praise its cleanliness and excellent service. As far as rates go, you can expect to pay around £150-£200 per night with breakfast included. Additionally, they have healthy breakfast options available and their room service menu has plenty of fresh and nutritious options as well.
The Pros
Could pass as a public gym
Isolation Leg Machines
Wellness Spa
The Cons
Barbell Weight Plates Max 120Kg Dumbbells cap out at 20kg
Realistic Workouts Possible
See More Photos & Availability >>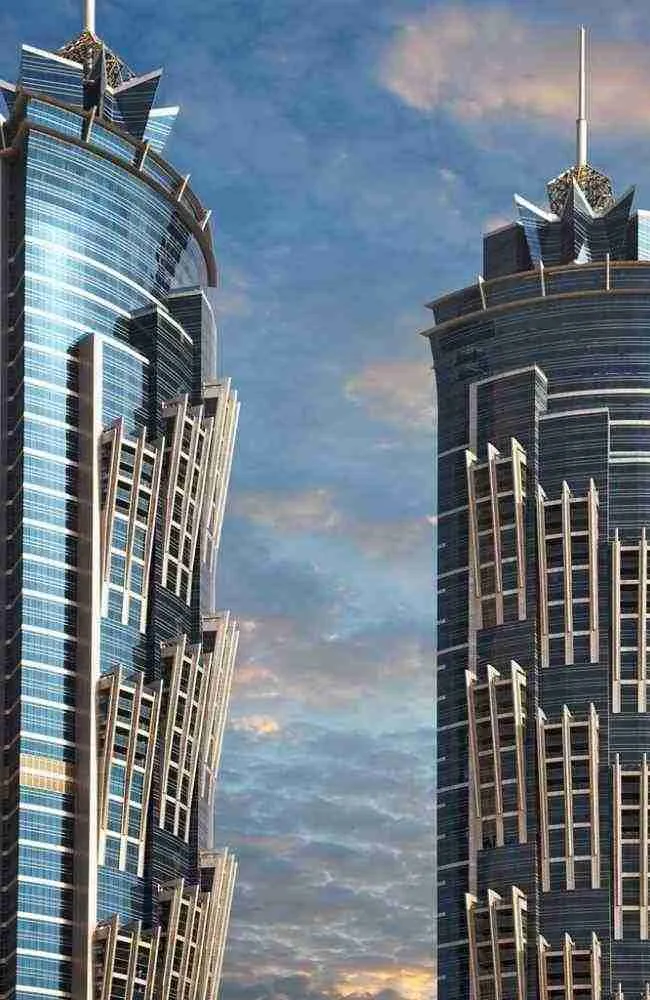 Ave Price Per Night: £175
Neighbourhood: Dubai Business Bay
3. JW Marriott Marquis Hotel
// Best Hotel Gym Overall in Dubai
More Olympic barbells in one room, than some entire hotel chains have globally. Well done JW Marriott, nice hotel gym.
The JW Marriott Marquis Hotel Dubai is the perfect place for fitness enthusiasts looking for a hotel gym in Dubai. Located in the heart of the city, this hotel offers guests access to state-of-the-art gym equipment including treadmills, elliptical machines, and weight training machines. The hotel also boasts a spa and swimming pool. Reviews from travellers note that the staff are friendly and attentive, making this an ideal destination for a fitness holiday. A night in this hotel will cost you around £175 GBP per night, and you'll get access to their free breakfast buffet that features plenty of healthy eating options.
The Pros
Power Rack & Smithy
Plenty of adjustable benches
The Cons
Minor ones - could do with more weight plates to accommodate a busy free weights session
Realistic Workouts Possible
See More Photos & Availability >>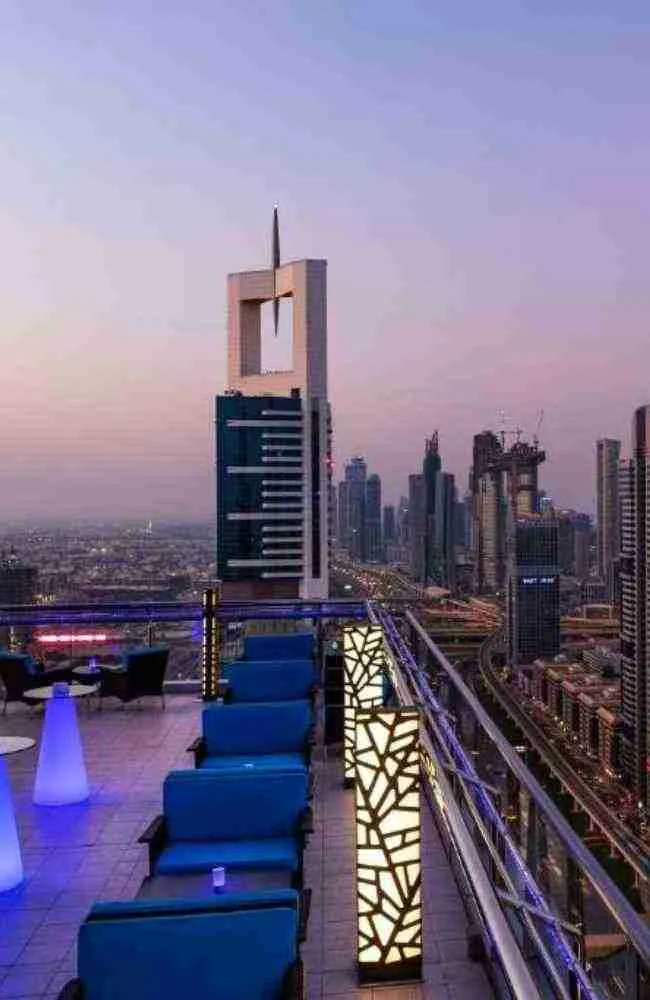 Ave Price Per Night: £140
Neighbourhood: Bur Dubai
4. Fourpoints By Sheraton Downtown
// Best For Budget
Affordable hotel by Dubai standards, with a gym that has a leg press, smith machine and a nice pool for post workout rays. Tidy.
For those looking for great gym facilities in Dubai, the Four Points by Sheraton Downtown Dubai is the hotel to book. The hotel gym offers a range of strength and conditioning equipment as well as cardio machines, making it a great choice for those looking to stay fit while on holiday. The gym also has a sauna and steam room, and there is an on-site pool for guests to use.
The rooms are spacious and comfortable, with many offering stunning views of the city. Reviews from visitors are mostly positive – most people appreciate the excellent service and friendly staff. For a room per night, expect to spend around £140 (inclusive of breakfast). Their food service features healthy eating options – making it great for those who care about their diet while travelling.
The Pros
Nice sun trap pool
Leg press
Smith Machine
The Cons
Wooden floor makes Deadlifts awkward
Realistic Workouts Possible
See More Photos & Availability >>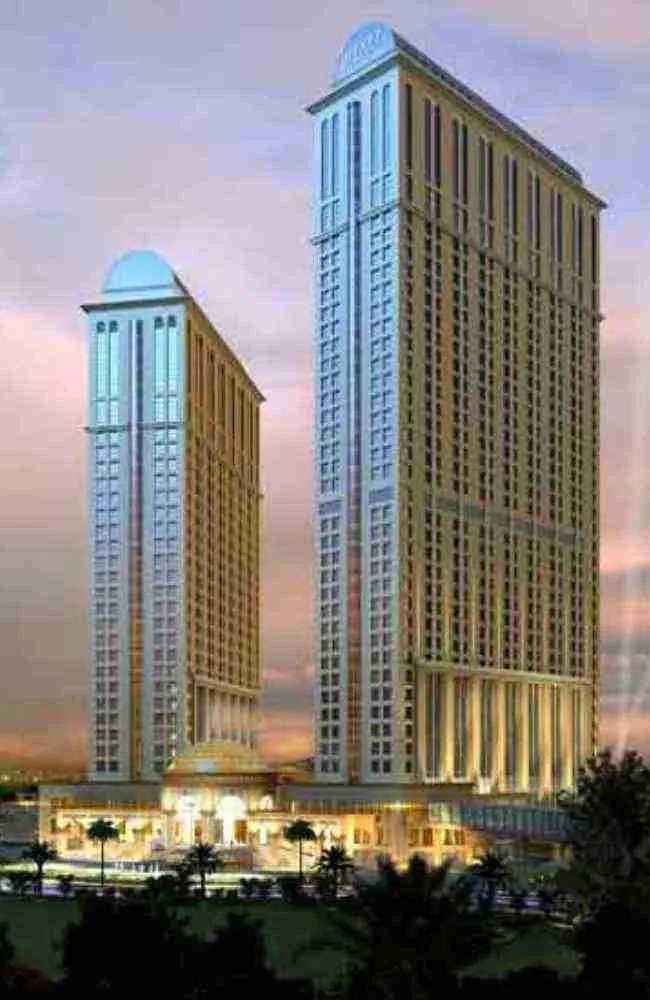 Ave Price Per Night: £200
Neighbourhood: Dubai Healthcare City
5. Hyatt Regency Dubai Creek
// Best In Dubai Healthcare City
Crossfit fans will love the matted TRX - Crossfit cage.
If you're looking for a great hotel gym in Dubai, then you can't go wrong with the Hyatt Regency Dubai Creek Heights. This impressive 5-star hotel offers a wide range of fitness equipment and on-site amenities. The gym features an extensive range of cardio and strength machines, as well as multi-functional trainers. There is also a separate stretching area and dedicated yoga classes on offer.
But the real highlight here is their pool deck that features multiple outdoor swimming pools and even a jacuzzi perfect for relaxing after a workout. Not only that, but they also offer healthy food options and catering services to guests.
Room prices begin at around £200 per night and they include access to the gym and pool facilities. So if you're looking for a great hotel gym experience, the Hyatt Regency Dubai Creek Heights should definitely be on your radar!
The Pros
TRX Cage
Olympic Bar
Matted floor under rack
The Cons
Mostly treadmill for cardio
Realistic Workouts Possible
See More Photos & Availability >>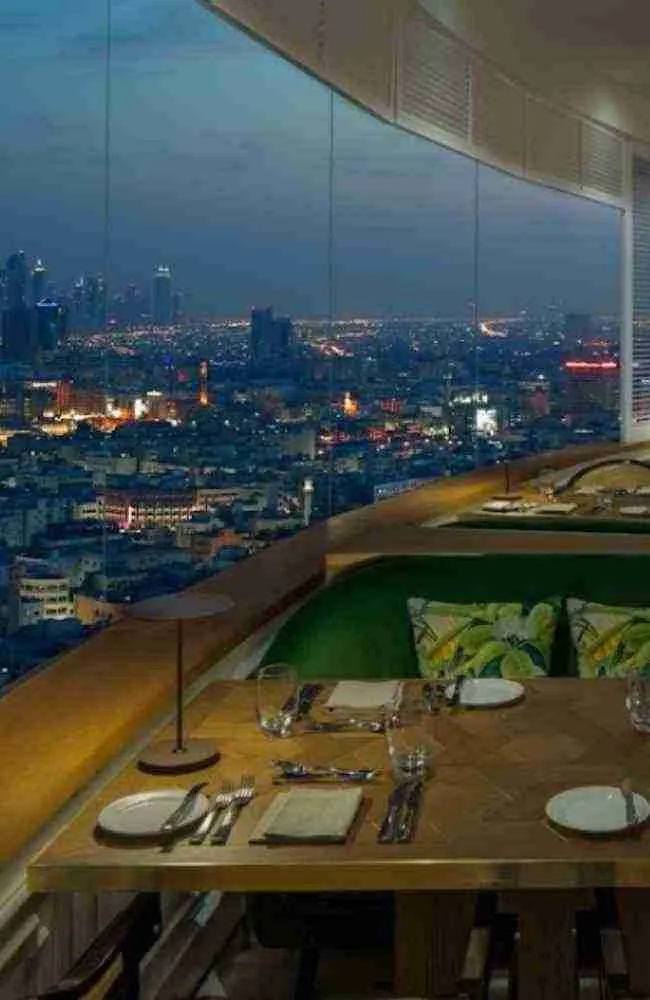 Ave Price Per Night: £100-£150
Neighbourhood: Deira
6. Hyatt Regency Dubai
// Best In Deira
We love the rooftop restaurant with a view plus the good range of back focused resistance machines.
We've come to our best hotel gym in Deira, and there's no doubt that it's the Deira Hyatt Regency Dubai. This hotel gym has all the bells and whistles of a top-notch fitness centre, equipped with all the best equipment needed for a great workout. With treadmills, cross-trainers, weights & multi-gyms and plenty of other equipment, it caters to everyone from the beginner to the experienced gym goer.
The hotel comes highly recommended, with reviews claiming its staff are friendly and helpful, rooms are comfortable and spacious, food is great and service is excellent. The average cost per night is around AED 400 which includes breakfast – although depending on time of year this may be higher or lower. Breakfast is also a highlight here with plenty of healthy options that will fuel you up for your workouts.
The Pros
Multiple back machines Healthy breakfast options
The Cons
Limited free weight offerings
Realistic Workouts Possible
See More Photos & Availability >>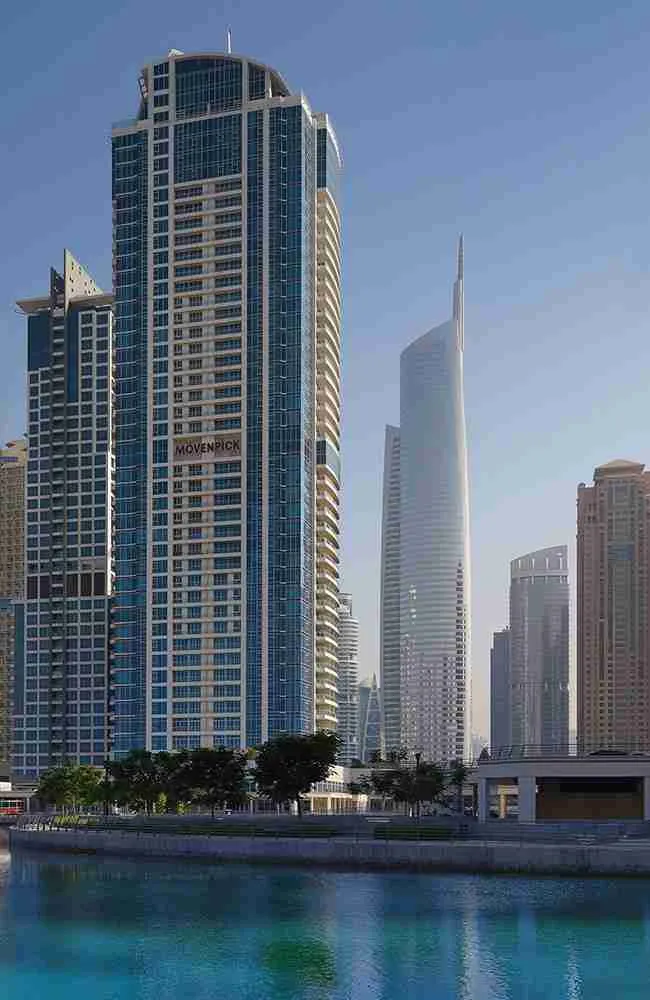 Ave Price Per Night: £150
Neighbourhood: Dubai Marina
7. Mövenpick Jumeirah Lakes Towers
// Best In Dubai Marina
A hotel gym in Dubai that looks like it was built in the last 12 months. Modern and full of free weight focused kit. Looks cool
When it comes to the best hotel gym in Dubai, you won't be disappointed with the Mövenpick Jumeirah Lakes Towers. Located in Jumeirah Lakes Towers, this hotel gym is perfect for anyone who wants an area to work out while on holiday.
The gym is filled with top-of-the-line equipment and features a wide selection of cardiovascular and resistance machines. Not to mention they offer a range of fitness classes such as yoga and spinning in their air-conditioned studio. In addition, the hotel staff are always on hand if you need any assistance.
Mövenpick Jumeirah Lakes Towers also has rooms ranging from standard singles to modern family suites with plenty of room for everyone. On top of that, their breakfast buffet includes healthy options such as fruits and cereals. Prices vary depending on what room type you choose but generally range from £100 – £200 per night which includes breakfast.
The Cons
Pool closed for no real reason
Realistic Workouts Possible
See More Photos & Availability >>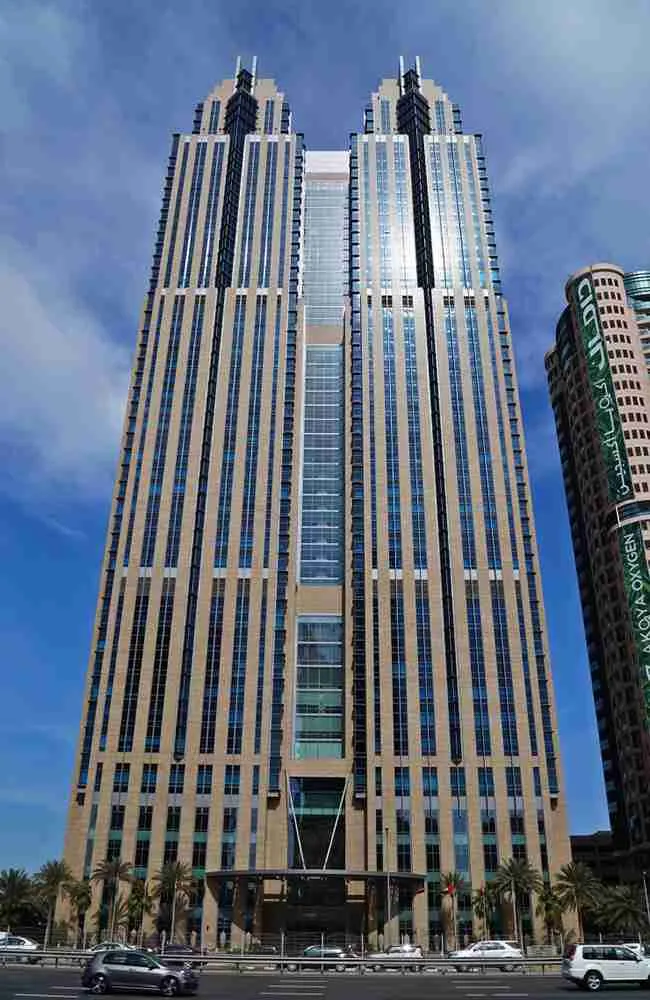 Ave Price Per Night: £175-£200
Neighbourhood: Trade Centre 1
8. Shangri-La Dubai
// Best Gym In Trade Centre 1
The hotel is a top pick as far as hotels go, and the gym is up to scratch. This means you won't feel short changed if you treat yourself to the Shangri-La.
If you're looking for luxurious accommodation and a great gym in one package, the Shangri-La Hotel Dubai is the place for you. With a spacious fitness centre boasting a wide range of equipment, this hotel is ideal for those who care about fitness. The gym has all sorts of machines, from treadmills and ellipticals to resistance machines and free weights. You can also enjoy access to a pool, jacuzzi and sauna. All of this comes with stunning city views!
The hotel itself is highly rated amongst visitors who have stayed there. It features an array of restaurants offering upscale international cuisine as well as healthy eating options. On top of that, it offers generous amenities such as a spa and an outdoor pool for guests to enjoy. The average cost per night at Shangri-La Dubai is around £175 GBP which includes breakfast.
The Pros
Modern resistance machines
PTs available
Dumbbell bench space
The Cons
No modern cardio machines, eg: arc trainers or kinetic sprint treadmills
Realistic Workouts Possible
See More Photos & Availability >>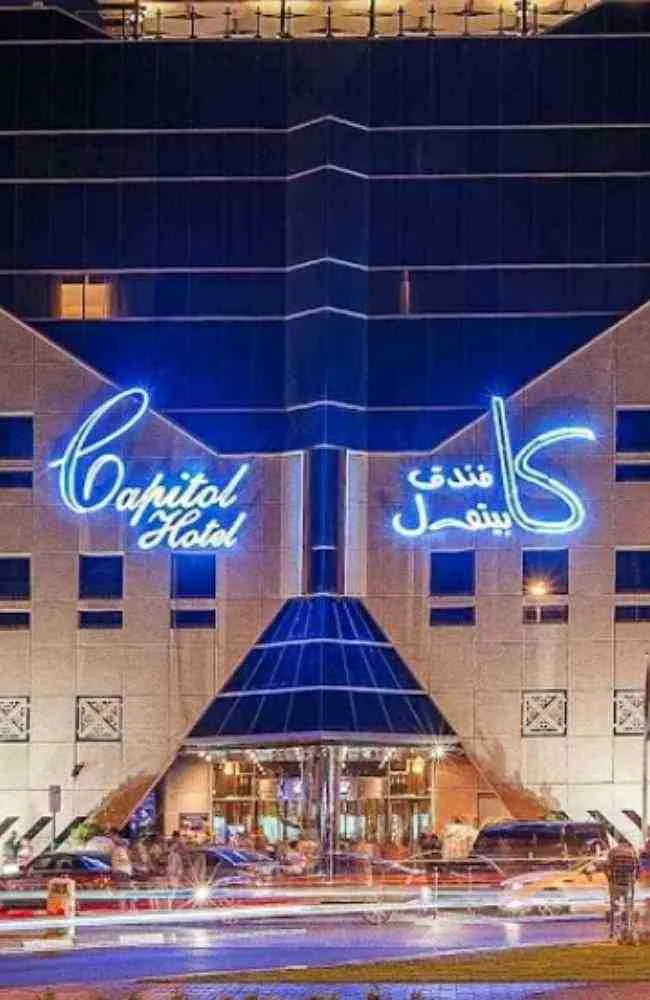 Ave Price Per Night: £125-£150
Neighbourhood: Al Mina, Bur Dubai
9. Capitol Hotel Dubai
// Best Hotel Gym In Al Mina
The owner of this hotel obviously likes the gym as what this hotel lacks in 5* hotelness, it smashes it for well put together gym equipment selection. We fxxx with this hotel gym.
For regular gym goers and fitness enthusiasts, Capitol Hotel Dubai has the perfect set-up. Located in the heart of downtown Dubai and close to attractions like the Dubai Mall, Capitol Hotel Dubai has a top-notch gym that has the latest equipment, a range of group classes, spa services and more.
When it comes to equipment, the hotel gym boasts everything from treadmills and weights to rowing machines and yoga mats so you can tailor your session to your needs. Plus, for those who want more than just a standard workout routine, there are plenty of classes available – from dance workouts to kickboxing – so you can mix things up a bit.
And for an added bonus, the hotel also offers nutrition advice on their website as well as healthy food options in their restaurant and breakfast menu – perfect for anyone looking to stay on track while they're away. Prices start at around 150 Euros per night but vary depending on availability.
The Pros
Bumper plates
Smith machine
Wide placed cable column
The Cons
Photos are terrible 🙂
More suited for experience lifters
Realistic Workouts Possible
See More Photos & Availability >>
Honourable Mentions in Dubai (Click to see more)
Some hotels with gyms in Dubai that are also worthy of a mention. They may lack in a few areas but we believe if it's a short stay, you could modify a workout and make these hotels work just fine for you.
With so many hotels and gyms to choose from, deciding on the perfect option for you can be overwhelming. Fortunately, many of the gym's in Dubai offer day passes, so you don't have to commit to a full membership before trying it out.
This is great if you're visiting the city only for a few days, because it means you can still get access to a quality gym without having to sign up for a month or more. It's also a great way to get an idea of what each gym offers before committing to a longer time frame.
For example, some gyms offer daily classes in various fitness areas such as yoga and aerobics, while others may only have equipment available with no instructor-led courses. It all comes down to your needs and preferences when it comes to finding the best gym for your holiday accommodation.
One of the best gym brands to look out for in Dubai is Fitness First. This renowned fitness chain boasts more than 20 clubs across the city, offering a variety of options for everyone from beginner to advanced exercisers. You'll find everything from swimming pools and spas to Pilates and Zumba classes, plus a range of fitness equipment including Cardio machines.
For something slightly more luxurious, Reebok CrossFit boxes are easy to find in most big hotels across Dubai. These cutting-edge gyms offer group classes, personal training sessions and well equipped workout areas with some of the latest workout tech around. If you're serious about getting your fitness fix while on vacation, then you won't want to miss out on Reebok CrossFit boxes.
If you prefer something more boutique and intimate, then head to one of the local independent gyms like Viva Gym or Iron fit Fitness Centre. With small group classes and dedicated trainers, these gyms provide an excellent alternative for those who want their workouts with some local flavour. No matter which option you choose, rest assured that Dubai has some amazing gym options for visitors!
I feel like most hotel gyms are fitted out by someone who has never stepped foot in one. Spending fortunes on multiple cardio machines but not an Olympic bar in sight. We review hotel gyms so your next trip doesn't mean missed workouts
Jonnie // 20+ Year Gym Rat