What if I told you, that the best bodybuilding gym in Atlanta, might not be in Atlanta? I'll let you be the final judge, but for us, we think we found it in Acworth.
Bodybuilding Gyms and Atlanta
Stuck in Florida waiting for New Year we thought we would tick another US state off our list of places visited, and with that we jumped in the GMC and headed North to Atlanta, Georgia. A short search online showed us that there is a fair bit of interest in bodybuilding gyms in Atlanta and we wanted to make sure we had the answer to that question we love to answer. What is the best gym in Atlanta for bodybuilders?
Don't want to wait? 
Jump to: Winner
While Atlanta may not be the first city that comes to mind when thinking of the great bodybuilding pantheon, it has still played host to a stop on the National Physique Committee circuit for decades, hosts it's own IFBB Pro-Am annually and is the birthplace of Cydney Gillon, 4 x Ms Olympia. In addition former bodybuilding name Toney Freeman still lives in the city to this day. 
The IFBB Atlanta Pro and the NPC Atlanta Classic, along with the Lee Haney Games and a swathe of other physique events occur throughout the year in Atlanta. The city hosts shows which award victors entry to the Olympia competitions and so therefore take on a real level of importance to Georgia and outlying state residents. If you plan on taking the sport of  bodybuilding serious and live in GA or North FL, Atlanta is an important hub.
How we picked the best gyms in Atlanta?
Sometimes it's just a gut feeling, an intuition that people who love bodybuilding will probably want to know about this gym, for all gyms we look at though, we have some criteria we run through for eligibility.
Is it an independent/local chain gym business or is it a nationwide franchise.
Bodybuilder credible equipment brands. Nautilus, Arsenal Strength, Watson, Technogym etc
Bells & Whistles – Posing rooms, old school bodybuilding posters, mirrors in front of squat racks
Lifting Vibe – Do you get the rush to want to put on your knee wraps and smash a leg PB? 
As we always say, when we write this section, it is not an exhaustive list but it gives you some idea of what we are looking for as fans of weight training and PT qualified lifters. Any warehouse can hold gym equipment, but not everyone can do a magical gym. It's the small details that matter.
Winner - Best Gym For Bodybuilders In Atlanta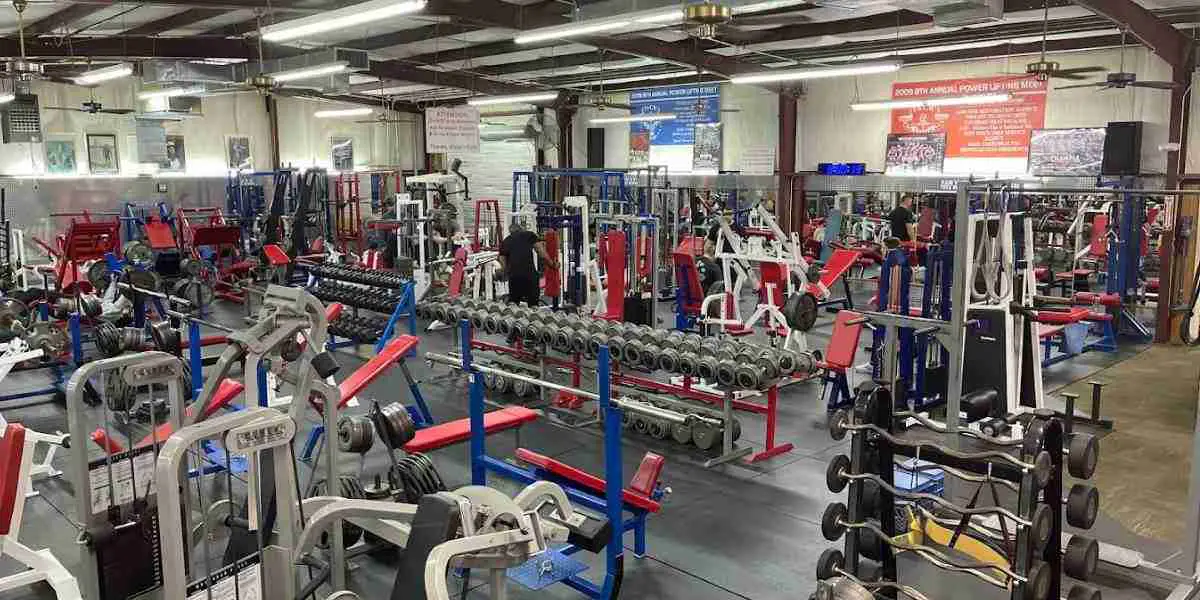 We found  clutch of solid gyms in the city of Atlanta and have even praised one before in our guide to the 'Best Bodybuilding Gyms in the US' in Ironhouse Fitness. That little time capsule in Smyrna is left out of this guide, simply so we can show you a few new names to consider too. We like to share the love around. 
We spent a solid week in the city working through our classic 5 day PPL and took the time to see what the best of training looked like for residents. Let's start with our champion.
Stack's Gym - Acworth, Atlanta, GA
So, what has a town of Acworth 30 minutes from downtown ATL got to do with bodybuilding gyms? Well, it's possibly the home of the best bodybuilding gym in Atlanta's embrace, Stack's Gym. An Average Joe's meets 1990s College gym style fitness centre that has all the nostalgic charm of a heyday of bodybuilding and maintains 'heyday' prices too. This place almost got overlooked in our hunt around the city, and it even meant a last minute reshuffle.
We know it's controversial, we know the best bodybuilding gym in Atlanta really should be in the middle of Atlanta, but we think you'll understand. Let's talk about Georgia's oldest gym, Stacks. 
For all of the gloss of a big city in the US, coming out to Acworth throws you back in time. Drive along Highway 92 and you'd barely notice Stack's peering out the back of a gas station forecourt side access route. The area around is just roads, fields and the odd house dotted here and there. It's a slow, sleepy part of the state, that probably resembles what many think Georgia looks like. 
Don't let that trick you. 
We didn't know what to expect as our enormous Yukon very conspicuously trundled toward the gym parking lot out front. But, Monsters slammed and bananas noshed, we stepped inside a place that looked like something out of Dodgeball the movie. 
And we immediately smiled.
We loved Stack's Gym the very second we entered and while we couldn't put our finger on it immediately, it's partly because it hit all the right sensory elements someone who loves old school gyms wants to be hit. Yes, it looks classic af. Yes, it has a shed load of plate loaded weight training equipment, Yes, it has the classic photos, old merch, proudly displayed physique trophies and brands you trust. This place very nearly is a win for us in 20 seconds.
But let's get specific – what do we love the most about this gym here near Atlanta?
Bodybuilding magazines on display racks
Colourway looks like Average Joes
Reinforced Benches
Heavy Duty Squat Rack
Decor from the 70s
Lot of custom made training accessories
Customised welded equipment
Barbell Standard plates
4 Plate loaded leg press
70KG Dumbbells
Tons of attachments
There is nothing low budget about the equipment and the experience of this gym, the only cheap thing, is the membership price and that rounds up pretty much why we love this place. It may not have plunge pools, luxury spas, and digital apps for entry, but it has iron written all over it.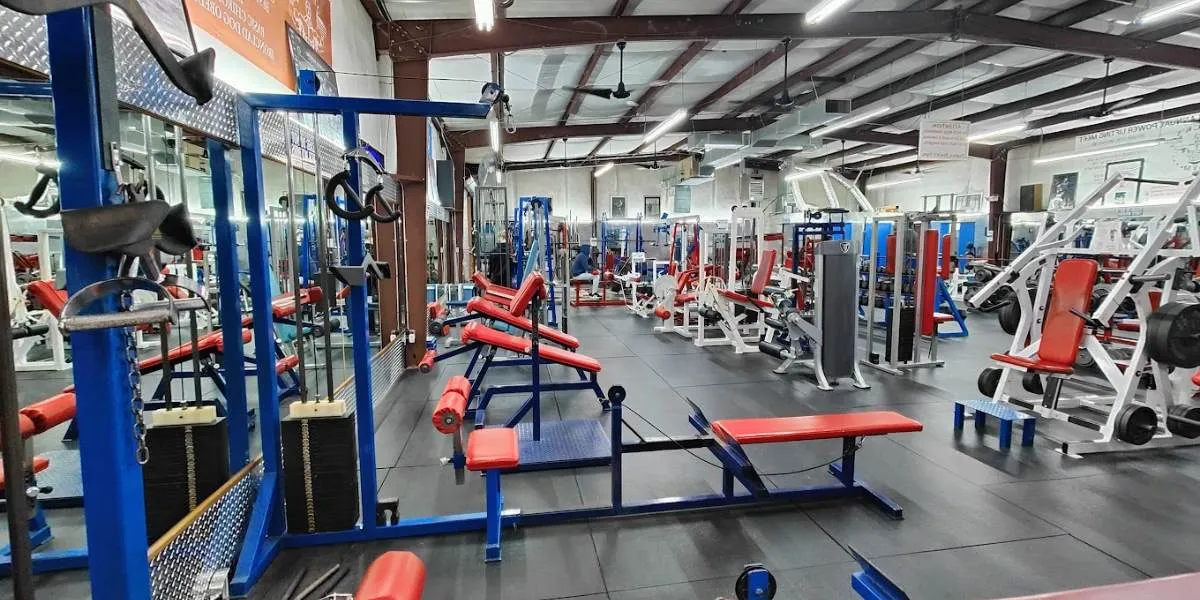 How to find Stack's Gym near Atlanta, Georgia
North of the wider Metropolitan area of Atlanta along Freeway 75, head past Marietta and in about 30 minutes you'll find yourself approaching Red Top Mountain State Park. This little sleepy part of Georgia is Acworth and where you'll find Stack's. The gym is on a side route off Highway 92, close to a gas station, a church and not a lot else. The gym is behind the service station and a small office building. 
Address:  2375 Hwy 92, Acworth, GA 30102
Opening Hours
Price To Train
Reviews
Facility Info
Any Downsides?
Opening Hours
Staffed Hours:
Monday – Friday: 6 am – 10 pm
Saturday: 6 am – 10 pm
Sunday: Closed
Price To Train
Reviews
Facility Info
Any Downsides?
Other Great Bodybuilder Gyms In Atlanta
Atlanta is quite a sprawling city and encompasses a number of nearby towns, including Smyrna and Marietta – which means there are a range of options on where to train. We spent our week wisely, to look beyond the downtown area and see if we could discover more great bodybuilding gyms in Atlanta. So, in no particular order, here are the other gyms in Atlanta we think you need to know about.
Best Gym In Downtown Atlanta
While we love an old school gym, sometimes you got to treat yourself.
The Forum AC: 3393 Peachtree Rd #2010, Atlanta, GA 30326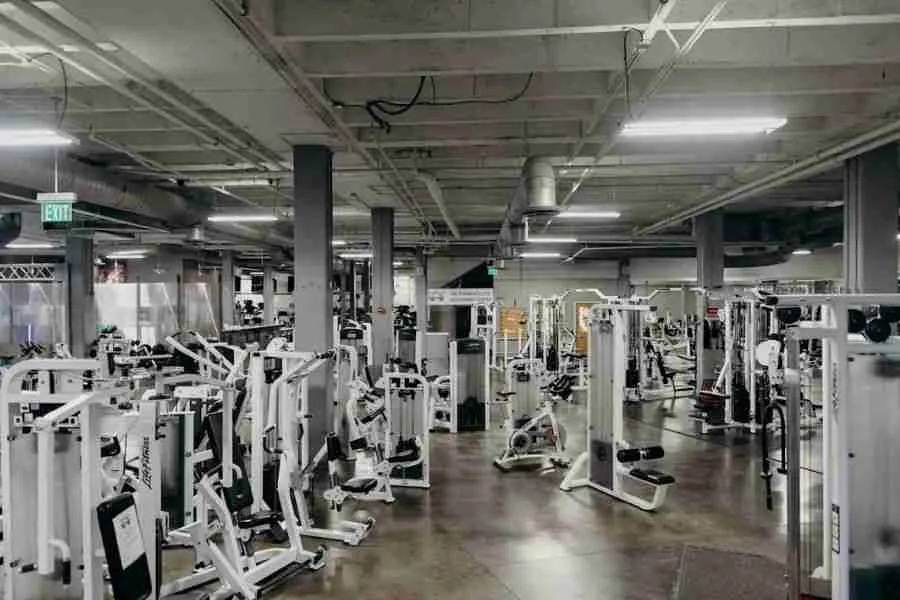 Something a little fancy? We spent an afternoon hitting our arm day at the Forum. Part of a small group owned locally in the state, they are geared toward multipurpose use, but the weight rooms are extensive, well fitted and feel inspiring spaces. This was easily the best gym in Downtown Atlanta for bodybuilders.
Love the warehouse aesthetic, polished concrete floors, plus there's something a little retro about the all white LIfe Fitness set-up. I can't hate this.
If you want to treat yourself in central ATL – then Forum AC is our pick.
Pricing: 1 Day Pass = $20 : 1 Mth $49
A gym made for bodybuilders but welcome to your mum? It's Titanz
Titanz: 1834 S Cobb Industrial Blvd SE, Smyrna, GA 30082,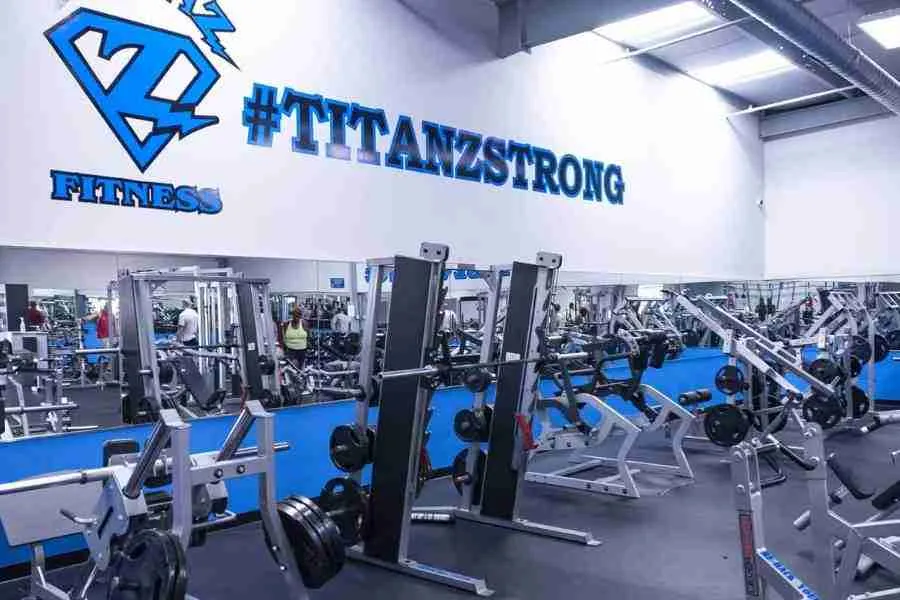 Titanz is a top gym. And it's not just a good fitness centre that is good for bodybuilders – IT IS A BODYBUILDING GYM…and it's 24/7! 
From competition prep, to posing classes, Panatta gym equipment, to their sponsorship of local physique competitions and their member roster with NPC and IFBB Pros on. Titanz is one of the best bodybuilding gyms in Georgia, let alone Atlanta. 
What stood out for us the most, is that it's also really welcoming for those who are less into bodybuilding. I feel like I could bring my wife too. Nice.
Pricing: 1 Time Day Pass = $0 : 1 Mth $50
What's the best of the rest, the close call best bodybuilding gym in Atlanta?
Research & Development Gym: 3393 Peachtree Rd, GA 30326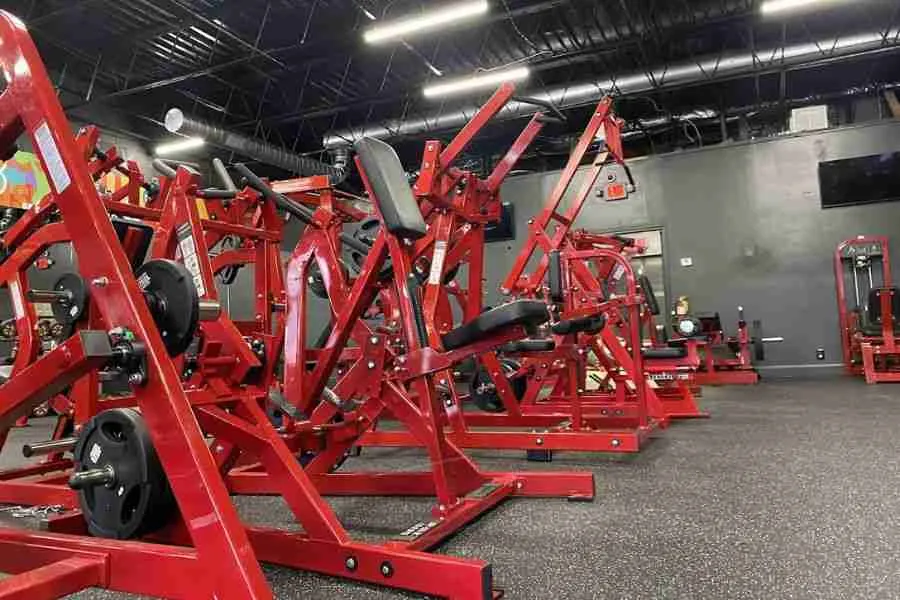 @rndgymatl aka Research and Development gym in Atlanta is your classic mural wall covered, angry red powder coated bodybuilding facility. And when I say 'classic', I mean beautiful. Their equipment range is heavy on plate loaded Hammer Strength, which is perfect and their plate range includes rubber bumpers, which means you don't need to feel self conscious doing deads and dropping.
Getting there's easy, it's just off Freeway 20, with a ton of free parking.
Not as big as the others so it misses the top spot, but a close call. 
Pricing: 30 Day Rolling $38