A last minute flight to Chicago brought us to a city with some great gyms to train in. In this guide we reveal the best bodybuilding gyms in Chicago, an old school gem, an all time classic and even a fancy one.
Bodybuilding Gyms and Chicago
Often overlooked on the tourist trail by us Brits because we tend to hunt out sun and sea, Chicago is a city rich in history, with a great nightlife, amazing places to eat and as you will discover, some brilliant places to lift weights. 

Jump to: Winner – Quads
Chicago has a rich history in the world of bodybuilding. While the Mr. Olympia and the Arnold Classic are the two most prestigious titles in bodybuilding, the Chicago Pro has its own pedigree as a title that many bodybuilders aspire to win. The Chicago Pro bodybuilding show began in 1988, with Phil Williams being its inaugural champion. Over the years, the contest has seen various champions go on to greater success, including Porter Cottrell (1992-1993), Mike Francois (1994), and more recent winners like Dallas McCarver (2016) and Hunter Labrada (2021). While the show had an 18-year hiatus between 1995 and 2011 it has returned once more as an annual event since 2012. 
With the legacy of the late Chicago cop Sergio Oliva being a 3 time Mr Olympia (even beating Arnie) and the return to annual hosting of the Chicago Pro competition, it's clear passion for the sport burns strong here. The city has a wide spread of places to train and I guess when you're known for hot dogs and fun food, you are always going to need to find somewhere to work it off.
How we picked the best gyms in Chicago?
How do we pick these gyms? Well, to start with, no money changes hands. We write about bodybuilding gyms in Chicago and the wider world because we are 100% nerds to cool gyms. Written as a labour of love, and backed up with decades of training experience – plus a couple of PT qualifications, we think we know what most people like us are after. Sure, if you think a great gym is one with a sauna and a 38 treadmills then you probably won't want to keep reading. But, if you have a favourite protein bar brand, love doing the hardest leg workout ever on a Monday and pack lifting straps in your suitcase, then we got your back.
Winner - Best Gym For Bodybuilders In Chicago

When you think of Chicago and great bodybuilding gyms you really think of only one name. Coming to the city is a well established stop on a pilgrimage of the best gyms in America. You come here for Quads. But that doesn't mean there aren't other bodybuilding gyms in Chicago worth knowing about and on our trip to the city we made time to check them out and write on them.
The visit here is tinged with a little sadness as we visited not long after the passing of one of the founders of Quads, Dave DeYoung, closing the chapter on a piece of weight training history in Chicago. Two decades have passed since his lifelong best friend and fellow founder Tom Milanovich left us far too young, but as long as fans of bodybuilding keep valuing Quads, their flame keeps burning.
Tom and Dave didn't just build Quads, they built the modern Chicago bodybuilding community. It was an honour to be able to visit. This is why…
Quads Gym - Lakeview Chicago, IL, USA
Looking more like an 80s music store than an insanely good gym from the outside, if we didn't know what we did when booking our flights to O'Hare, we may have strolled on by. Fortunately we came across this place some years back after watching the late great Mountain Dog's review. 
Quad's Gym is a short trip from where most tourists stay in the centre of Chicago and a visit we long wanted to make. 8 hours flight time later, a painless check in and stupidly cliched rental car in hands, we parked up across the street by the 7/11 and made that nervous walk into a new gym space we still get. 
Any gym that encourages the growth of a sport or a passion deserves to get a little love just for that, but Quad's is more than just an early entrant to the bodybuilding gym space it was built with passions and nurtured with parental care for decades. The range of brands on display is immense and it doesn't just stop at the resistance equipment. I spotted Precor, Matrix, Star Trac and Concept in their cardio space. When a gym manually curates items of kit in a place like this, it's because it's the right piece for the job. 
I love the fact I could buy wraps, knee sleeves, belts in the gym at really fair prices. You never need to stress if something hasn't made your gym bag, which made it even better for us travelling light. Post workout protein snacks are sold here as well, and it's not an after thought. It's not just a single box of smashed up unloved flavours. Attention to detail is here in spades.
There is depth to the equipment for all in demand gym lifts and both the aesthetic and human atmosphere is perfectly poised. It's fun, it's a little noisy and it's 100% a great feeling training here. 45 years after the place opened, Quad's gym is still the best bodybuilder's gym in Chicago.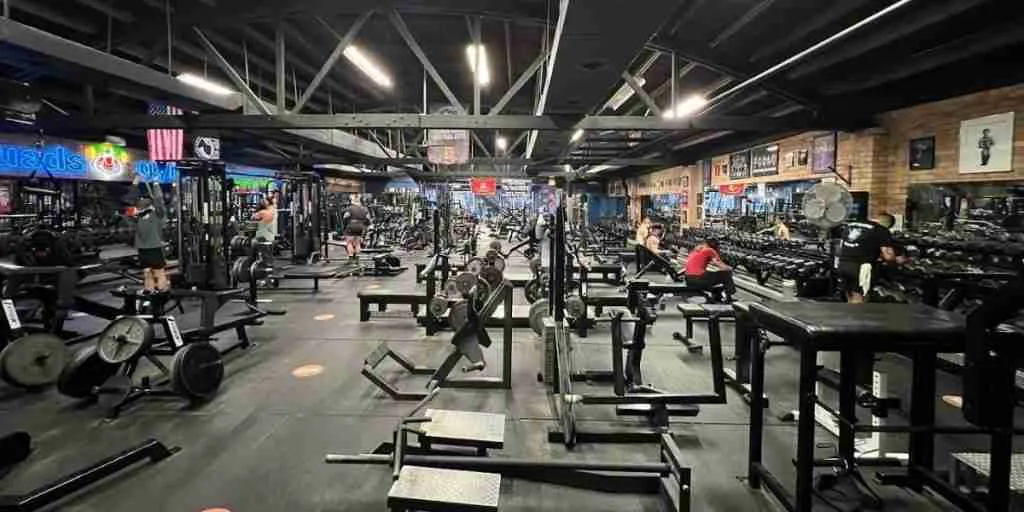 Chicago is a pretty walkable city and Quads being in Lakeview is not too far from the main tourist centres like the Loop or Lincoln Park. Hop on the bus and grab the Red Line which stops out front, or come by car and you can get here in 12 minutes from the Loop. From Lincoln Park,  it's a bit closer, 8 minutes drive, or 18 minutes if you grab the number 8 bus. As you're really only covering 2 miles down N Halstead St, when you're making your way from Lincoln, walk it. Then you have your cardio done too.
Address: 3727 North Broadway, Chicago, IL 60613, United States
Opening Hours
Price To Train
Reviews
Facility Info
Any Downsides?
Opening Hours
Staffed Hours:
Monday – Friday: 5:30 am – 10 pm
Saturday: 6 am – 8 pm
Sunday: 9 am – 8 pm
Not 24 Hours
Price To Train
Reviews
Facility Info
Any Downsides?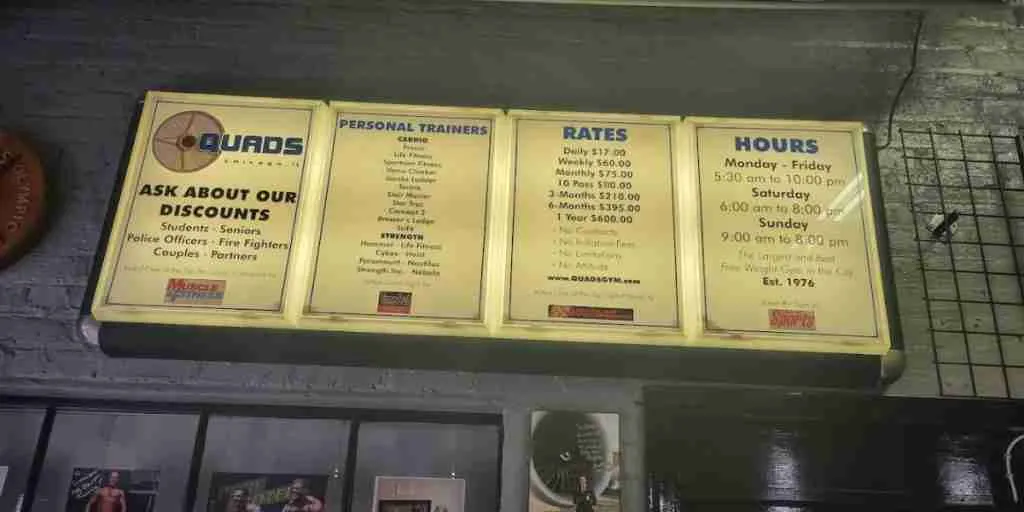 Other Great Bodybuilder Gyms In Chicago, Illinois
As we said, there's more to Chicago's gym scene than Quads – and if you're stopping by the city we want to shout out several more too. These include B&W's gym which is almost as old as Quads, the latest branch of Powerhouse in Palatine and Iron Mine Gym which has a brilliant hardcore vibe. 
A few more which are more weightlifting led than bodybuilding I'm going to mention here. Rockwell Barbell, Handle Bars, Lance's and recently upgraded Chicago Barbell Compound. These are all going to provide a good workout if you're more into your total body barbell workouts.
Iron Mine, Irving Park Rd, Chicago: 'Best Hardcore'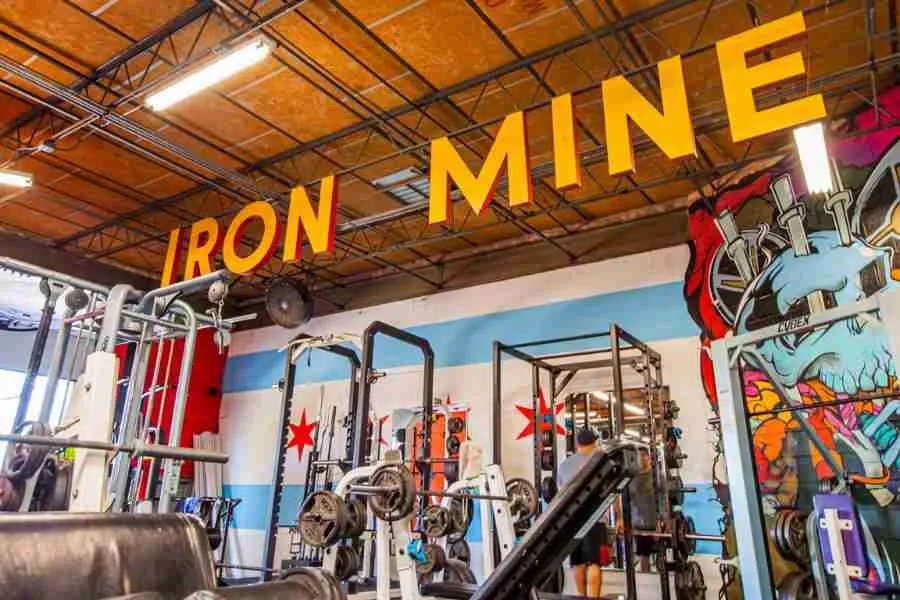 24/7 access, veteran friendly and with parking out front, this is a highly reviewed hidden gem. It's got a hardcore gym vibe, but felt quite bright and easy to train in. I love the wall art plus we saw the customary photos of lifters on the wall. Their gym equipment is a mix of names,  a sign of a lovingly put together gym set-up, including Hammer Strength and Cybex.
Pricing: 1 Day Pass = $10: 1 Week $20
Power House, W Northwest Hwy, Palatine: 'Best Chain'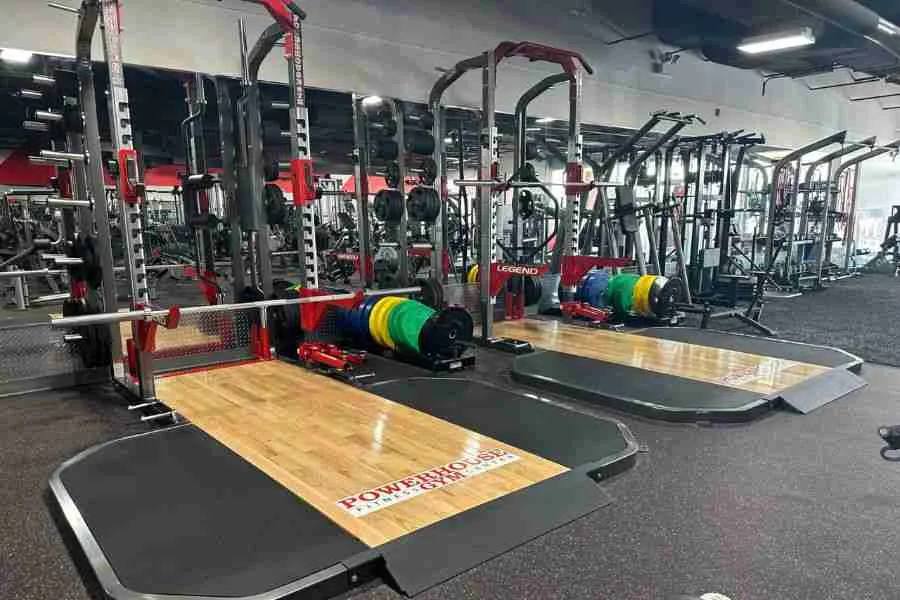 Powerhouse means a guarantee of a good workout – generally speaking. Unless you stroll up hungover after an attempt at a bar crawl the previous night on Clark Street. It has plenty of squat racks and benches, the customary Powerhouse lifting platforms and the only downside is it just lacks the nostalgic charm of some of their older outlets….that's all. 
Pricing: 1 Day = $15 per day. 
B&W Gym, N Ridge Ave, Chicago, IL: 'Best Old School'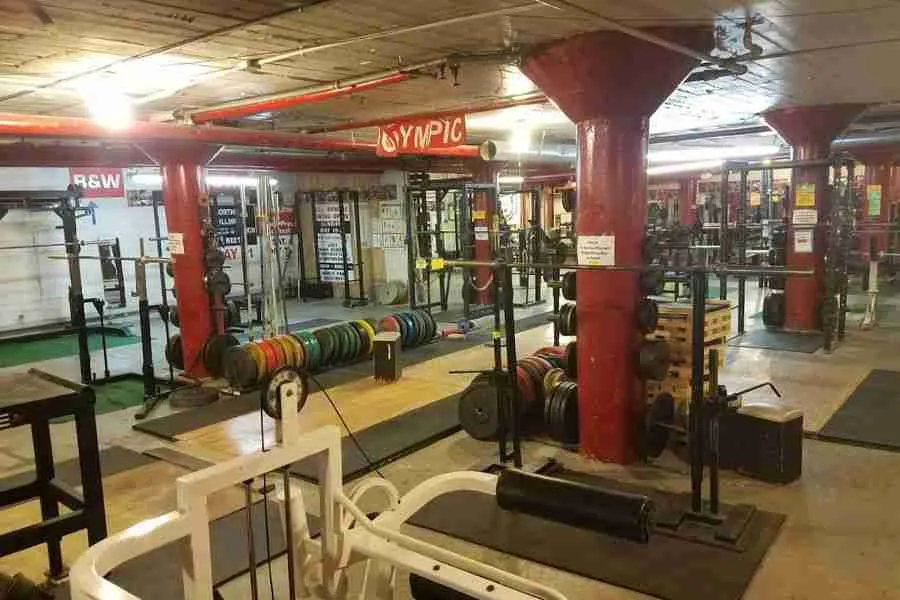 As old as Quads almost, is a local old school gym that still goes strong. B&W was set up by former powerlifter Sandi Brady and her then husband Dennis back in the 70s. Little has changed in terms of its internal aesthetic where it started life as a laundry store room in an apartment building. But it continues to bring back regulars year in year out. Give them a visit.

Pricing: Day Pass = $10 – Weekly $25.