Best Hotel Gyms in Amsterdam
We review the best hotel gyms in Amsterdam so you can get a workout in, before destroying your motivation (and coordination) in the coffee shops around the city. One thing's for sure, the city that inspired New York seems to match them for hotel fitness centres too.
Travelling to Amsterdam and want to stay fit?
TLDR: For fitness enthusiasts, Amsterdam boasts some of the best hotel gyms in Europe. The city is renowned for its outdoor sports, such as running, biking, and swimming in the canals, and features ample green spaces equipped with outdoor fitness facilities. Additionally, Amsterdam offers numerous healthy food options. If you're looking for the best hotel gyms in Amsterdam, consider staying at the Sir Albert Hotel, Park Centraal Amsterdam, or BOAT & CO Hotel. These hotels provide exceptional gym equipment, natural light, steam rooms and saunas, and healthy dining choices. Room rates at these hotels start at approximately 150 euros per night.
WINNER: Hotel Okura – Click To See
what's The Dam like for fitness fans
If you're looking for a getaway that caters to fitness fanatics, then Amsterdam is your dream destination. Not only are there plenty of hotel gyms to choose from, but the city also hosts some big fitness events throughout the year. Fitness lovers can find plenty of opportunities to sweat and challenge their bodies in the City of Canals.
Apart from the great hotel gyms available, Amsterdam also offers a lot of outside-the-gym exercise opportunities. There are plenty of outdoor sports such as running, biking and swimming in the many canals – just be sure to wear a wetsuit if you're venturing into one! There are also some great parks and green spaces with outdoor fitness equipment, allowing visitors to get their daily dose of fresh air.
When it comes to grub, Amsterdam is not short on healthy food options either – with clean eating cafes and even non greasy vegetarian restaurants popping up all over town, serving great food with plenty of nutritional value! So don't worry about sacrificing your macros on holiday because you'll have plenty of options when it comes to eating healthy in Amsterdam. I once coined a phrase for our restaurant brand 'The Skinny Kitchen' – leave the calories to alcohol. Here, I'll say, leave the calories to hash-cakes.

How We Picked The Best Hotel Gym in Amsterdam
The 'science' behind our Amsterdam gym hotel reviews
"Who the f are them guys??" We're David and Lee, two guys that love hitting the gym more than we should, We have sacrificed some of the greatest day parties in Europe, just to make sure we can hit the gym, do our 10,000 steps and grab a few motivational sleeps before going out at night. 
Yes, we are gym nerds. Which makes us uniquely positioned to know what makes a great hotel gym. That's the backstory, and below is the meat and bones on our hotel gyms in Amsterdam assessment criteria. We are PT trained and enjoy doing leg days – basically experts in the field 😉
One thing to know – we mark hotel gyms down if all they have is treadmills for cardio. 
You can read more about our selection policy below.
We are our audience. That's the first thing you should know. We have made that walk into hotel gyms for over a decade now and know the disappointment that happens all too often, leaving you annoyed you paid extra for a place to stay that had a fitness centre.
The reality is most hotel gyms have been put together by someone who has never been to a gym in their life. We weigh up several facts when it comes to picking winners or calling out losers.
1. Can you complete the major compound lifts? These include squats, deadlifts, presses and rows (or pulls). These are generally best served with a squat rack, maybe a smith machine and the presence of an Olympic barbell. Read about the "Fundamental Lifts".
2. Who does the weight load cater for? The reality is most hotel gyms do not have sufficient weight plates or dumbbells for strong women, let alone adult males who visit the gym regularly.
3. Overall gym conditions. This includes space to stretch, the condition of equipment, is there a/c etc. Nothing worse than trying to do an ab workout or flexibility movements on a wooden floor with no mats.
4. Cardio Range. What is the condition of the CV equipment and is there too much focus on machines that replicate the one exercise we can all do without a gym. Running/Walking. Yes – we will down mark for a room of treadmills….so stupid.
The Winners // Hotels With Gyms in Amsterdam
So here they are, our top 9 hotels in Amsterdam with fitness centres. The top 6 get big billing, and we have thrown in another 3 more as honourable mentions. If you're visiting the City and want a hotel that lets you squeeze in a real workout, then these options are for you.
Too busy to read? Listen instead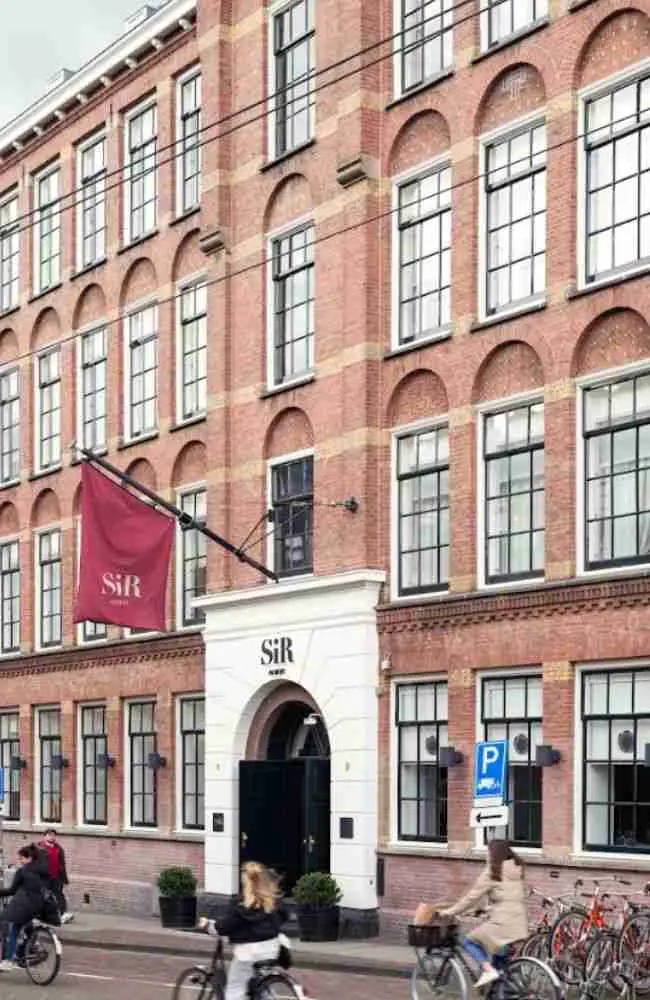 Ave Price Per Night: £150
Neighbourhood: De Pijp
Gym Hours: Mon – Sun 7am – 8pm
Max Dumbbell: 30Kg 
Gym Brands Seen: Technogym
1. Sir Albert // Best Hotel Gym In De Pijp
Small but perfectly formed. Ivanko plates, power rack, functional AF
If you're looking for premium fitness accommodation while visiting Amsterdam, the Sir Albert Hotel is one of the best hotel gyms in the city. This chic and modern hotel offers high-end gym equipment that you won't find at your average hotel gym, like free running treadmills, Ivanko weight plates, Olympic rings, Power rack and the nice touch of a heel elevated rubber 'thing'.
You can get a full barbell workout in here, and when doing squats you can slide this under your heels to give you some teardrop quad focus. Or flip mode this and use the rubber gizmo to raise your toes and put more emphasis on your hammies when doing a stiff leg deadlift. 
Editor note: It's called a squat wedge. (I googled) Small but amazing touch. Decent.
Moving away from workout specifics let's talk hotel ambiance. The Sir Albert Hotel offers plenty of natural light and impressive views of Amsterdam which can be enjoyed as you work out. And that's not to mention all the other amazing features of this 4-star property: super comfy beds, a rooftop bar and terrace for sunsets overlooking the canal, and a multi-award-winning restaurant. Plus their breakfast buffet includes healthy eating options like proteins, fresh fruits and veg.
If this sounds appealing to you, then it's worth bearing in mind that prices at Sir Albert Hotel start at €150 per night – but this may include breakfast depending on when you visit! So, not too pricy but certainly not budget. A few days in the City? Give it a shot.
Reception: HELLO@SIRALBERTHOTEL.COM
Address: Albert Cuypstraat 2-6, 1072 CT Amsterdam, Netherlands
The Pros
Olympic Rings For Stroopwafel gains
Good Dumbbell Range
Power Rack
Free Running Treadmill
The Cons
Not huge space - busy sessions may lead to disappointment
Wooden Floor
Realistic Workouts Possible
See More Photos & Availability >>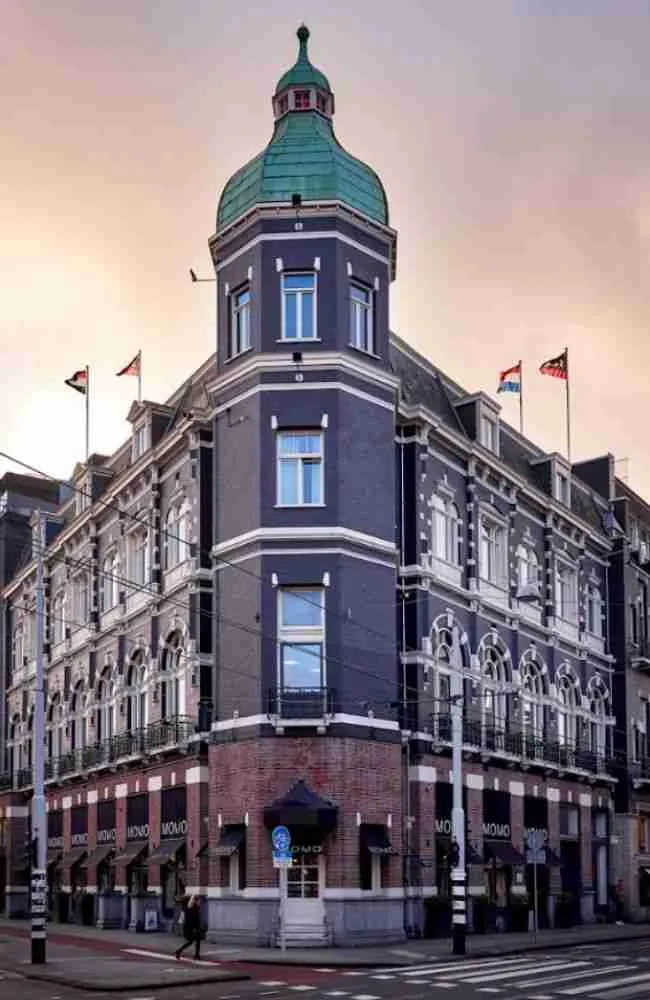 Ave Price Per Night: £150-£200
Neighbourhood: Amsterdam Oud-Zuid
Gym Hours: 24/7
Gym Brands Seen: Hammer Strength – Life Fitness
2. Park Centraal Amsterdam // Best Hotel Gyms In Oud-Zuid
You can get a solid upper body GVT Chest & Back session in - But they will charge you for it.
The Park Centraal Amsterdam is one of the most popular spots for travellers looking for a gym with all the amenities. Located in the heart of Amsterdam, this hotel gym has a range of modern equipment, including treadmills and weights, and even a sauna and pool. It has also had some pretty positive reviews from visitors, with people saying that it's well-maintained, clean and staffed by friendly staff.
The cost per night includes breakfast but there are some additional charges for using the fitness centre (usually €15 per day) so if you're planning on using their gym facilities make sure to factor that into your budget. There is an onsite restaurant which serves healthy options such as salads and smoothies and has a large selection of vegan dishes for those looking for plant-based meals.
So if you're interested in booking a stay at the Park Centraal Amsterdam, you can rest assured that you'll have access to a great gym which will meet all your needs while on holiday in Amsterdam.
Reception: hello.ams@parkcentraal.com
Address: Stadhouderskade 25, 1071 ZD Amsterdam, Netherlands
The Pros
Hammer Strength Rack Good Cable Pulley Machine
The Cons
Have to pay for the gym - Cheeky
Smaller Space
Not Cheap

Realistic Workouts Possible
See More Photos & Availability >>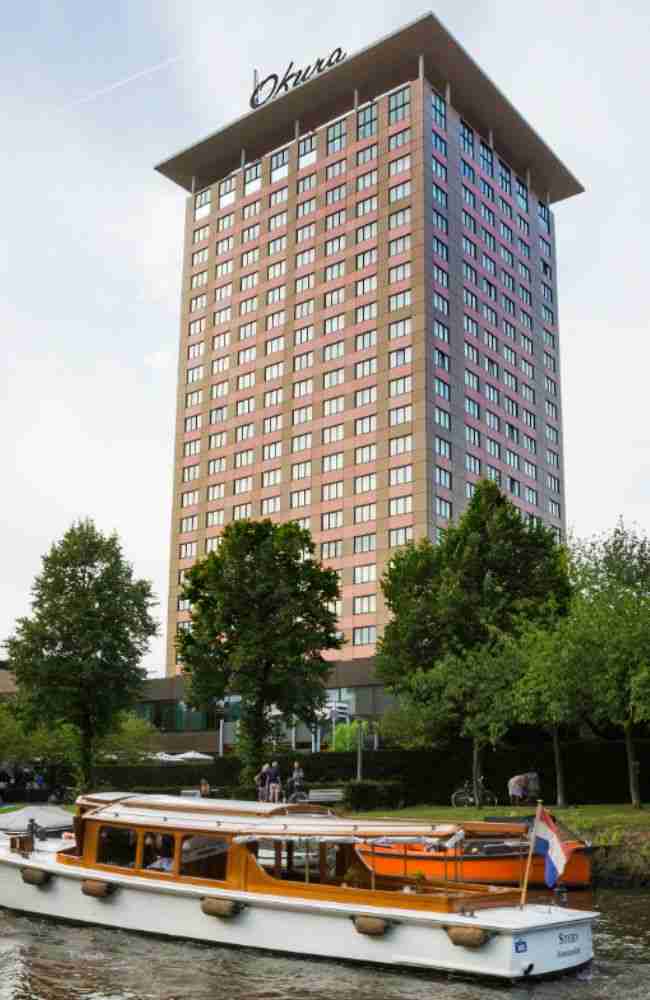 Ave Price Per Night: £150-£250
Neighbourhood: De Pijp
Gym Hours: 24/7
Max Dumbbell: 30kg
Gym Brands Seen: Technogym
3. Hotel Okura // Best Hotel Gym In Amsterdam 'Winner'
Our leading pick - the hotel gym at the Okura looks cool and they have rubber floor matting. Such a simple item missed by most. Great location too.
If you're looking to stay in Amsterdam and want access to a great gym, Hotel Okura Amsterdam is the place for you. Be prepared though, it's not the cheapest! It's well reviewed by its visitors and average prices for a room rarely see south of €200 per night. That said, the breakfast service has plenty of healthy options and the gym is decent.
So what makes the Hotel Okura in Amsterdam such a great choice for those who care about fitness? It's not just about a private gym. The hotel offers a range of fitness services and equipment to ensure travellers can maintain their workout routine while they're away.
The hotel gym has all the state-of-the-art equipment you'd expect to find in any modern fitness centre: anaerobic treadmills, Kettlebells, power racks and Olympic barbells. But it also goes beyond that with its bike rental service, personal trainers and yoga classes. Put simply—it's an ideal spot for tourists who want to keep fit and make the most out of their holiday in Amsterdam.
Reception: info@okura.nl
Address: Ferdinand Bolstraat 333, 1072 LH Amsterdam, Netherlands
The Pros
Nice pool
Power Rack
Matted Floor
Multiple Barbells
Realistic Workouts Possible
See More Photos & Availability >>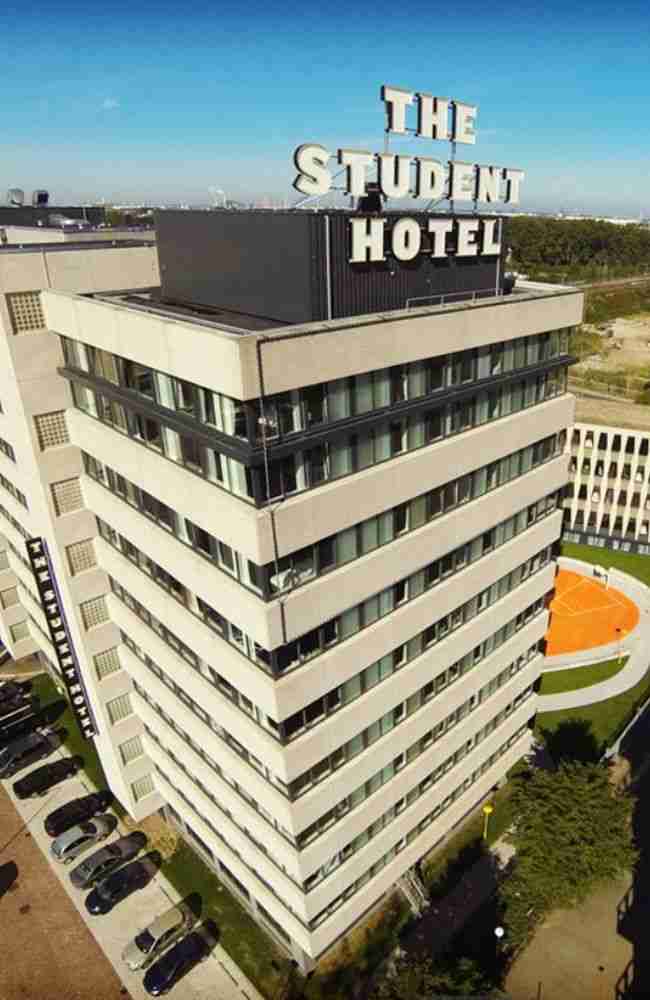 Ave Price Per Night: £150+
Neighbourhood: Amsterdam Nieuw-West
Gym Hours: 24/7
Max Dumbbell: 15kg
Gym Brands: Eleiko, Concept, Cybex
4. Social Hub Amsterdam West // Best Hotel Gyms in Amsterdam West

We see coloured rubber weight plates - we enter you in our top list. Great crossfit session here!
Number 4 on our list and 1 of 2 Social Hubs on this list – The Social Hub Amsterdam West is a solid shout if you're looking for the best hotel gym in Amsterdam. This modern boutique hotel is designed with a fitness experience in mind, offering guests a well-equipped gym and plenty of other fitness options.
This hotel is known for its friendly staff and affordable rates. It's located in the trendy Amsterdam West area, right by Westerpark, which is perfect for outdoor activities like walking, jogging and cycling.
The hotel gym itself offers a range of workout equipment including treadmills, weights, ellipticals and exercise bikes. There's also a separate wellness area with saunas, massage chairs and yoga mats–everything you need to stay in shape without leaving the comfort of your room.
The Social Hub isn't just about fitness though; it also has some fantastic social offerings such as a bar, lounge and vegetarian restaurant. The average price for a night's stay starts from €75/night (including breakfast)–so you don't have to break the bank when it comes to staying fit!
Reception: amswest@thesocialhub.co
Address: van de Sande Bakhuijzenstraat 4, 1061 AG Amsterdam, Netherlands
The Pros
Looks cool
Barbell Rack
Bumper Plates
Matted Flooring
The Cons
Not as good as their location
Loads of swiss balls
Realistic Workouts Possible
See More Photos & Availability >>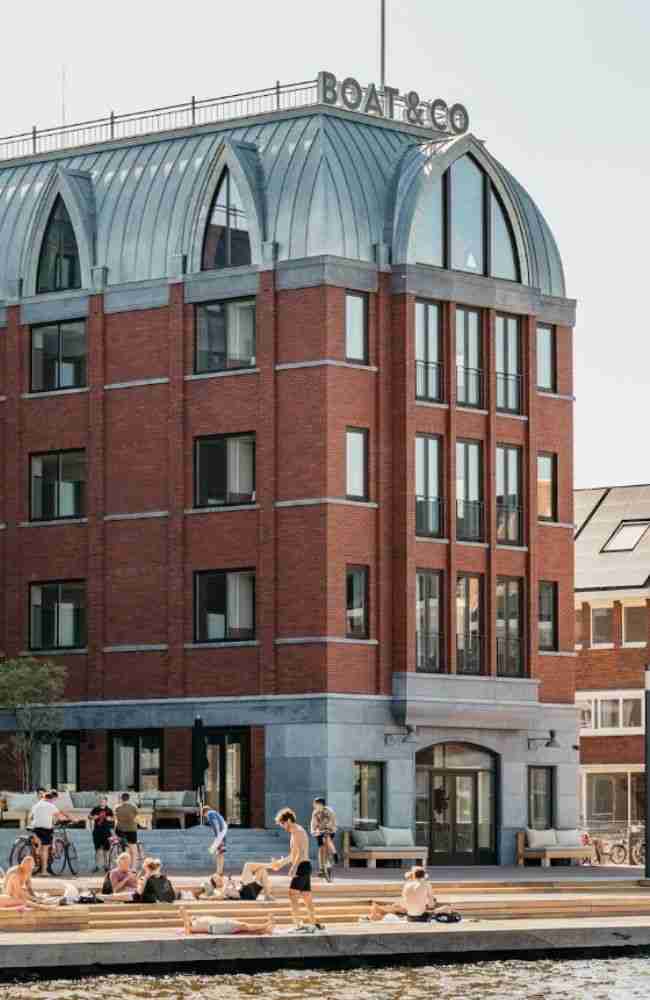 Ave Price Per Night: £200
Neighbourhood: Westerpark
Gym Hours: 24/7
Max Dumbbell: 22kg
Gym Brands Seen: Technogym
5. Boat & Co // Best Hotels Gym in Westerpark
Boat & Co brings warehouse living vibes to a workout - if you needed that. For us, it just felt a nice environment to train in. Not the biggest, but a solid workout nonetheless
Are you looking for the best hotel gym in Amsterdam that is perfect for your next vacation? Look no further than BOAT & CO Hotel! Located close to the city centre, this hotel offers a great gym for those who want to stay fit.
The gym at BOAT & CO Hotel contains all of the necessary equipment for an excellent workout. It features free weights, weight machines, treadmills, stationary bikes and more. The fitness centre also has a steam room and sauna, which can help with post-exercise recovery. Plus, there's always plenty of space available to make sure you can maintain social distancing while working out.
What's more, visitors consistently rave about their stay at the BOAT & CO Hotel and its gym. Those who have visited the gym said it was always spotless and included everything they needed for a great workout. The hotel also offers healthy dining options and breakfast is included in all room rates. Prices per night start at approximately 150 euros and vary depending on when you're going and what type of room you want.
So if you're looking for a hotel in Amsterdam with a great gym that won't break the bank, then definitely consider staying at BOAT & CO Hotel!
Reception: reservations@boatandco.nl
Address: Revaleiland 500, 1014 ZG Amsterdam, Netherlands
The Pros
Cool visual vibes
Smith Machine
Technogym
4 Station Cable Pulley Machine
The Cons
Dumbbells cut off at 22kg
Not huge amount of kit
Realistic Workouts Possible
See More Photos & Availability >>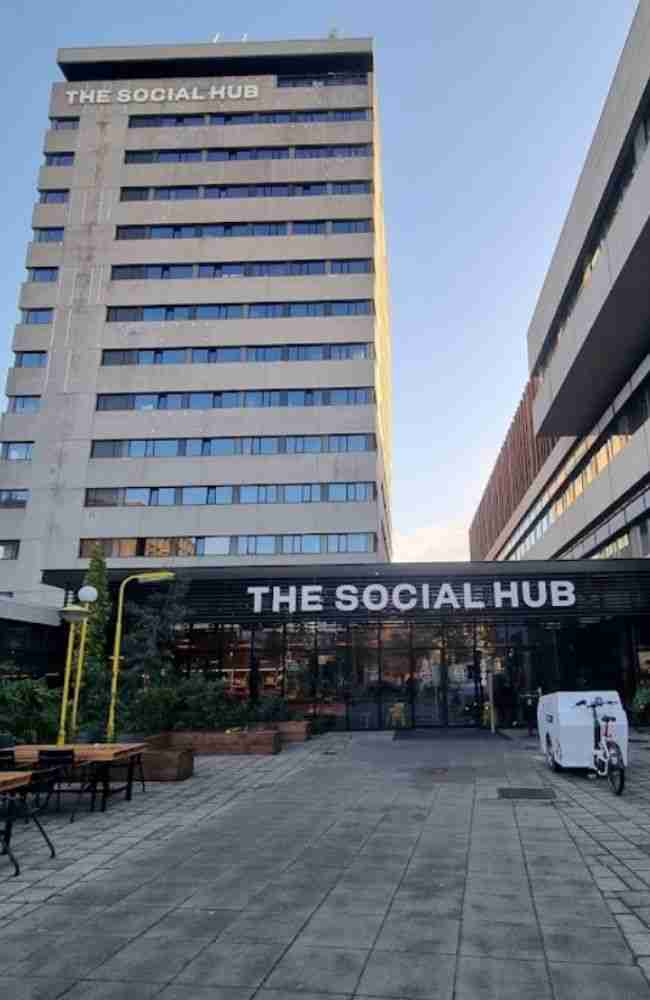 Ave Price Per Night: £175
Neighbourhood: Amsterdam City Centre
Gym Hours: 24/7
Max Dumbbells: 15kg
Gym Brands Seen: Eleiko, Matrix
6. Social Hub Amsterdam City // Best Hotel Gyms In Amsterdam City Centre
You got an Eleiko weight bench - you got my money!
The Social Hub Amsterdam City  is 2 of 2 when it comes to the Social Hub's own sites, and number 6 in our list of the best hotel gyms in Amsterdam. It features a modern gym with some up to date kit and a couple of pieces that will always stand the test of time. Namely, the Eleiko bench press rack. For the post gym relaxation, there's a sauna and steam room too.
The hotel gym has plenty of cardio equipment, including recently acquired treadmills, elliptical trainers, and rowing machines. You can also take advantage of the full weight room with a great selection of free weights, benches and cable machines.
Like most of their sites, there is the calisthenics frame/cage, which means good back workouts and TRX straps are available too.
Other visitors have good things to say about the hotel overall; it's comfortable, clean, and the staff is friendly and helpful. You can book a room for an average price per night of about $200 USD which includes breakfast — plus the hotel offers lots of healthy eating options so you won't have to worry about gaining vacation weight!
Reception: amscity@thesocialhub.co
Address: Wibautstraat 129, 1091 GL Amsterdam, Netherlands
The Pros
Bumper Plates
Bench Press
TRX
Punch Bag
The Cons
Could Have More Resistance Machines
Dumbbells Low
Realistic Workouts Possible
See More Photos & Availability >>
Honourable Mentions in Amsterdam (Click to see more)
So we promised a few more top rated hotel gyms in Amsterdam and here they are. Featuring two of the big names and 1 geographically odd choice – the Hotel Jakarta. W Hotel usually have a good showing in terms of hotel fitness centres, and the Crowne Plaza has an item or two that bring it onto this list.
Why didn't they make the top list of gyms in the city? Simple, either their price means we should expect more, or they have as much to criticise as to cheer. Honourable mentions seems about right. Still definitely worth considering as an all round hotel choice though. Or we would have excluded them completely.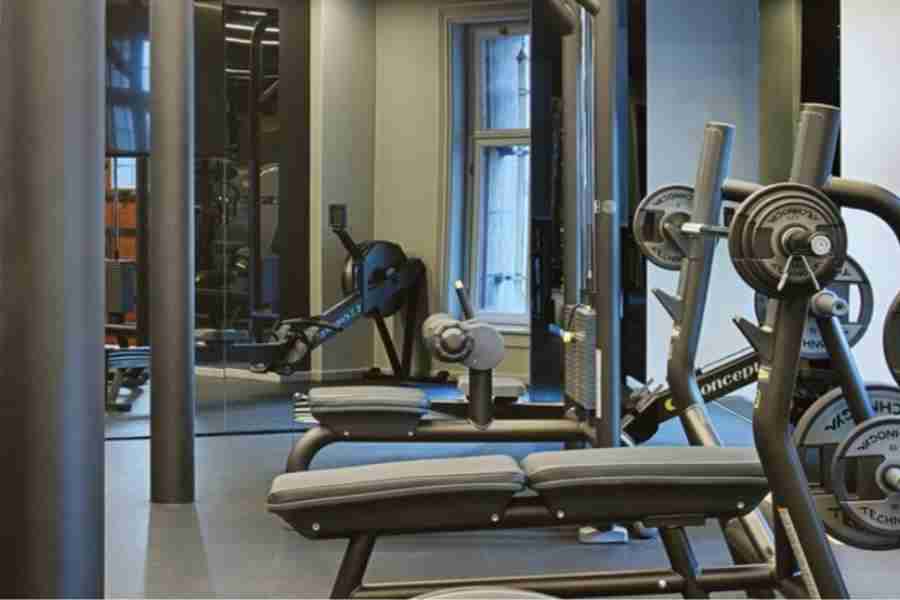 If you're pockets are deep enough or you fancy a bit more luxury in your living quarters, then the W is always a great hotel shout in any city. Amsterdam's W Hotel Gym has a good Technogym Bench, some leg isolation machines and a decent pulldown. It's good but it wants to be bigger. Ideal weekend workout!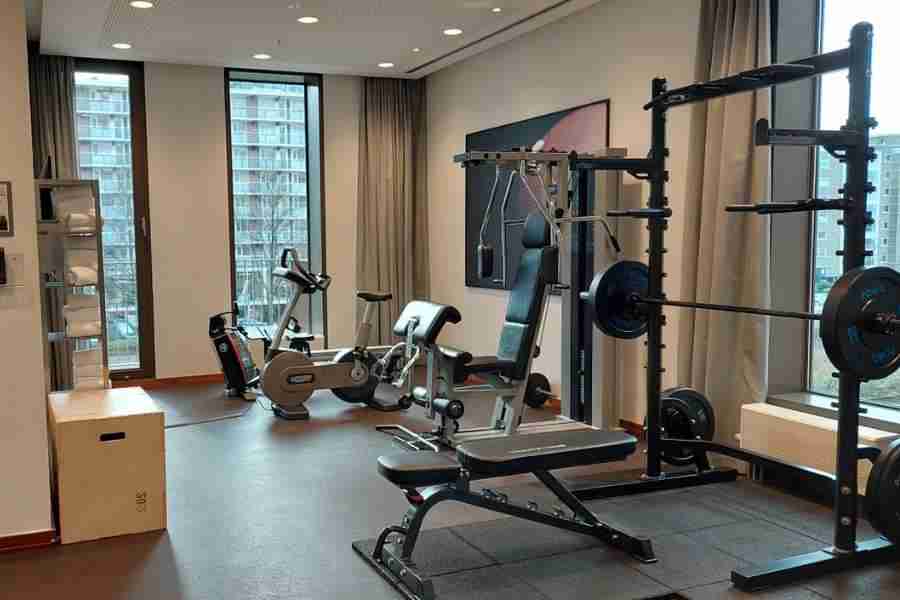 Feels a bit like I'm working out in someone's living room, but if that person has a plyometrics box and a squat rack then all is well with the world. This is good for a small hotel gym in Amsterdam. Importantly, the fundamental lifts are covered with the power rack. They got the big calls right.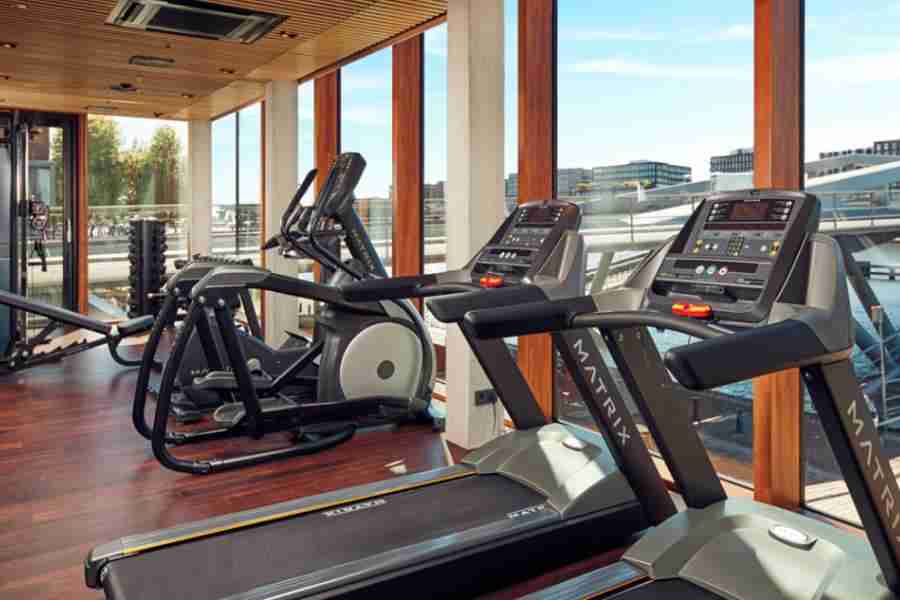 More of a wellness spa, small but with great views. The hotel Jakarta gym has dumbbells to 30kg, is open 7 days a week and has a cable column with chin attachment. You can get a back workout done or a dumbbell leg workout. If you're the kind of gym goer who asks if they have a sauna, then this one's for you.
One question you may have when it comes to finding the best hotel gym in Amsterdam is: do these gyms offer day passes?
The short answer is that many hotels with gyms do offer day passes, although there isn't a universal answer since each hotel does things differently. To know for sure, you'll need to contact the hotel.
That said, many of Amsterdam's hotel gyms—from budget to luxury—allow their guests to purchase daily or weekly passes. The fees for these day passes usually range from €15-30 per day depending on the facility and location. Some hotels permit city residents and non-guests to use their facilities, so it's worth inquiring about those programmes!
If you're looking for a city-wide solution, there are several apps like Fitpass or ClassPass which allow you access to multiple gyms in Amsterdam with one pass. You can also check out local Facebook groups or Reddit threads if you're looking for insider knowledge about the best gym deals in town!
If a hotel gym isn't quite your thing, there are plenty of public gyms in Amsterdam that suit all types of athletes. Are you a bodybuilder? Then go for one of the largest fitness centres in Amsterdam, 'Fitsporation'. For crossfit and other intense workout sessions, check out 'CrossFit DCC' or 'Crossfit Amsterdam'. And if you're more into pilates and yoga then don't miss out on 'Yoga Studio Anne Ayurveda & Pilates'.
For those looking for something a little less intense and traditional, the city is home to some incredible experimental gyms. Here you can find exclusive activities like boxing with music classes at 'Fight Like A Champ' or even an urban Ninja Warrior track at 'Ninjao'.
No matter what type of workout you're looking for during your visit to Amsterdam, there's sure to be a gym that suits your needs. So take the chance to explore the city while getting your daily exercise – it will be an unforgettable experience!
Visitors to Amsterdam also check out
Have We Missed A Great Hotel Gym In Amsterdam?
If we have missed a great hotel gym in Amsterdam, which you think deserves to be on our top list, drop us a message to contact @ barbellsabroad dotcom. If you want to update your hotel's details, reach out to us also. From bigger dumbbell sizes, to better opening hours – holler at your gym-bros. 
I feel like most hotel gyms are fitted out by someone who has never stepped foot in one. Spending fortunes on multiple cardio machines but not an Olympic bar in sight. We review hotel gyms so your next trip doesn't mean missed workouts. I am a Certified SAQ Trainer and REPs (UK) PT trained | @theskinnyboy on Insta
David // 20+ Year Gym Rat