We review the best hotel gyms in NYC, so you can make sure your next trip to the Big Apple doesn't become a week of lost gains. Eat more, drink more then get sweaty via the hotel lobby.
Travelling to New York City and want to stay fit?
TLDR: In this travel fitness review, we arrive on the Atlantic cost of the United States to compile a list of the 6 best hotel gyms in NYC, so you can stay fit and enjoy your holiday at the same time.
what's NYC like for fitness fans
There's no question that New York City is a great city for fitness lovers. With so many big fitness events happening in the city, as well as a wealth of places to exercise outside of hotel gyms, there's something for everyone.
If you're looking for a great place to get your workout in, the options are endless. You could check out the world-famous Central Park, take a jog around Battery Park, or head to one of the many iconic bridges in the city for a great view while you work up a sweat.
And when it comes to finding healthy food options, New York City doesn't disappoint. You'll find plenty of easily accessible and affordable options to fuel your workout. So if you're looking for a vacation that's as good for your body as it is for your mind, New York City is the perfect destination.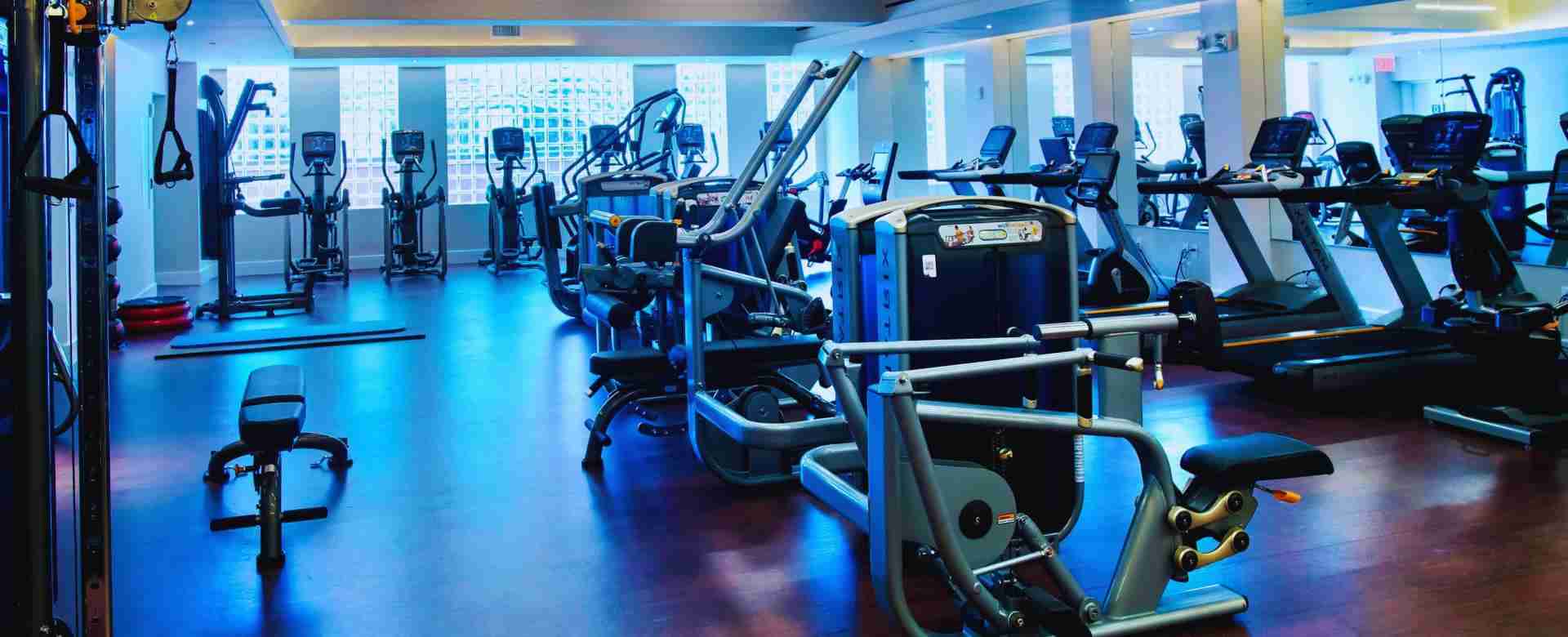 How We Picked The Best Hotel Gyms in NYC
The 'science' behind our gym hotel reviews
We bring the science of years of weight training behind our reviews of the best hotel gyms in NYC and have used this to help us formulate a rubric on what we look for and why. You can read about it below, or just skip past it to the hotel gyms themselves.
We are our audience. That's the first thing you should know. We have made that walk into hotel gyms for over a decade now and know the disappointment that happens all too often, leaving you annoyed you paid extra for a place to stay that had a fitness centre.
The reality is most hotel gyms have been put together by someone who has never been to a gym in their life. We weigh up several facts when it comes to picking winners or calling out losers.
1. Can you complete the major compound lifts? These include squats, deadlifts, presses and rows (or pulls). These are generally best served with a squat rack, maybe a smith machine and the presence of an Olympic barbell. Read about the "Fundamental Lifts".
2. Who does the weight load cater for? The reality is most hotel gyms do not have sufficient weight plates or dumbbells for strong women, let alone adult males who visit the gym regularly.
3. Overall gym conditions. This includes space to stretch, the condition of equipment, is there a/c etc. Nothing worse than trying to do an ab workout or flexibility movements on a wooden floor with no mats.
4. Cardio Range. What is the condition of the CV equipment and is there too much focus on machines that replicate the one exercise we can all do without a gym. Running/Walking. Yes – we will down mark for a room of treadmills….so stupid.
The Top 6 Hotel Gyms in NYC
Below we feature our top 6 hotel gyms in NYC, with each having their own edge. Some cities in the world have a deeper pool of hotel gyms, or better equipped ones. In all honesty, New York is a bit weak in comparison to a city like Dubai, but nonetheless there are some good fitness centres and we think you can make these hotels work.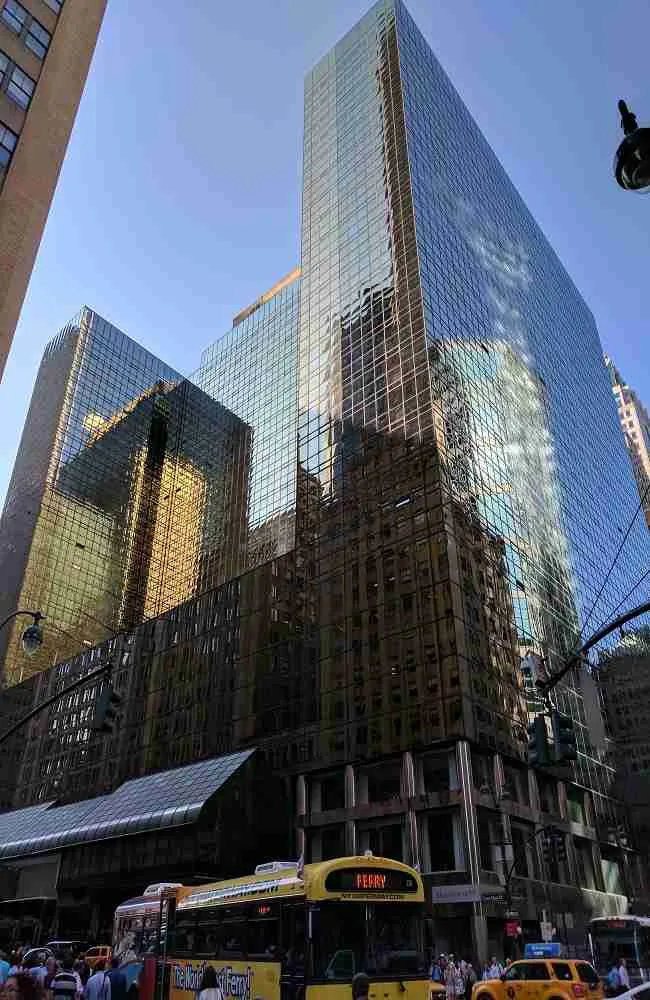 Ave Price Per Night: (£100-125) $125-£150
Neighbourhood: Grand Central Station – Midtown East
Gym Hours: 24 Hours
1. Hyatt Grand Central New York // Best in Grand Central, NYC
24 Hour fitness center with a great location for getting around
If you're looking for a top-notch gym while staying in NYC, then the Hyatt Grand Central located near Grand Central Station is your best bet. It's a 24-hour fitness centre with all the bells and whistles. We especially love that the cardio equipment contains personal TVs and iPod docking stations, so you can keep entertained while working out. The hotel gym also offers a good selection of strength equipment and free weights, so you can still lift heavy during your stay.
The hotel itself is well-reviewed, with visitors citing it as clean and comfortable with helpful staff. A room costs just over £125 per night on average, but that doesn't include breakfast as part of the package. However, there are plenty of healthy eating options available onsite in the dining area or nearby eateries if required.
The Pros
Major Compound Resistance Machines
Large swimming pool for lengths
The Cons
Low max dumbbell weight
No power rack
Realistic Workouts Possible
See More Photos & Availability >>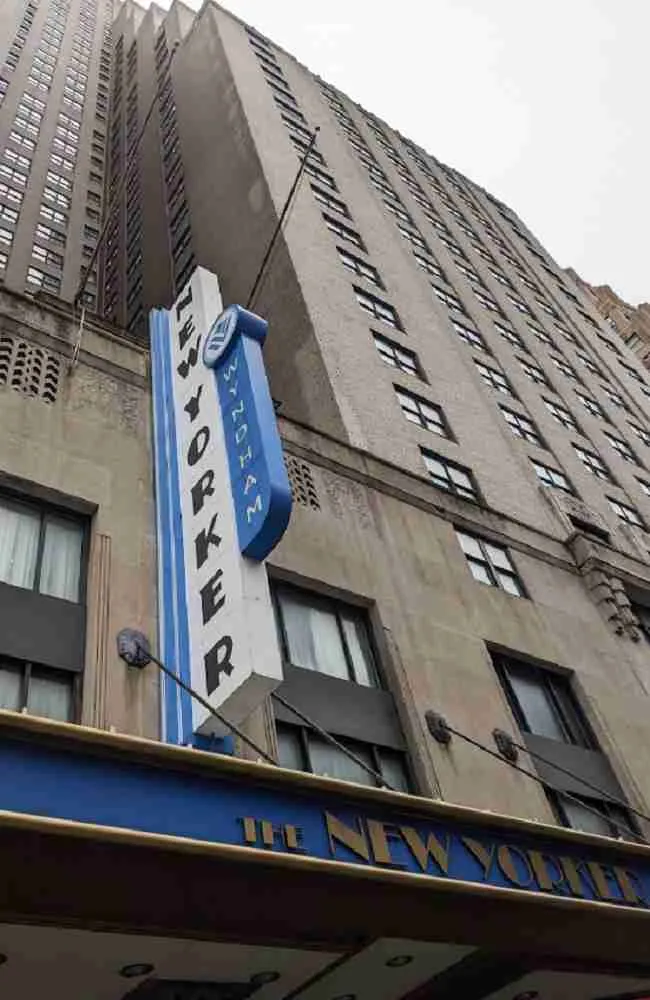 Ave Price Per Night: £100
Neighbourhood: Midtown Manhattan South
Gym Hours: 24 Hours
2. The New Yorker // Best Overall Pick
The hotel may not be as swanky as others, but their gym kicks others into touch.
The New Yorker Hotel is the perfect destination for any fitness fan looking for a great workout in the Big Apple. The gym here is well-equipped, complete with cardiovascular machines, a weight room, and studio classes. Plus, visitors rave about the helpful and friendly staff who will go out of their way to ensure your stay is as comfortable as possible.
The hotel itself is incredibly stylish and modern, meaning you'll be able to enjoy all the delights of New York City while feeling completely at home. Their restaurant serves up delicious breakfast options that are perfect for those looking to eat healthily on holiday. And while you can expect to pay a little bit more than an average hotel in NYC, you get what you pay for – comfort and convenience!
The Pros
Spacious
Precor Equipment
Leg Machines
Realistic Workouts Possible
See More Photos & Availability >>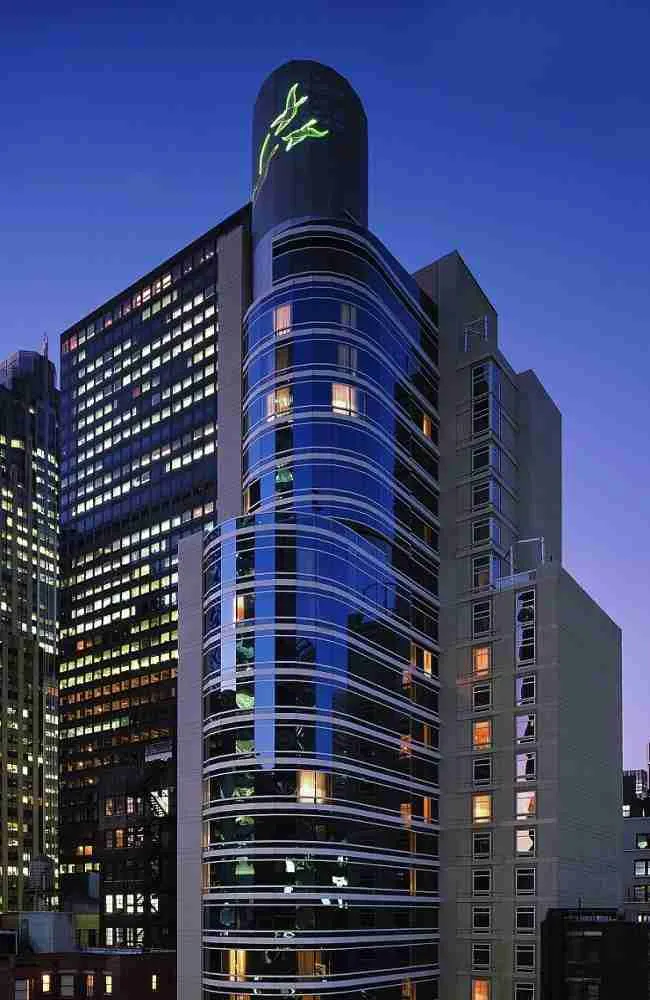 Ave Price Per Night: £250
Neighbourhood: Times Square – Manhattan
Gym Hours: 24 Hours
3. Sofitel New York // Best in Times Square
Sofitel continue their theme of trying to make an effort with their hotel gyms
Sofitel New York is one of the best hotel gyms in NYC. Located in the heart of Times Square, this hotel offers a gym and top-notch service. You will find plenty of cardiovascular equipment, free weights, and machines to tone your muscles. The staff is friendly and helpful and the gym has a great vibe and atmosphere, making it ideal for regular gym goers.
The Sofitel also offers healthy eating options to fit your fitness needs. Their breakfast and food service feature items such as protein smoothies, Greek yoghurt with fresh fruit, oatmeal topped with nuts, delicious sandwiches with fresh vegetables, whole wheat pastas and salads.
The price for a single room at Sofitel New York starts from $300 (£250) per night including breakfast. This makes it an ideal option for those who want to stay in the heart of Times Square without breaking the bank.
The Pros
Commercial grade resistance machines. (No dodgy multi-gyms)
Hotel breakfast includes Protein Shakes
Realistic Workouts Possible
See More Photos & Availability >>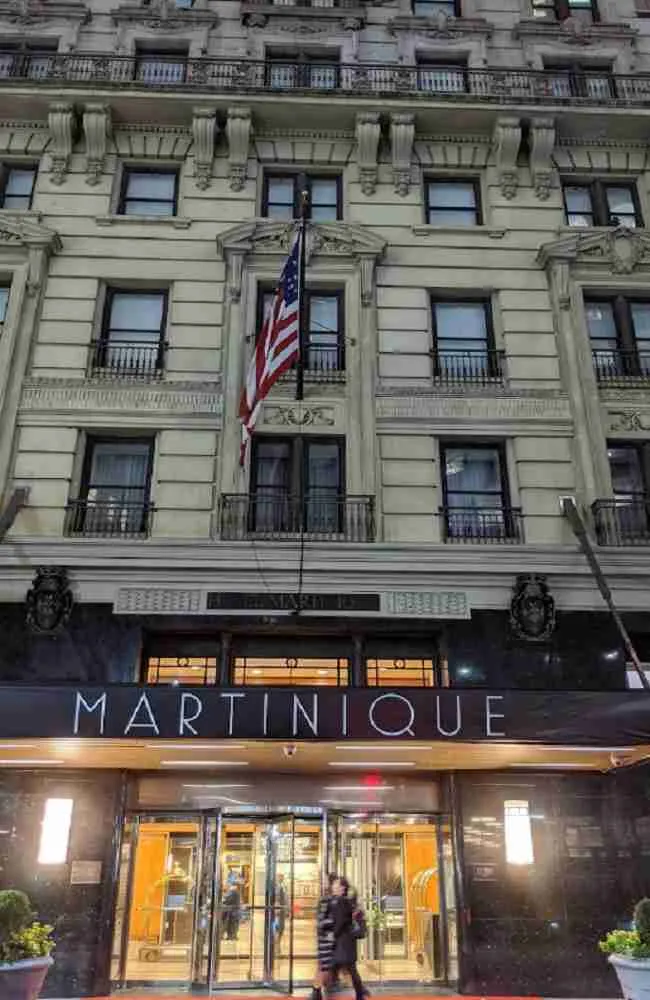 Ave Price Per Night: £200
Neighbourhood: Koreatown
Gym Hours: Awaiting information
4. Martinique New York // Best Hotel Gym On Broadway
If you want a low impact, high calorie burning cardio machine you can even read a book on, the Arc Trainer is peerless. The Martinique get props for having Arc Trainers, a pull up bar at a sensible height and a TRX. See....it doesn't take much to make a good hotel gym.
If you are looking for the best hotel gym in New York City, look no further than Martinique New York on Broadway. This hotel offers a great fitness centre with everything you need to stay in shape while travelling. The gym has a good range of equipment, including free weights, treadmills, ellipticals, and more.
The hotel is well reviewed, with guests noting its modern design and comfortable rooms. And if you're looking for healthy eating options, the hotel's restaurant offers delicious dishes that cater to a variety of diets. You can also get room service for breakfast or lunch — perfect if you're on the go!
In terms of pricing, rooms average around £200 per night and include breakfast. So even if you don't plan on using their gym all that much, it could still be an excellent choice for your next visit to NYC!
The Pros
TRX
Good Dumbbell Range
Arc Trainer
Realistic Workouts Possible
See More Photos & Availability >>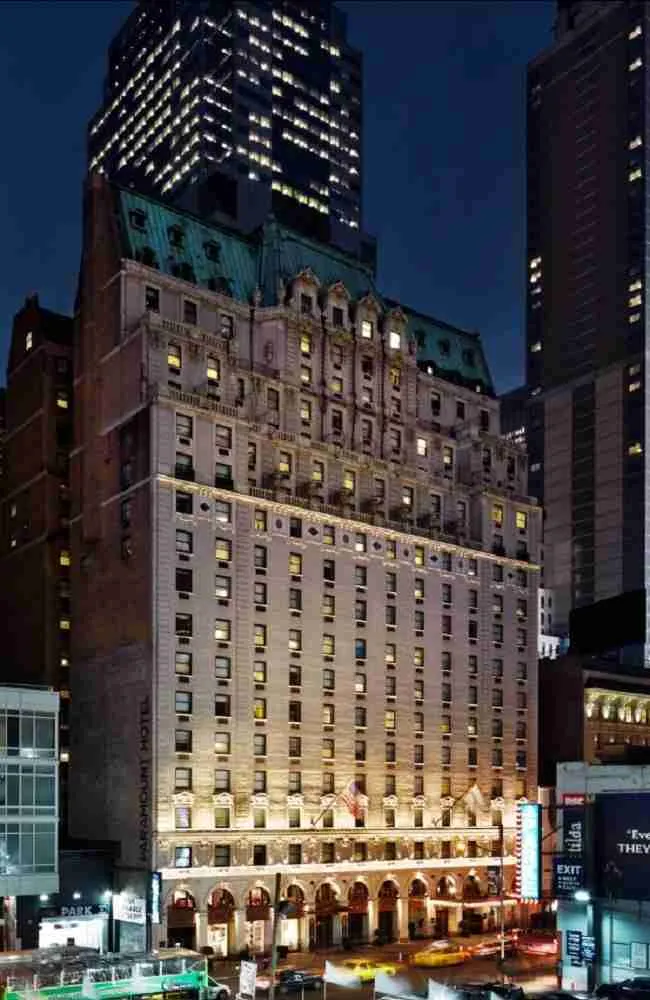 Ave Price Per Night: £120
Neighbourhood: Theater District
Gym Hours: 24 Hours Weekdays
5. Paramount Hotel
// Best In Theater District
Healthy breakfasts in a city known for food you can gain weight looking at - that's a good win.
Located in the heart of Times Square, Paramount Hotel Times Square offers a great gym for any regular gym goer. Their gym has everything you'd expect—free weights, machines, treadmills, sauna and steam room. Plus, they offer a selection of classes from aerobics to yoga. No matter what type of exercise you're looking for, you can find it at Paramount Hotel.
The hotel itself is modern, clean and inviting with lots of great reviews from visitors. The average price for a room per night is reasonable and includes breakfast; their breakfast buffet includes healthy options like Greek yoghurt and oatmeal. So whether you're looking for a place to stay or just want to use the gym while on holiday, Paramount Hotel Times Square can definitely meet your needs.
The Pros
Good Calisthenics Space
Upper Body Machines
Classes
Realistic Workouts Possible
See More Photos & Availability >>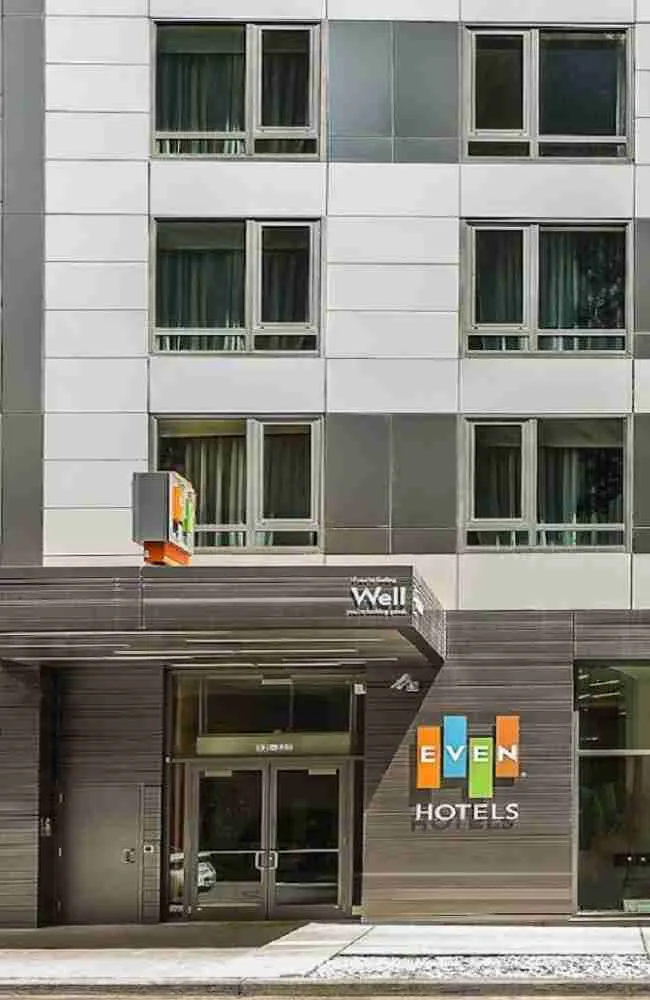 Ave Price Per Night: £156
Neighbourhood: Midtown Manhattan
Gym Hours: 24/7
6. EVEN Hotel NY Times Square (IHG)
// Best Hotel Gym For Pilates Fans
Pilates Fans will love the focused equipment for them, we loved the Free Runners. A treadmill that makes you want to use a treadmill.
If you're looking for one of the best hotel gyms in New York City, Even Hotel New York Times Square is the place to be. Located in Midtown Manhattan, this hotel gym is renowned for its wide range of beginner and advanced workouts, from spin classes and cardio machines to weight-lifting and yoga. As an added bonus, their outdoor terrace provides stunning views of NYC skyline, making your visit even more enjoyable.
The fitness centre itself is well-equipped with state-of-the-art equipment and amenities, including multiple treadmills, spin bikes and elevator weight machines. All machines have built-in TVs for distraction whilst working out – so no more boring workouts! To add to your gym experience, the instructors are all certified professionals who are friendly and knowledgeable about any exercise regime you can think of. To make it even easier for you, Even has put together pre-designed individualised workout programmes or group classes that you can follow along with.
So if you're looking for a top notch gym experience while visiting New York City, look no further than Even Hotel New York Times Square!
The Pros
Pilates Equipment
Good Dumbbell space
Arc Trainers
Free Runners
The Cons
No Power Rack
No Smith Machine
Realistic Workouts Possible
See More Photos & Availability >>
Honourable Mentions in NYC (Click to see more)
Here are some hotels with gyms in New York City, USA, that are also worthy of a mention. They may lack in a few areas but we believe if it's a short stay, you could modify a workout and make these hotels work just fine for you, or they could have been listed because they don't have their own hotel gym, but they have a nearby centre you can make use of.
If you're looking to mix-up your routine and fancy a change of scene, then you're in luck. Most of the hotels offer day passes so that visitors can have access to the facilities during their stay in New York City. It's a great way to explore new gym environments and meet new people.
This is especially perfect for regular gym goers who are looking for something different during their holidays. Not only will you get the chance to use different equipment, but you'll also be able to enjoy gyms with larger spaces and luxurious amenities. Plus, some gyms even offer special discounts and deals on day passes! So it's definitely worth checking out before booking a hotel with an included gym.
If you're looking for the best gym brand in New York City, then you need to check out the Marriott Hotels. The Marriott has been around since the 1920s, and since then they've been offering some of the best gym equipment and services in the world. From their top of the line cardio machines to their expert fitness coaches, they really have everything you need to work out while on vacation. Plus they have several locations throughout NYC, so you'll never be too far from a great workout spot.
I feel like most hotel gyms are fitted out by someone who has never stepped foot in one. Spending fortunes on multiple cardio machines but not an Olympic bar in sight. We review hotel gyms so your next trip doesn't mean missed workouts - @theskinnyboy on Insta
David // 20+ Year Gym Rat