Best Hotel Gyms in Barcelona
We review the best hotel gyms in Barcelona, to save you spending a week kidding yourself that an e-bike counts as cardio.
Travelling to Barcelona and want to stay fit?
TLDR: In this travel fitness review, we're looking at Barcelona and have 7 suggestions for the best hotels with gyms in Barcelona. Barcelona is not obviously loaded with good hotel gyms, so it was a tough assignment, but we think the winners below hold their own. Each of these hotel gyms in Barcelona allow you to hit the key foundational lifts and walk out feeling nicely peeled for the day's pool party.
what's BARCELONA like for fitness fans
Situated on the northeast coast of Spain, Barcelona enjoys plenty of annual average sunshine (more than 2,800 hours per year). That makes it a perfect destination for those looking to combine a bit of sun and relaxation with their workouts.
What's more, Barcelona is a relatively affordable city when compared to other major European destinations. A meal in a mid-range restaurant will cost you around €25, while a beer at a bar will set you back around €5. Hotel rooms are similarly priced to those in other popular tourist destinations, with the average rate hovering around €120 per night.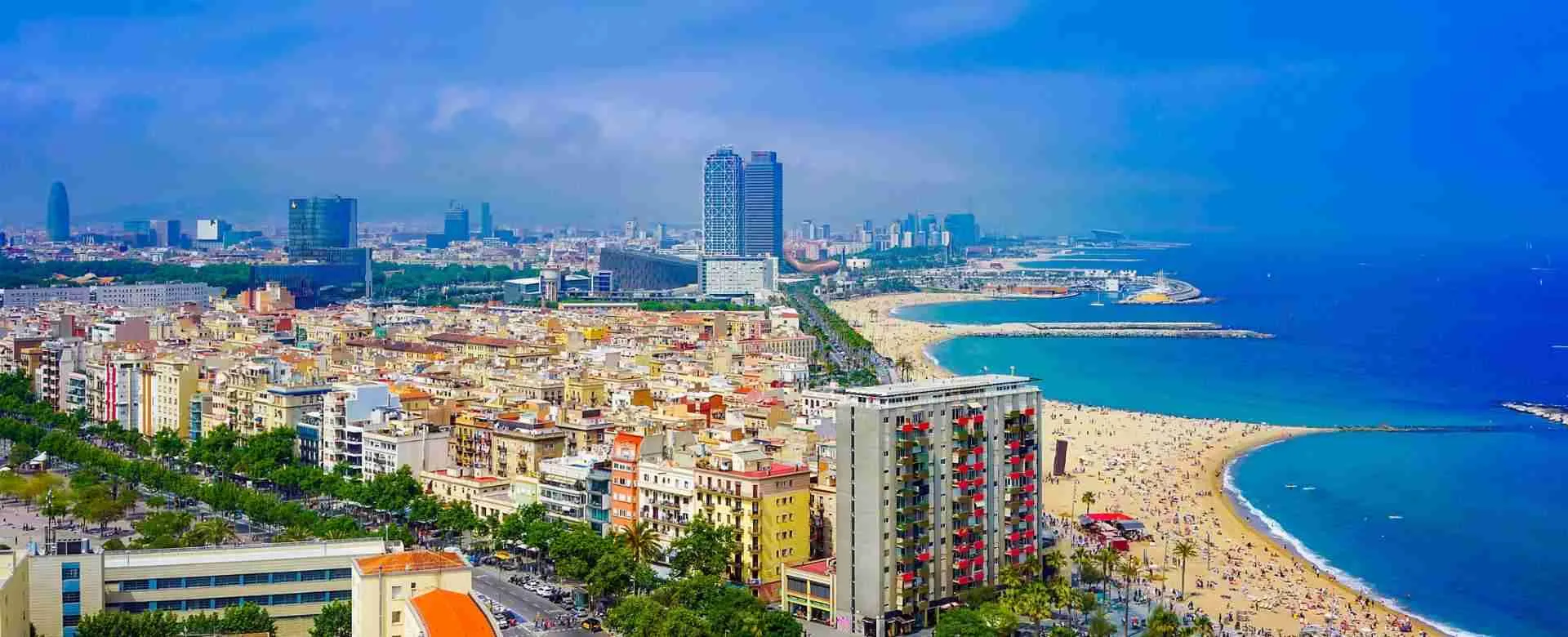 How We Picked The Best Hotel Gyms in Barcelona
The 'science' behind our gym hotel reviews
There's a little science and a lot of love behind how we picked the best hotel gyms in Barcelona. We base it on how well they match the most likely needs of those people that go to gyms frequently. If you want to dive into what that policy is, read the section below.
We are our audience. That's the first thing you should know. We have made that walk into hotel gyms for over a decade now and know the disappointment that happens all too often, leaving you annoyed you paid extra for a place to stay that had a fitness centre.
The reality is most hotel gyms have been put together by someone who has never been to a gym in their life. We weigh up several facts when it comes to picking winners or calling out losers.
1. Can you complete the major compound lifts? These include squats, deadlifts, presses and rows (or pulls). These are generally best served with a squat rack, maybe a smith machine and the presence of an Olympic barbell. Read about the "Fundamental Lifts".
2. Who does the weight load cater for? The reality is most hotel gyms do not have sufficient weight plates or dumbbells for strong women, let alone adult males who visit the gym regularly.
3. Overall gym conditions. This includes space to stretch, the condition of equipment, is there a/c etc. Nothing worse than trying to do an ab workout or flexibility movements on a wooden floor with no mats.
4. Cardio Range. What is the condition of the CV equipment and is there too much focus on machines that replicate the one exercise we can all do without a gym. Running/Walking. Yes – we will down mark for a room of treadmills….so stupid.
The Top 7 Hotel Gyms in Barcelona
In this travel fitness review, we look at Barcelona, Spain and make 7+ recommendations for the best hotels with gyms that enable proper workouts (almost like home). From a Crossfit session to Bro Splits and a 'Push, Pull, Legs' type workout, these 5 stack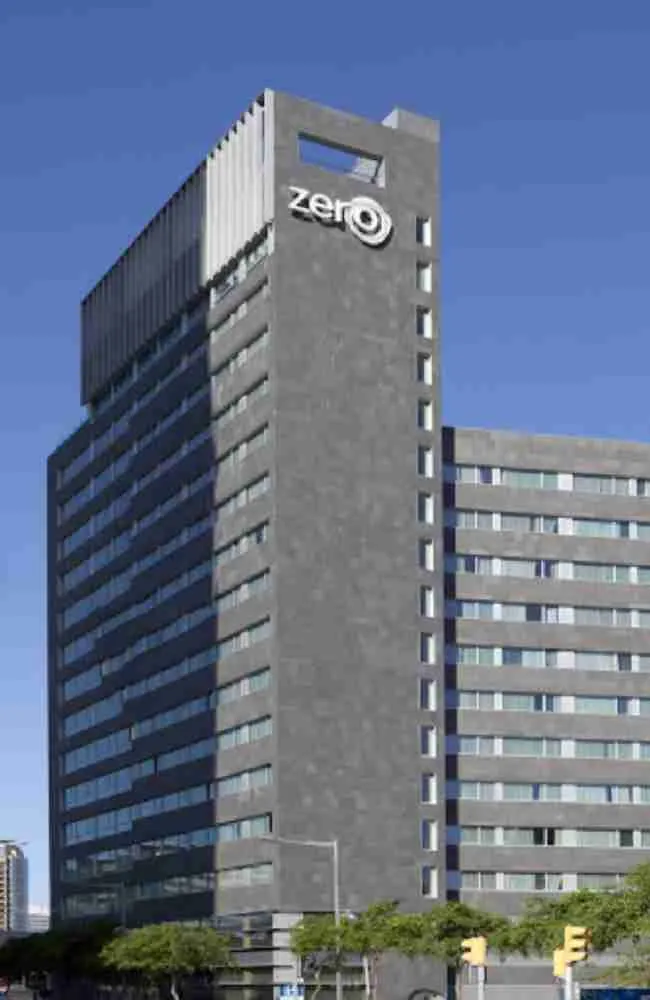 Ave Price Per Night: £125-£150
Neighbourhood: Diagonal
Gym Hours: 24 Hours
1. Hotel SB Diagonal // Best hotel gym in Diagonal

24 hour gym! That's good enough for us
If you're looking for a great hotel with a superb gym in Barcelona, Hotel SB Diagonal Zero is the place for you! This 4-star hotel offers a 24-hour gym, with machines, free weights and cardio equipment. Plus, there are personal trainers available if you want to take your workout to the next level.
A stay at this hotel will also guarantee tranquilly and peace of mind—it's surrounded by parks and gardens and offers amazing views of the Mediterranean Sea. As for food, they have an excellent breakfast service that is sure to fuel your workouts. Plus, they provide a range of healthy lunch menu options as well. On average, the price per night is €134 with breakfast included. This could be an ideal choice for anyone planning an active holiday in Barcelona!
The Pros
Vitamin D party on the roof
Total body range of resistance machines
The Cons
Dumbbells could be heavier - They max out under 20kg

Realistic Workouts Possible
See More Photos & Availability >>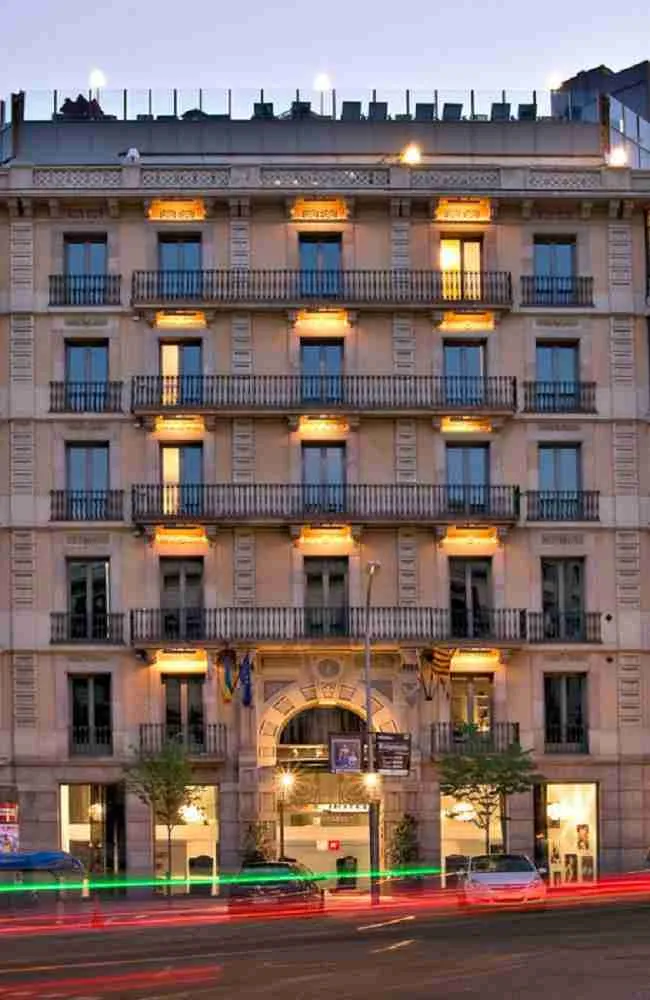 Ave Price Per Night: £100
Neighbourhood: Xiample
Gym Hours: 24 Hours
2. Axel Barcelona
// Best For LGBT Travellers
Open 24 hours and equipped as well as any gym in the city.
If you're looking for a top-notch hotel gym in Barcelona, then look no further than the Axel Barcelona in Xiample. It's conveniently located right in the heart of Barcelona and offers a great selection of cardio and weight machines as well as personal trainers.
For those looking to combine a staycation with their workout routine, Axel Barcelona has something for everyone. From treadmills, to cross trainers, and even Peloton bikes, you will find everything you need for a good workout session. And if that isn't enough for you, there are also stretching areas and an outdoor terrace where you can enjoy your post-workout relaxation view of the Mediterranean Sea.
The hotel also has a 24-hour gym service so that you can fit in some exercise no matter what time of day or night it is. Additionally, reviews from guests have been very positive and mention that the staff are always willing to go the extra mile to make sure everyone is comfortable and satisfied with their experience.
You will never get bored at Axel Barcelona if fitness is your thing either—rooms start at $110/night with breakfast included. This hotel offers so much more than regular hotel gyms like healthy eating options and an amazing variety of equipment to keep you motivated during your staycation!
The Pros
Could pass as a public gym
Welcoming to all
The Cons
Can get busy as it's a public gym too
Realistic Workouts Possible
See More Photos & Availability >>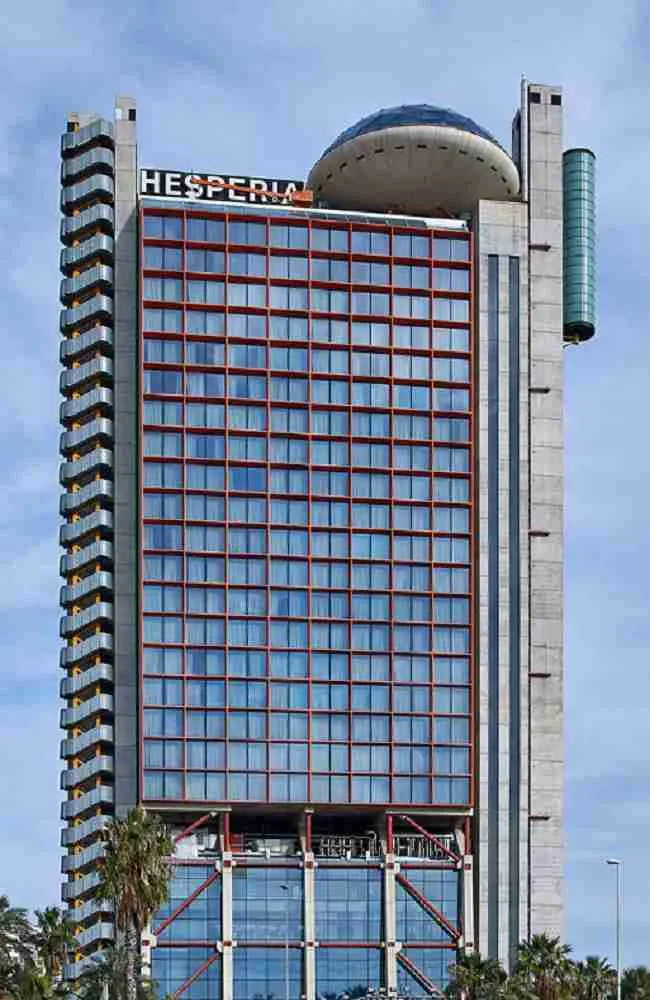 Ave Price Per Night: £95
Neighbourhood: L'Hospitalet de Llobregat
Gym Hours: 24 Hours
3. Hyatt Regency Barcelona Tower
// Best in L'Hospitalet
Olympic size swimming pool and spinning classes, makes this 24 hour hotel gym in Barcelona a great overall shout for best all rounder
The Hyatt Regency Barcelona Tower is one of the best hotel gyms in Barcelona if you're looking for all-round fitness focus. Located in the heart of Barcelona, it offers one of the most equipped and comprehensive gyms for tourists who care about fitness.
As for equipment, there's no shortage—you'll find plenty of treadmills, cross trainers, exercise bikes and free weights, plus resistance machines and cable systems. The gym also has a heated indoor pool and two sun decks to help you relax after your workout. Plus, the hotel has an on-site sauna and steam room to further unwind.
When it comes to reviews from visitors, the Hyatt Regency Barcelona Tower is consistently rated highly for its comfortable bedrooms and wide range of facilities, including a 24-hour fitness centre. Prices start at around £95 per night without breakfast but you can get great discounts with loyalty programmes—including special offers on healthy dining options.
The Pros
Classes for fat burning fans
Proper swimming pool lengths
Plate loaded leg press!
Realistic Workouts Possible
See More Photos & Availability >>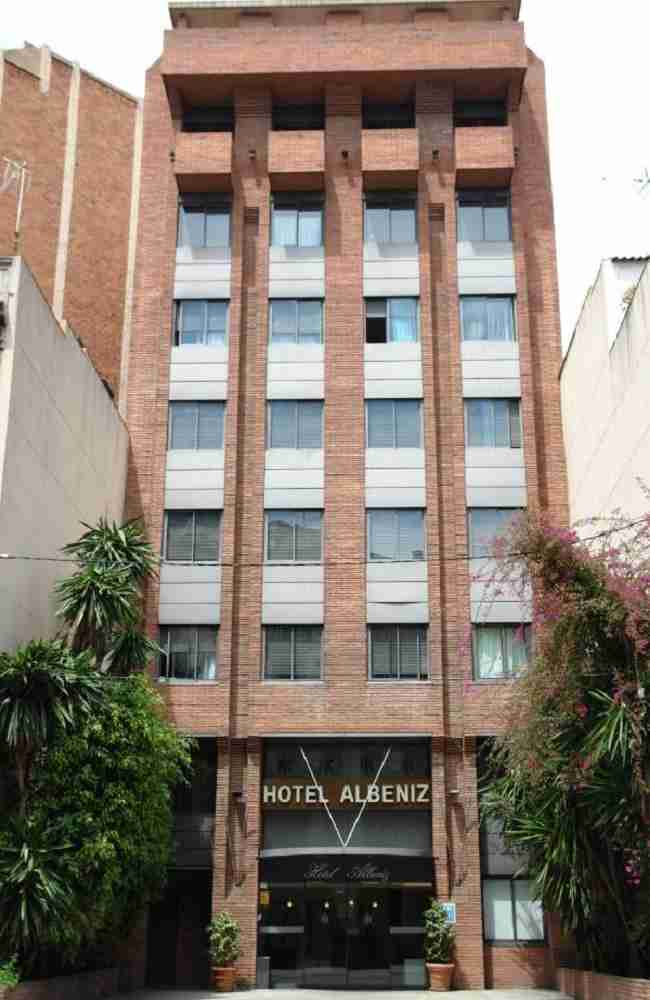 Ave Price Per Night: £90
Neighbourhood: El Camp de l'Arpa del Clot
Gym Hours: Awaiting information
4. Catalonia Albeniz
// Best In El Camp
A little less stock in the stack department than our other finalists but far better than most.
When it comes to finding the best hotel gyms in Barcelona, Catalonia Albeniz is not the frontrunner but it can fill a gap in a schedule. Located in the heart of Barcelona, this hotel boasts a comprehensive gym that has a variety of equipment from weights to cardio machines and plenty of space for stretching and yoga.
Their gym is great for tourists who want to stay fit on their holiday, as it has all the equipment to complete a full-body workout – whether you're looking for light cardio or an intense strength session. Plus, they also offer yoga classes in their studio so you can get your flow on.
The average price per night is €90 and includes breakfast each day. And luckily, they offer healthy eating options such as fresh fruits and vegetables, dairy products, lean proteins and whole grains.
Overall visitors have given Catalonia Albeniz excellent reviews due to its convenient location and wide range of fitness facilities.
The Pros
Nice sun trap pool
Squat rack
The Cons
Not really any resistance machines
Realistic Workouts Possible
See More Photos & Availability >>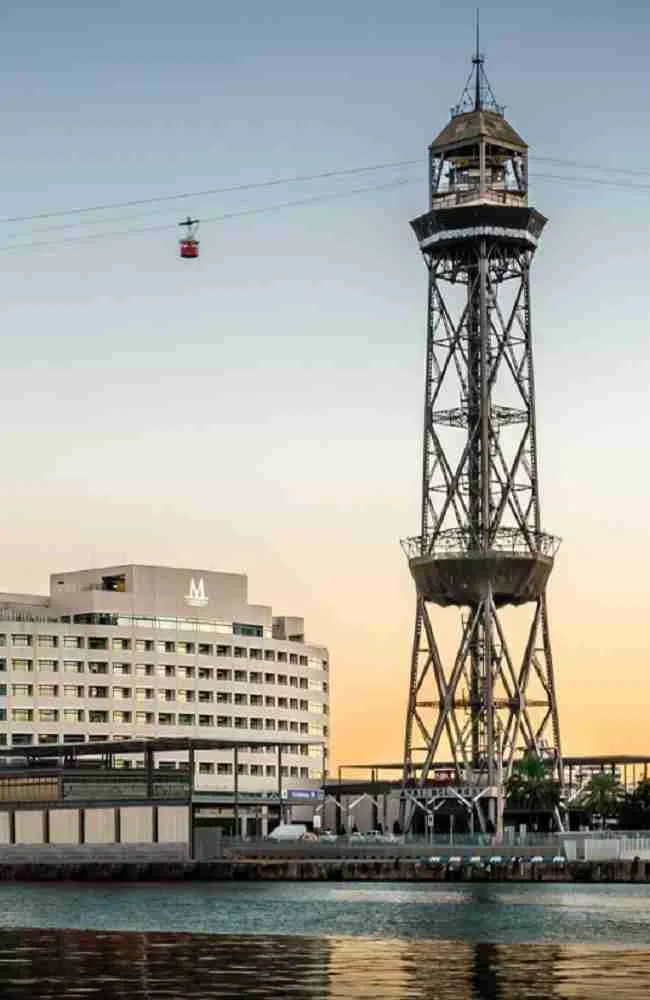 Ave Price Per Night: £120
Neighbourhood: El Raval
Gym Hours: 24 Hours Weekdays
5. Eurostars Grand Marina
// Best In Raval
A decent hotel gym in a lovely location. Props
Eurostars Grand Marina is a great option if you are looking for a good hotel gym in Barcelona. This hotel is located in the heart of the city, and its gym features a wide range of modern fitness equipment. The hotel is designed with fitness-focused travellers in mind, so you can rest assured that your fitness needs will be taken care of while you are here.
The gym also has plenty of space, so it won't feel overcrowded and there will always be enough machines available for everyone who is looking to get their daily workout in. There are even group classes like yoga and Pilates available, so tourists can join in on the activities with ease.
And for those who are looking for healthy eating options, Eurostars Grand Marina offers an extensive breakfast buffet and an on-site restaurant that serves Mediterranean cuisine with healthy ingredients. Plus, rooms start at just €131 per night and include breakfast!
The Pros
Leg Press
Leg extensions
Realistic Workouts Possible
See More Photos & Availability >>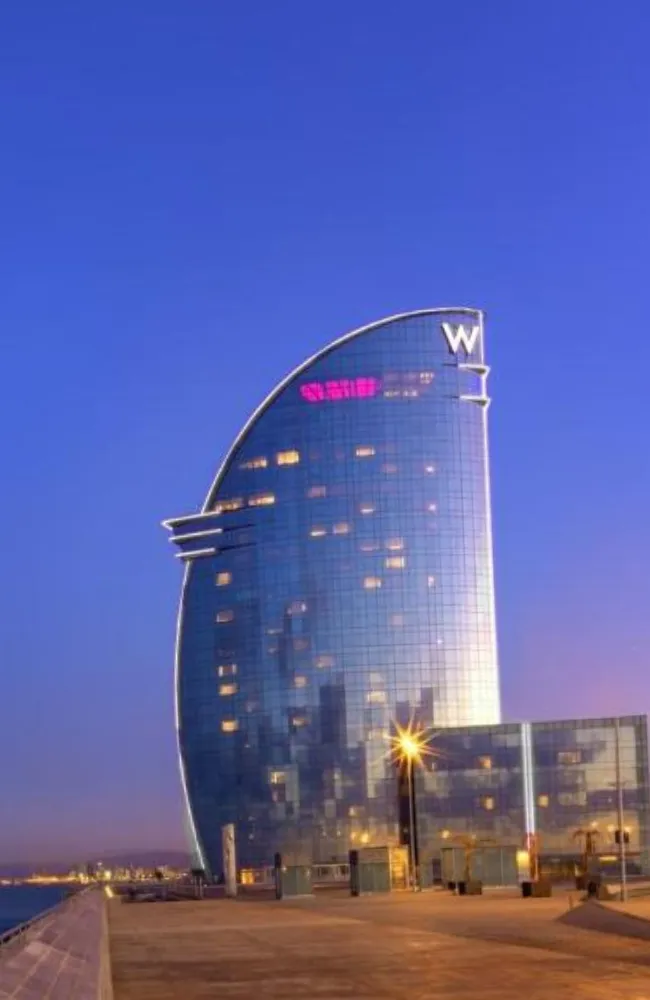 Ave Price Per Night: £200
Neighbourhood: Barceloneta Beach
Gym Hours: 24/7
6. The W Hotel
// Best hotel gym by the beach
Top hotels need a top gym. The W has a gym better than most in Barcelona. It's not our winner here but if you can afford to stay at the W, then that's flex enough for the weekend.
The W Hotel Barcelona is easily THE best hotel gym in Barcelona's beach area. With a stunning view of the Mediterranean, this hotel gym has a diverse range of equipment – from ellipticals, treadmills, and strength training machines – and classes like yoga, pilates, and cycling. Plus it has the amenities that make any stay more enjoyable: restaurant and bar, spa treatments, pool and more!
But what sets this hotel gym apart from the rest is its commitment to healthy living. Their food service features healthy eating options and regular nutrition workshops that teach guests how to make healthier food choices. And for those looking for an outdoor workout, there's a full-size beach sports court set up for volleyball or beach tennis.
The average price per night for a room at the W Hotel Barcelona is €200-€220 depending on the season, but this does include breakfast. If you're looking for a great hotel gym experience that caters to fitness-minded travellers then look no further than the W Hotel Barcelona!
The Pros
Smith Machine
Pimping Hotel
Spacious
The Cons
No Power Rack
Dumbbells cap out low
Realistic Workouts Possible
See More Photos & Availability >>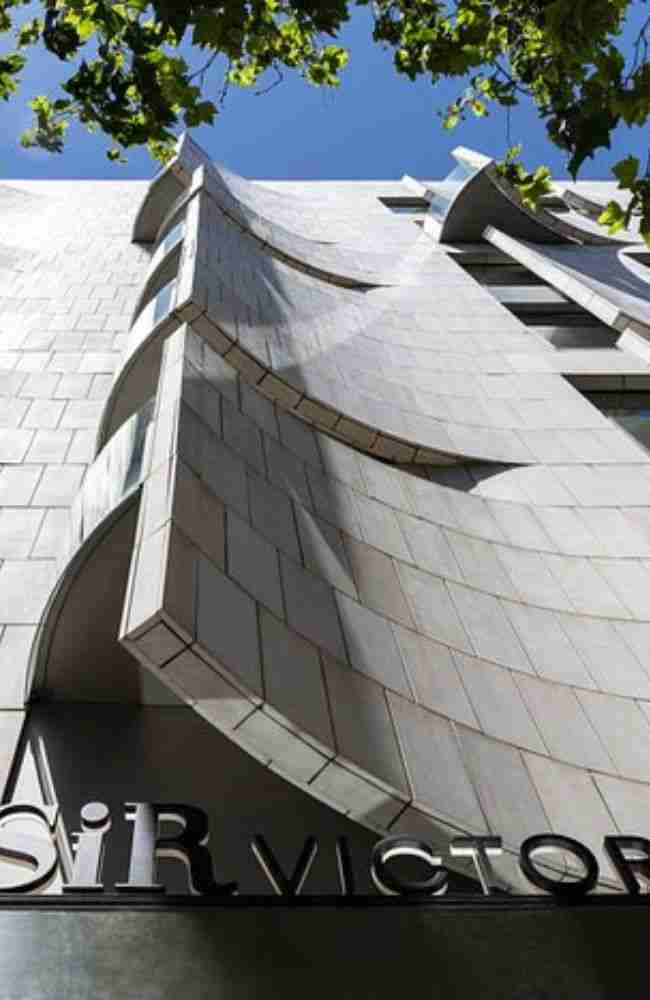 Ave Price Per Night: £200
Neighbourhood: Dreta d'Eixample
Gym Hours: 10am – 9pm Mon-Sun
7. Sir Victor Hotel
// Best In Eixample
A yoga and pilates fans dream gym studio. Do some downward dogs then walk out onto the beautiful roof terrace for a green tea and a book
Sir Victor Hotel is one of the best hotel gyms in Barcelona. It's located near Diagonal Mar, with easy access to almost all of central Barcelona. The gym itself is equipped with everything you need for a great workout—from treadmills, ellipticals and weight machines to dumbbells, yoga mats and kettlebells.
What's great about this particular hotel gym is that they offer fitness classes so you can really get into your workout routine even while on vacation. Not only that, but their staff are very friendly and helpful so you never feel like you're alone in your journey. The prices reflect the aesthetic of the hotel at €250 but includes breakfast! They have plenty of healthy eating options available at their restaurant so it's a great place to stay if you are trying to stay fit while enjoying the city!
The Pros
Power Rack
Punch Bags
Lush Pool
Realistic Workouts Possible
See More Photos & Availability >>
Honourable Mentions in Barcelona (Click to see more)
Here are some hotels with gyms in Barcelona that are also worthy of a mention. They may lack in a few areas but we believe if it's a short stay, you could modify a workout and make these hotels work just fine for you, or they could have been listed because they don't have their own hotel gym, but they have a nearby centre you can make use of.
If you are visiting Berlin and are looking for a gym with a day pass, then this is the article for you!
We looked into five of the best hotel gyms in Barcelona and found that 4 out of 5 offer day passes. Prices range from €10-30 depending on the facilities available. All the gyms offer a variety of group classes, personal training sessions, and an excellent selection of equipment.
The largest gym we reviewed was The Westin Barcelona which boasts huge locker rooms, a wide range of equipment and some great extras like outdoor running tracks and an outdoor pool. They also offer bike rental services if you're looking to explore the city on two wheels. All this is available at their daily rate of €25 per person.
No matter what your fitness needs are, there is sure to be a hotel gym that meets your needs in Barcelona!
When searching for hotels with great gym options, there are a few brands to look out for. First up is McFit, which has multiple locations in Barcelona including the popular Juicy Barceloneta. It's a great option for those who are looking for a wide range of workout machines. Plus, no membership is needed and entrance is very affordable.
Another good option for those who prefer a more traditional gym setup is Gold's Gym. With multiple branches in Barcelona, this gym chain offers weight machines and cardio equipment as well as group fitness classes like spinning and HIIT training. For those who want to take their fitness experience up a notch even more, they also offer personal trainer services.
Finally, if you want to go all out with your hotel gym experience then you should definitely check out Viva Gym Barcelona. This modern facility boasts top-of-the-line equipment like Technogym treadmills and ellipticals as well as functional training areas and yoga classes—perfect for helping you stay fit while having an amazing holiday!
Visitors to Barcelona also check out
I feel like most hotel gyms are fitted out by someone who has never stepped foot in one. Spending fortunes on multiple cardio machines but not an Olympic bar in sight. We review hotel gyms so your next trip doesn't mean missed workouts
Jonnie // 20+ Year Gym Rat