Best Hotel Gyms in Las Vegas
We review the best hotel gyms in Las Vegas so you can take care of your body while you work on destroying your liver. Sin City's finest fitness centres awaits you.
Travelling to Vegas and want to stay fit?
TLDR: You're about the head to Vegas…and you like to workout. So you're probably googling 'Best Hotel Gym Near Me', if that's you and you're looking for the best hotel gyms in Las Vegas, then our Top 6+ includes big names likes Caesars and a couple of gems.  If you want to see booking information on any you like the look of, we partner with Hotels Combined (Kayak) to give you a place to see all the best booking rates in one place. 
what's Vegas like for fitness fans
Situated in the Mojave Desert, Las Vegas or 'Sin City' is the most populous city in the US state of Nevada. Famous for its casinos, resorts and Mafia history. The city is a wildly popular tourist destination for those who want to gamble, hit a pool party or enjoy its headline act filled nightlife.
When it comes to fitness, Las Vegas knows how to keep its guests entertained. From big fitness events at the major hotels, to outdoor exercise areas and great places to eat healthy food, there's something for everyone here.
The best place to start is with the major hotels. The MGM Grand, Caesars Palace and Cosmopolitan all have amazing fitness centres that regularly host big events. If you're visiting during one of these events, you'll have access to some of the best facilities in the city.
But what if you're not interested in crowded gyms and want a more personal experience? Not to worry – Las Vegas has some great outdoor exercise areas too. The LINQ Promenade is a great place for a walk or jog, and has some excellent views of the Strip. If you're looking for something a little more strenuous, head to Red Rock Canyon for a hike or cycle.
And finally, if you're looking for somewhere to relax after a hard workout, Las Vegas has plenty of great healthy food options too. Just make sure you know where to look – many of the best places are hidden away from the main tourist areas.
Quick Facts On Las Vegas, Nevada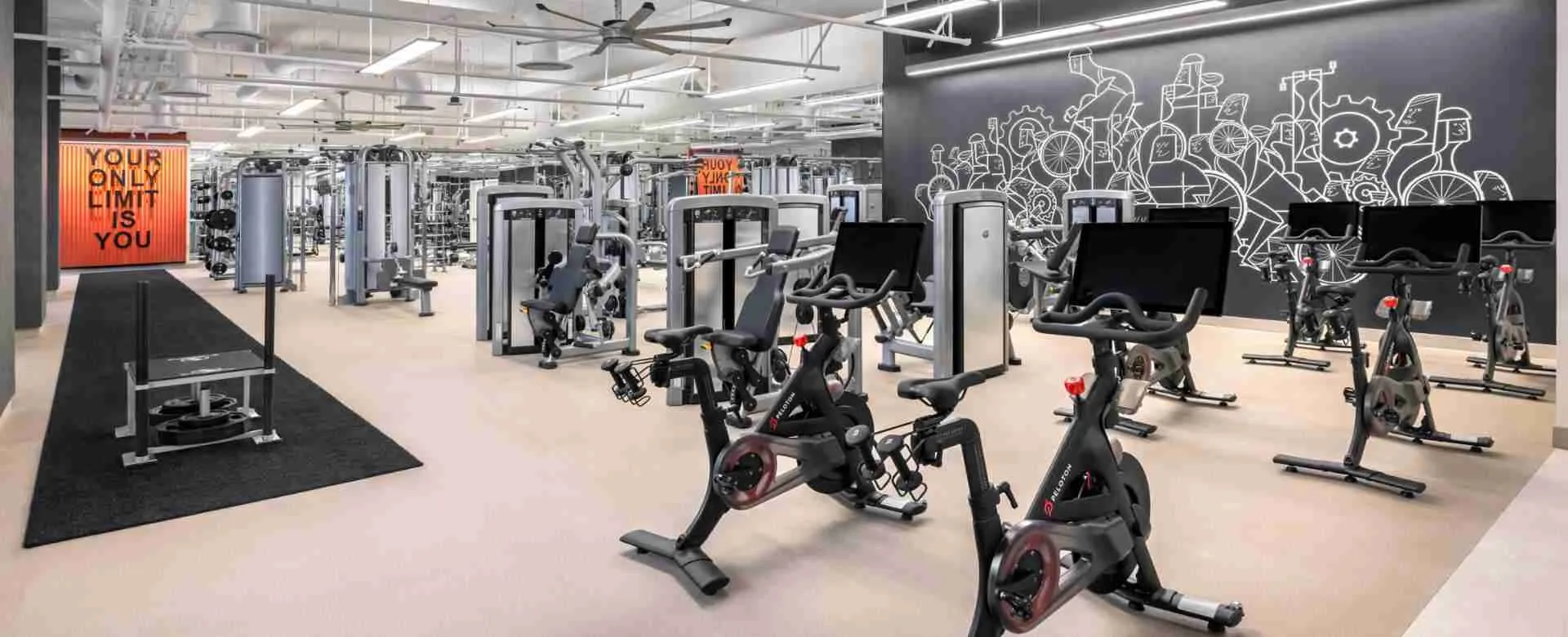 How We Picked The Best Hotel Gyms in Las Vegas
The 'science' behind our Vegas gym hotel reviews
When looking for a Las Vegas hotel gym, we consider the type of workouts you can do there. If you're a fan of weightlifting, you'll want a gym that has a good selection of machines and free weights. If you're more into cardio, make sure the gym has plenty of treadmills and ellipticals. We aim to look across gym interests to give a fair reflection.
You can read more about it in our selection policy below.
We are our audience. That's the first thing you should know. We have made that walk into hotel gyms for over a decade now and know the disappointment that happens all too often, leaving you annoyed you paid extra for a place to stay that had a fitness centre.
The reality is most hotel gyms have been put together by someone who has never been to a gym in their life. We weigh up several facts when it comes to picking winners or calling out losers.
1. Can you complete the major compound lifts? These include squats, deadlifts, presses and rows (or pulls). These are generally best served with a squat rack, maybe a smith machine and the presence of an Olympic barbell. Read about the "Fundamental Lifts".
2. Who does the weight load cater for? The reality is most hotel gyms do not have sufficient weight plates or dumbbells for strong women, let alone adult males who visit the gym regularly.
3. Overall gym conditions. This includes space to stretch, the condition of equipment, is there a/c etc. Nothing worse than trying to do an ab workout or flexibility movements on a wooden floor with no mats.
4. Cardio Range. What is the condition of the CV equipment and is there too much focus on machines that replicate the one exercise we can all do without a gym. Running/Walking. Yes – we will down mark for a room of treadmills….so stupid.
The Winners // Hotels With Gyms in Las Vegas
Below we feature our top 6 hotels with gyms in Las Vegas. From the best by budget to the best if you have a bottomless pit of cash to spend on your next vacation accommodation choice.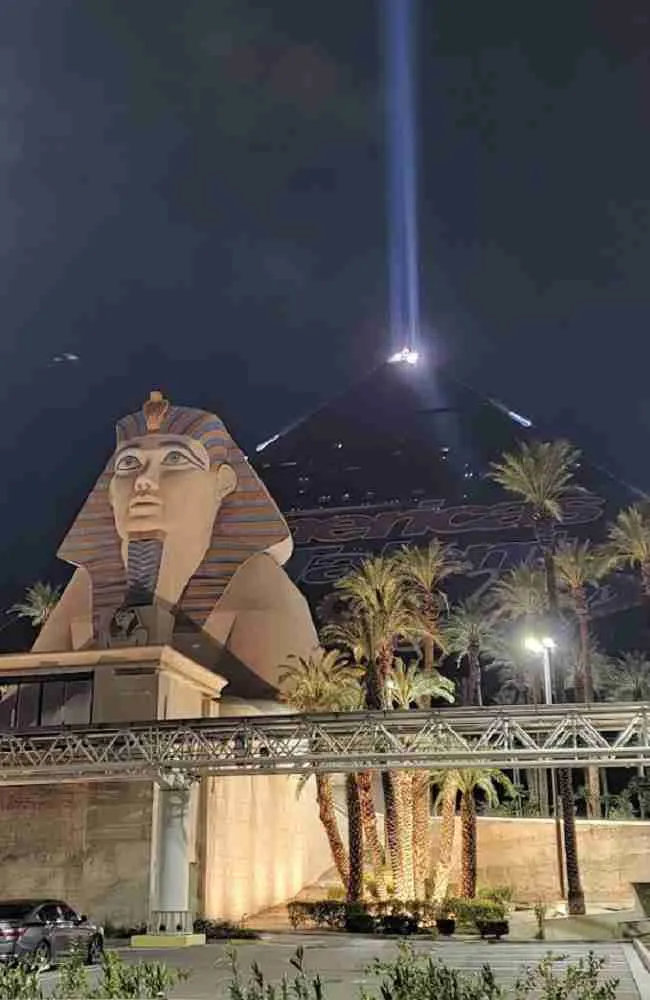 Ave Price Per Night: £100
Neighbourhood: Las Vegas Strip
Gym Hours: Mon – Sun : 8:00 AM – 6:00 PM
Max Dumbbell: 30Kg 
1. Luxor Hotel & Casino // Best Hotel Gym For Budget
Great value for money - great gym if it was a public gym, even better that it's a hotel gym on the Las Vegas Strip.
I don't know your budget, but if you stopped here and booked the Luxor, you'd be doing fine. One of Vegas's best hotel gyms and one of the most affordable 4-5 star hotels in Sin City. 

The Luxor fitness centre offers a wide range of cardio and weight equipment, including treadmills, ellipticals, bikes, and strength machines. They also have plenty of dumbbells and kettlebells available, so you tick the box for gym goer diversity. Plus, they have yoga mats and classes they host on certain days. After a couple of nights on the Strip, that yoga may be necessary.
The overall atmosphere at the Luxor Hotel & Casino is quite pleasant too. Most people who stay there report that it's clean and well-maintained, with friendly staff members. Prices for rooms per night are quite reasonable compared to other hotels in Las Vegas, averaging around $100 USD per night (which does include breakfast). As far as food goes, the hotel offers healthy eating options like protein shakes and salads.
Reception: PublicRelations@mgmresorts.com
The Pros
Affordable Hotel
Smith Machine
Arc Trainers
The Cons
No Free Bar Bench Press
No Lifting Platform
Realistic Workouts Possible
See More Photos & Availability >>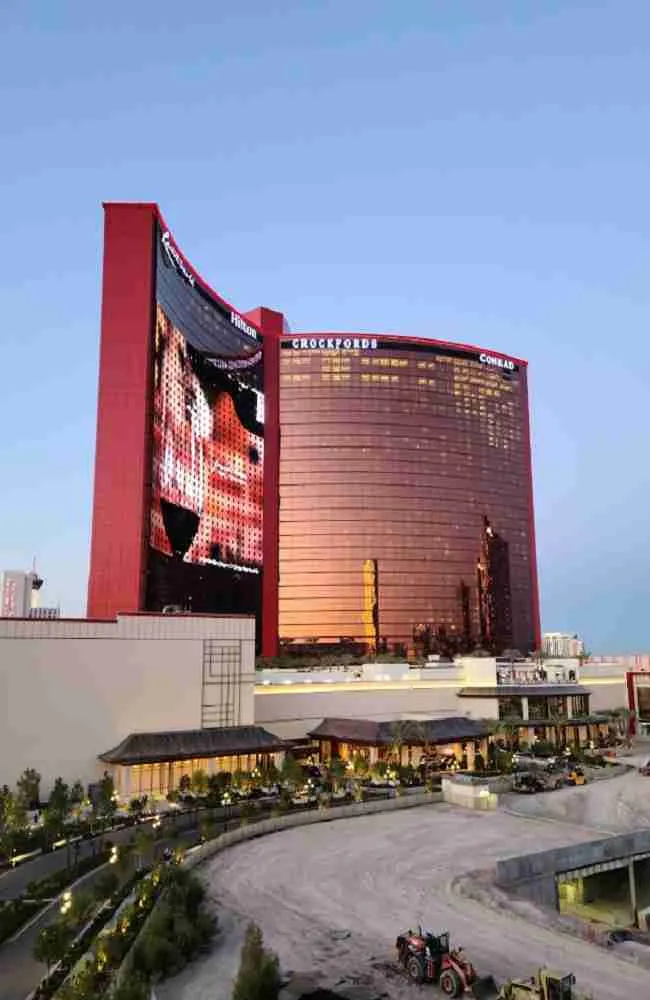 Ave Price Per Night: £110
Neighbourhood: Las Vegas Strip
Gym Hours: 5am – 8pm
2. Resorts World Las Vegas // Best Hotel Gym For Party Fans
Non gym related, but they got an award for best pool party in 2022/23. This place goes off!
If you're a fitness enthusiast, the Resorts World Las Vegas is for you. This hotel provides a top-notch gym experience, with a full range of equipment, including treadmills and ellipticals, free weights, cable machines and more. There's also a world-class spa so you can relax after your workout – and all this is included in the hotel fee.
What else do they offer? Well, this hotel boasts some of the best reviews from customers who love its friendly service and fresh food options. Plus, it's located in the heart of Las Vegas, right by all the attractions – so it's perfect for anyone who wants to experience the city at its fullest. The average room price per night here is about $129 per night and includes breakfast – so it's an affordable option for budget-minded travellers. And if that wasn't enough, their restaurant has plenty of healthy eating options so you can stay fit even on vacation!
Reception: info@rwlasvegas.com
The Pros
Great for cardio fans
Smith Machine
Fixed Barbells for Biceps
Realistic Workouts Possible
See More Photos & Availability >>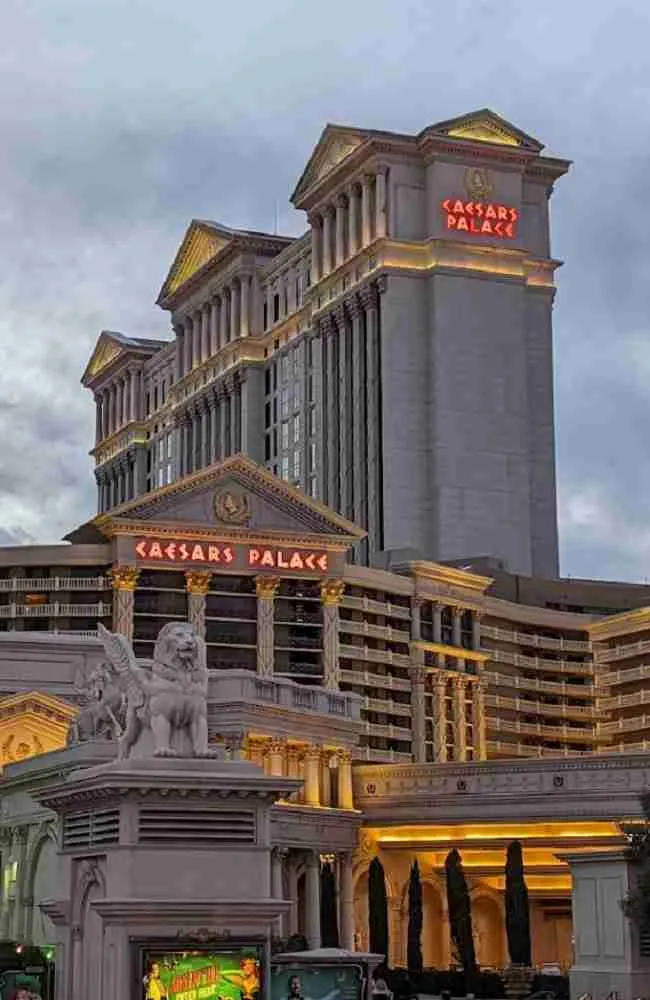 Ave Price Per Night: £150 – £200
Neighbourhood: Las Vegas Strip
Gym Hours: 06:00 – 17:00
Max Dumbbell: 30kg
3. Caesar's Palace Hotel & Casino // Best For More Casual Gym Goers
An amazing hotel gym on the Las Vegas Strip, slightly hamstrung by the 5pm close. That said, are you really going to the gym in Las Vegas late in the day? An hour or two more would've been nice.
If you want to add a bit of luxury to your gym experience, Caesar's Palace Hotel & Casino might be the way to go. This 5-star hotel features a 2,000 sq ft gym with state-of-the-art equipment and amenities for guests. You'll find treadmills and ellipticals, as well as resistance machines, free weights, exercise balls, yoga mats and more. Plus, the hotel offers personal training services if you're looking for extra support while on holiday.
Not only that but reviews praise the hotel's food service—from their impressive breakfast buffet to their healthy eating options throughout the day. And speaking of money, prices at Caesar's Palace can range between $100 – $200 per night depending on the time of year you visit Vegas.
So if you're looking for a good workout while in Vegas with plenty of fitness options combined with some pampering and luxury too—it might be worth checking out Caesar's Palace Hotel & Casino.
Reception: concierge@caesarspalace.com
The Pros
Spacious
Good Resistance Machines
The Cons
Pricier Hotel
No Real Bench Action
Realistic Workouts Possible
See More Photos & Availability >>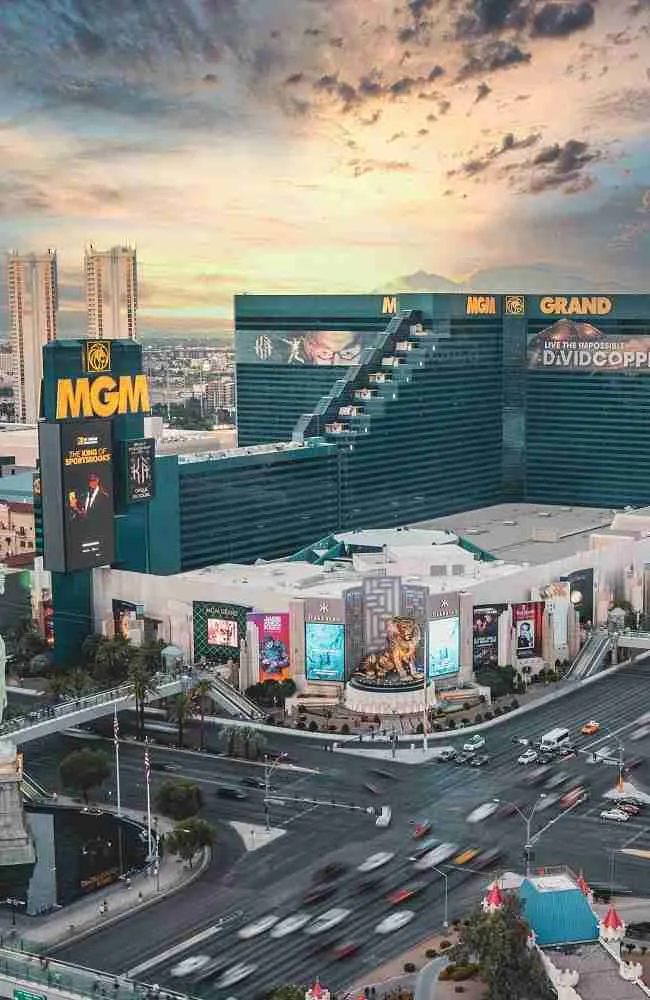 Ave Price Per Night: £150+
Neighbourhood: Las Vegas Strip
Gym Hours: 24/7
4. MGM Grand 'Signature' // Best Hotel Gyms in Vegas

24/7 fitness centres get our thumbs up every time. I don't even know why some hotels close them, it's not like they have staff in there giving training tips.
Located in the heart of the Las Vegas Strip, MGM Grand Signature is renowned for its luxurious accommodations and top-notch facilities. One of the best hotel gyms in Las Vegas, the gym features everything a regular gym goer needs to stay fit while on vacation. It has premium equipment such as treadmills and elliptical machines, dumbbells, benches and cable machines, as well as a wide variety of exercise classes.
Visitors rave about how modern and clean the gym is and how helpful and friendly the staff can be. Plus, all MGM Grand Signature rooms come with a complimentary breakfast buffet with plenty of healthy options that help fuel your workouts. The average price for a room per night is about $150 USD which includes breakfast.
Reception: signaturemgmgrandinfo@lv.mgmgrand.com
The Pros
Good back Machines
Arc Trainers
Ab/Yoga Space
The Cons
No Olympic Bar
No Rack
Realistic Workouts Possible
See More Photos & Availability >>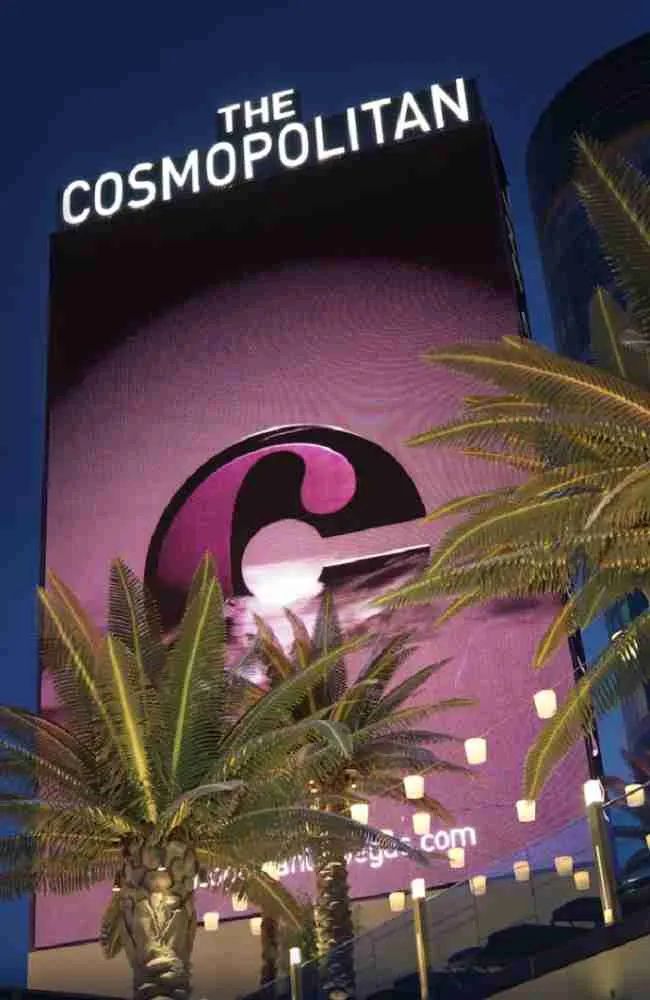 Ave Price Per Night: £250
Neighbourhood: Las Vegas Strip
Gym Hours: Boulevard Fitness Center: 24/7 | The Chelsea Fitness Center: 6am – 6pm
5. The Cosmopolitan // Best Hotels Gyms in Vegas
The Cosmopolitan has two gyms. Enough said.
This place has a special place in our hearts. It has two gyms and this is how we found out. We turned up at their Chelsea Fitness Centre at half past 6 one Friday evening, only to be heartbroken that we couldn't get a pump on for a night out. Reception duly advised us that the other gym is 24 hours. Dub – Big Dub
So, it's therefore only fair if we recommend the Cosmopolitan hotel. The Cosmopolitan hotel gym features plenty of exercise equipment, from free weights and cardio machines to an on-site pool and sauna. There's also a wellness and nutrition lounge offering guided classes and one-on-one training sessions.
Reviewers mention that the hotel staff are incredibly friendly and helpful, which is always nice when you're away from home. The service is first-rate and they even offer complimentary water bottles so that you can stay hydrated during your workout. Accommodation averages $179 – $269 which includes a full breakfast and access to all of their amenities. Plus, their restaurant has some amazing healthy eating options too!
Reception: pr@cosmopolitanlasvegas.com
The Pros
Feels Amazing To Train Here
Punch Bag
Nice Smith Machine
Nice Yoga Studio
The Cons
No Power Rack
Feels Lunk Alarmy
Realistic Workouts Possible
See More Photos & Availability >>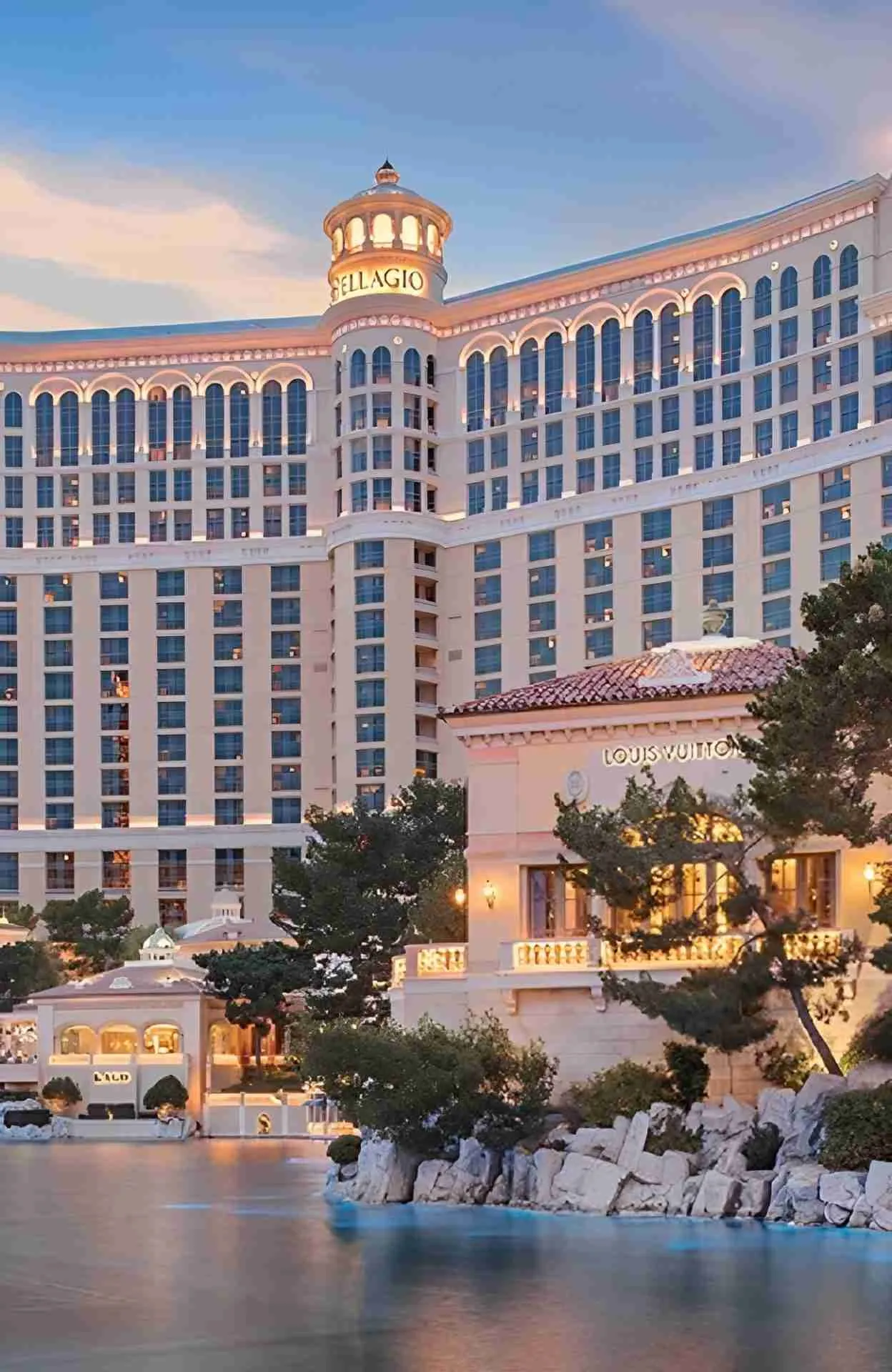 Ave Price Per Night: £120
Neighbourhood: Las Vegas Strip
Gym Hours: 6am – 6pm
6. The Bellagio // Best Hotel Gym In Vegas For Equipment
Dumbbells to 45kg means this place has the potential to challenge most gym users.
The Bellagio is one of the best hotels in Las Vegas so it's no surprise when it comes to its fitness centre, it lays pipe. It has everything you could want in a gym, with a large selection of cardio machines, strength training equipment, stretching area, and even a lap pool.
The reviews from visitors were really positive, praising the wide range of equipment and friendly staff who always made them feel at home. Plus, the hotel offers good value for money – rooms start from around $120 per night and include breakfast. The breakfast buffet also has healthy options for people looking to fuel up before their workout session.
So if you're considering visiting Las Vegas and need a good hotel gym to keep up with your fitness regime, then The Bellagio should be on your shortlist.
Reception: conciergeservices@bellagioresort.com
The Pros
Rows and rows of kit
Great pool
Squat/Power Rack
Smith Machine
Barbell Bench Press
The Cons
Doesn't look cool - carpet tiles
Realistic Workouts Possible
See More Photos & Availability >>
Honourable Mentions in Las Vegas (Click to see more)
Before we wrap up this guide, we picked three more gyms for you to consider if you value a good hotel gym in Vegas. Like the sound of them? Click on their links below to see availability and price per room per night across multiple booking platforms. Thanks for viewing our guide and if you think we have missed a good hotel gym in Las Vegas, please let us know in the comments below.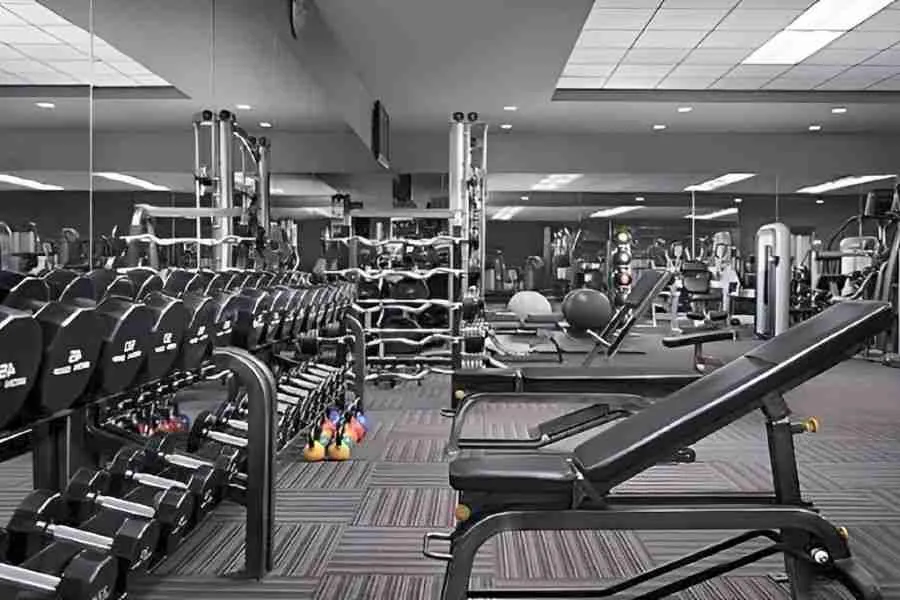 The 24/7 Mirage hotel gym offers a variety of cardio and strength-training equipment, as well as free weights and personal training services. There are also group fitness classes available. BIG FAN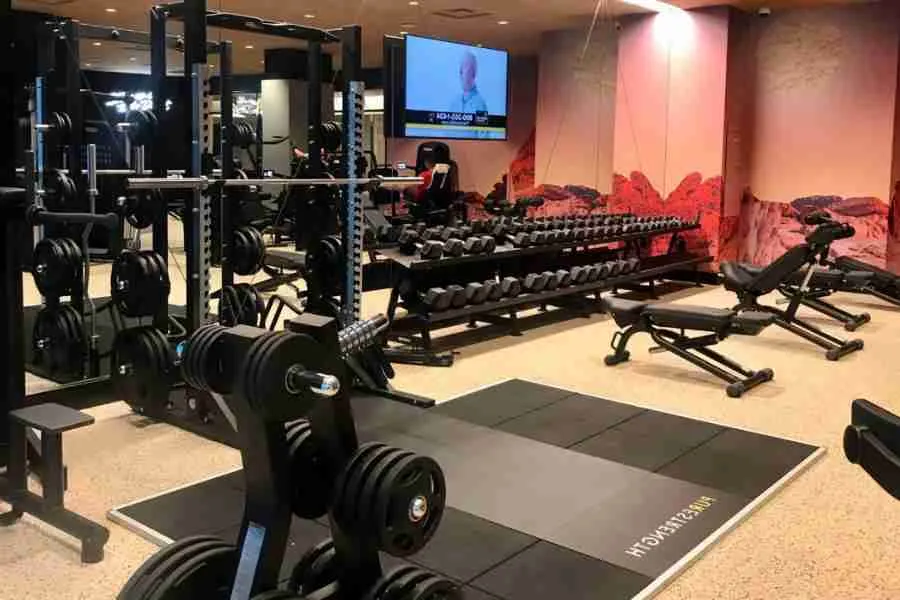 Nice dumbbells and understands the value of a power rack. Deadlifts, squats, all foundational lifts are in play at this Virgin Hotel Gym in Las Vegas. Plus the Cardio equipment is Technogym. "W".
Plaza Hotel (Budget Pick)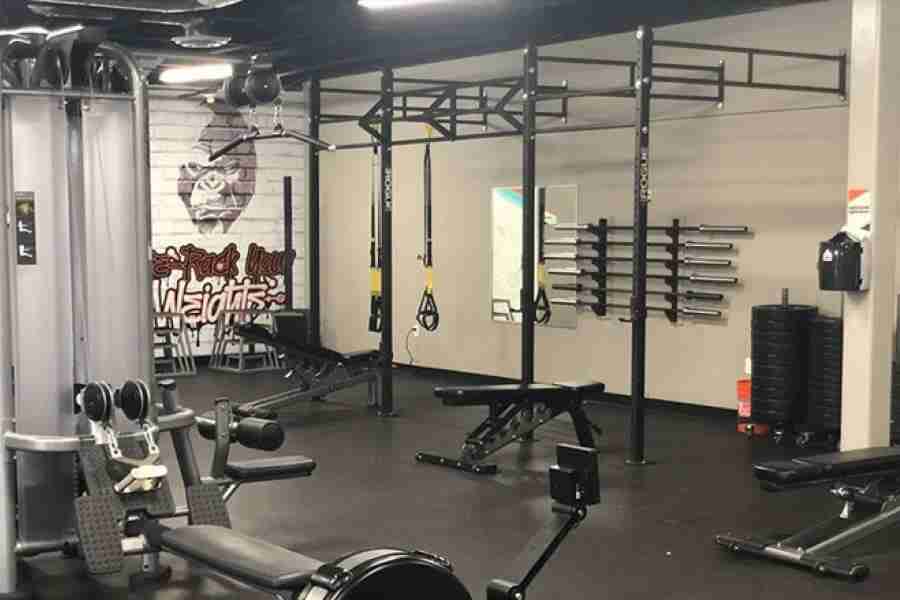 Plenty of options (with cables) to train your back and arms, plus a decent pin leg press – not a lot for chest but some cool TRX workout kit, plus assault bikes. Great value hotel makes it a real shout. 
One of the most common questions we get about Las Vegas hotel gyms is whether or not they offer day passes. The answer is yes, some do! Although you should always call ahead to check, as these are often subject to change.
Different hotels have different rules when it comes to day passes. Some require a minimum spend in the hotel's restaurants and other amenities, while others don't have any restrictions. Some may even offer special discounts for those looking to buy a one-off pass!
No matter what your budget might be, you're sure to find a hotel gym that offers day passes, as well as longer-term memberships. That way you can get fit and active on holiday without needing to head into the city!
Personal Favourites (aka bodybuilding gyms): Gold's Gym, The Lift Factory, Powerhouse, Stronghouse, Dragons Lair, LV Athletic Club and Smash Iron Fitness for bodybuilding fans.
For more casual fitness fans, there are some famous Gym Brands you may recognise and be able to use as part of existing memberships. Such as Fitness First or Bodyism.
Bodyism is a top-notch gym brand in Las Vegas. Here you'll find an array of high-tech machines and weights, plus their signature body building classes where they focus on strength, stability, and stance. Their programmes are quickly gaining a lot of attention due to their effective results!
Visitors to Las Vegas also check out
Have We Missed A Great Hotel Gym In Vegas?
If we have missed a great hotel gym in Vegas that you think deserves to be on this list, drop us a message to contact @ barbellsabroad dotcom. If you want to update your hotel's details, reach out to us also. We always want to add more information on our listing pages.
I feel like most hotel gyms are fitted out by someone who has never stepped foot in one. Spending fortunes on multiple cardio machines but not an Olympic bar in sight. We review hotel gyms so your next trip doesn't mean missed workouts. I am a Certified SAQ Trainer and REPs (UK) PT trained | @theskinnyboy on Insta
David // 20+ Year Gym Rat