Best Hotel Gyms in Bangkok
We review the best hotel gyms in Bangkok to save you needing to traipse around an unfamiliar city just to get a workout. Spoiler alert – Bangkok did well.
Travelling to Bangkok and want to stay fit?
TLDR: Asia's major travel hubs have some excellent hotel gyms, Bangkok is no exception. In this guide we show you at least 10 ideas of hotel gyms in Bangkok that you'd be okay to train in, and a few that may even be better than your own home gym. The guide looks at options that are both high rated and affordable, and it's why we avoid mentioning some brand hotels, because few can afford to stay at them. 
WINNER: Kimpton Maa-Lai- Click To See
what's Bangkok like for fitness fans
Bangkok is the bustling capital and economic hub of Thailand. Located in the Chao Phraya River delta in central Thailand, the city is known for its vibrant nightlife and shopping districts. Bangkok has an annual average sunshine of around 8 hours a day, making it a great spot to enjoy outdoor activities like sunbathing or sightseeing.
Bangkok is a great place for fitness lovers looking to enjoy an active holiday. With the number of big fitness events in the city, like the Bangkok Marathon and Dancing Rave Party, you can get your sweat on with like-minded people from all over the globe.
But it's not just about big events; there's plenty of options for everyday exercise too. Whether you're looking for a fitness centre at your hotel or a place to work out outside, there are plenty of gyms in Bangkok that cater to all kinds of exercise styles and levels. Plus, if you'd rather explore outdoors, there are plenty of parks and open spaces where you can take part in jogging, biking or even climbing.
Quick Facts On Bangkok, Thailand

How We Picked The Best Hotel Gym in Bangkok
The 'science' behind our Bangkok gym hotel reviews
I can't speak for everyone, but if you're an English speaker and arriving in Bangkok, you probably aren't going back to your home gym anytime in the next couple of days. So, if you like to stay in shape, beyond the diet you will want to find a gym that keeps some continuity with your home workouts. Sure, it may not have that beautiful plate loaded hammer strength glute drive or Technogym leg press loaded to 300kg plus – but it's got to be able to keep things pretty seamless. If for nothing else but your own sanity. 
We have years of experience in and around fitness, from training our bodies to others. You'll even find our sage wisdom in wellness publications like the Bustle. So what are we judging these hotel gyms in Bangkok on – can you hit all major lifts, does it accommodate for people who actually use gyms and can you leave the fitness centre satisfied. 
We are our audience. That's the first thing you should know. We have made that walk into hotel gyms for over a decade now and know the disappointment that happens all too often, leaving you annoyed you paid extra for a place to stay that had a fitness centre.
The reality is most hotel gyms have been put together by someone who has never been to a gym in their life. We weigh up several facts when it comes to picking winners or calling out losers.
1. Can you complete the major compound lifts? These include squats, deadlifts, presses and rows (or pulls). These are generally best served with a squat rack, maybe a smith machine and the presence of an Olympic barbell. Read about the "Fundamental Lifts".
2. Who does the weight load cater for? The reality is most hotel gyms do not have sufficient weight plates or dumbbells for strong women, let alone adult males who visit the gym regularly.
3. Overall gym conditions. This includes space to stretch, the condition of equipment, is there a/c etc. Nothing worse than trying to do an ab workout or flexibility movements on a wooden floor with no mats.
4. Cardio Range. What is the condition of the CV equipment and is there too much focus on machines that replicate the one exercise we can all do without a gym. Running/Walking. Yes – we will down mark for a room of treadmills….so stupid.
The Winners // Hotels With Gyms in Bangkok
Let's get started, 5 of the best rated hotel gyms in Bangkok plus an extra 5 for luck. This is our Top 10 list of the best places to train where you sleep in Thailand's capital city.
Too busy to read? Listen instead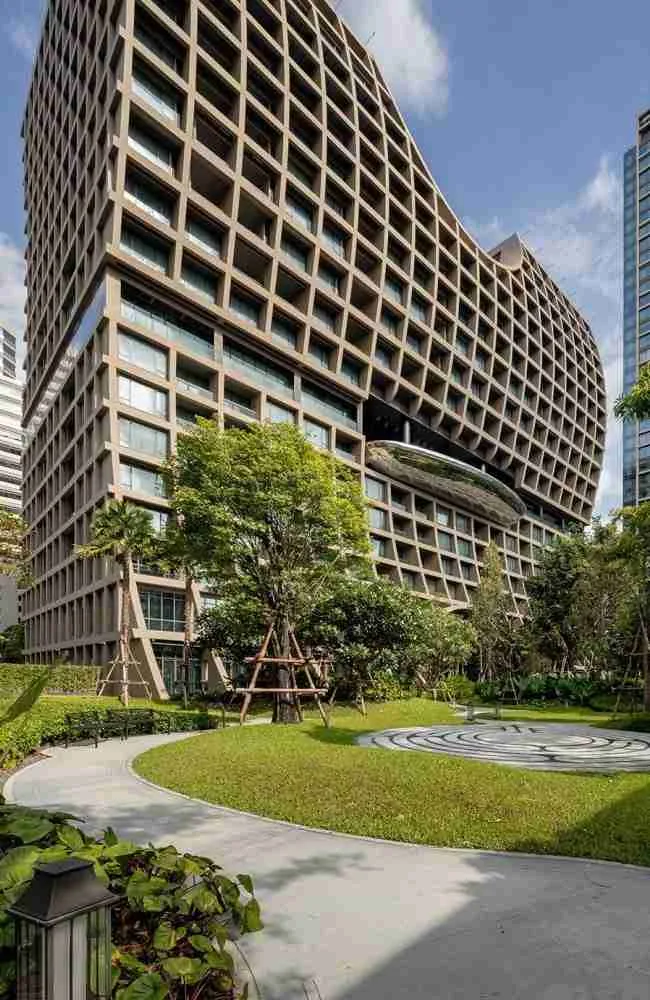 Ave Price Per Night: £170
Neighbourhood: Pathum Wan
Gym Hours: 6 am – 8.30 pm w/d – 8am – 8pm on w/e
Max Dumbbell:  50 lbs
Gym Brands Seen: Cybex, Technogym
1. Sindhorn Kempinski Hotel // Best Hotel Gyms In Bangkok
Olympic Lifting Platform....yes please
The first place we checked out and think you should to, is the Sindhorn Kempinski's Hotel Gym in Bangkok. This award-winning 5-star hotel is located near the heart of Bangkok and boasts a stunning rooftop swimming pool in addition to some stunning views across the city skyline.
But what makes this a great spot for travellers who care about fitness? First up, it's the equipment
Equipment
The gym at Sindhorn Kempinski features a broad range of equipment, including cardio machines such as Arc trainers, free weights such as Olympic bars, Technogym resistance machines, punch bags, nice bit of astro  and, wait for it….an Olympic lifting platform. Sold.
Reviews
According to reviews from visitors, they love the gym and have had no problems with it during their stay. The hotel also offers a variety of healthy options in its food service and their breakfast menu features items such as oatmeal, fresh fruit, and omelettes.
Price
The average price per night at this luxurious hotel is around $200 USD, which does include breakfast.
So if you're looking for a high-end place to stay with a great fitness centre in Bangkok, then look no further than the Sindhorn Kempinski Hotel Bangkok!
Reception: info.sindhorn@kempinski.com
Address: 80 Soi Ton Son, Lumphini, Pathum Wan, Bangkok 10330, Thailand
The Pros
Eleiko Power Rack
Deadlift platform (very nice)
Life Fitness Machines
Punch bag
Pilates Space
The Cons
Could be open later on the weekend being Bangkok (Khao San T-Shirt Pumps)
Realistic Workouts Possible
See More Photos & Availability >>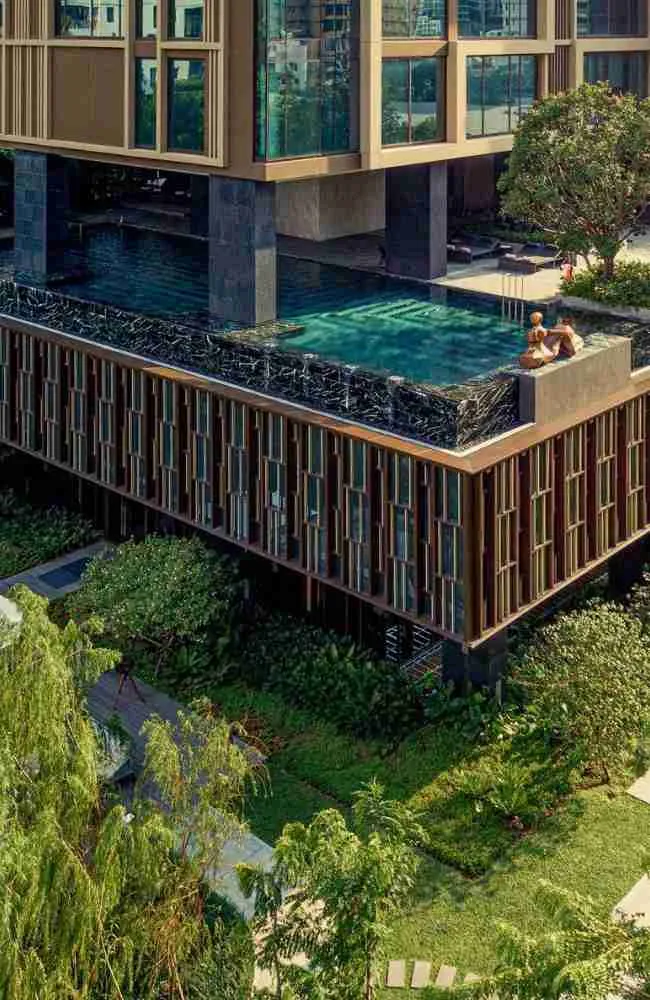 Ave Price Per Night: £200
Neighbourhood: Pathum Wan
Gym Hours: 6:00 am – 10:00 pm
Gym Brands Seen: Technogym, Hammer Strength, Precor, Jordan, Life Fitness
2. Kimpton Maa-Lai // Best Hotel Gyms In Bangkok
If you're looking for a hotel gym that caters to serious fitness fanatics on their travels, then the Kimpton Maa-Lai Bangkok is definitely worth a visit. It offers all the major gym equipment from cardio machines to free weights and an array of impressive group classes. This place is legit as gyms go, it's a crossfit and functional fitness fans shangri-la. You can get up for breakfast then head into the hotel gym and push a weighted sledge.
I mean, come on! No hotel gym you've ever been to has that.
What's more, it's one of the few hotels in Bangkok that offer healthy food options as a central part of their breakfast and food service. So you don't need to worry about eating unhealthy while on vacation – they have you covered. Rooms here come in at an average price of around $200 per night, including breakfast.
Here are a few things you should know about this hotel gym:
It features modern exercise machines like treadmills and ellipticals as well as power racks with weights perfect for lifting and pressing exercises

There are also plenty of accessories such as stability balls, medicine balls, ab rollers and bikes to spice up your workouts

There are lots of group classes such as yoga, Pilates and HIIT for those looking for something more dynamic

The hotel also has a nice pool that can be used for swimming laps or simply cooling off after a tough workout session
Reception: kimptonmaalaibangkok@ihg.com
Address: 78 Soi Ton Son, Lumphini, Pathum Wan, Bangkok 10330, Thailand
The Pros
Amazing gym
Hammer strength
Smith Machine
Rock climbing wall
Good use of space
The Cons
Possibly a lack of dumbbells, but plenty of weight plates.
Realistic Workouts Possible
See More Photos & Availability >>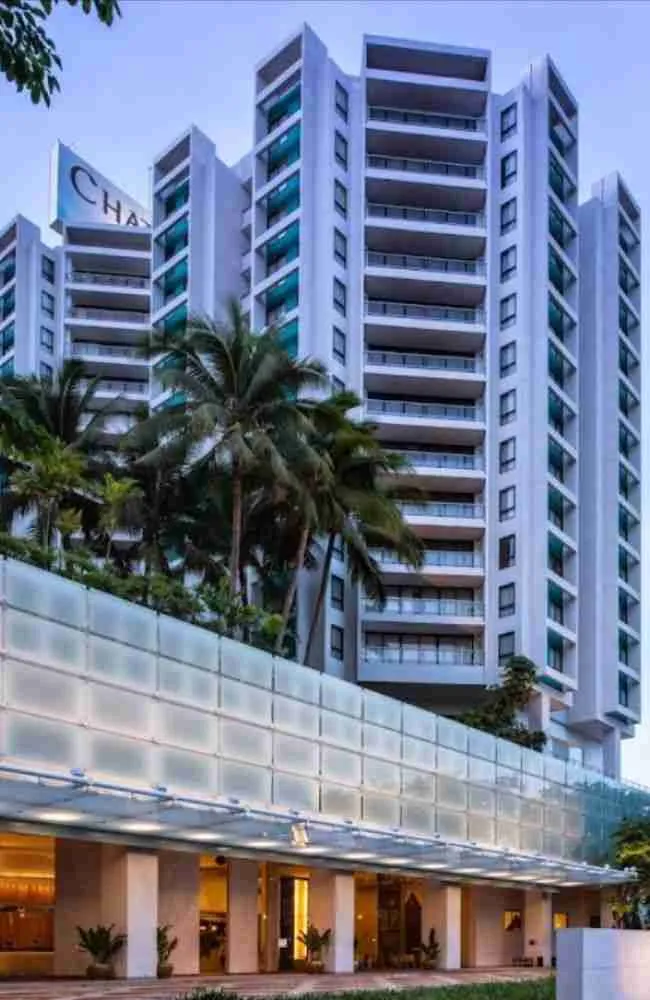 Ave Price Per Night: £90-£110
Neighbourhood: Yan Nawa
Gym Hours: 6am to 10pm
Max Dumbbell: 30kg
Gym Brands Seen: Life Fitness
3.Chatrium Residence Sathon // Best Hotel Gyms In Bangkok
Good gym for resistance machine fans. Great gym for sauna and steam warriors.
Number 3 on our list of hotel gyms in Bangkok and we arrived at the Chatrium Residence Sathon. We came here on a leg day, but found ourselves doing a total body resistance machine workout, as we wanted a free-bar to squat, which it didn't have. Still, it's got a great selection of Life Fitness gym equipment, including resistance machines and free weights. It also has the standard treadmills and exercise bikes too. Best of all for your post workout, they have a decent sauna and steam room to help you let that pump marinade.
Customer reviews say good things about the place, particularly about the service. One area we didn't test was their breakfast, which apparently has healthy eating options listed, so another win and how you can maintain that clean nutrition programme while on holiday!
Aside from the great gym facilities here you'll also enjoy rooms with modern amenities such as flat screen TVs and complimentary WiFi so it's a fantastic place to stay no matter if you're planning on just using the gym or not. The average price for a room per night is around $100 USD (which does not include breakfast).
Reception: fitness.crst@chatrium
Address: 291 Naradhiwas Rajanakarindra 24 Alley, Chong Nonsi, Yan Nawa, Bangkok
The Pros
Brand new refurb with Life Fitness
Smith machine
Olympic Bar
Rubber Floor for Deads
The Cons
Could do with more dumbbells. This is a recurring theme for many hotel gyms sadly.
Realistic Workouts Possible
See More Photos & Availability >>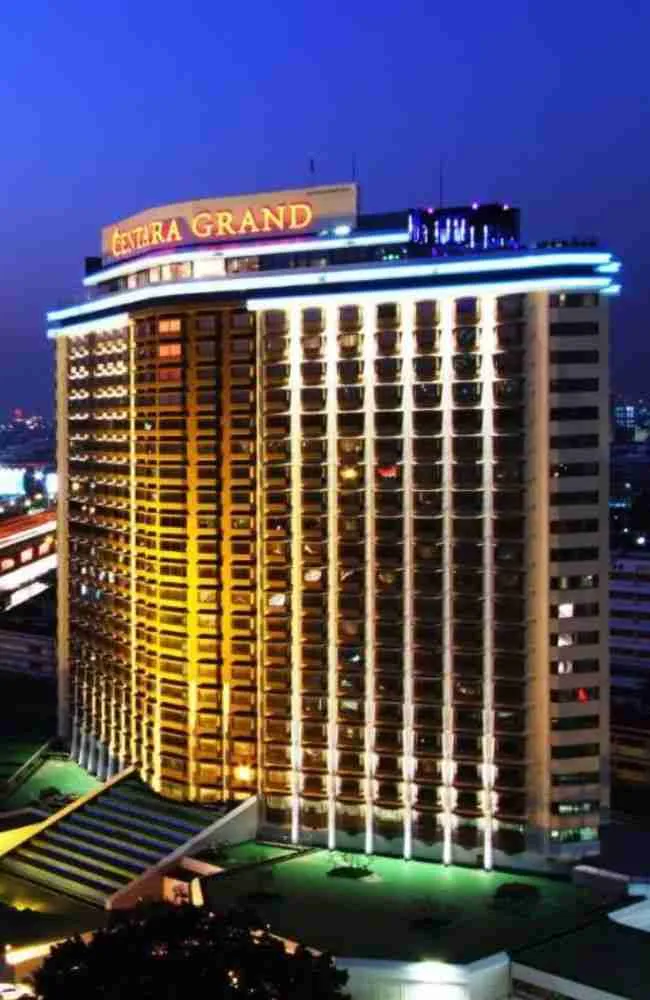 Ave Price Per Night: £150+
Neighbourhood: Chatuchak
Gym Hours: 09:00-23:00
Max Dumbbell: 15kg
Gym Brands: Cybex
4. Centara Grand at Central Plaza Ladprao // Best Hotel Gyms in Bangkok
Cybex fitted this place out. Logos everywhere. The only thing the Centara hotel gym really misses is a good (from floor) deadlift option
Another top hotel gym in Bangkok is Centara Grand at Central Plaza Ladprao Bangkok. Located close to the airport, this hotel gym is a great choice for tourists who care about fitness and accessibility to a major travel hub.
The gym has Cybex equipment (which makes  a change) and while it offers plenty of options for cardiovascular exercises, including treadmills and exercise bikes; they do really well when it comes to resistance machines and free-weights. For those who fancy something more organised to pass the time, you have the option of a separate room dedicated to group workout classes like HIIT and Zumba.
The hotel is well reviewed by visitors for its comfort and convenience in terms of its location and facilities; we checked it out when leaving Bangkok and can attest to that. The price for a room per night starts from $138 USD and includes breakfast, so it's not the cheapest option but is a bit more executive so you expect that. The breakfast buffet has healthy eating options such as fruits, vegetable sticks, whole grain cereals, nuts, and MEAT! So if you're heading out of town, or off to another part of the world, the Centara's hotel gym and its location makes the place a good choice to check out.
Reception: cglb@chr.co.th
Address: 1695 Phahonyothin Road, Chatuchak, Bangkok 10900, Thailand
The Pros
Dumbbells to 30kg
Recent Cybex resistance machines
The Cons
Deads restricted to Smithy - with its limited range of motion (ROM)
Realistic Workouts Possible
See More Photos & Availability >>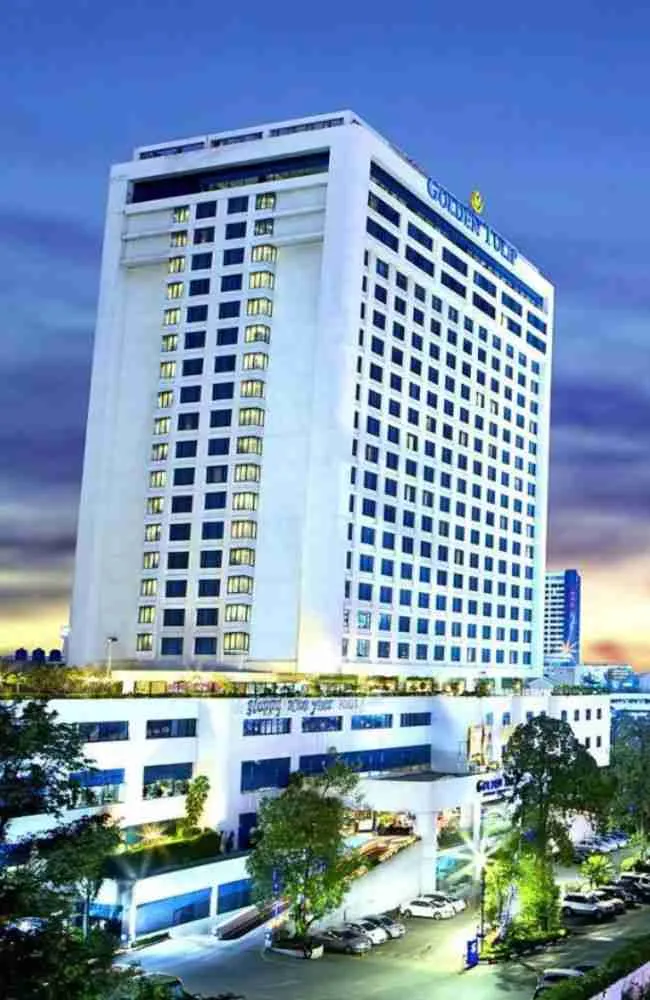 Ave Price Per Night: £50
Neighbourhood: Huai Khwang
Gym Hours: 24/7
Max Dumbbell: 30kg
Gym Brands Seen: Cybex, Jordan
5. Golden Tulip Sovereign Hotel // Best Hotels Gym in Bangkok
Solid price, and plenty of weight plates for strength training fans.
Number 5 – in our list of the best hotel gyms in Bangkok and we bring you the Golden Tulip Sovereign. For us seeing the coloured smith machine plates, inspired a sense of Olympic lifting. While they aren't bumper plates they are rubber coated and fitted to a smith machine so you're not going to be hitting the floor with them. Mostly we like the slightly home gym style to the weights. It's like a bodybuilding fan has collected odd pieces over the years because they are practical, meaning you end up with a useful gym.
The hotel itself has great reviews from visitors. It's conveniently located near major attractions like Siam Paragon and MBK Shopping Centre, which makes it an ideal base for sightseeing in Bangkok. Plus, the rooms are comfortable and offer all the amenities one could need during their stay.
Prices for a room at this hotel start at around $60 per night, depending on the season. This price includes a basic breakfast that offers some healthy options like muesli, fresh fruits and yoghurt. The Golden Tulip Sovereign has a good little hotel gym and the with the variety of free weight kit, you're going to be able to tick off most body parts well. For us it's a really good affordable option.
Reception:info@goldentulipbangkok.com
Address: 92 Soi Rong Phayaban Phra Ram 9, Bang Kapi, Huai Khwang, Bangkok 10310
The Pros
Cool visual vibes
Smith Machine
Technogym
4 Station Cable Pulley Machine
The Cons
Dumbbells cut off at 22kg
Not huge amount of kit
Realistic Workouts Possible
See More Photos & Availability >>
Honourable Mentions in Bangkok (Click to see more)
Still not decided on your favourite hotel gym in Bangkok? Here are 5 more to consider. If you want to see more general images of the hotels and importantly their availability, you can hit the links associated with them below. If you book through those links we get about a dollar in compensation, which all goes toward our next protein bar.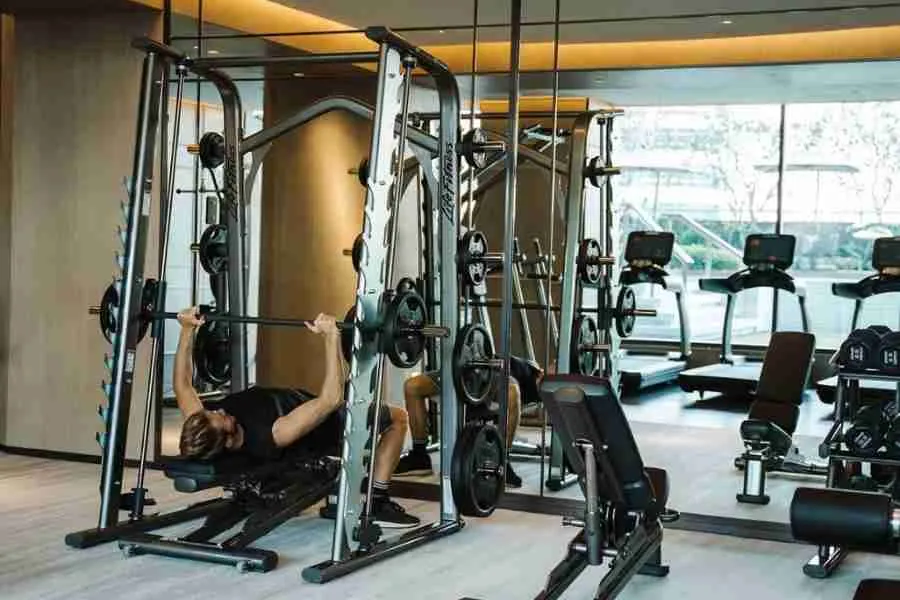 Mostly set up for casual gym users, but a smith machine, pulldown, dual cable column and a dumbbell rack that runs to 25kg sweetens the deal. Opens 6am to 9pm daily. Legs is going to be a slog. 
Sofitel Hotel, Khet Watthana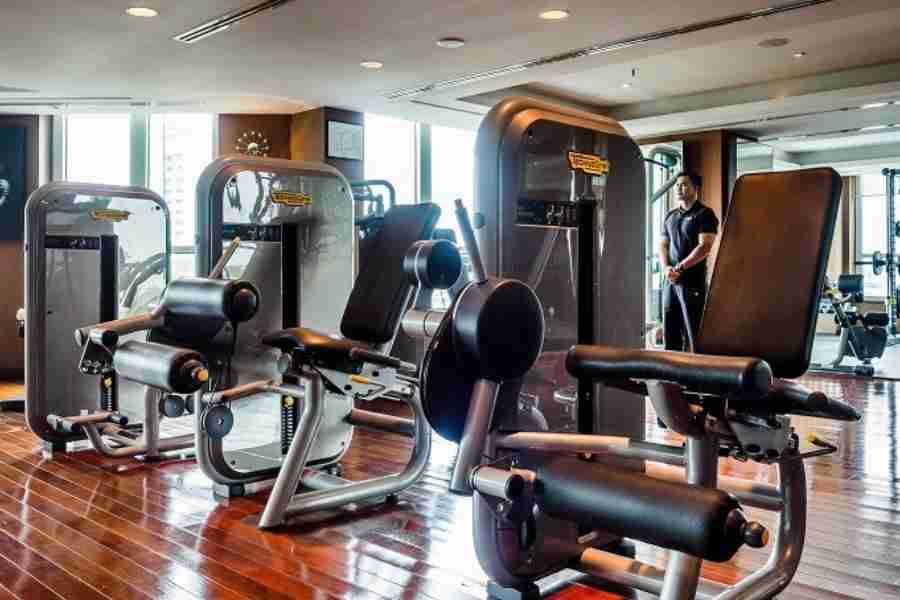 Technogym's sales team deserve serious bonuses. There isn't a top hotel gym globally that doesn't hold their equipment. Nice resistance machine focused fitness centre – Open 24/7 too.
Amaranta Hotel, Huai Khwang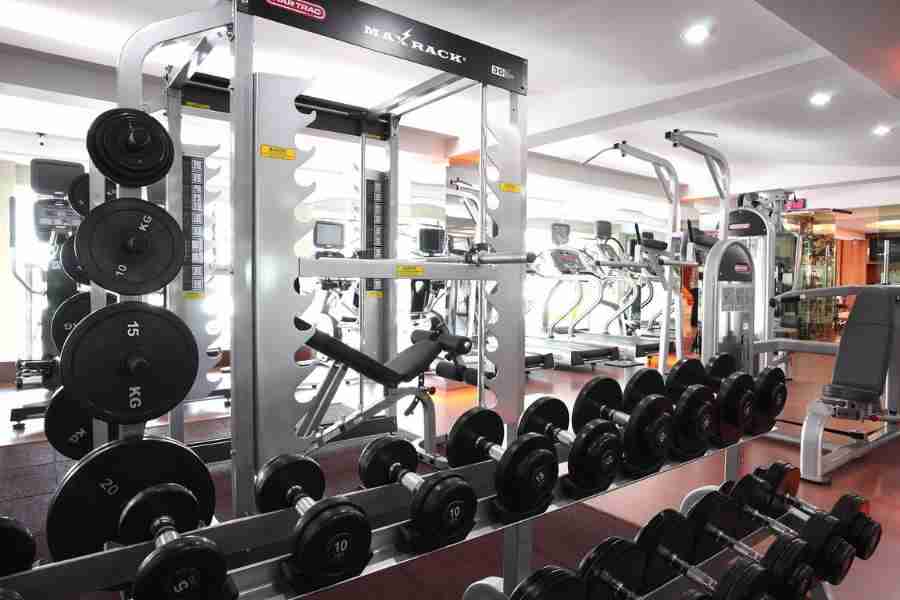 Free moving smith machine makes compound lifts on these, much less restrictive (for me anyway). Good quantity of weight plates means 160kg barbell lifts. Impressive for a hotel gym.
Yes, you can absolutely find gyms in Bangkok offering day passes. This is great news for travellers who don't want to commit to an entire month or more of gym membership when they're only going to be in the city for a few days. When looking for a gym to visit, you should consider the cost of the day pass, which ranges from around 300-700THB.
You can use apps like Reebok Fitness Club Finder and Omigo App to find gyms in Bangkok that offer day passes. These apps also list amenities like locker rooms and refreshments, plus equipment available like weights, treadmills and yoga mats. That way, you can easily tell what each gym offers before you even visit!
If you're looking for the best public gym in Bangkok, then for overall appeal, look no further than Gym Zen. With a wide array of amenities and features, Gym Zen is the perfect place for bodybuilders, crossfitters, pilates devotees and MMA fighters alike.
Gym Zen has all the latest fitness equipment from leading brands such as Hammer Strength, Life Fitness and Nike Training. There's also plenty of open-ended space in which to practise various techniques for MMA and boxing. The gym also offers a range of classes from Yoga to Bodybuilding to help you reach your fitness goals faster.
What's good for bodybuilders?
I know we said we liked Gym Zen, well hold that thought for a moment, Muscle Factory just entered the chat.
Muscle Factory has no rivals for pure bodybuilding vibes. Bangkok has a load of decent public gyms but this one is a must visit for fans of lifting. I don't need to add anything else to this section, other than, 300+ 5 star Google reviews must say something.
What's good for crossfit?
Crossfitters can take advantage of the full range of free weights available at Base Gym, as well as the medicine balls, kettlebells, anaerobic cardio equipment they also have rows of landmines and Olympic lifting platforms to keep your workout routines from home uninterrupted.
What's good for pilates? Yoga?
Yogis have plenty of options at Gym Zen; there is an entire section devoted purely to yoga poses as well as regular yoga classes by experienced instructors throughout the week. Pilates enthusiasts can take advantage of the wide selection of Pilates equipment available including reformers, rings and stability balls designed to help you build strength and flexibility.
Visitors to Bangkok also check out
Have We Missed A Great Hotel Gym In Bangkok?
Think your hotel in Bangkok deserves to be on our list? Drop us a message to contact @ barbellsabroad dotcom, tell us why and we can take a look if you fancy. If you want to update your hotel's details, reach out to us also. From bigger dumbbell sizes, to better opening hours – holler at your gym-bros. 
I feel like most hotel gyms are fitted out by someone who has never stepped foot in one. Spending fortunes on multiple cardio machines but not an Olympic bar in sight. We review hotel gyms so your next trip doesn't mean missed workouts. I am a Certified SAQ Trainer and REPs (UK) PT trained | @theskinnyboy on Insta
David // 20+ Year Gym Rat