Best Hotel Gyms in San Francisco
Planning a trip to Silicon Valley or the Bay Area and want to keep your fitness goals alive, then you may want to know, what's the best hotel gym in San Francisco. With not all hotel gyms being created equal— how do you know which one is the best? You come see your gym bros here at Barbells Abroad of course.
Travelling to SF and want to stay fit?
TLDR: What's the best hotel gym in San Francisco? In this guide we show you why we picked The Fairmont, but run over 10 other worthwhile places to stay in the city and Bay area, if fitness is your first pick for filters when booking a hotel. We also make some workout suggestions that you can try yourself if you click on the linked options. 
WINNER: The Fairmont – Click To See
what's San Fran like for fitness fans
San Francisco is situated on the California coast, between the Pacific Ocean and the San Francisco Bay. Famed for its diverse array of neighbourhoods, each with its own unique charm and distinct attractions, San Francisco is known for its pleasant Mediterranean climate and being the home of nearly every app you've got on your phone.
If you're a fitness enthusiast, you'll be happy to know that San Francisco is a great place for the active traveller. Throughout the year, the city plays host to big fitness events such as the San Francisco Marathon and colour runs. Exercise doesn't have to be limited to hotel gyms either – there are plenty of opportunities to exercise outdoors in San Francisco. Whether you take a stroll along Ocean Beach or jog up and down the famous Lombard Street, there are lots of ways to get in your daily exercise. Admittedly though you may not want to do much walking around the inner city areas such as SoMA, Tenderloin and East Mission, as it has become an assault course of tents, spinners and unpleasant crime states. It takes a radicalised moron to not accept that jogging through fentanyl encampments is not only massively depressing it also doesn't feel hugely safe.  
For those who want to find a local gym, you have all the major brands like SoulCyle and Barry's Bootcamp, as well as bodybuilding gyms such as Golden State Barbell Club and the old school bodybuilder's fitness centre 'Sunset Gym'. Not sure how we missed this for our guide on the best gyms in the US. 
Quick Facts On San Francisco, CA

How We Picked The Best Hotel Gym in San Francisco
The 'science' behind our San Francisco hotel gym reviews
Like any of our holiday fitness guides, we have a set of criteria we follow before we choose to display hotels in these reviews. We tend not to review hotels that few can afford (for obvious reasons), we'll penalise hotels that have too much focus on exercise you can do for free outside (treadmill gyms) and finally, we bring to the table our own experience in personal training and fitness that spans more years than we care to admit.

All in all, San Francisco was a bit of a breeze to review, as unlike NYC or LA I found the traffic to be slightly less offensive and the place a bit more walkable. Also we hired a Tesla which was fun and the disappointing nightlife (compared to LA anyway) kept me free(ish) from hangovers. 
Anyway, if you want to find out the specifics, we have the selection policy below or scroll down for the best hotel gyms in SF reviewed.
As always: "Lots of treadmills and we will mark you down, barbells that let you do fundamental lifts, we mark you up."
We are our audience. That's the first thing you should know. We have made that walk into hotel gyms for over a decade now and know the disappointment that happens all too often, leaving you annoyed you paid extra for a place to stay that had a fitness centre.
The reality is most hotel gyms have been put together by someone who has never been to a gym in their life. We weigh up several facts when it comes to picking winners or calling out losers.
1. Can you complete the major compound lifts? These include squats, deadlifts, presses and rows (or pulls). These are generally best served with a squat rack, maybe a smith machine and the presence of an Olympic barbell. Read about the "Fundamental Lifts".
2. Who does the weight load cater for? The reality is most hotel gyms do not have sufficient weight plates or dumbbells for strong women, let alone adult males who visit the gym regularly.
3. Overall gym conditions. This includes space to stretch, the condition of equipment, is there a/c etc. Nothing worse than trying to do an ab workout or flexibility movements on a wooden floor with no mats.
4. Cardio Range. What is the condition of the CV equipment and is there too much focus on machines that replicate the one exercise we can all do without a gym. Running/Walking. Yes – we will down mark for a room of treadmills….so stupid.
The Winners // Hotels With Gyms in SF
So, in no particular order, here is our 11 top picks for the aware of best hotel gyms in this part of Cali. 8 we had to show you and 3 more that are definitely worth a mention. If there are any we have missed and you want us to spin by on our next trip to San Francisco, drop us a message at the bottom of the page.
Too busy to read? Listen instead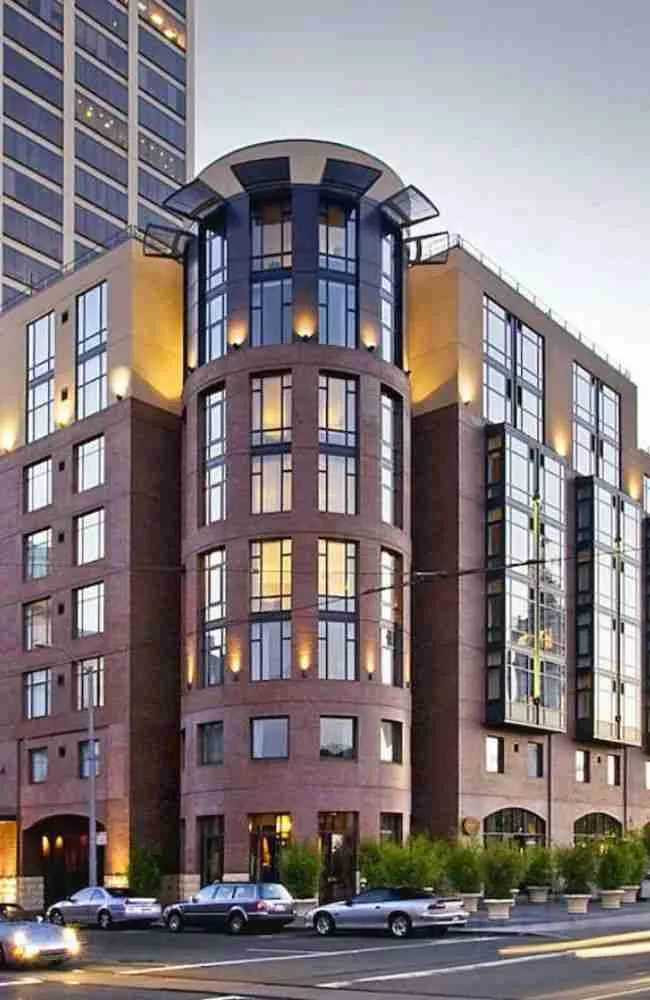 Ave Price Per Night: £300
Neighbourhood: Mission
Gym Hours: 24/7
Max Dumbbell:  25kg
Gym Brands Seen: Rogue, Technogym
1. The 1 Hotel San Fran // Best Hotel Gym In Financial District
This hotel has a plate loaded leg press......
If you're in town on business and find yourself in the Financial District then you can't go far wrong with the 1 Hotel from a fitness perspective.

We aren't called Barbells Abroad for nothing, we got gym boners when we saw the Rogue rack, fun looking cardio and cool studio style space. It's not a massive gym but the plates and barbell paired with the plate loaded leg press, make this an example of all a gym needs to make 80-90% of REGULAR gym goers happy. 
It's been put together by someone who knows what matters, being able to step into a hotel gym and knock out a serious leg workout is a rare treat. Check out the quad workout below to see what we trained when in the place. 
As for the hotel in general – nice place, clean, solid breakfast and for San Fran, is a mid range price point. 

Reception: sfo1hsf.concierge@1hotels.com
Address: 8 Mission St, San Francisco, CA 94105, United States
The Pros
Rack Leg Press Modern Cardio Kit
The Cons
The gym is a little small on size.
Not great if you are uncomfortable with barbells and free weights
Realistic Workouts Possible
See More Photos & Availability >>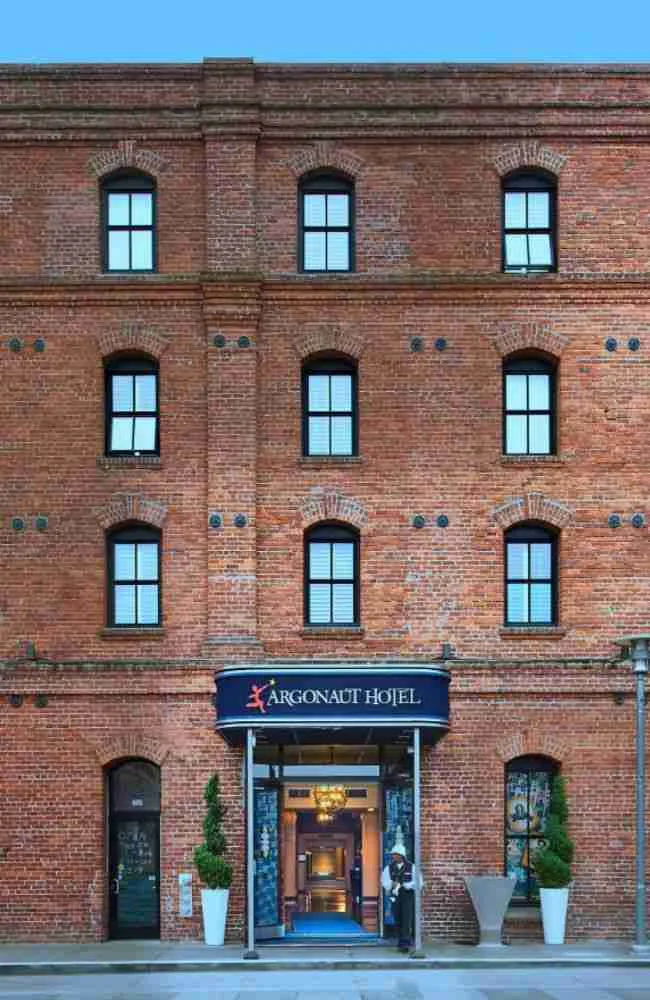 Ave Price Per Night: £200
Neighbourhood: Fort Mason
Gym Hours: 24/7
Gym Brands Seen: Cybex, Precor, Life Fitness
2. Argonaut Hotel // Best Hotel Gym In Fort Mason
24/7 gym and a great location for dinner spots around Fisherman's Wharf.
The gym is open 24 hours, which is an immediate thumbs up for any hotel. We heard the Argonaut was a nice place to stay at regardless of the gym reviewing aspect to our visit, and it is. It's popular amongst the Google review crowd too, with a 4.4 score and it's well located for dinner spots and the popular stroll around Fisherman's Wharf. I think if my memory serves me correctly, we got the boat to Alcatraz from nearby here too as well, so all in all – a useful place to stay. 
Back to the fitness centre and why we picked the Argonaut as one of the best hotel gyms in San Francisco – it's well equipped with resistance machines and gives off this old school American gym vibe. It's all Cybex, and Life Fitness too, so nothing that should come apart in your hands. Check it out for yourself.
Reception: argonautconcierge@noblehousehotels.com
Address: 495 Jefferson St, San Francisco, CA 94109, United States
The Pros
Good collection of resistance machines
The Cons
Bit dated in the gym Low ceiling makes pull ups on the pull up bar a bit taxing
Realistic Workouts Possible
See More Photos & Availability >>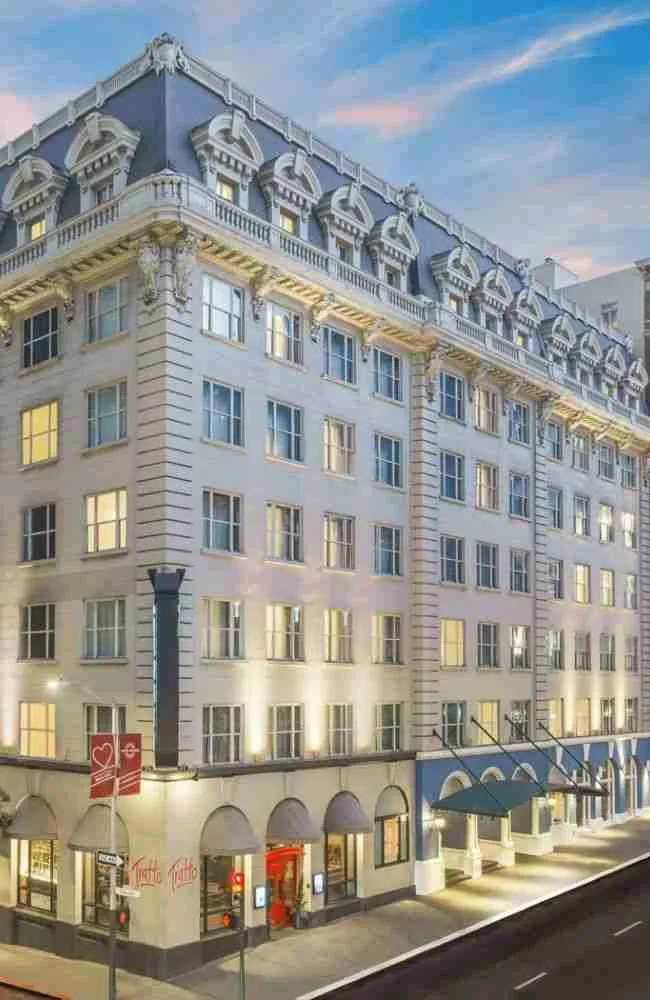 Ave Price Per Night: £195
Neighbourhood: Tenderloin
Gym Hours: 24/7
Max Dumbbell: 80lbs
Gym Brands Seen: Star-trac, Life Fitness, Jordan
3. The Marker Hotel // Best Hotel Gym In Tenderloin
Breakfast buffet is healthy eating heavy.
The Marker Hotel is an all around decent hotel and is our third on the list of best hotel gyms in San Francisco, but we will say, it's not the 3rd best gym. It makes the cut with a good mixture of dumbbells to 30kayjizzles, has a leg press made in the 90s and a leg extension machine which can be hacked into a standing leg curl or convoluted hip thrust. There is a good mix up of cardio – so a win for the old dears, and cables and pulleys to help you out with a t shirt pump.

It's a good hotel gym for the weekend for us, but a bit of a wash-out if I'd stayed there much longer. That being said, the hotel feels nice, is cheaper than many others, (probably because it's near Dangerville) has a decent breakfast with a healthy slant and for those who like a crossfit workout or a dumbbell circuit you'd be more than content. 
Reception: JSmith@themarkersf.com
Address: 501 Geary St, San Francisco, CA 94102, United States
The Pros
Good dumbbell mix Leg press
The Cons
Pool is a bit pony No Barbells

Realistic Workouts Possible
See More Photos & Availability >>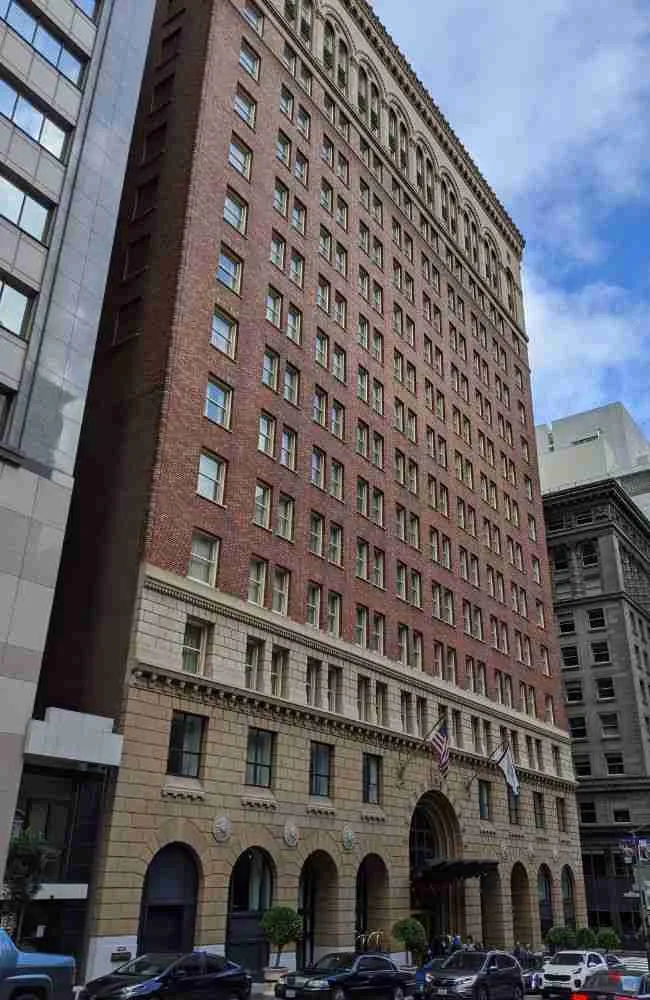 Ave Price Per Night: £230+
Neighbourhood: Financial District
Gym Hours: 24/7
Max Dumbbell: 25kg
Gym Brands: Cybex, Matrix
4. Omni Hotel // Best Hotel Gyms in San Fran

Neat little hotel gym in the business district
4th up in our hunt for the best hotel gym in San Francisco, we rocked up at The Omni Hotel. Located in the Financial District, this grand old building gives off that classic bank building vibe. The standards of customer service here were on point and the gym is pretty solid too. Don't get me wrong, on first glance it looks a little limited, but it is fitted out with Cybex for all muscle groups. The Dumbbells stop out at 20kg which is a missed opportunity, but I used them for finishing moves and loaded the weight on the machines instead.  
This is one of those occasions when you may need to use a bit of ingenuity to knock out a fulfilling leg workout, or suffer the unappealing hell of high rep sessions. No leg press or rack makes the heavy move part of that workout a little tougher, so go for pistol squats, plyo dumbbell jump squats and bulgarian split squats instead. 
Outside of the gym, the breakfast is worth making and like a number of San Francisco hotels, understands the importance of healthy options. Nice hotel, not a bad hotel gym and well located for business travellers.
Reception: reservations@omnihotels.com
Address: 500 California St, San Francisco, CA 94104, United States
The Pros
Cybex covers all muscle groups
Fitness classes
Adjustable benches
The Cons
No barbell
No rack No leg press
Realistic Workouts Possible
See More Photos & Availability >>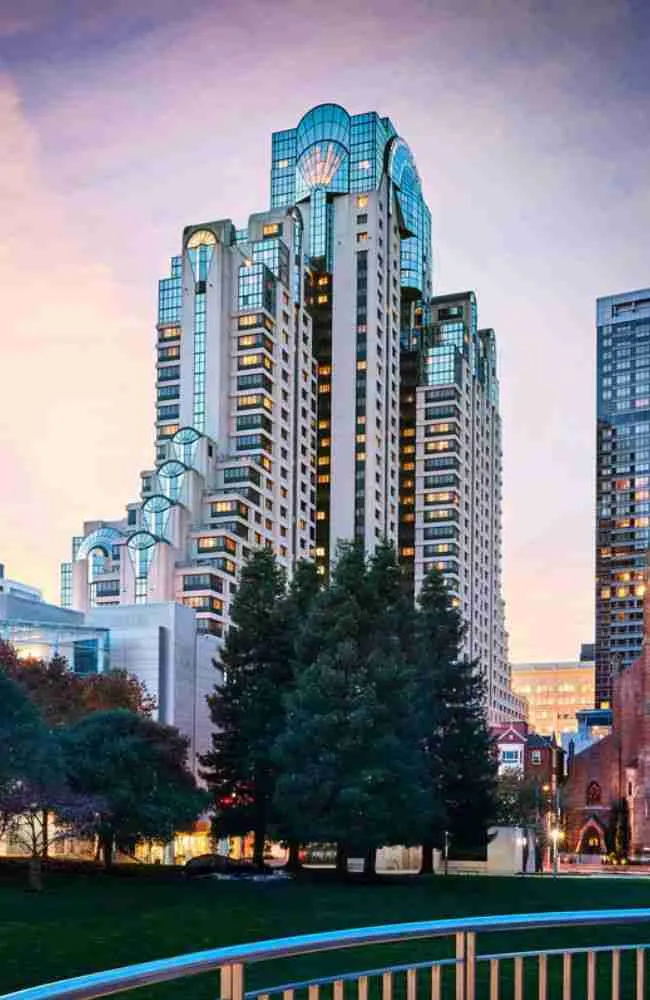 Ave Price Per Night: £190
Neighbourhood: SoMA
Gym Hours: 24/7
Max Dumbbell: 
Gym Brands Seen: Technogym, Life Fitness
5. Marriott Marquis // Best Hotel Gym in Mission Street
This place has a glute machine. Rare as hen's teeth
4.4 rated on Google and 4.0 on TripAdvisor, the Mariott Marquis is conveniently located near the convention centre and has an open all hours fitness centre. Up there with amongst the best hotel gyms in San Francisco, I loved finding the glute drive machine, a decent Smith machine, oblique and abs gear and space to move.

Sometimes you find hotel gyms are an after thought and placed in an old business centre, or classroom; not here. The Mariott Marquis have custom built a true gym space, and that while could do with a free barbell, or power rack, there's no concern that I can't hit a good back, shoulders, leg or chest workout.

I liked the hotel, the only downside is the decline of parts of the nearby location that makes it somewhere you don't really want to walk around at night time. That's a shame for such a wealthy city.
Reception: Sfmarquis.sales@marriott.com
Address: 780 Mission St, San Francisco, CA 94103, United States
The Pros
Nice aesthetic
Smith Machine
Technogym
Glute drive
The Cons
No power rack
No free barbell
Realistic Workouts Possible
See More Photos & Availability >>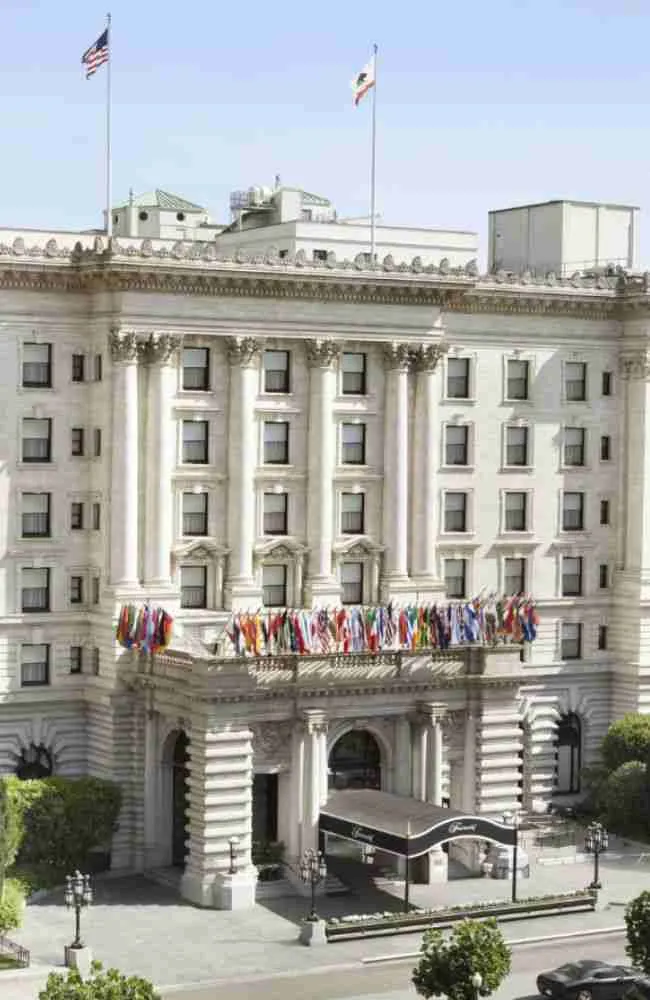 Ave Price Per Night: $219
Neighbourhood: Nob Hill
Gym Hours: 24/7
Max Dumbbells: 30Kg
Gym Brands Seen: Live Fit Gym
6. Fairmont Hotel // Best Hotel Gym In Nob Hill
The Fairmont is the winning hotel gym in San Fran for me
Do you want to stay at a luxurious hotel that features a solid gym? Introducing you… the Fairmont San Francisco. With a ton of free weights, stunning views of the city and the bay and friendly staff, your fitness routine will stay intact here.
What makes this hotel gym one of the best in San Francisco?
Location

: Situated on the top floor, you don't have to worry about crowds when you hit the gym as it's separate from all other activities. Plus, you can take advantage of some stunning views of the city and bay while you work out.

Equipment

: The gym features a shoulder press seat, flat bench, power rack and Smith machine, as well as dumbbells running to the 30s (kg) and the customary pulley machines you'd expect. The pilates space, TRX and balance bar give a more rounded offer to those who don't just want to smash PBs. 

Price

: Considering its convenience and quality equipment, it is quite reasonably priced – rooms start at $219 per night with breakfast included! Plus they offer healthy meal options so there is a little less guilt to start your day..
From our view, the Fairmont San Francisco is arguably the best hotel gym in San Francisco, so if you're looking for a place to keep up with your fitness routine while on vacation – check out the availability below.
Reception: sanfrancisco@fairmont.com
Address: 950 Mason St, San Francisco, CA 94108, United States
The Pros
TRX Kettlebells Nice Dumbbells Power Rack
The Cons
Dumbbells could run higher
Realistic Workouts Possible
See More Photos & Availability >>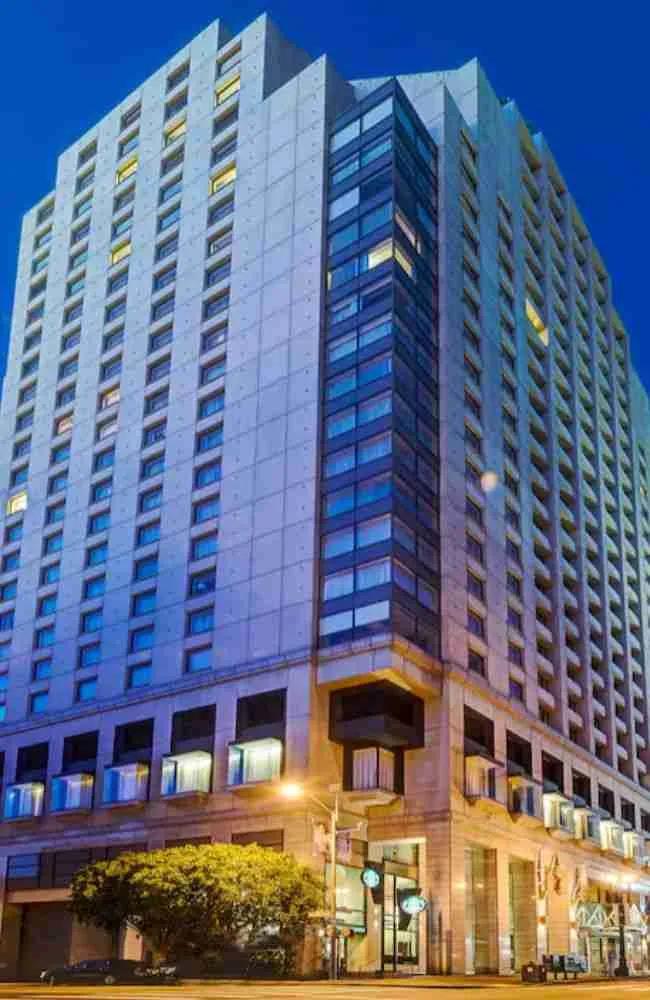 Ave Price Per Night: £170 (inc amenity fee)
Neighbourhood: Union Square
Gym Hours: 6am to 10pm
Max Dumbbells: 
Gym Brands Seen: 
7. Nikko Hotel // Best Hotel Gym In Union Square
Nice gym but they charge $39 per day to use it (and other hotel amenities), unless you book the hotel by their website then it's waived.
The Nikko in Union Square has a good gym as hotel fitness centres go, the price to stay here is pretty reasonable too, but let's deal with the elephant in the room 'The Amenity Charge'.

The amenity charge is $39 per day and covers the gym as well as other facilities in the hotel. It is essentially a 'You booked online but not with us' tax. This fee is waived if you happen to know about booking the Nikko on their own website. It's toppy, but the room rates are a little lower, so we have priced it in, and it still works out as a cheaper place to stay than others in SF. Just it will likely come as a shock to those who don't know and could end up disappointed. 

I feel like I've spoken about this charge too long now, so let's talk about the gym. Nice pool, good spread of resistance machines and while you may not see it in the images I did use a Smith Machines while I stayed there. It's got what you need, and if you can price the amenity charge in – in your head – it's a fair rate for a hotel in the City. Best bit? The pool is great for lengths.
Reception: info@hotelnikkosf.com
Address: 222 Mason St, San Francisco, CA 94102, United States
The Pros
Good pool for swimming lengths
Smith Machine Clean gym
The Cons
Get charged to use the gym on top of your booking fee. Would expect a barbell and power rack for the fee.
Realistic Workouts Possible
See More Photos & Availability >>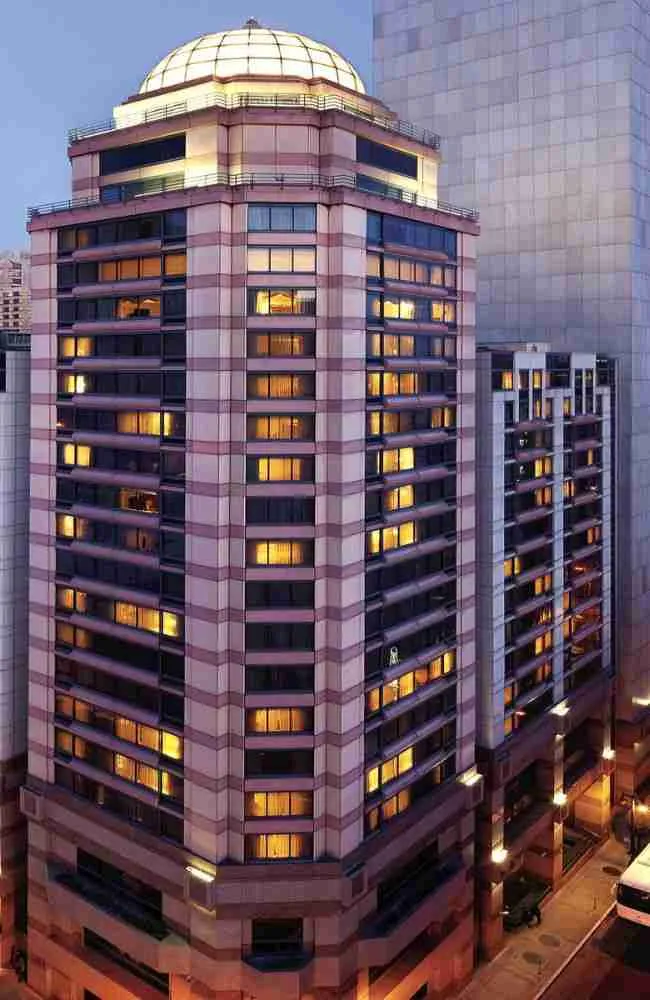 Ave Price Per Night: £189
Neighbourhood: Tenderloin
Gym Hours: 24/7
Max Dumbbells: 90lbs
Gym Brands Seen: Precor
8. Hilton Union Square // Best Hotel Gyms In SF
Strange to be able to do a chest PB in a hotel gym - but they have the weight plates for it.
180kg of conventional weight plates for the Smith Machine, meant I was able to hit a decline chest PB while here. (It's a nice Precor number too.)

The Hilton in Union Square is well priced for the city and the gym ticks 9 out of 10 of the boxes. No free barbell and power rack is the undoing, but other than that, you'd not be too disappointed if you found this in the hotel basement.
Outside of the hotel gym, it's close to top tourist attractions like Chinatown and Fisherman's Wharf, and a short hop to multiple popular restaurants such as Khin Kao and the Rotunda  – both banging places to eat. 


Reception: SFOFH-Concierge@hilton.com
Address: 333 O'Farrell St, San Francisco, CA 94102, United States
The Pros
Nice Precor kit
Leg machines 180Kg of plates

The Cons
No free barbell No power rack
Realistic Workouts Possible
See More Photos & Availability >>
Honourable Mentions in San Francisco (Click to see more)
We aren't done yet, there are three more hotel gyms in San Fran that we thought deserved a mention. In fact one of the only reasons we haven't talked about them more, is they tend to get covered a lot in other guides. Good hotel gyms, nice places to stay. Read about them below.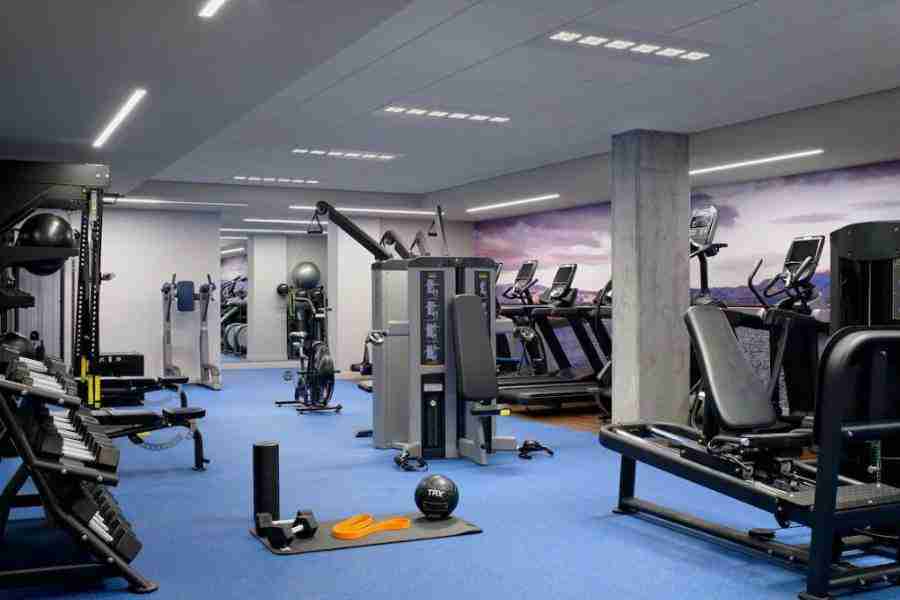 Great views, great reviews (4.7 Google) and a midday checkout make us fans of the Luma Hotel. The gym has an assault bike some modern Technogym kit, including a solid leg press (not plate loaded) and a power rack. Fundamental lifts? Check.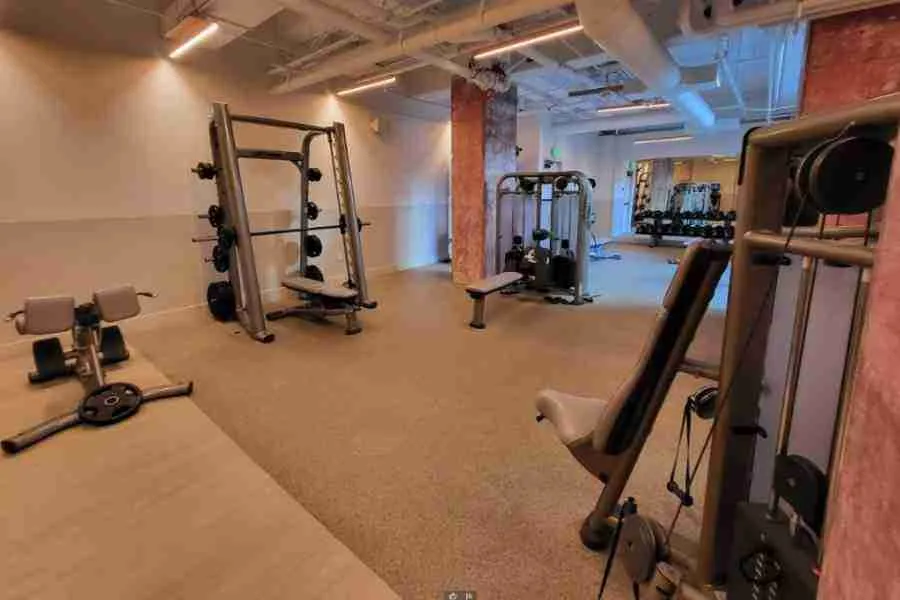 Hotel Kabuki is a bit tidy, its got Pilates space, a smith machine, some upper body resistance machines and a nice low cable row system. Downside – there is a lot of dead space that could be put to better use. Still it's a nice hotel and one of SF's better hotel gyms.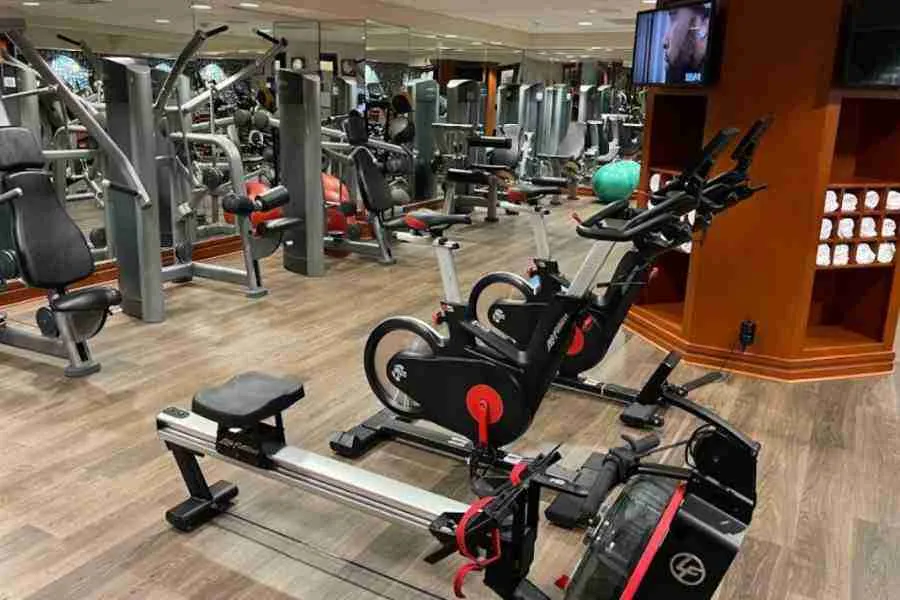 A little crowded for space but Le Meridien has all the main resistance machines to tick off an all over body workout. I wouldn't be jumping for joy if this was my only gym for a week, but if you're cardio focused or here for a couple of days, it more than passes muster. 
You may be wondering if it is possible to purchase a day pass for any of the gyms in San Francisco. The good news is that some hotel gyms offer day passes and drop-in rates. For most, the cost is around $20-$30. Though some boutique hotels and other high-end properties may charge more.
If you're looking for a specific hotel gym, then use an app like GymDay which allows you to find your ideal gym in the city quickly, and book day passes at many of the top-tier gyms from a range of different establishments. Plus, GymDay's Passport feature allows you to book a discounted day pass from hundreds of different chains worldwide!
If you're looking for the best public gym in San Francisco, then you might find this little list useful. We mentioned a few at the start which are independently owned and worth reminding – Golden State Barbell Club and Sunset gym. Besides those, there are options for you, for whatever type of fitness is your focus, here are several more to consider too. 
Bodybuilders
If you're a bodybuilder, then one of the top-rated bodybuilding gyms for you to visit is Physique Magnifique. This gem located on the North side of Lindenville offers a wide range of free weights, Eleiko plates and Hammer Strength resistance machines as well as well maintained cardio equipment. They score highly on Google and are packed with racks, bars and plate loaded kit. The place has old school vibes, lifting platforms and even a boxing ring. Best feature is a boulevard length dumbbell rack. 
Crossfit
For hardcore Crossfit fans, SF Crossfit on Union St is an ideal choice. The gym has a very large main workout area and regularly hosts classes and competitions. They offer WODs (Workout of the Days) for experienced Crossfitters and beginners alike, worth a visit if you've exhausted our own hotel crossfit workout guide.
Yoga & Pilates
If Yoga or Pilates is more your thing, then there are also plenty of places for you to practise yoga in San Francisco too. One great option is Flora Yoga & Wellness – located close to Golden Gate Park in the Marina district – which offers a tranquil atmosphere that nourishes both the mind and body. Their schedule includes various yoga classes such as hot yoga, vinyasa flow and power yoga amongst others.
MMA/Boxing or Fight Sports
Finally those interested in fight sports or MMA/boxing should check out the San Francisco Boxing Gym, which offers Muay Thai classes as well as traditional Queensberry rules style boxing sessions, for all levels from beginner up to professional.
Visitors to San Francisco also check out
Have We Missed A Great Hotel Gym In San Francisco?
If we have missed a great hotel gym in San Francisco, the Bay Area or Silicon Valley, which you think deserves to be on our top list, drop us a message to contact @ barbellsabroad dotcom. If you want to update your hotel's details, reach out to us also. From bigger dumbbell sizes, to better opening hours – holler at your gym-bros. 
I feel like most hotel gyms are fitted out by someone who has never stepped foot in one. Spending fortunes on multiple cardio machines but not an Olympic bar in sight. We review hotel gyms so your next trip doesn't mean missed workouts. I am a Certified SAQ Trainer and REPs (UK) PT trained | @theskinnyboy on Insta
David // 20+ Year Gym Rat