We review the best hotel gyms in Ibiza and leave you with some tips on where to stay depending on your fitness needs. From Bodybuilding to Pilates – read on
Travelling to Ibiza and want to stay fit?
TLDR: In this travel fitness review, we waded through some of the worst attempts at hotel gyms EVER, and pulled out 5+ options that are well worth a look in. From the best hotel gyms in Ibiza Town, to Playa D'En Bossa or Sant Antony, we have found some fitness lifesavers, while also being gobsmacked at how bad some hotel gyms on the White Isle are. 
WINNER: Aparthotel Blau Park – Sant Antoni De Portmany
what's Ibiza like for fitness fans
The Balearic Island of Ibiza is a world-famous tourist destination, and for good reason. Situated off the east coast of Spain in the Mediterranean Sea, Ibiza boasts a year-round average of sunshine and some of the best beaches in Europe.
Ibiza is also home to a healthy nightlife and some of the best hotel gyms in the world. If you're looking to get fit while on holiday, look no further than Ibiza. In this article, we'll list five of the best hotel gyms in Ibiza and help you choose the right one for your holiday needs.
Is Ibiza a good place for fitness lovers to visit?
The short answer is: yes! Ibiza is a great place to visit for fitness lovers. The island is home to some of the best outdoor amateur sporting events in Europe, and outside of the peak summer months, the Balearic island archipelago hosts legs of some of the biggest sporting tours on the continent. From Marathons, to International Mountain Biking and even stages of the Vuelta a Espanha.
If you're looking to stay fit while on holiday, Ibiza is a great place to do it. The island is packed with outdoor exercise options, and there are plenty of healthy food options available if you know where to look. This writer co-founded one of the most famous healthy eating options on the island back in 2014. 
Quick Facts On EIVISSA/IBIZA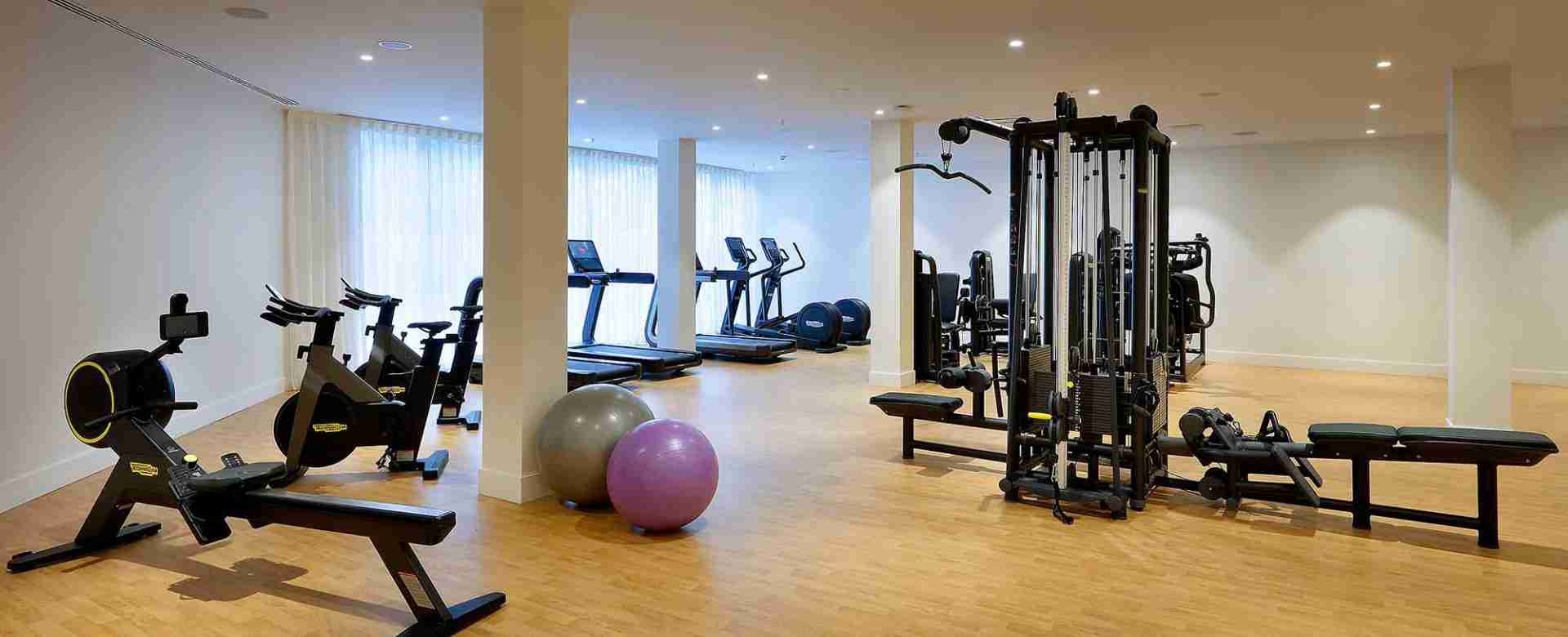 How We Picked The Best Hotel Gyms in Ibiza
The 'science' behind our Ibiza gym hotel reviews
This was no easy task. Seriously, both Lee and I have nailed this island so many times. We have stayed in top end hotels and the dross, and it never fails to surprise us how poorly set up for fans of fitness the tourism sector is here.
From the abysmal Ocean Beach hotel in San Antonio, which makes my garage look like Muscleworks in London by comparison; to the lack of understanding on healthy foods. The island is getting better in regards to culinary options, but there is still very limited food for people trying to transform their body. 
With regards to hotels with fitness centres in Ibiza, there are a handful, but we had to throw the 'Foundational Lift' only rule, out the window. Or this would be a blank page. Take the image above for example. It's from the TRS – which is not a cheap hotel, and they must have spent tens of thousands on that Technogym cardio equipment. But on a warm island with nice walks, what do you need £20-30K of treadmills for? No power rack, no barbell, not even a heavy kettlebell useful for a man. The cost is not the issue for the hotel here, it's just  a total lack of understanding.
For an island where most walk around with their tops off and half spend months before hand getting in shape, I can't help but notice the missed opportunity in Ibiza when it comes to fitness options. 
Anyway, enough of my complaining, if you want to read our selection policy, it's in the expandable box below, otherwise, scroll on for the winners. 
We are our audience. That's the first thing you should know. We have made that walk into hotel gyms for over a decade now and know the disappointment that happens all too often, leaving you annoyed you paid extra for a place to stay that had a fitness centre.
The reality is most hotel gyms have been put together by someone who has never been to a gym in their life. We weigh up several facts when it comes to picking winners or calling out losers.
1. Can you complete the major compound lifts? These include squats, deadlifts, presses and rows (or pulls). These are generally best served with a squat rack, maybe a smith machine and the presence of an Olympic barbell. Read about the "Fundamental Lifts".
2. Who does the weight load cater for? The reality is most hotel gyms do not have sufficient weight plates or dumbbells for strong women, let alone adult males who visit the gym regularly.
3. Overall gym conditions. This includes space to stretch, the condition of equipment, is there a/c etc. Nothing worse than trying to do an ab workout or flexibility movements on a wooden floor with no mats.
4. Cardio Range. What is the condition of the CV equipment and is there too much focus on machines that replicate the one exercise we can all do without a gym. Running/Walking. Yes – we will down mark for a room of treadmills….so stupid.
The Top 6 Hotel Gyms in Ibiza
Below we feature our top 6 hotel gyms in Ibiza, where we have aimed to cover a winner for each location, and an overall champion. This is no Dubai, where the hotel gyms are epic, but we can make these work.
NB: Foundational Lifts rule had to be binned here.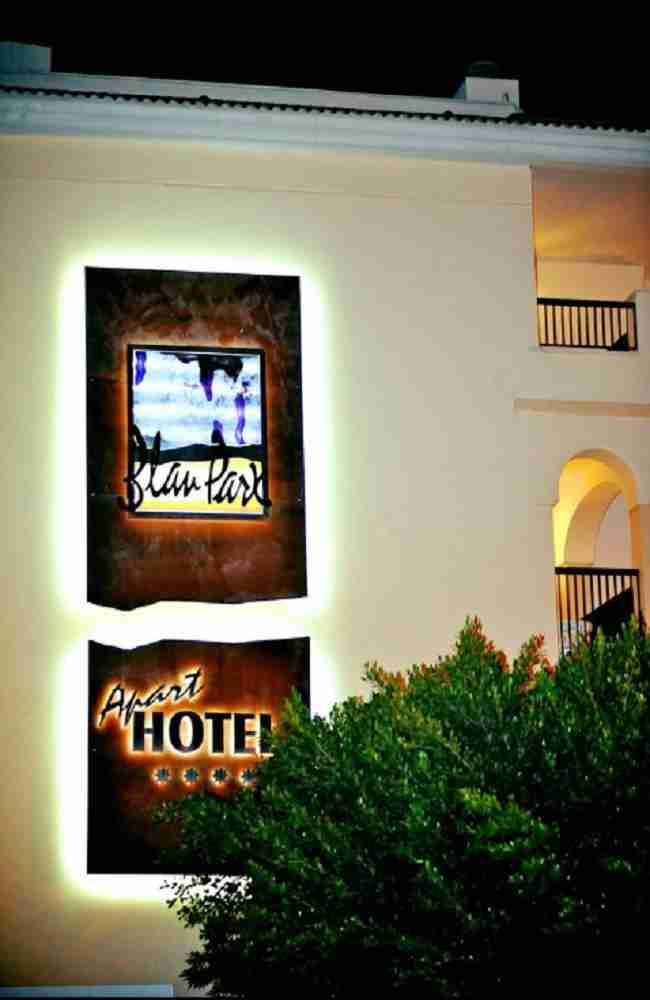 Ave Price Per Night: (£100-125) $125-£150
Neighbourhood: Sant Antoni De Portmany / 'San An'
Gym Hours: 07:00 – 10:00 Mon – Fri (Shorter Sat/Sun Hours) 
1. Blau Park // Best Hotel Gym 'Winner'
This hotel gym in Ibiza wins on a technicality. It's an actual gym you can use for free when you stay at Blau Park. Decent value add though.
If you are looking for a good gym in Ibiza and want to stay in one of the best hotels, then the Aparthotel Blau Park is the place for you. Located in the heart of San Antonio, this hotel features a modern and spacious gym with top-of-the-line equipment. It has treadmills, rowing machines, stationary bikes, weights, and a wide selection of other fitness machines. The staff is friendly and knowledgeable and can help you design an effective workout programme according to your goals.
The hotel also offers a delicious breakfast with healthy options, such as oatmeal and fresh fruit. And it's affordable too—a night in a double room goes for around €60 – €80 per night including breakfast. Plus, if you choose to add extra activities like yoga classes or personal trainers they offer great discounted packages.
Reception: booking@blauparchotels.com
The Pros
Plenty of new resistance machines
Plate loaded kit
Multiple benches
It's a real gym
The Cons
The best place for a deadlift is on the crossfit cage but there's no mirror and a non solid floor.
Realistic Workouts Possible
See More Photos & Availability >>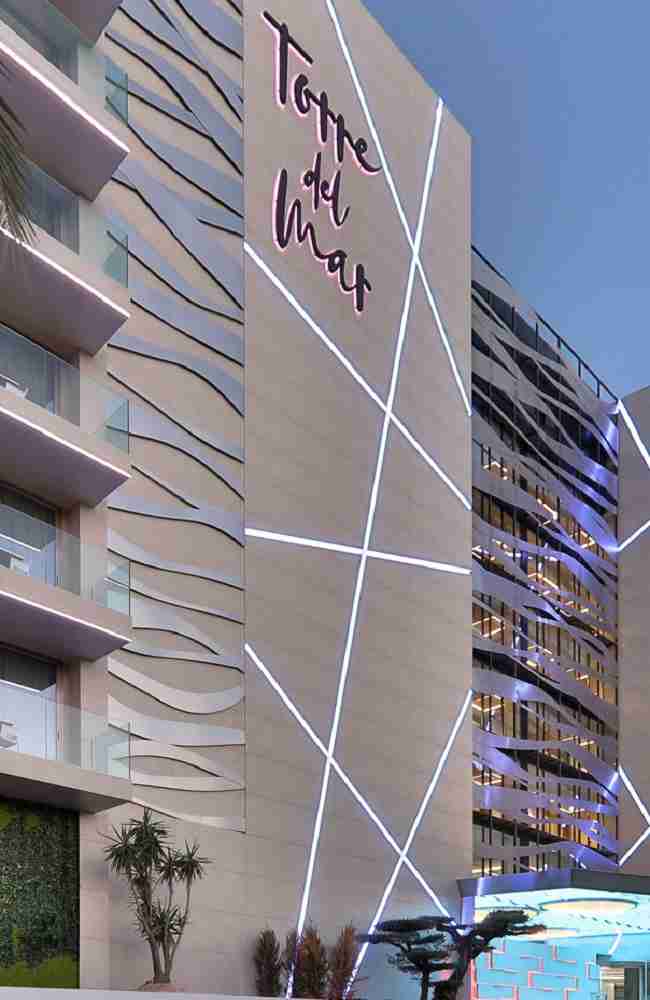 Ave Price Per Night: £160
Neighbourhood: Playa D'En Bossa
Gym Hours: 24/7
2. Hotel Torre Del Mar // Best In Playa D'En Bossa
A solid gym in a nice hotel close to all the main "Superclubs". Good shout.
Number 2 in our list of best hotel gyms in Ibiza is Hotel Torre del Mar. This hotel gym is great for tourists who care about fitness and are looking for a hotel with a good gym. The hotel offers all the necessary equipment to stay in shape, including treadmills, ellipticals, weights and benches. The gym has also been praised for its knowledgeable staff.
Aside from the gym, Hotel Torre del Mar offers great amenities such as a swimming pool and a sauna. The average room price per night is $200 and includes breakfast. Their breakfast service has been praised for featuring healthy eating options, so you don't have to worry about eating unhealthy while on vacation!

Reception: reservas@hoteltorredelmar.com
The Pros
Gives me (almost) 'actual gym' vibes
Pool views are immense
24 hour Gym
The Cons
No Power Rack No Smith
Realistic Workouts Possible
See More Photos & Availability >>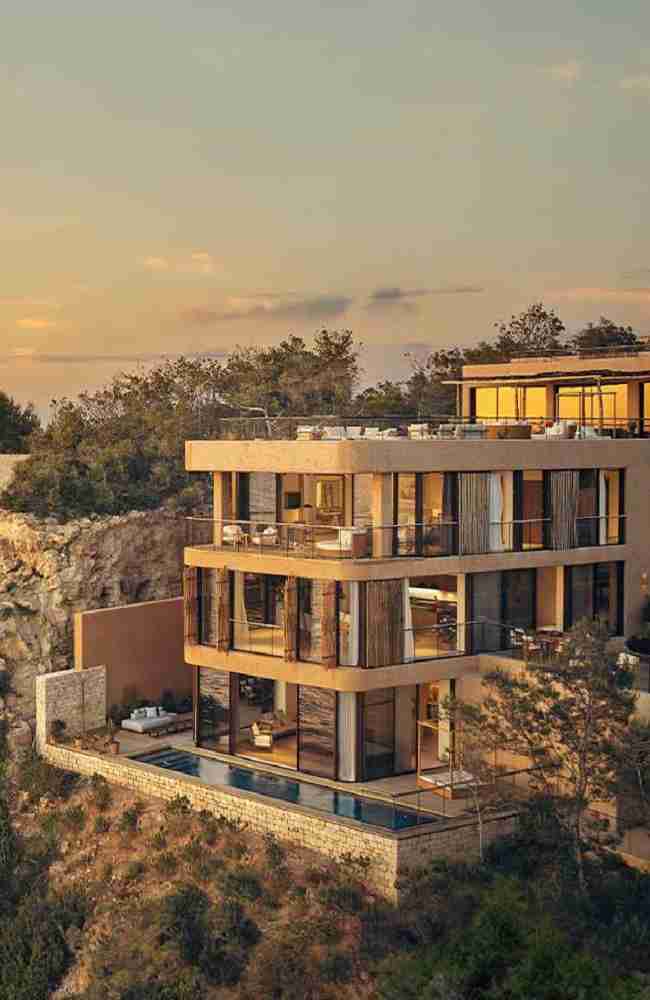 Ave Price Per Night: £350
Neighbourhood: Sant Joan de Labritja
Gym Hours: 07:00 – 22:00
3. Six Senses // Best Hotel Gym in Sant Joan de Labritja
If you are visiting the Island to escape from the world, then head to Portinatx and recharge here.
Six Senses Ibiza is a luxurious hotel that has one of the best gyms in Ibiza. It has a range of machines and free weights, as well as an indoor pool. This gym appeals to the regular gym-goer who is looking for more than just basic equipment.
The hotel also boasts great reviews from travellers, with many praising its modern decoration and interior design. Plus, the breakfast options are healthy and varied, which is great for tourists who care about their fitness.
The average price of a room per night is around €300 – €400 and, yes, this includes breakfast! All in all, Six Senses Ibiza provides luxury accommodation with a great gym facility to match and it's worth taking into consideration if you're looking for a hotel to stay at in Ibiza.
Reception: reservations-ibiza@sixsenses.com
The Pros
The hotel has big instagram appeal
Leg resistance machines
Smith Machine
Realistic Workouts Possible
See More Photos & Availability >>
Ave Price Per Night: £110
Neighbourhood: Santa Eularia des Riu
Gym Hours: Opens 7am
4. Sol Beach House // Best Hotel Gym In Santa Eularia
Better than their San Antonio hotel gym, this location has a better range of equipment and workout space.
Hear us out – when we recommend the Sol Beach House in Santa Eularia. It's a lot weaker than much of the other entrants on this list but it does have a leg curl/leg extension machine which is a massive rarity and at least means, if you can suck up long sets and reps of the same machine, you can keep your Quads and Hammies in good spec. The location however is a winner. It's the perfect spot for fitness enthusiasts and holiday-goers alike. This hotel gym has resistance machines,  yoga classes and even a spinning studio, so there's something for those who are less weights focused. 
The equipment is modern and well-maintained, which is essential if you're looking to get the most out of your workout. The instructors are welcoming and knowledgeable, and they offer a range of classes including strength training and cardio. The facilities are also kept squeaky clean, so you can rest assured that your safety is always taken into account as well.
So, with its unbeatable location overlooking the Mediterranean Sea and surrounding hills – you'll never be short of motivation! So why not check out Sol Beach House Ibiza next time you go after some holiday workouts?
Reception:sol.beach.house.ibiza@melia.com
The Pros
Machines cover compound groups
Limited cardio but varied at least
The Cons
No Barbell Kit
Limited Dumbbells

Realistic Workouts Possible
See More Photos & Availability >>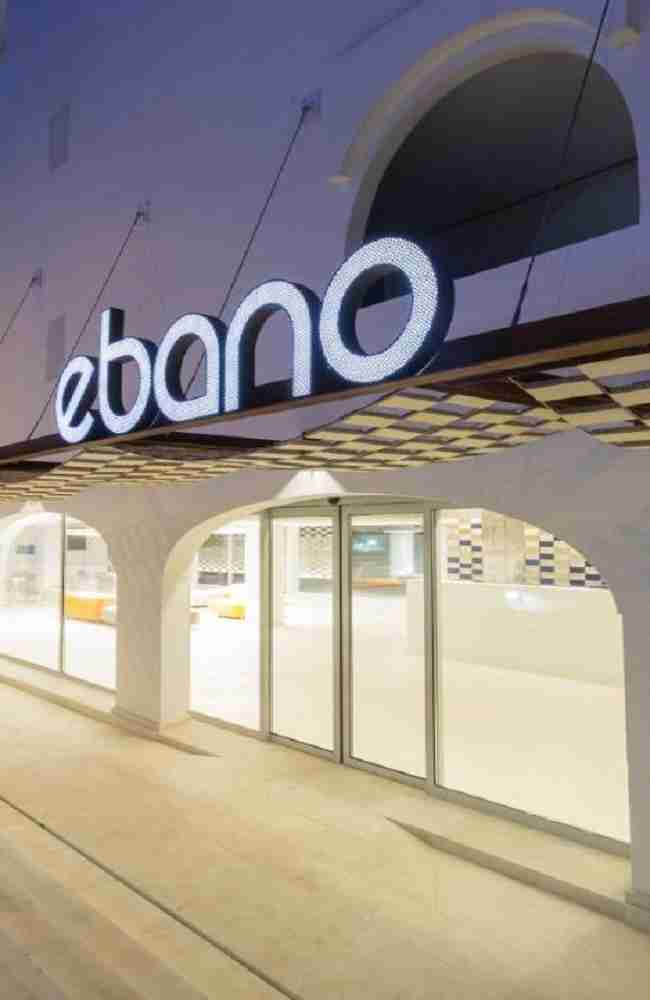 Ave Price Per Night: £120
Neighbourhood: Sant Josep de sa Talaia
Gym Hours: 24 Hours Weekdays
5. Ebano Hotel Apartments & Spa
// Best Hotel Gym In Sant Josep
A smith machine on site makes this Ibiza hotel fitness centre a real bonus.
Number 5 in our guide to the best hotel gyms in Ibiza, is the Ebano Hotel Apartments & Spa. This hotel gym is sure to impress, with an impressive selection of equipment, ranging from treadmills and spin bikes to a full cable machine, dumbbells, kettlebells and a Smith machine. There is also an outdoor fitness area for those wanting to take their workout outside. In addition to the great fitness facilities, guests can enjoy on-site saunas and various spa treatments.
The reviews from guests are overwhelmingly impressive, rating this hotel highly for its great service and friendly staff. The price point is also very competitive with rooms per night starting at around $150 and they provide breakfast as an option (which includes healthy eating options). PS: Want more tips for eating on your travels? Check out our guide to high protein travel snacks.
All in all, the Ebano Hotel Apartments & Spa is an excellent choice for those wanting to stay in top-quality accommodation with great fitness facilities.

Reception: info@ebanoibiza.com | +34 971 30 15 02
The Pros
Variety of Cardio
Smith Machine
Good space for walking lunges
The Cons
Not very visually inspiring space
Low ceiling - makes chin up bar a fail
Realistic Workouts Possible
See More Photos & Availability >>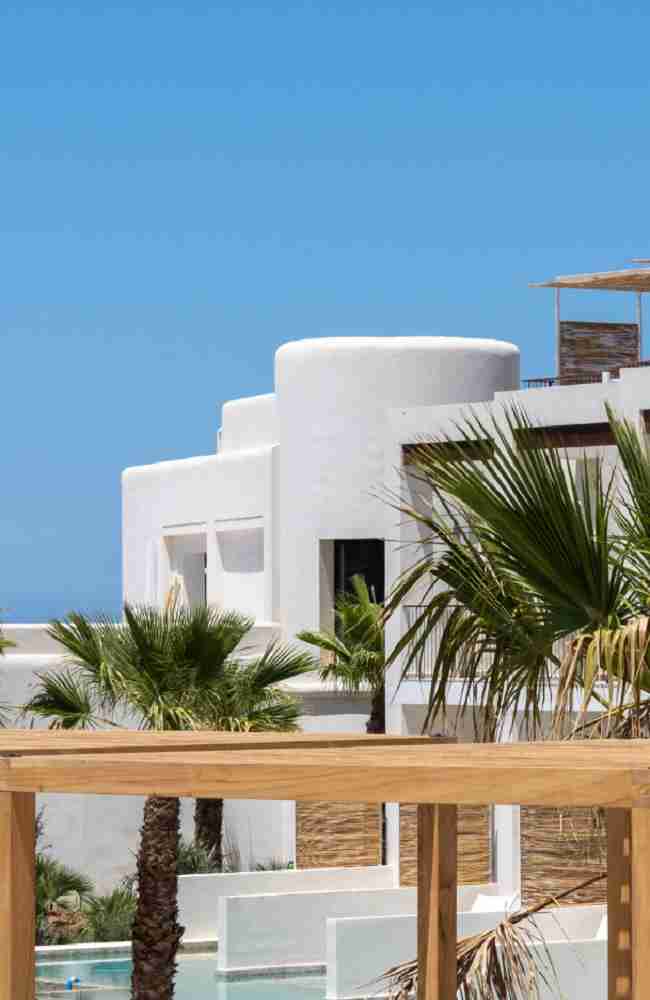 Ave Price Per Night: £150
Neighbourhood: Cala Gracio, Sant Antoni De Portmany
Gym Hours: 
6. TRS Ibiza Hotel Gym
// Best Near Cala Gracio, San An
Lovely modern Cardio equipment but the commercial grade cable multi-station is fresh as a daisy and begging for an upper back session.
Next up in our guide to the best hotels with gyms in Ibiza, we have the TRS Ibiza Hotel. Located on the north coast of the island, it's a great option for those who want to stay fit while they're on holiday.
The gym here is top-notch, with modern equipment, plenty of space and lots of natural light. It features a full range of cardio, strength training and functional fitness areas and comes equipped with a Pilates and yoga studio too.
Aside from the state-of-the-art fitness centre, the hotel itself is quite nice. It has an outdoor pool, beachfront restaurants and bars, and plenty of activities nearby. The average rate for a night at TRS Ibiza Hotel is €200 euros/night which includes breakfast. Breakfast offerings are quite healthy with plenty of options for vegans/vegetarians. So if you're looking for both convenience and comfort when it comes to your fitness holiday then this is definitely one to consider!

Reception: acliente@palladiumhotelgroup.com
The Pros
Leg press
Back friendly resistance machines
Technogym cardio equipment
The Cons
No Power Rack
No Smith Machine
Realistic Workouts Possible
See More Photos & Availability >>
Honourable Mentions in Ibiza/Eivissa (Click to see more)
A couple of additional places to stay in Ibiza with hotel fitness centres or equivalent facilities that are worth a shout fall into our honourable mentions. To see more on the properties, click the link and you can also see availability as well as pricing. Often these hotels are either 'post write-up' discoveries, or have something holding them back. In the cases below, it's pricing. They are both at the higher end of the hotel bed range, that's all. That being said, they are pricy for a reason, they are both 'Mr and Mrs Smith' standard.
Hotel Riomar - Santa Eularia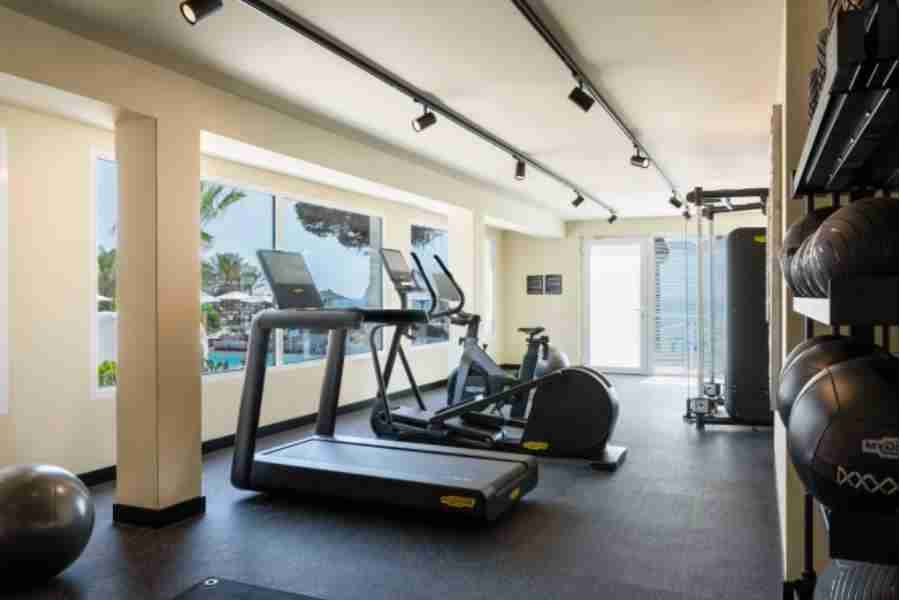 The Hotel Riomar is a lovely hotel with some nice modern equipment in their fitness center. A few resistance machines and some phone connected Cardio present.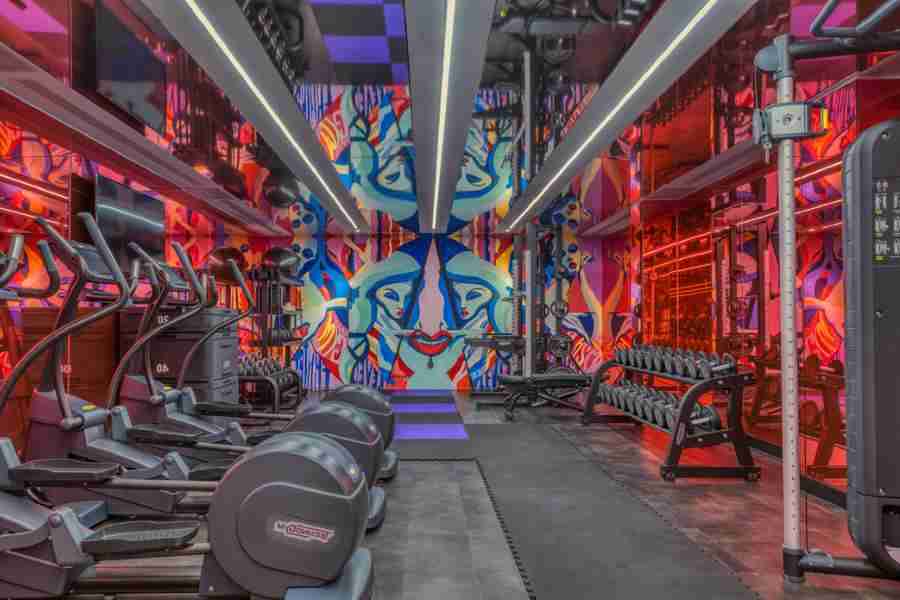 The W Hotel Gym has a cable column, power rack, Precor Cardio and some dumbbells. Could have done with a bit more of a showing for the money.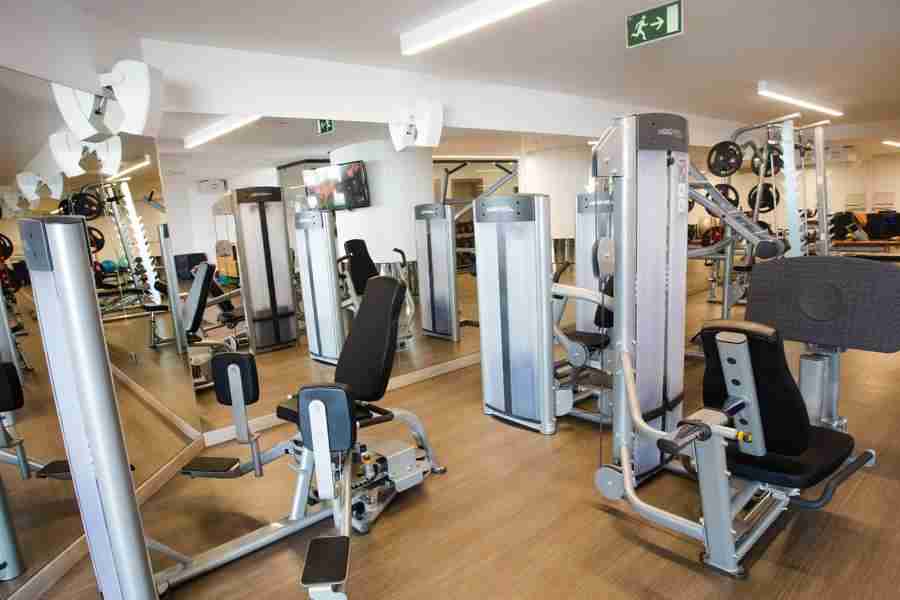 In the Hard Rock Hotel Ibiza Gym, you will find a smith machine, leg press as well as a number of other resistance machines. A bit dated for the Hotel rating, but decent still.
Planning to exercise while on vacation in Ibiza? You're not alone. The Island is home to some of the best hotel gyms in the world, perfect for those who like to stay active on holiday. But what about if you want to save money and let your hotel worry about being a hotel,  and find a real gym instead? In that case you're in luck as there are a handful of gyms dotted around the White Isle, all catering for short term visitors. From day passes, to week long memberships and beyond. 
Day passes can cost anywhere from €10-20 depending on the gym and services they provide. Although this may seem expensive, it's definitely worth it if you're looking for a proper workout on your holiday. You'll be able to use all their facilities – from weights and cardio machines to group classes – plus there is usually some sort of chill-out area with snacks and drinks available afterwards.
Outside of hotel gyms in Ibiza there are a good range of public fitness centers you can visit. From our own experience the best options include Lineas in Sant Antony de Portmany, Rumi's in the Bahia, Fraile group (a few locations around the island) and BFit. Fraile used to be a top tier gym with modern fittings and a great environment to train in, these days they have focused on a zero staff thumb access system which has inevitably led to a little decline. Lineas is a locally owned and run bodybuilding and pilates centre, that attracts some absolute units (a sign of quality) but also lots of seasonal workers and casuals. The owners take care of the gym, it's clean and it feels like a home from home.
Bfit is the big box gym on the Island. A short drive from Ibiza Town, it's the kind of gym where sweat meets equal parts hair gel and silicone.
Amongst these best gyms in Ibiza, they all offer day passes, but you will get better value if you take up a short term membership. From 1 to 4 weeks.
Visitors to Ibiza also check out
I feel like most hotel gyms are fitted out by someone who has never stepped foot in one. Spending fortunes on multiple cardio machines but not an Olympic bar in sight. We review hotel gyms so your next trip doesn't mean missed workouts. I am a Certified SAQ Trainer and REPs (UK) PT trained | @theskinnyboy on Insta
David // 20+ Year Gym Rat