Travelling to Cancun and love to stay fit?
TLDR:  This article rates the best hotel gyms in Cancun, Mexico, for fitness enthusiasts. It lists the top five hotel gyms, picks a winner and includes pros and cons for each gym. Other fitness options, such as running routes, swimming pools, and yoga classes, are also mentioned. The article also provides quick facts on Cancun and its suitability for fitness fans, including average meal costs, hours of sunshine, warmest months, and average hotel nightly costs.
WINNER: Planet Hollywood Hotel Gym // Why? Best balance between equipment and affordability 

what's CANCUN like for fitness fanS?
Cancun, located on the northeast coast of Mexico's Yucatán Peninsula in the Mexican state of Quintana Roo, is one of the most popular vacation spots in the world.
With an annual average of 8 hours of sunshine per day and an average temperature hovering from mid-20s to mid-30s °C from May to September, this Caribbean resort is a beach lover's paradise. That means a lot of swimwear, a lot of skin and for fans of the gym like us, a desire to keep ticking over while you're there.
Is Cancun a good place for fitness lovers to visit?
With its warm weather and beaches, it's unsurprising therefore that Cancun is a pretty healthy place to visit. The city hosts a variety of big fitness events throughout the year, such as the Cancun Half Marathon, the International Beach Volleyball Championships and a World Triathlon stage, and there are plenty of places to exercise  or stay active outside the hotel gyms.
You can find excellent running routes along the beach with plenty of scenic views. Alternatively, if you're into swimming, there are plenty of pools around the city that offer morning lap swimming sessions at a discounted price. And if you want to stay fit without too much effort, why not join one of the many yoga classes offered around the city?
In addition to all these options, finding healthy food in Cancun is quite easy. There are many natural, organic, high protein even raw vegan cafes where you can enjoy delicious meals in a relaxed atmosphere. So if you're looking for a fitness-friendly destination, Cancun definitely fits the bill!
How We Picked The Best Hotel Gyms in Cancun
The 'science' behind our cancun gym hotel reviews
We are our own customer, by which we mean, we love working out, we've got fitness qualifications to cement our nerd status and we've missed a ton of great day parties because we value feeling clean over necking a bottle of Grey Goose. If you want to know how we pick the best hotel gyms in Cancun and how our brains think in general, check out our selection policy below. One thing I'll add, is that we consider affordability in our winner award. We aren't going to recommend a hotel that costs £1000 a night plus as the best. 
The reality is most hotel gyms have been put together by someone who has never been to a gym in their life. We weigh up several facts when it comes to picking winners or calling out losers.
1. Can you complete the major compound lifts? Read more about these "Foundational Lifts".
2. Who does the weight load cater for? Are there enough weight plates/dumbbells for regular gym users?
3. Overall gym conditions. This includes space to stretch, the condition of equipment, is there a/c etc. 
4. Cardio Range. Is there much variety? Or is there a large focus on treadmills; the one exercise that requires no gym to do.
The Top 5 Hotel Gyms in Cancun
Here they are, our top 5 hotel gyms in Cancun. We have thrown in a winner from Playa Del Carmen too, in case you are open top the idea of venturing a little further afield. We link out to a range of travel workouts you can try in each hotel, just click the link by the 'realistic workout' section.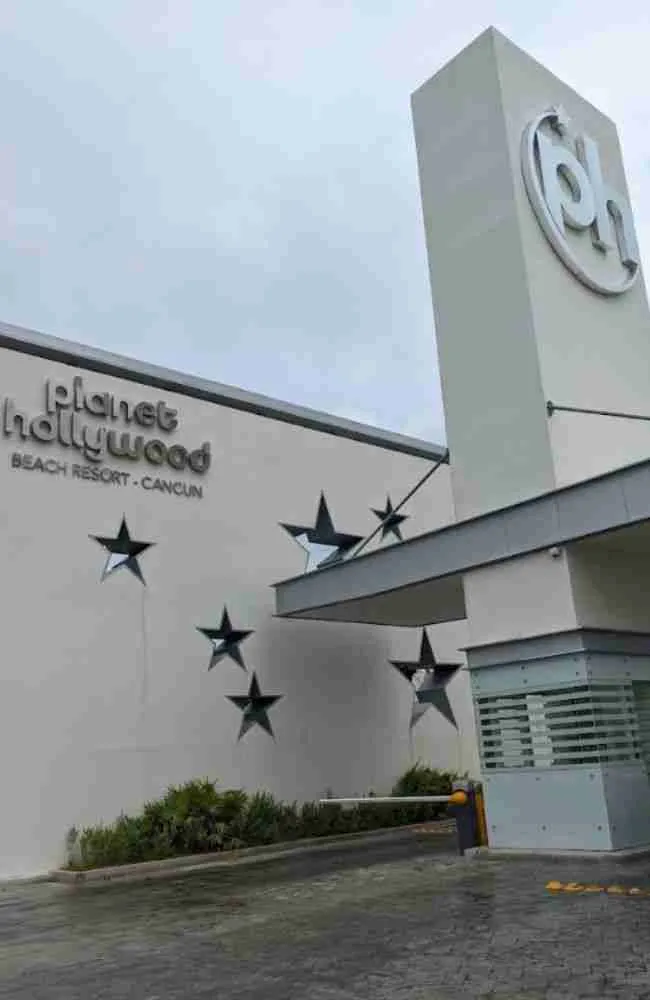 Ave Price Per Night: £200
Neighbourhood: Punta Sam
Gym Hours:  
Address: Punta Sam, Carrertera, Mza 002, Lt.7, 77400 Costa Mujeres, Q.R., Mexico
1. Best Hotel Gym In Cancun // Planet Hollywood
This Cancun hotel gym is a great example of how you can offer lots without going crazy on the fit-out budget. Racks, barbells, bumper plates and a good selection of dumbbells. Zero complaints.
First up, if you're hunting for a hotel gym in Cancun, with the ability to meet most gym-users fitness needs, let's talk about Planet Hollywood. The hotel gym is a great option for tourists who care about fitness, offering top of the line equipment like treadmills, ellipticals, and free-weights. Plus, it features a variety of classes such as Pilates and stretching.
Furthermore, the Planet Hollywood is well rated with many glowing reviews from past visitors. They describe the hotel as modern, stylish and clean and praise their friendly staff and helpful concierge service.
The average room price per night is around $200 USD +. This typically includes breakfast and there are plenty of healthy eating options available on site if you're looking to maintain your nutrition while you're away.
Reception: media@bluediamondresorts.com
The Pros
Aesthetically pleasing
3 Racks & Barbells
Functional Fitness Kit
Realistic Workouts Possible
See More Photos & Availability >>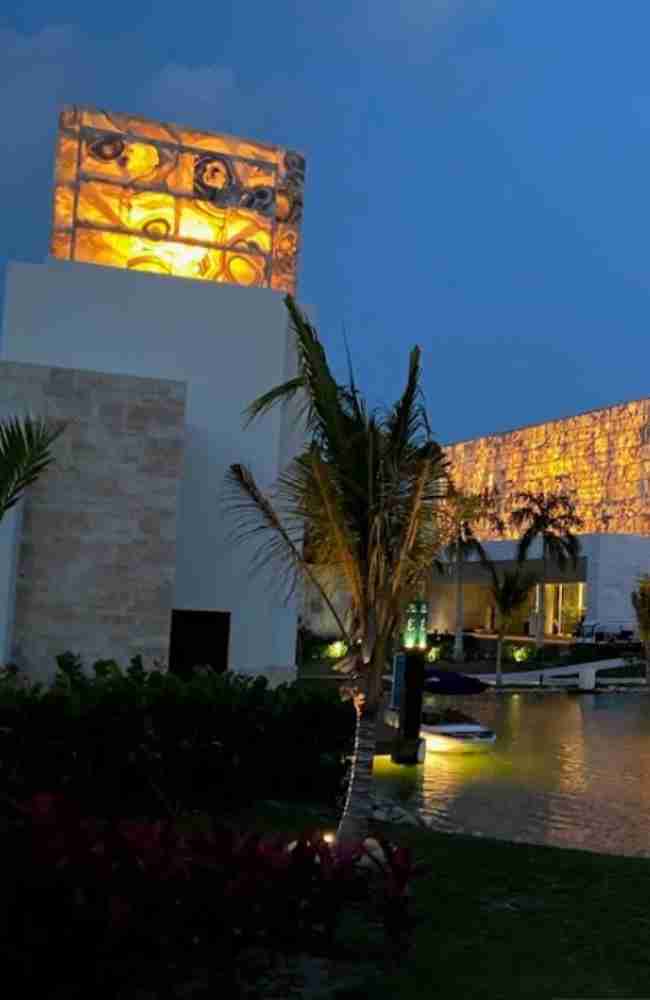 Ave Price Per Night: £500
Neighbourhood: Playa Del Carmen
Gym Hours: 7am to 9pm
Address: Boulevard Vialidad Paseo Mujeres, Supermanzana No. 3 Manzana 1, 77400 Cancún, Q.R., Mexico
2. TRS Coral Hotel // Best Hotel Gym In Playa Del Carmen
Squat racks and Smith machines in a hotel gym, means no excuse for missing leg day.
Next up on our list of the best hotel gyms in Cancun, you can't go far wrong with the TRS Coral Hotel. Located on the Yucatan Peninsula, this luxurious all-inclusive resort is perfect for holidaymakers who take their fitness seriously.
With modern equipment, spacious areas and a stunning view of the Caribbean Sea, TRS Coral Hotel is a great choice for those who want to both stay fit and be pampered. Here's what you can expect:
Where: The hotel is located right next to Playa del Carmen, 40 km south of Cancun International Airport.

Equipment: The gym is fully equipped with a variety of machines, free weights and cardio equipment. You'll also find a sauna and steam room.

Reviews: Reviews from visitors are overwhelmingly positive – many noting that the gym is well equipped and clean enough to put any regular gym to shame!

Price: Prices for rooms start at $500/night and include breakfast with healthy options as well as access to other amenities such as pools, beach chairs and umbrellas.
So if you're looking for an ideal combination of luxury accommodation, excellent fitness facilities and stunning surroundings then be sure to check out TRS Coral Hotel!
Reception: front.coral@trshotels.com
The Pros
Great range of chest kit.
Benches in all angles.
Plate loaded Leg Press
The Cons
A little further away from Cancun
Dumbbells could be heavier
Spenny! £££
Realistic Workouts Possible
See More Photos & Availability >>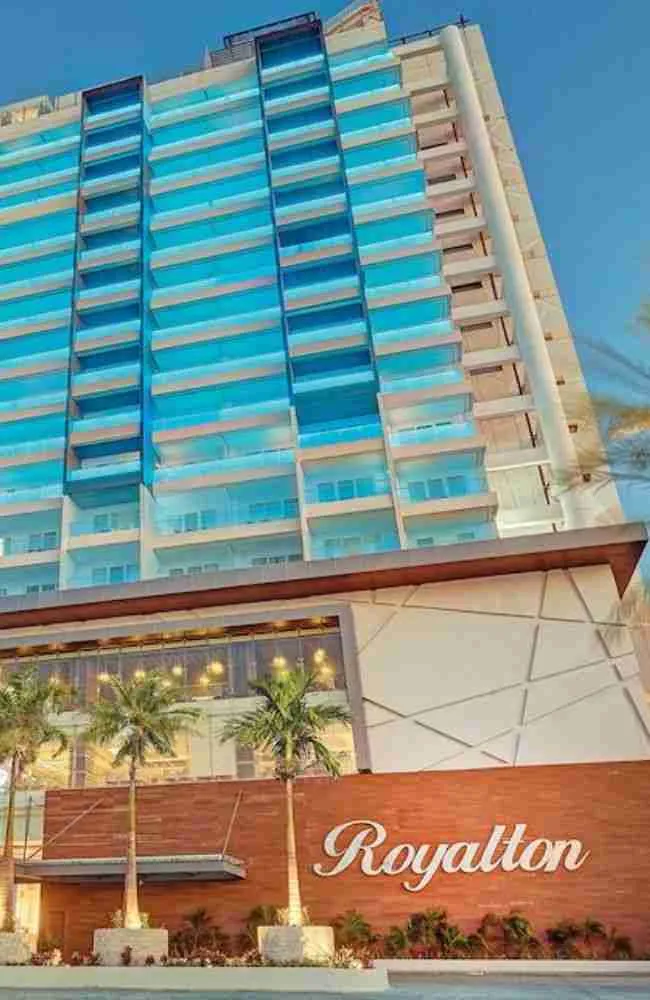 Ave Price Per Night: £400
Neighbourhood: Zona Hotelera 
Gym Hours: 6am – 9pm
Address: Km 9.7, Blvd. Kukulcan, Punta Cancun, Zona Hotelera, 77500 Cancún, Q.R., Mexico
3. Royalton Chic Hotel / Cancun's Most Boujee
From punch bags to skillmills, this place has a ton of brutal ways to burn calories. Big fist bump for multiple power racks too.
Third in the firing line of our tour of the Yucatan's best hotel gyms, we have the Royalton Chic Cancun, which is another great option for travellers who care about staying in shape or maintaining their workout-meditation.
This all-inclusive opportunity offers guests a state-of-the-art gym that includes free weights, cardio machines, and a variety of classes and exercise rooms such as spinning and yoga. Everything you need for a full body workout awaits you and with certified fitness instructors, help is just at hand. Plus, the views from the gym are amazing.
For those who are health conscious and particular about their diet, Royalton Chic Cancun offers several healthy dining options including international cuisine, vegetarian dishes, and even vegan options! The average price per night is around $400 USD which includes breakfast.
Whether you go to keep up with your routine or just want to explore some of their amenities, Royalton Chic Cancun is well worth inspecting!
Reception: infosuitescancun@royaltonresorts.com
The Pros
3 Power racks & Smith
Punch bag.
The Cons
A bit thin on the ground for workout/resistance machines.
Realistic Workouts Possible
See More Photos & Availability >>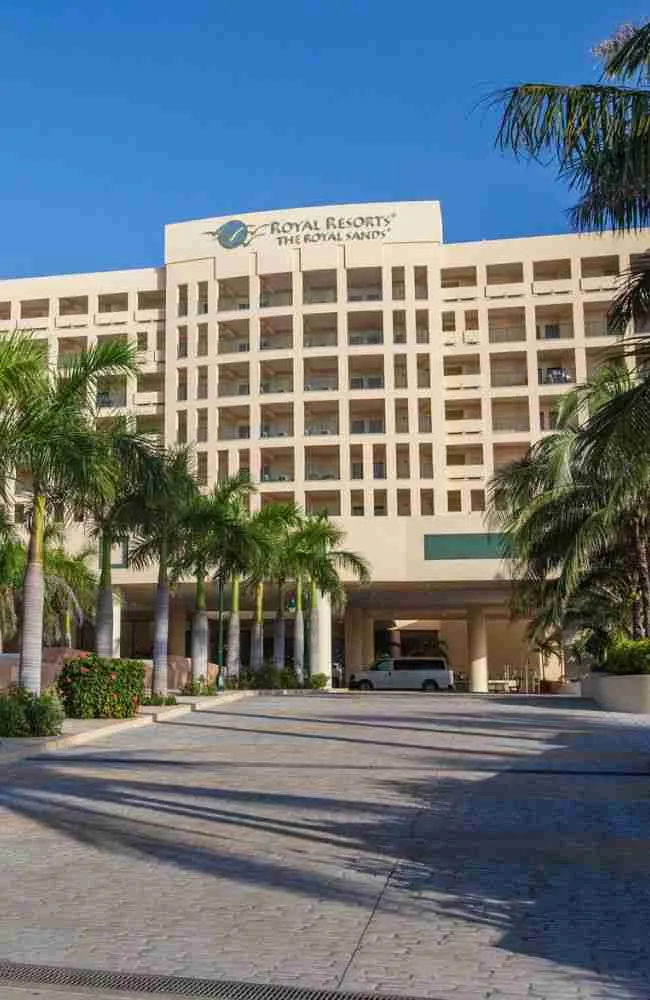 Ave Price Per Night: £75
Neighbourhood: Zona Hotelera
Gym Hours: 7am – 8pm
Dumbbells: 30kg
Address: Blvd. Kukulcan Km 13.5, Zona Hotelera, 77500 Cancún, Q.R., Mexico
4. Royal Sands Resort & Spa // Best Hotel Gym In Cancun For Bodybuilders
Feels like they have every Life Fitness gym machine ever invented... apart from the leg press.
Royal Sands – Resort & SPA is an excellent choice for the traveller looking to squeeze in a few workouts during their holiday. Located close to downtown Cancun, the hotel is just steps away from the pristine Caribbean waters, so you can take a dip after you finish your workout.
The fitness centre gives off old school gym vibes so really caught our attention. Packed out with Life Fitness a commercial grade gym brand, our only suggestion would have been to add a leg press. Still, it does have a smith machine, so leg training isn't ruled out. There's also a yoga studio and Pilates room available to use. Plus, all of the equipment is well kept, so you don't have to worry about sacked out pulley cables and machines ruining your session.
The hotel also offers healthy food options in its restaurant, such as organic salads, fruit smoothies and whole grain wraps. There's even a dedicated breakfast buffet featuring vegan and gluten-free items for those looking for those types of diets.
On top of that, Royal Sands – Resort & SPA gets consistently good reviews from guests who praise its excellent customer service and relaxed atmosphere. Prices are pretty reasonable as well— rooms cost around $70 per night with breakfast included — making it an accessible option for budget travellers who want a great gym experience.
Reception: Not available
The Pros
Old school gym vibes
Loads of Life Fitness kit
Matted gym floor
Well considered hotel gym
The Cons
Some may find it dated to look at. Charlatans though, so...
Realistic Workouts Possible
See More Photos & Availability >>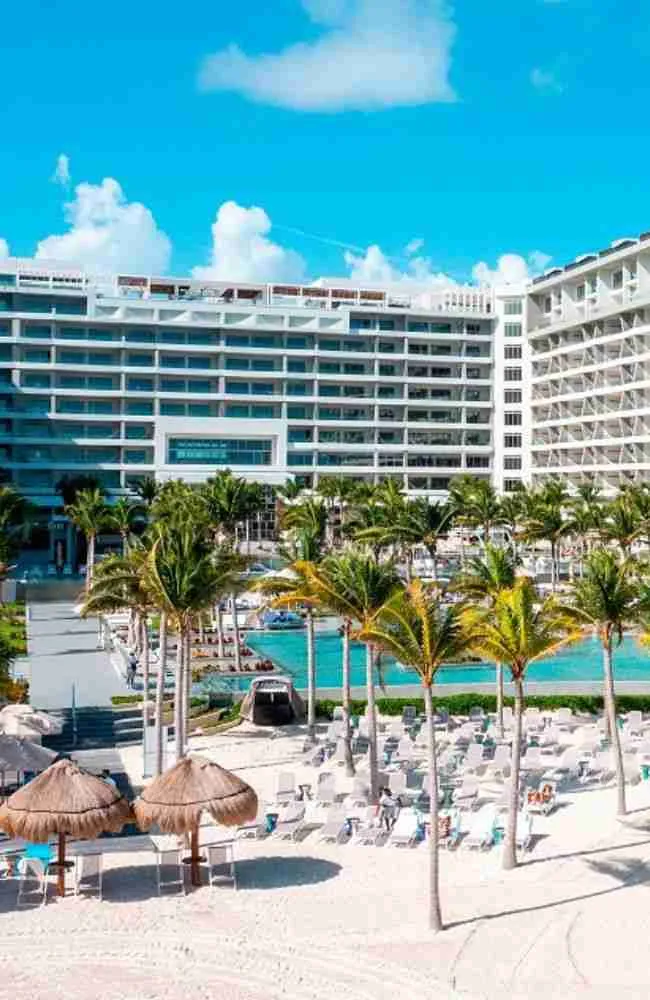 Ave Price Per Night: £200
Neighbourhood:Zona Continental
Gym Hours: 24/7
Address: Carretera a Punta Sam Km. 5.2 Mza 9 Lote 3 Zona Continental de Costa Mujeres, 77400 Cancún, Q.R., Mexico
5. Garza Blanca Hotel // Best Hotel Gym In Cancun For Resistance Machines
Well priced, has a nice Technogym range and a ton of ways to get a chest pump on. We liked the breakfast smoothies the most.
Finally in our reviews of the best hotel gyms in Cancun, we land at the Garza Blanca. Located right near the beach, this excellent property features a pretty well equipped fitness centre that will tick the right boxes for 99% of tourists who care about fitness.
The gym is spacious and provides guests with plenty of modern Technogym equipment including workout machines, free weights, treadmills and ellipticals. The atmosphere is always buzzing thanks to many activities like yoga classes, personal training sessions and group exercise that are offered at an extra cost. Plus, there's a juice bar to fuel up after your workout and a sauna to relax in afterwards.
A good deal of people rave about the Garza on multiple review sites and it's described as modern, luxurious and with excellent service from staff members. The average price for a room per night is about USD $200 and includes breakfast that features healthy eating options like smoothies, oatmeal and fresh fruit juices. This puts it in the more modest pricing category for the region.
Overall, Garza Blanca is a pretty solid choice if you're looking for one of the best hotel gyms in Cancun at a decent price, and a generally nice place to stay.
Reception: conciergegb@garzablancaresorts.com
The Pros
Up to date Technogym kit out
2 sets of dumbbells
4 x Benches
The Cons
Not a squat/power rack in sight
Realistic Workouts Possible
See More Photos & Availability >>
If you're a hardcore gym goer, you might be wondering what the best public gym in Cancun is to check out. The good news is that Cancun has some great fitness centres to choose from.
For Bodybuilders
If you're looking for somewhere to lift weights and focus on muscle-building we recommend checking out one of these three box tickers. The imaginatively titled "Body Building Gym", Iron Republic, or Iron Gym Fitness Club; represent Cancun's best bodybuilding gyms . Regularly visited by IFBB Pros on tour, if you're looking for a training sessions outside of the hotel gym, then these are top spots for bodybuilders who want to keep up with their routine when on vacation.
For CrossFitters
The Vertex Fitness Centre will suit anyone who's into CrossFit and wants to find somewhere in Cancun to get their sweat on. The centre offers open gym access as well as classes held by instructors, so you can have a tailored experience according to your own fitness level and goals.
For Pilates and Yoga Lovers
The Studio Zen Cancun is perfect for those looking for pilates or yoga classes, though they offer a wide range of activities from stretching classes and meditation sessions to HIIT classes and more.
You may be wondering if gyms in Cancun offer day passes. The simple answer is yes, depending on the hotel gym, you may be able to purchase a day pass. However, it is important to check with the specific gym directly as there are no city-wide regulations for day passes.
On average you can expect to pay around 150-200 MXN pesos for a day pass, but prices may differ from hotel to hotel. Do be aware that these passes may not include use of certain parts of the gym, such as a swimming pool or spa facilities, so it is best to check first!
If you want to find gyms with day pass availability in Cancun, then there are some great city apps available where people have reviewed and rated gyms in Cancun. This way you can easily find out which Gyms have day passes and are popular among travellers.
I feel like most hotel gyms are fitted out by someone who has never stepped foot in one. Spending fortunes on multiple cardio machines but not an Olympic bar in sight. We review hotel gyms so your next trip doesn't mean missed workouts. I am a Certified SAQ Trainer and REPs (UK) PT trained | @theskinnyboy on Insta
David // 20+ Year Gym Rat